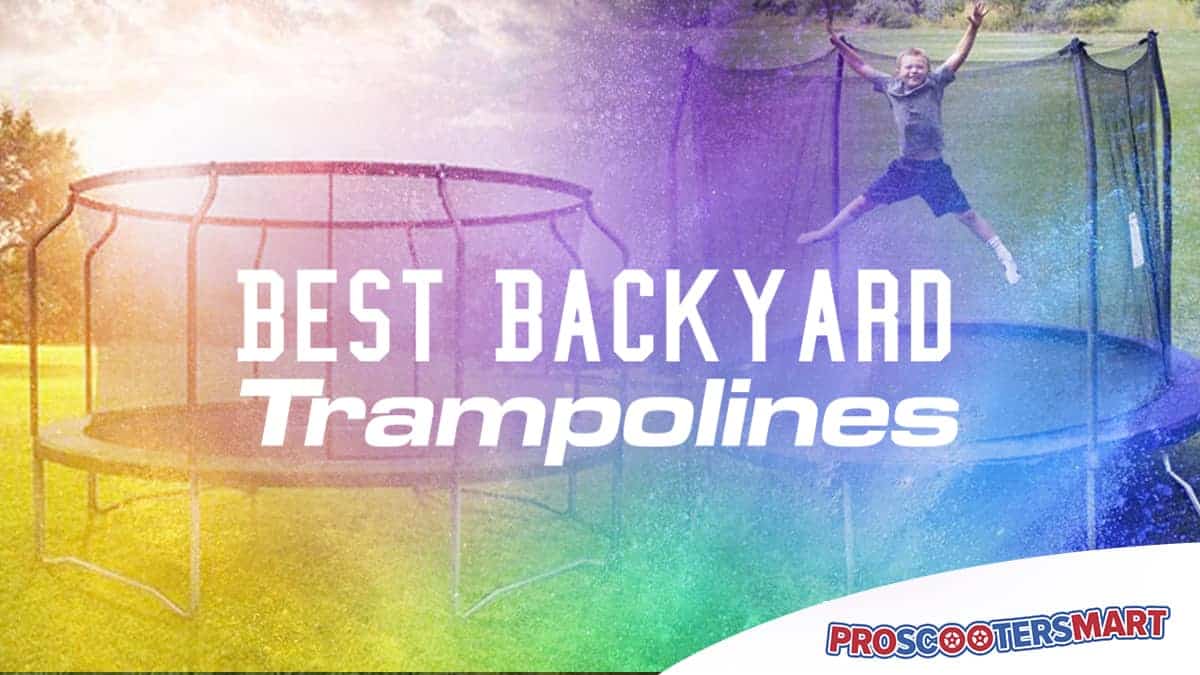 Not every trampoline is the same, and as a buyer, you should keep that in mind. There are tons of trampolines available in the market such as spring-free trampoline, oval trampoline, and rectangle trampoline. Would you believe there are even trampolines with a basketball hoop?With the holidays just around the corner, and school is about to go on break, it seems like it is the best time to wrap a trampoline as a gift. It would surely entertain both children and adults for hours!But as mentioned, there are different kinds of trampolines and nobody wants to bounce onto the wrong one. So, we did your assignment for you and made a list of the best trampolines you can buy. Here's our shortlist which is immediately followed by the full extensive report! Enjoy!
Top 4 Backyard Trampolines
Zupapa Yard Trampoline
Zupapa No-Gap Design 16 15 14 12 10 8FT Trampoline for Kids with Safety Enclosure Net 425LBS Weight Capacity Outdoor...
The Zupapa Yard Trampoline is one of the best backyard trampolines you can get for your home. It features hot-dip galvanizing technology which ensures that it's durable and can last a lifetime due to its anti-rust surface. It comes with two joints made of steel alongside legs that have a W-shape for maximum stability. The maximum weight capacity is 385 lbs. This also comes with six pieces of wind stakes that ensure it won't be blown by strong winds. It features 12 springs to give you the ultimate bounce. The jumping mat is anti-UV and it goes alongside an 8.9 feet enclosure net for maximum safety. The poles have a 10mm foam padding as well. The frame has a 10-year warranty, while the safety pad and jumping mat has a two-year warranty.
Standout Features
Maximum Safety – This comes with a safety net so that you won't go beyond the premises of the trampoline. There's also a 10mm foam padding on the poles.
Weather-proof Durability – It's coated with anti-rust and anti-UV to ensure that it won't deteriorate through time. It's a great bang for your buck.
Skywalker Jump N Dunk Trampoline
Skywalker Trampolines 14-Foot Rectangle Trampoline with Enclosure Net & Basketball Hoop- Green
The Skywalker Jump N Dunk is another backyard trampoline you might want to have for your home. What makes this stand out is that it has a patented enclosure system that has no gaps. This means that you won't fall out of it or go beyond its location. This is made for maximum safety and security. Aside from that, this also meets, and to some degree, even exceeds all of the safety standards laid out by the ASTM. It features t-sockets which serves as a reinforcement to ensure that it stays stable and durable in the long run. This also prevents structural deterioration especially if it's exposed to the weather conditions. You'll also find the steel frame construction to be very durable as it's made from premium steel and is rust and weather-resistant. The jump mat is even made from UV-protected polypropylene so that you won't slip.
Standout Features
Grippy Surface – Its jump mat is made from polypropylene that's UV-protected to ensure that you won't slip and that it won't deteriorate even if it's exposed to sunlight.
Galvanized Steel Frame – Its galvanized steel frame that's rust-resistant and weather-resistant ensures maximum durability that can withstand years for continuous usage.
ORCC Outdoor Trampoline
No products found.
Standout Features
Safety Enclosure – The safety enclosure net ensures that you won't fall off of the trampoline. There's also a safety pad to prevent injuries in case you fall.
Heavy-duty Steel Frame – The frame is made from heavy-duty steel which ensures the utmost stability and sturdiness that can make this trampoline last for years.
Giantex Outdoor Trampoline
Giantex Outdoor Trampoline Bounce Jumping Trampolines W/Safety Pad Enclosure Net & Ladder,14 FT
The Giantex Outdoor Trampoline is another one you might want to try for your home. This is ideal for kids or adults, which makes them very versatile. It features three legs that are u-shaped and can be found beneath the trampoline base. This creates additional support. It also has a safety enclosure net attached to its tubes made from steel. These then connect the spring cover and enclosure net to provide one enclosed and secure environment. It also does a great job of getting rid of any gaps between the net and mat so you won't fall out of it. The Giantex trampoline comes with various accessories along with its jumping mat and steel frames, such as its safety enclosure combo and sturdy ladder. Meanwhile, its weight capacity is 300 lbs. You'll find its jumping mat to be stitched perfectly on it, as well as the top rails and springs lined up very well.
Standout Features
Multi-spring Design – It features a multi-spring design as it has a total of 60 springs that ensures it gives you the best jumping and bouncing experience.
T-Section Security – Its T-section design ensures a stable and secure usage as it connects to the top rails, which then creates a solid base for the trampoline.
Merax Trampoline
Merax 12FT Trampoline with Safety Enclosure Net, Basketball Hoop and Ladder, ASTM Approved Trampoline for Kids (12FT)
The Merax Trampoline is one of the best-looking and most secure choices in this list as it features a 6.5-feet safety enclosure and has two options, a 12-feet and 14-feet variation. Its frame is made from premium steel and features rust-resistant coating. There are 6 W-shaped legs to ensure maximum stability alongside five foam padding on its poles. There are a total of 72 springs that are made from galvanized steel to ensure the best jumping experience possible. You also don't have to worry about falling off of it because there are no gaps between the jumping mat and net as they're covered with a frame pad. But what makes it even more fun is that it comes with a basketball hoop.
Standout Features
Basketball Hoop – This trampoline isn't just about jumping, but you can also play basketball on it as you shoot the ball through its basketball hoop.
Zero-Gap Design – You won't find any gaps here because of the frame pad that encloses every corner to ensure a smooth, enjoyable, and safe jumping experience.
Merax Trampoline
Sale
Merax 14 FT Trampoline with Safety Enclosure Net, Basketball Hoop and Ladder - ASTM Approved Kids Basketball Trampoline
Merax is surely one of the best brands in the backyard trampoline industry as another one of its products made it onto our top list. The Merax 2020 is an upgraded version of their original Merax trampoline as this now features a 15-feet measurement and a six-feet safety enclosure. Frame construction is made from galvanized steel that's rust-resistant. It also has six W-shaped legs for better stability, as well as five foam paddings. There's also a four-step ladder that's made from galvanized steel for easy maneuverability and handling. There are a total of 108 springs made from galvanized steel that gives you an even better jumping experience. And don't worry if you'll fall out of it because you won't, thanks to its blue frame pad. There's even a basketball hoop you can enjoy with your kids, as well as a protective net so that the ball won't go out of the enclosure. The design is rust-proof making this capable of withstanding use for many years, whether it be in warm or cold climates.
Standout Features
Galvanized Steel Construction – The frame construction of this backyard trampoline is very sturdy and durable as it's made from premium galvanized steel. Its 108 springs are also made from this for a more consistent jumping.
Made for Maximum Entertainment – It's got a basketball hoop, protective net, and safety pads to help you make the most out of this fun and enjoyable trampoline.
JUPA Kids' Trampoline
Sale
JUPA 425LBS Weight Capacity Kids Trampoline,15FT 14FT 12FT 10FT 8FT Outdoor Trampoline with Safety Enclosure Net All...
If you're looking for a trampoline that your kids are going to enjoy and is specifically made for them, then the JUPA Kids' Trampoline should be one of your choices.It's proven and tested to be safe for children thanks to its 0.8-inch foam padding that covers entirely the frame and the spring. This way, you don't have to worry about them being hurt because they won't.The frame of this kids' trampoline is made from galvanized steel which also happens to be rust-resistant. This makes it stronger and thicker as well as providing better safety and stability. There are a total of 108 springs that are also galvanized for a smoother and more controlled jumping experience. These springs are made of rust-resistant steel. Meanwhile, the jumping mat is made from polypropylene for maximum elasticity and service life. The weight capacity of this kids' trampoline is 350 lbs.
Standout Features
Made for Kids – This trampoline is specifically designed for kids due to its safety features such as the foam padding which covers almost all crucial parts as well as the ideal nimble sizing
Available Accessories – It comes with a spring pull tool, enclosure net, and a wind stake that has a U-shape design, for maximum convenience and functionality.
Best Backyard Trampoline for Kids
Sportspower My First Trampoline
Sportspower My First Trampoline 84 Inch Outdoor Trampoline with Safety Net Enclosure, Blue/Green
The Sportspower My First Trampoline should be your best bet if you're looking for the best backyard trampoline for kids. Not only is it safe, but it's also very durable, and specifically designed for kids. It features a frame construction that's made from galvanized steel which is rust-resistant and heavy-duty.It also has a foam outer edge so that it'll have added support and stability. The jump mat and netting are UV-treated and give a 360-degree view so that you can keep a close eye on your child. Furthermore, the Sportspower My First Trampoline also features a low-ground base design and a spring cover that has foam padding to avoid injuries. It meets and even exceeds ASTM safety standards and has a maximum weight capacity of 100 lbs. The poles have foam padding protection as well.
Standout Features
Maximum Safety – It's one of the safest, if not the safest backyard trampoline due to its many safety features such as foam padding, and 360-degree full-angle view for you to keep a close eye on your child.
Durability and Portability – It's very durable as its frame is made from galvanized steel. It's also light and portable, which makes it easy to store and to bring anywhere.
Best Backyard Trampoline for Adults
Maximus Pro Gym Rebounder
MaXimus Pro USA Home Gym Rebounder Mini Trampoline 40 inch with Handle Bar | Includes 2 x Awesome Rebound DVD's 7 Workouts |...
If you're looking for a full-on trampoline trainer that can help you get fit fast and in the most effective way possible, then the Maximum Pro Gym Rebounder is for you. In fact, we consider it as the best backyard trampoline for adults due to its durability, effectiveness, and safety features. This is commonly used by athletes for core and cardio training. Specifically speaking, this can help improve your balance, speed, coordination, and agility with this one. It features a very low-impact bounce as made possible by the Advanced Large Spring System alongside its non-slip surface. This is very robust as well thanks to its solid steel frame construction. It also has spring-loaded legs which also happen to be folding. This makes it easy to set up and store. The maximum weight capacity is 330 lbs., which is ideal if you're looking to focus on a solo training session. This also comes with a stability handlebar for a better trampoline training experience. It also has a rebounder which measures 102cm and weighs 26 lbs., which assures that it won't tip over and move compared to other cheap rebounders.
Standout Features
Rebounding – It ensures stability and consistency in the spring-loading time while seeing to it that you won't tip over. This improves efficiency and effectiveness in your training.
Spring-loaded Legs – Can take a maximum weight of 150 kg. and is foldable as well, making this ideal for storage and for those who are always on-the-go.
Not every trampoline is the same, and as a buyer, you should keep that in mind. There are tons of trampolines available in the market, such as Springfree trampolines, a 12 feet round trampoline, and rectangular trampolines. Would you believe there are even trampolines with a basketball hoop?
It seems like the best time to wrap a trampoline for kids as a gift with the holidays just around the corner, and school is about to go on break. It would surely entertain both children and adults for hours!
But as mentioned, there is a wide range and kinds of trampolines, and nobody wants to bounce onto the wrong one. So, we did your assignment for you and made a list of the best trampolines you can buy. Here's our shortlist, which is immediately followed by the full extensive report on trampolines of various shapes and sizes! Enjoy!
Best Backyard Trampoline Exercises
A trampoline offers various benefits. Aside from having fun, it helps you stay fit and healthy through trampoline exercises. It helps you boost endurance, improve health, and relieve tension or stress conveniently, without having to pay for gym fees.
Also, it is a piece of good equipment for sports exercises, like gymnastics trampolines. It helps develop better balance, coordination, and motor skills of athletes. Some athletes prefer to use Skywalker trampolines, which are perfect for sports exercise.
Safe trampoline exercises have positive effects on your bones to make them stronger. Finally, it enhances the muscles on your back and legs. Here are some trampoline exercises you can try at the safety of your home.
Straight Jump
The straight jump is one of the best and simplest exercises you can do on the trampoline. Bend your knees and arms as you do your best bounce upwards and then head down. You need to jump straight and land again in an upright manner.
It's a great way to burn calories and loosen the pressure and stress that your ligaments and joints have. It warms your body up and helps you prepare for a high-intensity workout.
Additionally, it is an effective cooldown exercise once you lightly bounce on the spot. It's best to do this perfect trampoline exercise for around two minutes for the best results.
Hands and Knees Jump
The hands and knees jumps are another effective way to exercise while having a good bounce. You can make the most out of your backyard trampoline with this easy to execute body workout.
This exercise makes use of your different body parts as it tones it down. Try to bounce up while maintaining a flat back. You then want to have a cat-like position once you land on your jumping surface. Simply speaking, you land on all fours, which is your hands and your feet.
Make sure, though, that you stretch your arms after jumping and before you land. You want to start slow at first when using your fitness trampoline. And then, as you do it multiple times to perfect the positioning of your hands and knees.
Split Pike Jump
Then, there's the split pike jump, which is an exercise where you bounce on a trampoline safely, just like a star. You stretch out your legs after jumping. As you're in the air, you want to quickly spread your arms and do your best to reach your stretched out legs and feet.
You then land on your feet in a straight position. You can go for 30 to 60 second-sets and have short breaks in between those sessions. It's one of the best trampoline exercises for your body and improves posture and core strength.
Twists
The twists help develop body coordination. The best part of it is that it works on your core, upper body, and back.
To do this, you have to stand with your feet directly under your hips. Place your arms alongside your body. Then, jump and turn your legs to the left as you rotate your upper body to the right.
Go back to the starting position upon landing. Then, jump up and turn your legs to the right while you rotate your upper body to the left.
Repeat these steps to complete one to three sets of eight to 16 repetitions. Just don't forget to follow trampoline safety precautions when performing these steps.
Pelvic Floor Jumps
This type of jump exercise targets your pelvic areas and thigh muscles. It may seem not easy, but you can do it effortlessly after a few tries.
Place an exercise ball or block in between your knees. Make sure to choose a size that your knees and legs can easily hold. Then, slowly and gently jump up and down while you are squeezing the ball, engaging the muscles of your inner thighs.
Try to use and focus on the strength of your pelvic region. You can do this for about one to three minutes. As a safety measure, you can practice doing this first on a flat surface or floor before performing it on your trampoline.
FAQs About Backyard Trampolines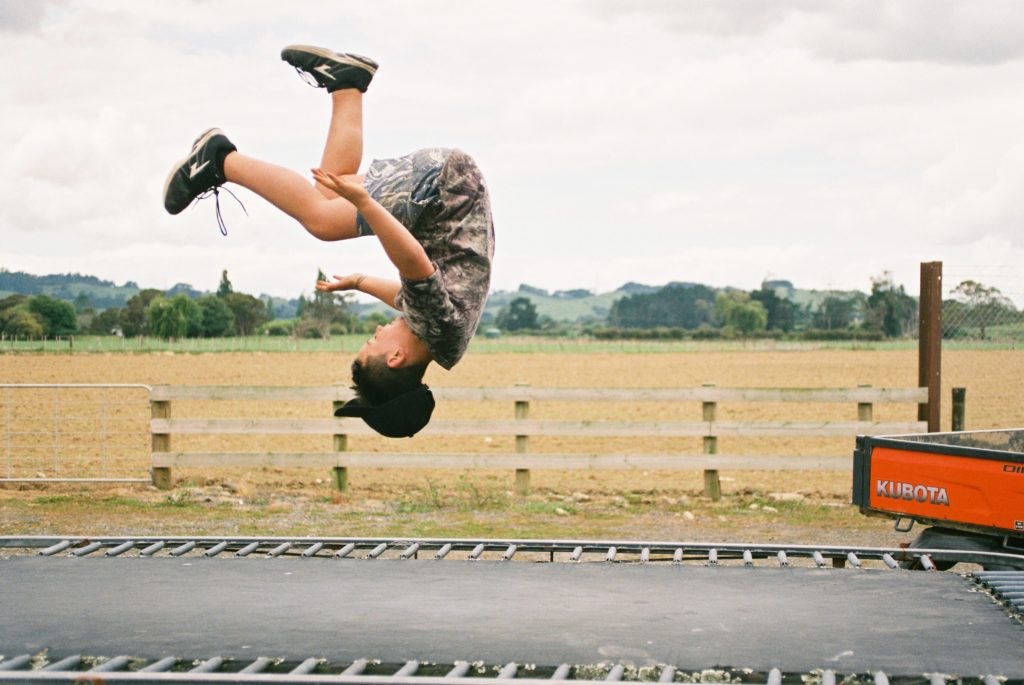 Having a good bounce on your trampoline is one of the simplest ways to stay physically fit. It might even be more exciting than your regular exercise routine. The low-impact exercises you get from jumping on your great trampoline helps improve heart condition and build core strength.
However, proper use must always be observed for added safety. Here are some answers to the possible trampoline-related questions you might still have.
How Many Calories Can You Burn on Your Backyard Trampoline?
The calories you can burn when you use your backyard trampoline depends on a variety of factors. Some of these are your weight, the amount of time you spend on your trampoline, and many others. For example, for persons weighing around 150 pounds, to burn 40 to 50 calories, they need to use ground trampolines for about ten minutes.
However, if they extend their exercise on a round-shaped trampoline to 30 minutes, they can burn as much as 125 calories. But, for a person weighing about 200 pounds, they can burn 165 to 170 pounds for every 30 minutes of trampoline exercise.
Is an 8-feet Trampoline Big Enough?
An eight feet round-shaped trampoline can accommodate up to 250-pound max load. Two kids and a medium-built adult can be on the jumping space all at the same time. It is big enough if you don't have a huge yard. It also can't be considered small because multiple people can use it and enjoy it without compromising trampoline safety.
For children below six years old, it is advisable to use only the recommended trampoline for kids. Small children are not supposed to use trampolines that are bigger than ten feet. Hence, it is wise to use mini trampolines appropriate for their age and height. These trampolines for young children are ideal for both indoor and outdoor use. It is also easy to assemble and can fit even in small spaces.
Moreover, there are several differences between a home and a professional trampoline. Professional trampolines are typically made of heavy duty galvanized steel and galvanized springs. Its average base size is 14 to 17 feet. All of these factors, most especially the frame and springs, allow professionals to bounce much higher.
But, you need to check the price of this trampoline type, since it usually costs more than the standard ones. One of the famous brands among professional athletes is the Skywalker trampoline.
How Many Kids Can Jump on a 10-foot Trampoline?
It depends on the size, age, and weight limit of the kids' trampoline. But a good figure for this is around four to six kids, or even more. However, it is not appropriate to have as many kids jump and play simultaneously, especially if you're not sure about the durability of your backyard trampoline. It would be better if only around two or three kids are playing at the same time. It ensures that it will not go beyond the maximum weight limit and capacity of the trampoline. It also lowers the likelihood of kids hitting each other and falling off the trampoline, resulting in injuries.
Is a 15-foot Trampoline Big?
Yes, it is. It is, in fact, one of the biggest, if not the biggest kind of backyard trampoline. However, people rarely see it nowadays, and manufacturers do not produce this size that much because not many people buy it. But the right question you should be asking is who will be using it? It is not wise to buy a 15-foot trampoline if only one kid or a toddler will be using it. It is best if you get trampolines for kids, instead.
A trampoline this size is ideal for a family of four or five with teenagers. Remember to consider the age, capabilities, and weight of the users before buying for trampoline safety. You also have to consider if the trampoline fits into your backyard. It is senseless to get a larger size for houses with smaller spaces. The biggest ones are not always the best trampolines. So, always choose something that will suit you and your family's needs.
The following are the various sizes with the corresponding jumping surface areas. We hope that this information will give you an idea of what type of trampoline best answers to your requirements.
A ten-foot trampoline can give a total of 63 square feet jumping space.

A 12-foot trampoline can provide a jumping area of about 93 square feet.

A 14-foot trampoline has around 133 square feet of jumping area.

Finally, a 15-foot trampoline offers ample space for jumping of more than 150 square feet.
What shape of a trampoline should I use?
Trampolines come in many shapes and sizes. There are five popular types from which you can choose. Each class offers a different kind of jump as compared to the others. What type or shape to get will mainly depend on the purpose of the trampoline. So let's discuss each kind for you to decide which among these is the best outdoor trampoline for you.
Round or Circular Shape
A ten-foot round spring-free trampoline can give you and your kids a perfectly good bounce. Although most round trampolines do not have enough room for tricks and awesome performances, it is the safest trampoline.
Unlike other trampolines, jumpers are always directed to the center of a circular shape. Thus, it prevents kids from falling off the trampoline.
Rectangular Trampoline
The rectangular-shaped type of trampolines also gives a good bounce height. It has one of the best heights of bounce among all kinds of trampolines. But, it is not one for consideration if you are looking for the safest trampoline.
Professionals commonly use a rectangular trampoline since it is meant to be more powerful and durable than standard ones. The elasticity of these trampolines for professionals is due to the rigidity and firmness of its frame and springs.
Oval-Shaped Trampoline
Just like the round trampolines, the oval-shaped ones are also ideal in performing tricks. It has the same trampoline safety feature wherein it points the bouncer back to the center of the mat.
Square Trampoline
Trampolines that are square-shaped have more square feet of jumping surface than circular trampolines of equal size. Some bouncers also claim that this type feels more robust and provide more consistent bounce across the entire mat. Lastly, square trampolines allow you to use outdoor spaces more than round ones efficiently.
How to Avoid Trampoline Accidents?
Trampoline jumping is getting popular both as a recreational and physical fitness activity. You can find many homes with trampolines of different shapes and sizes in backyards or indoors.
One can also see this jumping equipment in parks, playgrounds, and other recreational areas. This easy to assemble equipment can give kids and adults hours of fun.
However, with the rise of trampoline popularity, there has been an increase in issues and concerns about trampoline safety. Nevertheless, this should not be an issue if you know how to use good quality jumping equipment properly. Here are a few tips for you on how to prevent accidents from happening when using your top rated trampoline.
Use a Safety Net
One good way of avoiding trampoline accidents is by using a safety enclosure net. An excellent example of this is the Upper Bounce Replacement Safety Enclosure Net. The Upper Bounce net is made from terylene, which is very durable.
It also has a dual-closure entry that's made possible with its buckles and zippers. It's also adjustable and very flexible as it can fit well on three arches or six straight net poles. You can check the price of this safety net with your trusted amazon associate.
A net enclosure is one of the best, if not the best way to avoid accidents that can cause injuries to your kids or adults. A trampoline net enclosure with a spring pad ensures that the fun continues without compromising visibility. It also connects the net between the jumping mat and the pad. It will help to place a foam pad around the trampoline in case of kids falling away from the trampoline.
Properly Maintain Your Trampoline
Before jumping on the trampoline, make sure that all parts, like the metal frame, spring pad, and mat, are in good condition. It is to ensure that the trampoline doesn't break apart while kids are jumping on it. Also, check for the state of the foam pad around the landing surfaces for added safety.
You also need to check your jumping equipment regularly for tears and deterioration. Inspect if all materials are still tightly woven. Dispose of damaged equipment, especially if you cannot find replacement parts.
Place the Trampoline in a Safe Location
Before deciding to buy Skywalker trampolines 12 feet, measure the space where you will place the equipment. There should be enough free and safe space around the trampoline, especially if you don't have a safety net. Preferably, there should be at least three feet of clear space around the equipment for maximum safety.
Further, ensure that you're putting the trampoline on firm and level surfaces, like grass or soil, but never on concrete. Also, please do not place a trampoline on an inclined surface, no matter how slight it may be.
Where you place the equipment is one of the crucial trampoline safety measures you always have to keep in mind. Also, fasten it well to the ground so that the trampoline doesn't get blown away easily by strong winds.
And finally, when indoors, place your trampoline away from furniture, hard objects, sharp corners, and breakable materials. You don't want your kids to hit any of these objects unintentionally. Remember that you, as a parent, can make it the safest trampoline for your kids.
Observe Good Posture
Keep your body's form by maintaining good posture while jumping on a trampoline. It is one of the trampoline best practices that you need to keep in mind. Have your spine, neck, and head all aligned. Never move your head to the front, back, or side.
When jumping, slightly bend your knees to avoid injuries when you land on the mat. And you can also wear tennis or comfortable rubber shoes for support and maximum trampoline safety.
Consult with Your Doctor
Always consult with your doctor before doing any trampoline exercises. It is imperative, especially if you have medical conditions, injuries, or if you are taking medications. Stop jumping on a trampoline once you experience difficulty in breathing or any pain. It is also a good reason to discontinue exercising if you start to feel dizzy or faint. If any of these things happen, stop for a bit and rest until you feel normal again.
Supervise and Follow Precautions
The most common cause of trampoline injuries is when you have multiple jumpers. More people on the mat pose a higher risk of bumping into each other or reaching the weight limits that might cause the trampoline to break. It is also possible that one may accidentally push another person off the trampoline. Only one person at a time should jump on the equipment.
Sometimes, even with a safety net, actual accidents happen on the mat. Thus, there must be an adult supervising children who are playing on the trampoline. Proper instructions must be given to the kids before jumping onto the mat. Always watch young children closely and carefully while they are playing and having a good bounce. Remind children to follow the safest trampoline measures at all times.
Never let kids do complicated moves, tricks, somersaults, and very high jumps. Professional athletes on square trampolines can only do these and are still under the supervision of coaches or trainers. Here are other safety tips that you can follow before using a trampoline:
Do not let children below six years old use a trampoline.

Remove ladders after each use, disallowing kids to enter and exit the trampoline without your knowledge.

Always make sure that the springs are attached to the trampoline frame and mat.

Use a safety spring pad on the trampoline and enclosure, which can save lives.

Read the manual before using the trampoline.

Call the manufacturer's customer service if you have any other questions about the equipment.
Causes of Trampoline Injuries
Trampoline play and exercises are entertaining and enjoyable. But, it is not fun anymore when accidents happen. Hence, it would be best if you get excited and stay safe at the same time when using a trampoline, in big or smaller places. Trampoline injuries can occur at home, in jump parks, and other recreational areas. Below are some of the common causes of trampoline injuries, which you can easily avoid:
Attempting the high-flying maneuvers and somersaults by unsupervised and untrained children

Collision among children who are jumping on the mat at the same time

Children falling directly on the galvanized steel frame of the trampoline

Kids falling off the trampoline mat onto the ground or a hard surface

Being caught in the springs
What Do I Need to Consider When Buying a Trampoline?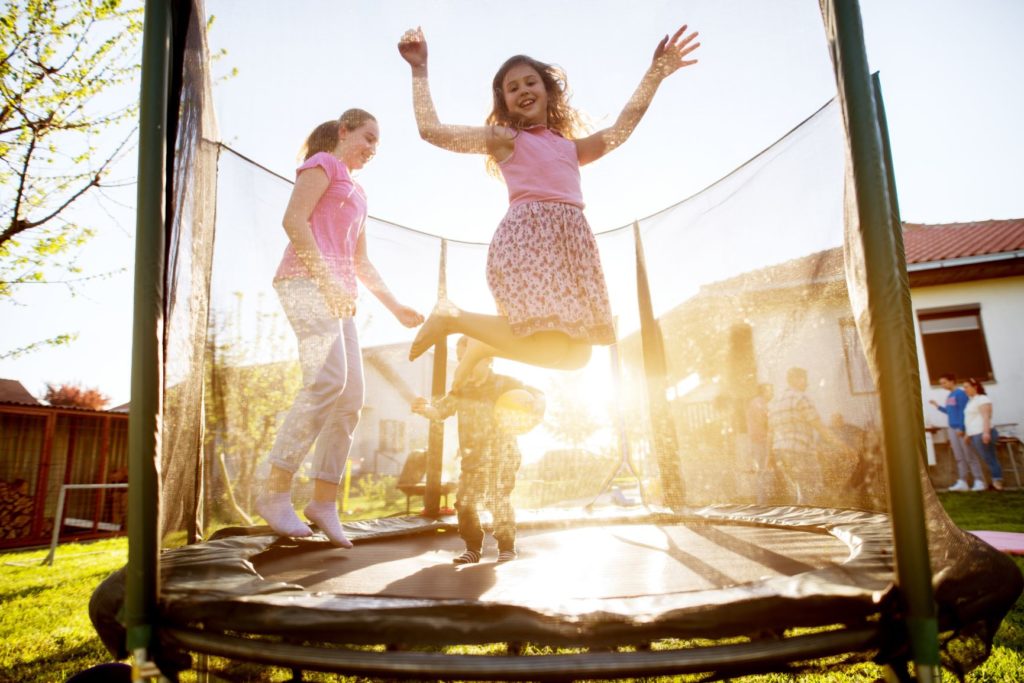 Everybody can't wait for the summer to play with their 12-foot round trampoline in the backyard. Most kids who grew up with this jumping equipment would want the same for their children. Thus, most of them buy one not only for their kids but for them as well.
Some could have had a backyard Zupapa trampoline, which is known for its safety net. For some, it could have been Skywalker trampolines with their patented enclosure to prevent kids from getting caught in the springs.
But how do you choose a great trampoline for the whole family? Do you just need to look for one that has a high-density metal frame? Or should you search for a trampoline with a safety net and the jumping springs? With a wide range of trampolines to choose from, you might find yourself more confused. So, here are some buying guidelines to make your task of choosing a high-quality product a lot easier.
Springs or No Springs
In the list, there is one brand that offers Springfree trampolines. It is more expensive than the usual trampolines. But, anyone who has tried slipping through the springs would understand the compromise.
Trampolines with springs are still outstanding. Just make sure you pick those that have thick spring pad. It is to avoid hard edges and potential injuries in case you get caught in the springs. So, look for springs for your trampoline that won't loosen up easily.
It also would help if you find rust-resistant springs that safe for both adults and kids. Springs that are strong, flexible, and made of high-quality thick wires are ideal for any trampoline.
Shapes
Trampolines come in different shapes. Round ones are great for home use and are cheaper and lighter than other forms. However, you might need to stay more in the center to bounce. The most common for home backyards is the eight to 12 feet round trampolines.
Rectangular-shaped ones are most commonly used by gymnastics and in competitions as they are bouncy in almost the entire parameter. But they are heavier and expensive. It gives the largest area for jumpers; thus, it is the safest trampoline if you have more than one kid around.
Meanwhile, square trampolines have a firmer bounce. It means that the overall jumping height is less, so there are more lift and a firmer bounce. This type of trampoline is ideal for backyards smaller spaces since it efficiently occupies these areas. And, a square-shaped trampoline best fit professional jumpers.
Finally, oval-shaped trampolines also feature a larger area for jumping on, as compared to round ones. This trampoline doesn't limit the space for a single jumper and allows you to make jumps of longer distances.
Trampoline Size
A smaller trampoline provides more bounce but a lesser surface area. Also, consider the size of your backyard and see what size of trampoline best fit on the available space. Ensure that the trampoline location is free from hazards like a tree or electrical line that can pose safety issues or even leaf collection during fall.
People always tend to buy the biggest trampoline available in the market, without thinking whether it is necessary. Most of the time, the biggest is not always the best. A smaller trampoline offers the same fun and enjoyment as the bigger ones.
Whether you're getting the biggest round or square trampolines, the area size where to put it is crucial. Also, it is best to check the price of the equipment before actually buying one.
Quality, Quality, Quality
Backyard trampolines need to stand the test of time. Remember, it is placed in the backyard so it should survive rain or shine. Consider getting a jumping pad that has UV wear and long-lasting tear protection.
The quality of the frame and welding is also an essential factor to consider. Go for a trampoline that uses a high-quality galvanized powder-coated or rust-resistant metal frame. A perfectly welded trampoline is also a necessity to ensure durability. You don't want your trampoline to collapse or break down a mid-jumping session, right?
Most cheap trampoline and enclosure are often made from low-quality materials. Look for trampolines with great tube diameter and wall thickness. Also, choose a trampoline with heavy-duty galvanized frames inside and out. Remember that a galvanized steel frame is corrosion and rust-resistant.
Trampolines made of these high-density materials will last for a long time. So, when choosing a good quality jumping equipment, it is best first to check the price and the materials. One of the trusted models among jumpers is Skywalker trampolines. It is an industry-leading brand that has sturdy construction and design.
Safety Provisions
Safety must be your priority in choosing a jumping device for the home. Some choose Springfree trampolines to avoid any spring-related injuries.
For those who don't prefer Springfree trampolines, always check the protective edge that covers the springs. It is typically green in color and protects people who might accidentally make a wrong jump.
You can also check for provisions for an enclosure like a safety net with sturdy net poles surrounding that trampoline. You are not required to buy safety nets for your trampoline.
However, a trampoline enclosure with springs helps prevent children from falling off the trampoline onto hard ground. Thus, the safest trampoline is typically the one that has enclosure nets.
Another thing to look for is a tightly woven jumping mat. The more the trampoline mat has been stitched through, the more durable and safer it is for the max load of jumpers. Some manufacturers make stitches of up to eight times for extra security.
Finally, if small children will be using the trampoline, it is wise to add handlebars. Most children are not yet stable jumpers. It will be easier if they have something to hold onto while playing on the trampoline. Some of the safest trampolines are the trampolines Skywalker offers. It has a wide range of safety enclosures and accessories available for your kids' protection.
Weight Limit
Always check for the weight limit a trampoline can handle. Manufacturers commonly put the weight limit on the equipment. It is for buyers to instantly know if it is ideal for only a single kid or more.
Each trampoline design, model, or brand has different weight limits. Below are the general maximum weight capacities of trampolines according to sizes:
Eight to 12-foot round trampoline: 200 to 300 pounds

14 to 16-foot round trampoline: 250 to 400 pounds

Rectangular trampoline: 200 to 450 pounds

16-foot oval trampoline: 300 to 450 pounds
Bigger sized trampolines can accommodate heavier weights of more persons at a time than the smaller ones. Magic Circle offers the best part of a trampoline that can hold a weight of up to 450 pounds. Therefore, more people can enjoy the exciting and healthy benefits of the equipment. So when buying a trampoline for fun or exercise, make sure to stay within the recommended weight limit for safety.
Multi-Year Warranty
High-quality trampolines offer one to a five-year warranty for their products. It is because they are sure that their equipment will last for years. It is an important feature that guarantees you of a trampoline with sturdy construction that will not easily break. So, if your trampoline gets damaged within the limited year warranty period, the manufacturer can fix or replace it for free.
An extended or multi-year warranty is also an added protection for you as a customer. It ensures you to get the product as described by the manufacturer. Some even offer a warranty on parts, like a warranty on the frame.
You must get a trampoline that comes with at least a one year warranty. It will make your life easier if you happen to get a defective item.
What Accessories are Available for a Trampoline?
One of the fun physical outdoor activities for kids and adults is playing on a trampoline. For kids, it is the best way to have fun with friends and playmates. And for adults, jumping on the trampoline best allows you to burn calories easily.
Aside from determining whether you want with spring or Springfree trampolines, you might also need other accessories. These attachments can make your experience on trampolines more fun and enjoyable. Meanwhile, some attachments help increase the safety and durability of your jumping equipment.
Many trampoline accessories are available on the market; most of them are easy to put and set up. It includes safety enclosures with net poles, handlebars, and safety pads. Some are included in the package like the Skywalker trampolines, while others you need to purchase individually.
Basketball Hoops
Trampolines are fun, but getting an accessory like a basketball hoop makes it even more exciting. And the Jump N' Dunk trampoline from Skywalker offers just that. The rings encourage kids to be more active. It also allows you to perform more physical and challenging activities for your daily workout. Also, it is nice to take photos while you are shooting hoops, which you can proudly post on Facebook or Twitter.
Those who love basketball will have crazy fun playing with the hoops and trampoline at the same time. It is generally height adjustable that both kids and teenagers will love. Make sure that your trampoline has a sturdy heavy-duty galvanized frame to bear all the slamming you will be doing. It will also be better if you can have a warranty on the frame for more extended use.
Ladder or Slider
Most large trampolines come with a standard mesh ladder. However, these ladders usually have sharp edges with a small stepping area. Some injuries happen when kids enter or exit the trampoline.
Thus, having a better ladder can provide more stability and security for your children. Remember that the safest trampoline ladders are those made of powder-coated galvanized steel.
Another way for your kids to make a fun exit is by putting a slide on your trampoline. Skywalker trampolines offer ladders that have the same material as the mat. Hence, it feels soft and springy and is safe for children. You can also set up and fold it without any hassle.
Shoe Holders
Shoe holders help you keep the shoes and slip-on in order while kids are having the time of their lives. You can keep shoes away from areas where children may accidentally step on them and cause injuries. Also, a shoe bag can keep the shoes from getting dirty or muddy.
Standard trampolines do not come with a shoe bag; thus, you must purchase it separately. You can ask the trampoline manufacturer or call their customer service to inquire whether they offer this accessory. A shoe holder might come in handy, especially if you regularly have plenty of kids playing on your backyard trampoline.
Anchors or Stakes
Anchors and stakes give additional protection to your trampoline and its surrounding areas. It will ensure that your equipment will not create any damages during severe weather conditions. If you live in a windy state or city, these accessories will be necessary. But unlike net poles, anchors can hold the trampoline and keep it from moving when a wind storm comes.
Stakes can keep your trampoline safely anchored onto the ground when there is a hurricane, storm, or strong winds. Hence, there will be no need to use your trampoline's multi year warranty immediately.
Spring Tool
Springs can easily loosen up, especially if jumpers reach the weight limit of the trampoline. Putting these metals back into place is hard. A spring tool makes this job a lot easier. It is also a useful tool when setting up your new trampoline for the first time. Also, this helpful tool protects your hands from possible blisters and pain.
Safety Mats or Pads
Safety mats and pads protect jumpers from springs. It keeps you from getting hurt when you accidentally step on the springs. You will find that the safest trampoline in the market always has these protective pads. But, in case the one you have does not have one, you can easily buy these pads from trampoline shops.
You can also get a trampoline mat repair kit. It is a cheaper option if you don't have the budget to buy for a brand new replacement safety pad. Most Skywalker trampolines come with extra thick vinyl-coated spring pad that is fade resistant.
Weather Cover
Even UV and rust-resistant trampolines are not shielded from natural wear and tear due to varying weather conditions. The best solution is a trampoline cover. It is the best way to protect your equipment from sun, rain, and snow. Using a cover subsequently adds more years to your precious trampoline. It also saves you from spending to buy a new one for quite a while.
Trampoline Final Thoughts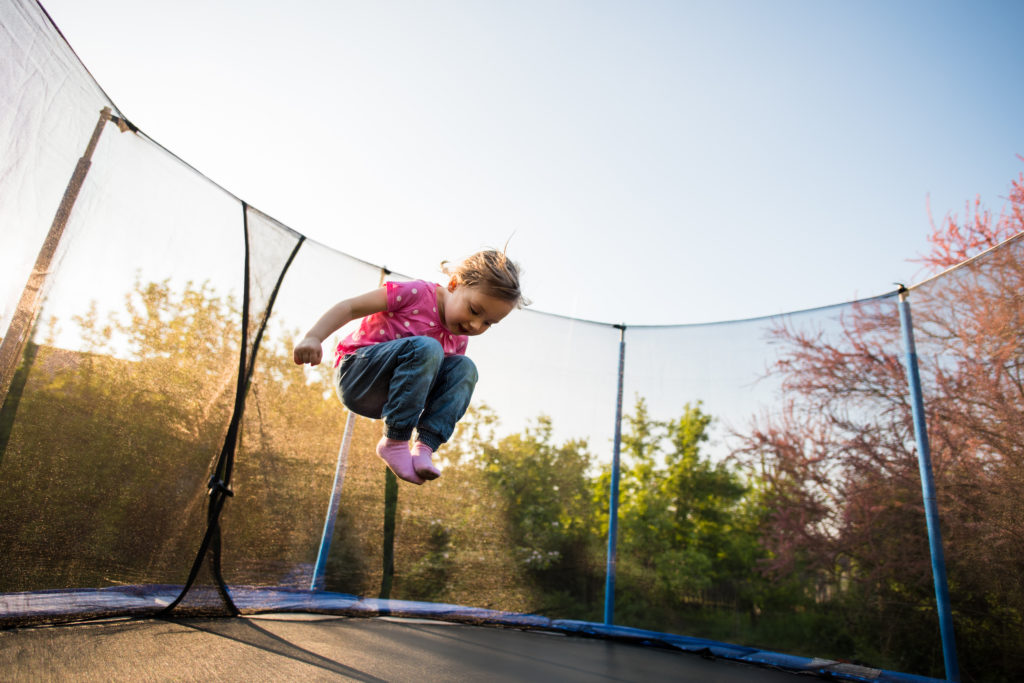 Most of the kids these days are on their gadgets, and we believe trampolines are one of the best ways to encourage them to go out and actually play. As parents, it is understandable that we have some trampoline safety concerns and that's why we did this review for you.
Remember, the best part of it is creating these fun memories during their childhood years. These experiences are irreplaceable, so make the best out of it. Besides, if you get the big 15- foot round trampoline, you can join the fun.
So again, when buying one, make the safety features a top priority. Also, check all the other things to consider above and list down the features that will suit you best. Don't worry, we are pretty sure there is a trampoline for every price point and expectations. We believe you will be able to find just a trampoline best for you and your kids.
We work as an amazon associate, and we earn from qualifying purchases. Please call our customer service to learn more about qualifying purchases.