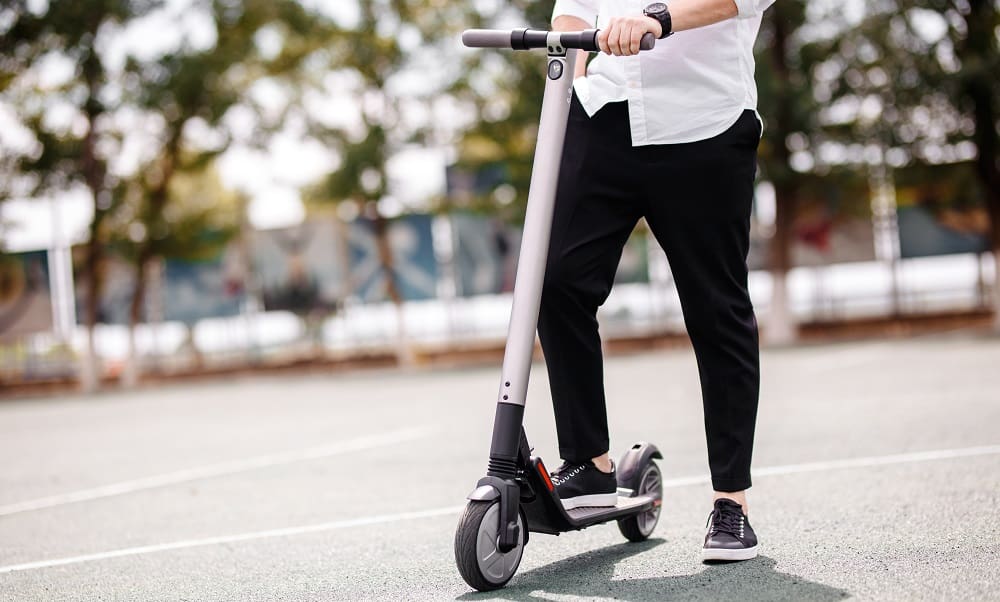 Let's face it, your scooter takes care of you by helping you commute to work, zip through crowded streets fast, ride for leisure, or even engage in heavy stunt riding. To continue enjoying using it, you also need to take care of it, right? And one way to do this is by upgrading the current bar to a high-quality pro scooter bar.
Handlebars are a crucial component of your scooter and transform your scooter from a heavy and weak one to a feather-light and durable machine piece.
Finding the best scooter bar isn't a walk in the park, but we've simplified it for you. Go through the reviews of our top 10 bars below to find what suits your riding needs.
As a cherry on top, there's a buying guide at the end to help you find the right scooter bar for your riding needs. No matter you're looking for cheap scooter bars or need high-end pro scooter bars, you need to know the basics first.
Best Pro Scooter Bars
Here is a list of 10 of the best pro scooter bars. Find one that suits your scooter and your riding needs.
Are you searching for the lightest, tough, and yet sleek bar to make your scooter shine? The Razor's Ultra Pro Series Cro-Mo may be your answer. The bar consists of standard-sized T-bars designed from lightweight but tough 4130 Chromoly steel. This tough, rugged bar is recommended for beginner and casual riders.
Recent buyers report that the handlebar can withstand a lot of use and last for years. Its durability is the reason most people like it, along with the sleek look and sporty design. The Ultra Pro comes in an eye-catching green color, and you can easily adjust it to your kid's height.
The handlebar is compatible with all standard threaded steering tubes. Most importantly, you can assemble it with your eyes closed.
Specs
Item weight: 1 kg
Frame material: Alloy steel
Color: Green
 Pros
Incredibly lightweight
You can adjust it to your desired height
It has an attention-grabbing green color
Pocket-friendly
Cons
It's not suitable for very tall people.
What Makes It Special?
What makes the Razor Ultra Pro Series one of the best scooter bars is its lightweight feature, affordability, and durability.
Finding pro scooter bars can be challenging if you have a list of expectations. However, Envyscooters has fixed this issue by creating a handlebar with pretty much everything you could ever ask for, including control, durability, comfort, and you name it.
The Reaper Bar is created to be used by any type of rider. More importantly, if you like making fancy moves and looking for the best scooter bars to perform your stunts, consider this handlebar.
It features 4130 Chromoly steel and a heat-treated coating that makes it tough and durable. Besides, the Reaper Bar is fun to use and lightweight, as well.
Specs
Item weight: 1.90 pounds
Dimensions: 38 x 22.83 x 25.59 inches
Color: Polished
 Pros
Chromoly steel construction
Sleek design
Lightweight
Durable
Cons
It is not compatible with every scooter
What Makes It Special?
The perfect balance between weight and size is what makes this pro scooter bar every rider's dream. The construction is sturdy, too.
If you're on a budget but looking for a higher-end scooter bar, then don't overlook the Fasen Ozzi Bar that has a sturdy construction and comes at a friendly price.
Fasen understands the importance of a rider's overall comfort, particularly those riders who like learning new tricks. That's why this bar has a flexible design and is lightweight for easy maneuvering.
Besides, the bar comes at a universal size, making it a good fit for all scooter models. Further, it arrives with an installation slot, which means you can start using it right out of the box. The installation process takes only a few minutes.
Specs
Item weight: 1.94 pounds
Material: high-density aluminum
Width: 600mm
Height: 650mm
Color: Black or Chrome
Pros
Lightweight
Sturdy
It can fit nearly all scooters
Stylish black design
Easy installation
Cons
Not compatible with all scooter sizes
What Makes It Special?
The Fasen Ozzi is comfortable to use and gives you greater flexibility. This handlebar is slightly bent towards the center, giving you extra control when it comes to steering.
4.

Phoenix Lineage

– Best Chrome Pro Scooter Bar
Are you looking for a bar that will make people in front of you keep turning their necks after you've passed the with your scooter? The eye-catching lineage artwork on the black surface of the Phoenix Pro Scooter Bar will do the trick.
Handlebars are one of those scooter parts that are frequently used, and that's why they should be durable. Phoenix had this in mind when building this bar, which is why they heat-treated it in 4130 Chromoly steel to make it strong and highly durable.
The bar is 26 inches high, making it suitable for riders taller than 5 inches. Besides, the taller bar provides more comfort and stability when riding.
Specs
Height: 26 inches
Width: 24 inches
Color: Black and Chrome
Pros
Sturdy and durable
Sleek design
More stable and comfortable to ride
Fantastic downtube graphic
Cons
Too tall for shorter riders
What Makes It Special?
If you'd like to forget about replacing your scooter bar for a long time, then the Phoenix Lineage Scooter Bar could be the perfect pick. This is because it's heat-treated to make it more durable.
When it comes to high-end scooter bars, Alex knows it better. Their BOL bar was named after Jess Boland, Apex's team rider. Made from 4130 Chromoly steel, the bar is designed to withstand continued use. Furthermore, it's powder-coated for a beautiful finish.
Apex Pro bar's size is what most people like; it's 24-inch high and 22.5-inch tall. In other words, most riders find this height comfortable as it gives them more control over the scooter. The extra wide bar makes riding fan too.
Specs
Width: 22.5 inches
Height: 24 inches
Product weight: 2.84 pounds
Color: Clear
 Pros
Durable
Lightweight
Can fit most riders
Cons
Taller riders may find them not so fitting
What Makes it Special?
These are some of the most high-end scooters you'll ever find. They are strong and fun to scoot around with.
When reliability is what you want, then Liberty Pro Titanium is the answer. The bar has a GR-9 Titanium construction, making it one of the most durable units on the market. The bar takes away any discomfort associated with weight during riding. It comes with a customizable sizing that you can adjust to suit your needs.
With a height of 27 inches and a width of 24 inches, this is one of the most popular scooter parts among riders of varying heights. This handlebar has given Liberty Pro a reputation, as most professional riders choose the Titanium T-bar as their favorite handlebar.
Titanium is known for being a lightweight and durable material as regards construction. Therefore, having a pro scooter bar made from it reduces the scooter's overall weight and offers unmatched ease and comfort when it comes to riding. That said, the Liberty Pro Titanium Bar has all the features of a perfect scooter bar.
Specs
Material: Grade 9 titanium
Height: 27 inches
Width: 24 inches
Diameter: Oversized (35mm)
Color: Black Chrome
Pros
Versatile
Oversized design that fits any model
Grade 9 titanium construction for durability
Extremely lightweight
You can customize it for an ideal riding experience
Super tough
Really cool finishes
Cons
A bit pricey for beginner and intermediate riders
What Makes It Special?
The Liberty Pro bar is made from high-quality titanium, making your scooter lightweight and highly durable.
Now, the tallest scooter riders should stop complaining and start smiling with the Affinity XL Classics Bar. It comes at a staggering height of 28 inches and 24 inches width in both oversized and standard versions. The tall bar gives you more stability and control when zipping around the neighborhood.
Designed from the revered and super-tough 4130 Chromoly steel, this bar is strong enough to withstand extended use. It will serve you well for a long duration, cutting down your scooter maintenance costs.
By purchasing the Affinity XL bars, you will be showing support to the livelihoods of many riders who share Affinity's passion for design and American craftsmanship within the scooter scene.
Specs
Material: Chromoly steel
Height: 28 inches
Width: 24 inches
Unit weight: 3.4 lbs
Shape: T-bar
Pros
High-quality powder coat for durability and extra shine
Exceptionally tall
Made from the tough and resilient Chromoly steel
Budget-friendly
Cons
Not ideal for shorter riders
What Makes It Special?
The bar is super tall, giving you more control and stability while riding your scooter.
RP Titanium Pro Scooter Bars - 23" Wide 25.5" Tall - Pro Ultra-Lightweight Stunt Scooter Bars - Strong Like Traditional...
⚖ FEATHER-LIGHT & DURABLE. ALL Root Industries genuine scooter parts are SUPER lightweight - especially these titanium bars - while remaining durable and maintaining a sleek, attractive design. This...
🏆 PROFESSIONALLY RIDDEN. The best riders ride Root Industries! From years of testing at skateparks worldwide and in the streets around the globe, ALL Root Industries products are forged through...
⏱️ EASY INSTALLATION. Get to the spot and start the session in no time! With Root Industries' easy-to-install AIR T-bars, installation of this essential component is a breeze and a no-brainer....
When you get your scooter bar from Root Industries, you're getting the best. Why? The products undergo years of testing in the streets and skate parks all over the globe. The bars are forged through many hours of determination, dedication, heavy research, hard work, and calculated execution just to ensure they can withstand any task.
The titanium bars are feather light but durable. The lightweight design gives you pro scooter control and easier trick execution. They have a sleek and stylish design that improves the scooter's appearance and overall experience.
These oversized handlebars can fit on any scooter size, making them versatile. Whether you are into sporting or commuting, this handlebar is your perfect choice.
Specs:
Material: Titanium
Shape: T-bar
Height: 25.5 inches
Width: 23 inches
Pros
Lightweight and durable
Easy installation
Tested to guarantee strength
90-days manufacturer's warranty
Versatile
Customizable
Match all color options
Cons
A bit pricey compared to the other models
What Makes It Special?
The Root Industries Bar is exceptionally lightweight and strong. It also adds to the scooter's comfort and flexibility.
Finally, here's one of the best pro scooter bars for both short and tall riders. To make this possible, Seway designed the bar's length to be between 85 cm and 116 cm. That makes it suitable for riders of height between 95 cm and 190 cm. The bar uses a telescopic design and ball-in-socket joint to accommodate any rider.
If sturdiness and durability matter to you, then this is your perfect choice. The Seway Scooter Handlebar is built from aluminum alloy, making it one of the most robust and most durable bars on this list. In addition, high-quality paint spraying, the grit dose process is used in the adjustable aluminum bar.
Installation of this handlebar is a breeze. All you need to do is open the ring closure, put the ring at the hoverboard's center, and tighten those four screws. It comes with the hex key and one telephone mount that you can easily attach to your bar.
Specs
Height: 35 to 46 inches
Material: Aluminum alloy
Item weight: 3.4 pounds
Color: Black with a red mark at the center and at the end
Pros
Highly adjustable to suit any rider
Sturdy and lightweight
Easy to install
Compatible with most scooter models
 Cons
The red parts are made of plastic that easily breaks
The four screws holding the bar together can't stay tight
What Makes It Special?
The ability to adjust this handlebar to any height or angle makes it a top choice for riders with different heights.
This handlebar is made from the highest grade titanium, which makes it super strong but ultra-lightweight. In other words, you'll have a portable scooter, but also a super durable one.
The T-shaped bar gives you maximum riding control and comfort. And, did we mention the raw color makes this bar attractive and unique on your scooter?
The bar comes in both oversized and standard variants and is a great fit on most compression systems. This reliable unit is designed for pro riders.
Pros
Ultra lightweight
Comfortable
Available in both oversized and standard variants
Easy stunt execution
Strong
Cons
A bit costlier compared to similar models
What makes It Special?
The SCT USA bars are of superior quality. The full titanium build makes the bar feather-light and exceptionally strong. Further, the unique raw color makes this bar stand out in the skatepark.
Final Verdict
Choosing the best scooter bars is based on individual preferences, and our list does well to address the varying rider needs. Are you a stunt rider looking for the strongest and ultra-lightweight bars?  Go for Liberty Pro Scooters Stealth Titanium T-bar or  SCT USA Titanium Bar, and they will serve you long enough.
Are you on a budget but still need a bar made of titanium, which means it's both strong and feather-light? Go for ROOT INDUSTRIES RP.
However, we also have affordable but strong and durable handlebars. So, if that's what you want, check out Razor Ultra Pro. Furthermore, this bar is one of the lightest on the market.
And as a tall rider whose current scooter handlebar keeps knocking your knees because it's too short, it's time to upgrade to Affinity XL Classics, which has the tallest height on our list – 28 inches.
But sometimes, you want to gift your kid with a quality scooter, which they can keep using as they grow up. That means the bar has to be adjustable to accommodate different heights. If that's your need, then look no further than the Seway Scooter Handlebar.
Key Considerations When Buying Pro Scooter Bars
Maybe you want to build your own pro scooter but you need to find the right components. The handlebar is the only moving part that helps to steer your scooter, which makes it a vital component. Therefore, upgrading your bar will lead to significant changes in your scooter's feel and performance. To sum up, it's best to choose a pro scooter bar that suits your riding needs.
While the riding style is an essential factor when choosing a bar, other factors are equally important, and they include the following:
1. Form
Handlebars come in a variety of types with different constructions and features.
Regular Bars
Standard bars are typically adjustable and contain many pieces. If you only intend to take short commutes while riding around the streets, consider bars with quick release features and easy adjustments. However, these might not be your most vital options.
T Bars
T bars with one or two pieces are usually stronger and require better compression systems when installing. However, if you want to go for heavy stunt riding, these may not be the best.
Y Bars
These bars offer between weight distribution, which makes them ideal for stunt riding. These bars require strong compression systems as well.
BMX Style Bars
These bars are much stronger and a favorite for most freestyle scooter riders. Besides, the bulkier form of these handlebars is meant for strenuous skatepark riding.
Batwing Bars
These bars are some of the best because of their hybrid features. They combine the best of both BMX and Y bars and are the top choice for most pro riders.
2. Material
Pro scooter bars are made from various materials that determine their overall strength, weight, and durability. Therefore, it's essential to consider the type of material the handlebar is made from, such as:
Steel
Most scooter bars are made from Chromoly steel, which is Molybdenum rich steel. Chromoly is super tough and can withstand any riding condition. However, it's a little heavy, which is why most riders end up choosing titanium or aluminum bars.
Aluminum
Bars made from aluminum are lighter than steel-made ones. It's for this reason that most riders choose aluminum. However, heavy stunt riders tend to avoid aluminum, as it's slightly weaker than steel.
Titanium
Titanium is strong and lightweight, which makes it a popular choice in aircraft manufacturing. Titanium scooter bars are ultra-lightweight and nearly as strong as steel. It's for these features that pro riders prefer these bars. Due to titanium's high-quality features, titanium bars are a bit pricey.
Alloy
Alloy bars consist of steel-based alloys that make them strong. However, bars made of steel alloy are lighter than their steel counterparts. The versatility of alloy makes alloy bars a popular choice among stunt riders. Moreover, they are cheaper compared to titanium bars.
3. Size
Pro scooter bars come in different sizes, and not all of them may work with your scooter. This is because scooter bars have varying sizes, and scooters have different clamps or "compression systems."
In general, scooter bars are of two different sizes: standard and oversized. What's the difference between these two sizes? To begin with, standard bars have an external diameter of 32 mm. Oversized bars, on the other hand, have an outer diameter of 35 mm, which makes them bulkier.
Pro riders prefer oversized bars because they enhance a comfortable feel, greater strength, and handling. But, before you get one, it's important to confirm whether your current compression system can support oversized bars. Most importantly, you may use a standard bar on any oversized system that uses conversion kits, but not vice versa.
4. Height and Dimensions
Bars come at different heights, and it's good to find one that suits you. While it's possible to cut down a scooter bar to the size you want, you can't do it the other way round. Therefore, keep the height factor in mind.
Here are the suggested pro scooter bar heights for varying rider heights
| | |
| --- | --- |
| Rider height | Suggested Pro Scooter Height |
| 3'6″ – 4′ 6″ | 18″ – 20″ |
| 4'3″ – 5'1″ | 20″ – 23″ |
| 4'6″ – 5'5″ | 22″ – 24″ |
| Over 5′ | 24″ or taller |
5. Finishing and Paint Job
While the pro scooter bar's appearance boils down to an individual's preference, you should keep this in mind and go for a bar that will make you proud and happy while riding due to its looks.