A folding mobility scooter also referred to as a travel mobility scooter or fold and go scooter is a scooter that can be taken apart or be folded without using any tools. It is designed to assist the disabled and elderly with their movement.
Although it does not mean that other people have no right to use travel scooters, anyone who would wish to have one for themselves can easily purchase one.
The folding mobility scooter is built using lightweight materials to help in easy transportation and carrying around. Most lightweight scooters should be approved by the Federal Aviation Administration for them to be carried on flights or any other moving machine such as a vehicle.
Best Foldable Mobility Scooters
The right foldable mobility scooter you can get should be based on your desired features and personal needs. Whenever you are looking for the right mobility scooter to buy, there are several features you must consider. Some of these features include total weight, weight capacity, how fast it can move when charged, warranty offered, type of battery used, and the price of the scooter.
To choose our seven best scooters, we picked the right foldable scooters doing away with any that had a poor customer review, and went for the one that most customers proved to be the best after using.
The following are some of the seven best foldable travel scooters you will always go for when buying travel scooters.
EV rider transport AF plus is the best folding travel scooter you can think of when you are choosing to buy the product. The product has automatic and electric folding properties, making it fit well in the truck of any vehicle with a 250 lbs weight capacity.
EV Rider Transport AF plus comes with a foldaway carrying bag that is used when one is traveling. Once you have folded it, then you can have it in the bag for easier carrying. They come with a certificate for the airline in case you have to use them when traveling by air.
This kind of scooter has lightweight making them easily transportable. Moving them in public means of transport might not be an issue since their weight will not affect the vehicle. They have a speed dial control and a LED headlight that helps in safety to the user.
A scooter with a speed dial control; is the best one can use for easy travel especially when there is some traffic. Sometimes you might need to use your scooter outdoor in busy places, you should be careful not to cause an accident by controlling your movement and the speed you use.
They come equipped with remote control and a key ignition to help in folding and unfolding whenever you want to travel or pack it in a safe place and when you need to use your scooter.
Pros
It comes with a journey bad and a cup holder once you purchase it.
It has a weight capacity of 250lbs.
It has a warranty.
Cons
It has a maximum speed of 4 mph.
Has a maximum range of 10 miles per charge.
EV Rider is a manual scooter that weighs 42 pounds. It is the best that can be used especially for people who have issues when it comes to electricity. There are some places where electricity is a problem and you find that charging the scooter for it to be used might be a problem.
If you need to save on energy charges, then you can go for this manual machine. It serves the same purpose as other electric scooters since it can be folded to fit in a vehicle or any other means of transportation.
The scooter can move up to 10 miles at a maximum speed of 3.8 mph and comes with puncture-proof tires. It is because of this most people prefer choosing this type of scooter since you will complain of a puncture while using it all the time.
It comes with some accessories and other features such as a dual-hand, a height tiller that can be adjusted, an LED headlight, key ignition, and two-way throttle control.
Pros
It has Puncture-proof tires.
Can be charged.
Weight capacity of 250 lbps.
Cons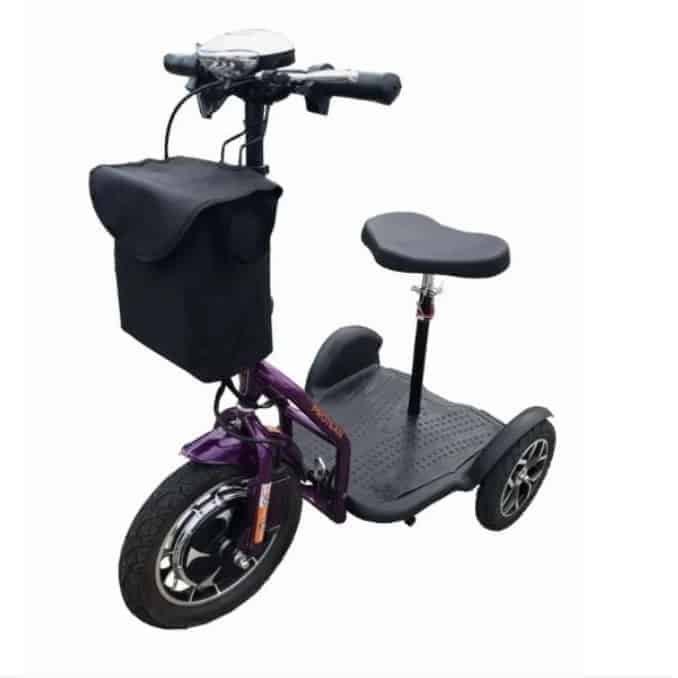 RMB Protean is the most unique scooter one can go for. Most people go for the RMB Protean mobility scooter for its beautiful designs. When one is using it, you attract a lot of attention from people around you.
Apart from its beautiful design, RMB is foldable when one is traveling, and once it is folded it can fit in almost all places. It becomes portable and easy to carry whenever you decide to travel.
It has some headlights that can be used whenever there is some darkness, an adjustable tiller and seat, and an emergency brake that can be used when one finds themselves where you need some emergency brakes.
RMB Protean has some additional features such as a horn, ignition key that can be removed, LED battery voltage, dual USB that is used to charge other devices, reverse switch, and a front-wheel splash guard.
RMB Protean is the best mobility scooter you can go for if you are looking for a scooter with a modern design.
Pros
Has a warranty for the unit, tires, and battery.
Has a modern design.
Has a maximum range of 350 lbs.
The maximum speed of 16 mph.
The maximum range of 30 miles
Cons
It is a compact fold-up travel scooter that has an automatic brake system, which is used from both outside and inside a house. Because of this, most people have preferred to go for this kind of scooter.
EV Rider easily navigates in cramped and narrow spaces like in crowded areas and complex corridors making it a great product for one to use without considering the place you live or where you plan to use it any time.
Pros
It is foldable
It can navigate in the corridors of the house or any building.
It has puncture-proof tires.
Has removable batteries.
It is airline approved.
Cons
Has a maximum speed of 4 mph.
Has a maximum range of 9 miles.
Every folding travel scooter should be comfortable when one is sitting in it. Pride Travel is a mobility scooter that has a faux-leather and amply padded seat that makes the user feel comfortable whenever sitting in it as you move around. The maneuverability is easy even while in tight spaces since it is easy for one to operate the scooter.
It is a three-wheeled scooter with an approximate speed of 4mpmh with a range of 6.3 miles. Pride Travel can handle up to a maximum weight of 275 which is the best since the unit is lightweight.
Transporting Pride Travel scooter is easy since you can break it down into five pieces. The pieces are not huge hence one can comfortably have them in their vehicle or any means of transport.
Pros
It is easy to maneuver.
Has a comfortable seat.
It can be easily broken down into five pieces when being transported.
It is lightweight
Cons
Has a maximum speed of 4 mph
Has a maximum range of 6.3 miles.
Has a weight capacity of 275 lbs.
The four-wheeled foldable travel scooter provides its user, with unbelievable stability, making it the best alternative to a three-wheel version. It comes with tires that do not go flat and do not mark flooring and have anti-tip wheels assuring user safety while using.
It has a top speed of 4 mph, with a maximum range of 13 miles once the battery is charged. When one wants to pack it while traveling, it takes a few minutes to disassemble it the same when assembling it for use.
Pros
It is very stable.
Easy to assemble and disassemble.
Has some padded armlets and seat.
Comes with a basket.
Does not leave the floor with some marks.
No accidents can be caused.
Cons
A maximum speed of 4mph.
The maximum range of 13 miles after being charged.
E-Force has a futuristic name and has similar features to the name.
It is one of the best foldable travel scooters for heavier individuals since it can carry a weight of up to 325 lbs. Most people with heavyweight are advised to go for this foldable travel scooter since it is more convenient because you will not have to buy another scooter after the one you bought broke down due to heavyweight.
Rear and front brakes are considered to be the best since they can stop in all kinds of weather. Suspension of the two tires is the best because it secures a lot of comfort while one is driving. E-Force can be easily folded and put into the trunk leaving more space that can accommodate other items.
Pros
Has a warranty for the unit, battery, and other electric components found on the scooter.
Best for heavyweight individuals.
Cons
Has a maximum speed of 12 mph.
Has a maximum range of 15 miles.
Why Mobility Scooters are Best When Compared to Standard Scooter
Standard scooters are not used by many people as compared to mobility scooters. One of the main reasons behind this is that standard scooters are expensive as compared to mobility scooters. Standard cost more because they are considered to have more features as compared to mobility. Most people prefer going for mobility scooters as they serve the same purpose and are cheaper when purchasing them.
Mobility scooters are foldable making them better when traveling. In most cases, when you have to pack your standard scooter in a vehicle you will occupy a lot of space. It is because these kinds of scooters are not foldable hence you have to pack them the way they are.
What Makes Mobility Scooter Approved on Airlines?
In most cases, you will notice that most foldable mobility scooters that are being sold today can be used on most airlines in the world. However, this is not the case for all foldable mobility scooters that you find being sold. The main reason why a mobility scooter is airline-approved is because of the battery it has.
For a mobility scooter to be used on an airline it should have a sealed battery. Lithium batteries are questionable whenever they are used on mobility scooters. However, they can be used on airlines so long as they do not go more than 300 amp-hours. Meaning that all other kinds of batteries that are sealed can be used on airlines.
How to Have a Folding Mobility Scooter on an Airline?
According to FAA and ADA, a folding mobility scooter should not be charged on an airline. If you must be safe, you should consider consulting your airline before you travel. Airlines have different rules when it comes to how one travels.
In most airlines, you have to go through a security check before one gets to the airplane. It is through this procedure where your mobility scooter should be checked. It is also advisable for one to protect their scooter as they handle them over for checkups and packages as you travel. Take pictures of them before you hand them over to make sure they do not get damaged.
What is the Weight of a Mobility Scooter?
For a mobility scooter to be easily folded and carried around, it should weigh less. In most cases, many mobility scooters weigh up to 34 lbs, and most do not exceed 70 lbs. With such lightweight, they look smaller and making them easier to carry.
The heavier ones, are easy to move around with especially if you have light bodyweight or you need one that you will be using more often. They have a heavier but stronger motor thus they are considered to be more durable than lightweight scooters. One should not worry since you will always get the kind of scooter you want and will serve you best.
What are the Factors to Consider When Buying Mobility Scooter?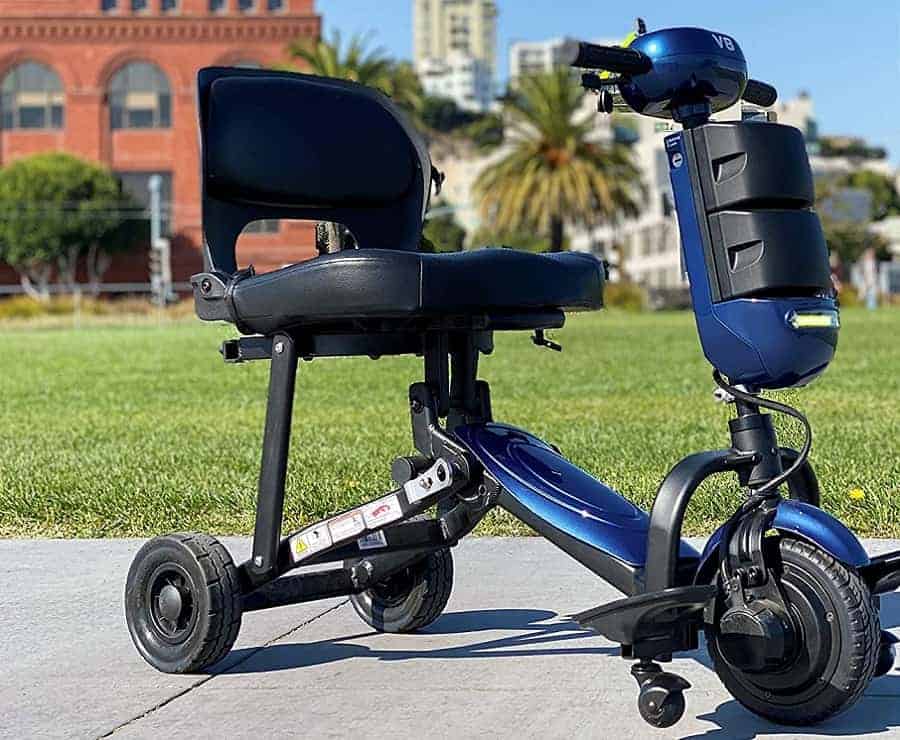 There are several factors to be considered when buying a foldable mobility scooter. Here are a few factors that should always be considered.
Cost
When buying a mobility scooter you should always consider the cost before getting one. With different types of travel scooters in the market today, you find that they have different features. The features make them have different prices. You need to pick the one that suits your needs and you can pay without issues.
Features
Mobility scooters come with different features. As the user, you need to get the one with features that suit you.
What are the Advantages of Using Mobility Scooter?
Easy Movement
One of the considerations that most people put in mind when looking for mobility scooters is if they can move around with them especially when one is having a long-distance journey. Considering a case where one is traveling to a far distance where they cannot use their scooter and they need to have them on their journey, then travel scooters are the best.
They can be folded and be considered as a suitcase. It is easy for one to travel with the elderly or someone who has some issues with their movement. A folding scooter takes a small amount of space when folded considered to the amount of space taken by a scooter that cannot be folded.
Lightweight
Normally for something to be carried easily from one place to the other, it should not be heavy. Travel mobility scooters are considered to have lightweight considered to other kinds of scooters.
Using other means of transport, you might not be allowed in with heavyweight luggage. Hence, you should be careful to have the right weight scooter if you have to use it from different places.
Foldable travel scooters have been made using lightweight materials. It is the best way to make sure they are not heavy for any inconvenience when it comes to traveling. However, most of the materials used and durable and strong despite being lightweight. Manufacturers make sure they have used the best to satisfy their customer's needs.
Storage
Most clients buying travel scooters stay in compact houses and apartments. Most elderly people are victims of this situation since you more than most have been accommodated or live in nursing homes or senior villages.
In such cases, residents try their best to create some space in their small living space especially if one uses the scooter for outdoor activities. It is not necessary for someone living in such a condition to make room for storing their mobility scooter in the middle of their living space.
Some do not use their scooter on daily basis, most use them for outdoor mobility which is not often. Such senior residents are advised to make room for their scooters outside their living space but in a safe area where it will be safe from sun destruction, rain, or theft.
Venues
Elderly or people with movement issues might not be free to move into some venues. Most venues have no space for such people. The way they have been designed is not to fit for anyone who is not physically fit. Although, you will find that such venues have some space left.
Space is for people with any kind of special need. Here you need to be careful and carry your scooter if you must fit in such a venue. A folding scooter is the right one to have since you will only disassemble it and have it fit the space where you want to use it from. Such kind of activity might not bring a lot of destruction and it makes one comfortable and feel fit to be in the midst of other people.
Superior Looks
We all want to use something that looks nice. Foldable mobility scooters come in different looks. Since we all have different tastes when it comes to preferable looks, we have the right to choose the one that suits you best.
When the scooter is folded, it still looks nice. In most cases, foldable scooters look like suitcases whenever they have been folded. It is one of the main reasons why the majority go for this kind of scooter.
Coming in different colors, you have the right to choose your favorite color whenever you are buying one. You should make sure you choose the one you are comfortable with since you might not be buying another scooter anytime soon. Some go for only one scooter in their lifetime.
Conclusion
You get surprised by how your life will become easier and better regardless of the product you choose to buy. A foldable mobility scooter will be of much help considering the daily tasks that one has to deal with in life. With a scooter, you get to your normal life by doing things like people who are physically fit.
Disabilities, age and injuries should not be considered as excuses for why people should fail to enjoy their life today. All you need to do if you are in any of the situations putting some wheels on your life and throwing yourself into normal life again.
Related Topics: