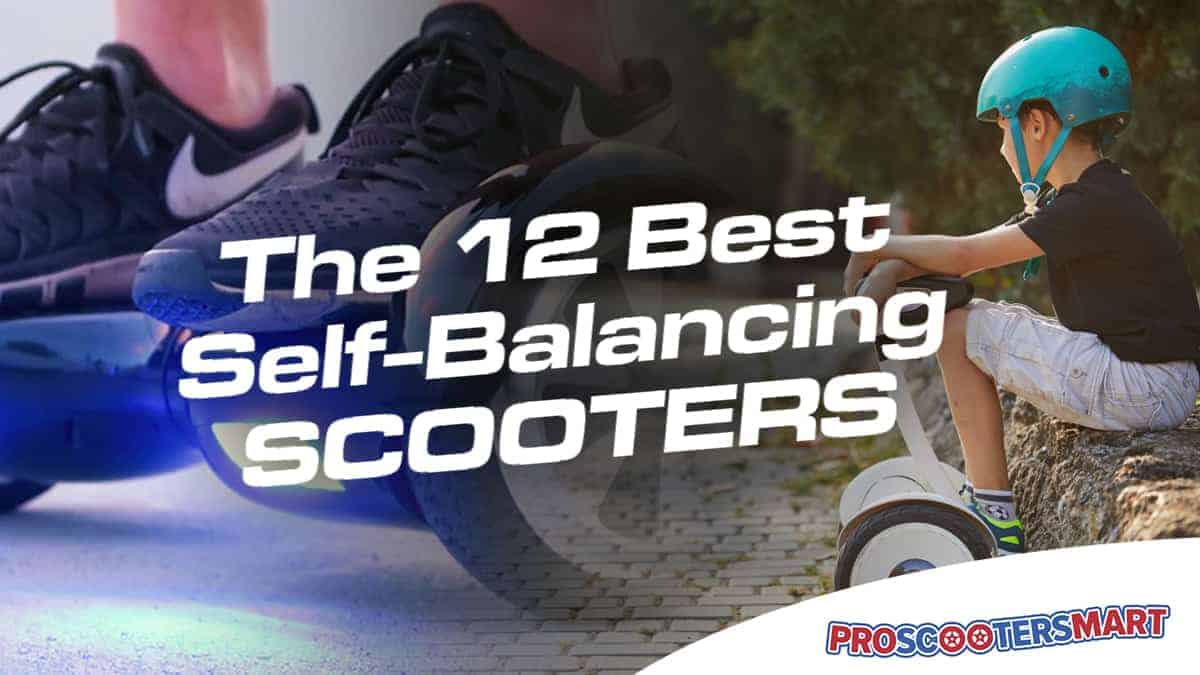 Having fun and enjoying your spare time, or perhaps getting the most convenient way of moving from one place to another, are just some of the things we need today. This is especially true, knowing that our day-to-day schedules are becoming more hectic and tight.
One good way of getting rid of that stress and having fun is by getting a self-balancing scooter. Not only are these fun to ride, but they also serve as a practical and safe mode of transportation that'll surely get you going from point A to point B at a reasonable distance.
If you're into that, then you've just found the best place to be in. In this article, we'll be showing you some of the best self-balancing scooters that you can get We'll also be presenting some tips and tricks for you to get the right one for you, as well as give you background information on some of the top brands in the market.
We also will be answering some of the common FAQs about self-balancing scooters. Read on to know everything about this.
Top 3 products
Review on the Best Self-Balancing Scooters
TOMOLOO Vi Hoverboard
TOMOLOO Music-Rhythmed Hoverboard for Kids and Adult Two-Wheel Self-Balancing Scooter- UL2272 Certificated with Music...
The TOMOLOO V1 Hoverboard is a great idea for a self-balancing scooter. One of the reasons for this is that it is capable of going through offroad surfaces with ease thanks to its 8.5-inch aggressive wheels. It's got built-in Bluetooth speakers along with bright LED lights to illuminate your path. There are also three speed modes to choose from. It's powered by a 700-watt motor that gives it maximum speeds of up to 9.3mph. Meanwhile, its battery gives it a range of 8.7 miles.
Standout Features
Off-road Capable It can go through the roughest of terrains with ease thanks to its big and grippy wheels and tires.
Fast and Powerful Speeds Its maximum speed of 9.3 mph and capability of going uphills makes this an all-rounder.
Hover-1 H1 Hoverboard
Sale
Hover-1 H1 Hoverboard Electric Scooter, Blue, Small/6.5"
The Hover-1 H1 is another choice you might want to consider. It's a self-balancing electric scooter that has a top speed of 9 mph and has a battery life range of 9 miles. The maximum weight capacity is also high at 264 lbs. Charging time is clocked at 2.5 hours, thanks to its lithium-ion battery that features a 36V and 4.3 Ah spec. It also features LED headlights, Bluetooth V4.0, and a battery indicator. You'll love its water-resistant design as well as its Bluetooth speakers. Its dimensions are 25 in. x 9.4 in. x 9.2 in.
Standout Features
Water-Resistant You don't have to worry about it getting wet because it won't get damaged.
Bluetooth 4.0Simply connect the scooter to your phone and control its music based on your playlist choice.
City Cruiser Hoverboard
No products found.
Standout Features
Long-Range Distance Its travel range of 15 km assures that you can arrive on your destination.
Entertainment Features It has fully functional high-quality LED lights and sounds that connect to your Bluetooth device.
Hoverclub Electric Unicycle
Hoverclub Solo Electric Unicycle, Single Wheeled Unicycles, Self Balancing Training Wheels with 500 Motor, Dual Air-Filled...
The Hoverclub Electric Unicycle is powered by a 500W motor that gives it a maximum speed of 7.5mph. This makes it capable of conquering 15-degree inclines. Meanwhile, its battery range can go up to 12.5 miles in a single charge. It's got air tires that measure 14 inches in diameter, ideal for shock absorption and going through slippery surfaces. The design is portable and retractable and weighs a light 29 lbs., making this portable and compact. The maximum weight capacity of this product is 220 lbs.
Standout Features
Unique and Safe Design The design is attractively unique but functional and very safe.
User-friendly Learning this unicycle scooter is very easy thanks to its user-friendly mechanisms.
Razor Self-balancing Scooter
Razor Hovertrax 1.5
Razor Hovertrax 1.5 - White
The Razor Hovertrax 1.5 is a self-balancing scooter that's worthy of your recognition because of its exclusive EverBalance technology that ensures utmost safety and reliable. The motors are dual-hub and are very silent. This goes along well with the gyro-sensor technology that gives it a top speed of 6 mph. It's not very fast, but it sure is safe. Meanwhile, its battery life is 45 minutes. This is ideal for kids' use as its maximum weight capacity is 176 lbs. The product dimension of this scooter is 23 in. x 7 in. x 6.9 in. and weighs a light 15.4 lbs.
Standout Features
EverBalance technology This gives it utmost reliability and safety while ensuring a solid and durable frame and construction.
Compact and Lightweight This is one of the most compact self-balancing scooters on this list.
Best Cheap Balance Scooters
TOMOLOO Hoverboard
No products found.
Standout Features
Durable build It has a very solid frame that's resistant to high temperatures.
Lights and Sounds It's fun to ride because it lets you enjoy the time you spend on it with its entertainment features.
Hyper GOGO Hoverboard
HYPER GOGO Hoverboard, Off Road All Terrain Hoverboards with Bluetooth Speaker, Colorful LED Light Wheels, UL Certified,6.5...
The Hyper GOGO Hoverboard measures 6.5 inches and is considered as an all-terrain off-road scooter. It passed the UL2272 standards making this safe and reliable. It's one of the best choices for beginners and first-timers because of its user-friendly design. It features Bluetooth compatibility with its premium speakers and bright LED RGB LED lights to illuminate your paths when you're riding at night. This weighs around 14.5 lbs, has a maximum speed of 7.4 mph, and has a maximum weight capacity of 165 lbs. Batteries are clocked at 100 to 240 volts and the size of the wheels are 6.5 inches in diameter.
Standout Features
Off-road Capability Its 6.5-inch grippy tires lets it go through off-road surface with ease and comfort.
Durable Construction This is made with premium materials, making this one solid piece of machine.
Li-Eagle Hoverboard
Standout Features
Aesthetic Design The design is visually pleasing thanks to its sleek and low-profile looks.
Quality Construction It's made from premium solid materials that make this capable of taking a lot of beating without any damages.
Self-balancing Two-wheel Scooters
Swagtron Swagboard Pro T1
Swagtron Swagboard Pro T1 UL 2272 Certified Hoverboard Electric Self-Balancing Scooter - Your Swag Personal Transporter...
The Swagtron Swagboard Pro T1 is a great choice if you'd want to get a hoverboard that can reach top speeds of up to 8 mph and has an 11-mile range. The maximum weight capacity of this one if 220 lbs., and it's certified by the UL2272. It's got two wheels and is considered as a self-balancing scooter. It has a range of 7 miles up to 12 miles. Meanwhile, charging time is 1 hour and it has a weight of 23 lbs. It also has a 250-watt motor that goes along smoothly with its gear stabilization for better downhill cruising.
Standout Features
Safety and Reliability It's very safe and reliable thanks to its safety features, making this great for kids.
Quality Build Build quality on this one is pretty nice as well and is made even better thanks to its downhill cruise control.
Hover-1 Titan Hoverboard Scooter
Sale
Standout Features
Fast Speeds Its maximum speed of 7.5 mph is more than enough for you to reach your destination fast and easily.
Smooth Cruising Using this is very nice because of its reliable cruising features that assure a safe and comfortable trip.
Segway Board Reviews
Segway Ninebot S-Plus
Standout Features
Safe High-speed It's one of the fastest scooters out there, but it's still very safe thanks to its customizable control settings.
Smart Functions It has full customizability that it's just like you have a personal robot beside you always.
Best Segway Hoverboard
Segway Ninebot S Transporter
Sale
Standout Features
Responsive Design It's very responsive based on your movement, making this safe and reliable to use on high speeds.
Solid Build The build construction is very solid
Smart AIA very intelligent scooter that's customizable based on your own preferences.
Self-balance Scooter Brands
Hover 1
Hover 1 is one of the top brands when it comes to electric vehicles as they've been in the industry for years. They've got a wide array of products in their arsenal, specifically scooters, bikes, and hoverboards, all of which are electric-powered.
Tomoloo
Tomoloo is officially known as Shenzhen Tomoloo Technology Industrial Co., and is best known for making electric scooters and hoverboards. It's a company based in Shenzhen, China, but is exporting its high-end products across the globe.
Razor
Razor's full company name is Razor USA LLC, is an American company that manufactures and designs electric transporters such as electric scooters, electric skateboards, and hoverboards. The company was founded back in 2000 in Cerritos, California, and is now considered as one of the top brands in the electric transporter industry.
Segway
Segway is the pioneer and creator of the first personal transporter which was invented by Dean Kamen in 1999. It is now considered as the most prominent manufacturer of two-wheel personal transporters. The company is based in the U.S. and exports its products globally.
Swagtron
Swagtron is another staple brand name in the electric transporter industry as it manufactures some of the best electric scooters, hoverboards, and skateboards. Their products are best known for looking futuristic, sleek, and functions great.
Self-balancing Scooter Buying Guide
Safety
The first thing you need to consider when buying a self-balancing scooter is its safety. It should be easy to use and beginner-friendly. If possible, there must be safety features such as soft rubber edges or modulated braking.
Speed
Speed is another important consideration. You want something that can go fast, but not too much that it's going to go beyond the safe zone. The usual top speed of self-balancing scooters is around 8 to 12 mph.
Battery
Take note of the battery life of the self-balancing scooter you're going to get. The longer the battery life the better. It should last around an hour to two hours at most. Also take note of the charging time. The shorter the charging time is, the better.
Price
Don't settle for the cheapest scooter as these usually are made of low-quality materials. However, you shouldn't also think that the most expensive ones are the best. Settle for the fair price. You'll get a decent one for around $100 to $200, while some of the more high-end ones are beyond that.
Weight Limit
Know the maximum weight capacity of the scooter. You want to make sure that the rider's weight won't exceed its capacity. The usual weight capacity is around 150 lbs. to 250 lbs.
Accessories
Who says you can't turn your self-balancing scooter into a go-cart? Well, you can, with the help of the Hover-1 Buggy Attachment. What's great about this is that this is compatible with hoverboards that have 6-inch to10-inch tires.
The frame length is adjustable as well as the straps, and its hand operation design gives you control over your riding experience. It's a read-wheel drive o you can make fast turns and go on reverse.
FAQs on Self-balancing Electric Scooters
How do self balancing scooters work?
The electric motors of the hoverboard are housed inside the wheels. These feature a sensor that reacts based on the tilt and the speed. It then relays the information to the gyroscope, which then controls the speed control boards found inside the frame beside the wheels.
How much weight can a self balancing scooter hold?
It depends, but the average maximum weight capacity is around 150 lbs. to 250 lbs. It can go beyond that for other more heavy-duty scooters.
When did the self balancing scooter come out?
Self-balancing scooters first came out in 2013.
When was the self balancing scooter invented?
It was invented in 2013, which is also the same year it was launched commercially.
Who invented the self-balancing scooter?
Shane Chen is the inventor of the self-balancing scooter. He was originally a Chinese citizen, but came to the USA in 1986 to search for greener pastures.