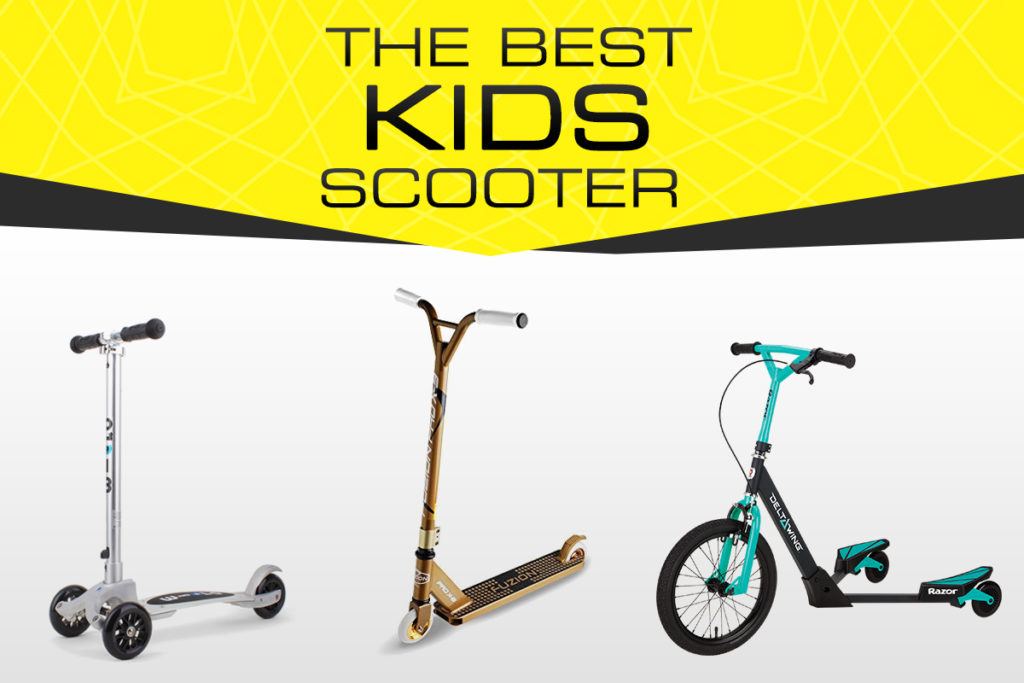 So you're looking to buy a scooter for your son or daughter, and the process isn't as simple as it used to be. Once upon a time you would simply walk into a Toys R Us or another toy store and pick a scooter off the shelf. But as we all know those days are long gone.
Toy Stores are almost like Blockbusters they are basically extinct. In some affluent neighborhoods, specialty stores are still hanging on and providing a place to walk in, see, feel and engage with some items. Even still there are some disadvantages to trying this approach because due to cash flow issues, stores just can't stock a wide enough variety to really compare all the options.
Our Picks for The Best Kids Scooters
Here are the top 3 scooters for kids on the market in 2021, these were picked by considering price, value, and durability.
That's where we come in, we can compare all the scooters you might be thinking about buying and give you a verdict on which ones are good choices and which ones aren't.
How we rank the scooters
We've carefully gone through the scooters available and rank them based on price, value, durability and consumer feedback. This formula will help separate the good scooters from the pretenders and ultimately keep your kids smiling.
Price: We base our price rankings on the lowest price you can get the scooter. Sometimes these prices are promotional. Also in the eCommerce world prices fluctuate a lot so take the pricing with a grain of salt.
Value: Value is probably the most important factor to consider when buying scooters for your kids. A scooter is no good if it's broken so you'll want to spend a reasonable amount that you get a good product that will last and bring enjoyment to your kids.
Durability: Pretty simple here, you want a scooter that will last and take some punishment that your kids will dish out.
Consumer Feedback: What others are saying is extremely important to you the consumer and even the companies that make the product. When a scooter isn't any good it WILL certainly receive criticism from others who have tried it out. So looking at what others are saying about the scooter you are considering is key to your ultimate choice.
If you like our approach leave us a review at the end of this guide.
Above are the best scooters overall for your kids as we continue on we will break down the best scooters by age group and style of the scooter.
1. Mini Micro Deluxe Kids Scooter
Micro Mini Deluxe Blue
Adjustable T-bar accommodates children as they grow
Fun deck colors with matching anodized T-bars
The smoothest, quietest lean-to-steer scooter
Micro has been making great scooters for kids forever. They have a legacy of excellence in their products, based on value, durability and consumer feedback. This particular model features a three-wheeled platform with an adjustable handlebar.
The latter feature is extremely important because you won't have to replace the scooter after a year or so. Adjustable bars allow the scooter to grow with your kids as they get taller.
Overall this scooter is a great choice, while it isn't cheap the value is outstanding. You'll bring home a scooter that will provide your kids with hours upon hours of fun. Remember to take note this scooter is recommended for kids ages 2 to 5.
2. Razor A2 Kids Scooter
Razor A2 Kick Scooter - Purple - FFP
Original kick scooter made of sturdy aircraft-grade aluminum
Patented t-tube and deck design folds conveniently for transport
98 mm inline-style urethane wheels with spring less shock system
Razor is the classic kick scooter, and the design is still going strong all the while being received well by the public. This scooter is recommended for kids a little older with a starting age of 5 years old. Razor's A2 kick scooter has a few upgrades from the original Razor scooter. Added on this model is the springless front suspension and wheelie bar.
Your kids will be able to perform wheelies all the while enjoying a slightly more comfortable ride. One of the major reasons for the A2 ranking so high on our list is the fact that it is backed by Razor. You can be confident that they will back their products so you won't have to worry about the value you'll receive.  At sub $48.00 you can't lose!
3. Mongoose Expo Kids Scooter
Sale
If you are shopping for kids a little bit older in the 7-year range the Mongoose is a great option. This large wheeled off-road scooter will take your kids straight back to the 80's. Mongoose incorporated a lot of great features into this scooter including:
12″ Air tires that perform well when riding on all surfaces

Wide Foot deck for balance and stability 

Caliper hand brake offer confident stopping
This is the only scooter on the list that can go just about anywhere, ride through grass, puddles, or regular paved streets. One thing to think about is that this scooter is a lot larger than the others so only an older kid can truly enjoy it.
Kids Pro Scooters
4. Fuzion X-3 Kids Pro Scooter
Sale
Fuzion X-3 Pro Scooter (2018 Gold)
2018 FUZION PRO X-3 ☝️ AMERICA'S CHOICE: Top selling pro scooter on Amazon. The PRO X-3 is lightweight, durable, and fitted with top of the line components. Fuzion PRO X-3 comes equipped with...
🛴 UPGRADED SPECS: Aircraft Grade Aluminum Deck, High Tensile Steel V-Bars, 100mm Cast PU wheels with Fuzion Metalized ABS Composite cores. NEW: Nylon/Steel Fuzion Custom Brake is durable and...
⏭ EASY PROGRESSION: The PRO X-3 is designed for entry level riders to help them build their skills while they advance to the next level.
X-3 by Fuzion is an extremely popular scooter, kids and parents love it. However the Pro X-3 is a stunt scooter or pro scooter, this means that it is catered towards trick riding. If your kids are into YouTube and watching scooter riders do all the cool tricks, this is the scooter to buy them. Available in a wide variety of colors and backed by a strong manufacturer's warranty you can't go wrong!
Features of the X-3
High-end specs – IHC compression system with sealed bearings and Fuzion's new 3D Stamped Steel FAZE Fork.
Easy to Assemble – Only three bolts to tighten – you can start riding in no time at all. Dialed and ready to ride right out of the box.
5. Fuzion Z300 Kids Pro Scooter
Fuzion Z300 Pro Scooter Complete (Teal)
🛴 🛴 WHAT IF YOU COULD GET AN ELITE LEVEL STUNT SCOOTER FOR LESS? WELL NOW YOU CAN! The Z300 pro scooter by Fuzion is the best scooter for the Beginner to Intermediate rider. Your riding keeps...
💪 BUILT TOUGH FOR ROUGH KIDS! What do kids love most about the Fuzion Z300? They can ride it hard just like the pros! That's because our top trick scooters are packed with custom components!...
😍 THE ENVY OF THE SKATE PARK: While everyone else rattles around on those other scooters, your kids will look ultra cool on their Fuzion Z300 with its sleek design, New CNC'd Headtube Cut-Out,...
If you are set on getting a pro scooter for your kids and you want something really nice go for the Fuzion Z300. Think of this scooter as being the X-3 but 2 times better. Fuzion spares no expense on this scooter as it is equipped with some of the same parts professional scooters have.
100mm wheels, Chromoly handlebars, pro-style deck, and premium grips are just some of the features on this stunt scooter. You will be the parent of the year if you bring home the Fuzion Z300 pro scooter. Value is off the Richter scale for this model as this scooter would cost almost $250 if bought piece by piece.
Kids 3 Wheel Scooters
6. Allek 3 Wheeled Kid Scooters
Parents looking for 3 wheeled scooters, the Allek kids 3 wheeler could be a good option. Think of the Micro Mini Deluxe scooter but a lower price point and LIGHT UP WHEELS! Everything about this scooter is ripped off from the Micro which isn't a bad thing at all.
Every spec evens up with the Micro and Globber three-wheelers. Three-wheeled scooters, in general, are great for youth development, these scooters will help with balance, coordination and overall mental health. What's even better is that this scooter folds down so its portable you can easily throw it in the trunk of the car and get to the closest park.
Available in 6 colors you're sure to make your kids happy!
7. Razor Delta Wing Kids Scooter
Razor DeltaWing Scooter
The all-new Delta Wing steps up to the next level of three-wheel action
Standing or sitting, these awesome 3-wheel machines produce a crazy ride style that's easy to learn
Features a steel frame with high-tech polymer wings, 2 piece "Y" drop handlebar, front, hand-operated brake
Although the Razor Delta Wing isn't the typical three-wheeled scooter it does have three wheels and its a blast. The  DeltaWing steps up to the next level of three-wheel action. Large pneumatic front tire and low-angle rear casters make the self-propelled DeltaWing a powerful scooter to glide through sidewalks.
Your kids will love the Razor Delta Wing, but it might take some time! This scooter isn't the classic scooter by any means which basically suggests that your kids will have to learn to ride it. The rear caster style wheels make the scooter glide from side to side when weight is shifted. We'd have ranked this three-wheel scooter higher but due to its "unique-ness" it falls down to seven.
Remember since it is produced by Razor you'll get a quality product and a nice warranty if you aren't satisfied.
Scooters for Little Kids
8. Paw Patrol Scooter Board for Kids
This scooter board for kids isn't technically a scooter but for younger kids, this is a great stepping stone to riding a scooter. These scooter boards take you back to gym class where a rider can slide on the floor back and forth and even spin around.  Features include non-marking wheels on casters and a solid deck foundation with cool graphic illustrations.
The pricing is great at only $20 these scooters make great gifts for your kids and all the others in your family.
9. Razor Jr. Folding Kids Scooter
Sale
Designed for young riders, the Razor Jr. kids kick scooter has a three-wheeled design that helps build coordination and maintain balance. This scooter features a deck that is slip-resistant and a new folding mechanism that allows easy storage and transportation. If your kids are 3 to 5 years in age this is a great choice.
Perfect for boys and girls the scooter comes in two different colors to accommodate your sons and daughters. Overall this is a great value scooter because it's under $40 and is produced by arguably the largest scooter maker in the world.
Two Wheel Scooters for Kids
Kids Off Road Scooter
Popular Kids Scooters