With so many great kids scooters out there, it can be hard to find what kind you want, let alone the best one in each category.
The problem only gets magnified when you're trying to pick out the right scooter for your child. Get the wrong one, and it might mean hours of frustration instead of fun!
That's why we took the time to find the best scooters for kids across various categories. Even better, we came up with a comprehensive buyer's guide at the bottom of this article so you can break down everything you need to know to find the perfect scooter for your child!
1. Jetson Jupiter – Best Overall Scooter for Kids
If you're in the market for a scooter for younger children, this is the one you want to get. The Jetson Jupiter comes in five different colors, but the pricing varies drastically by color.
However, everything about this scooter is on point. Jetson built it with over 100 LED lights that your kids will love. The handlebars, deck, and wheels all have an array of different colored lights. Not only will your child love all the colorful lights throughout, but they also act as a phenomenal safety device.
It's the perfect scooter for both experienced riders and beginners. With an extra-wide deck, the riders get extra stability and plenty of room to stand with both feet while they ride downhills.
It's an ultra-lightweight scooter, weighing under six pounds. But just because it's lightweight doesn't mean that it can't handle the weight of older kids. This scooter has a maximum weight capacity of 132 pounds and an adjustable handlebar so kids of all ages can ride it.
The handlebar adjusts anywhere from 20″ to 29″ from the deck, making it a perfect fit for most kids aged five to eight.
Finally, unlike scooters for toddlers, this scooter does not have a lean-to turn system. This means that the skills they acquire with this scooter will guide them to the next one.
If you're looking to get your child an electric scooter, you want to go with a top-notch brand. Razor is one of the industry's top names, and they do it right with this electric scooter.
This reliable scooter has a top speed of 10 miles per hour and can run for 80 minutes straight. That gives you a range of close to 13 miles, which is more than enough for a kid's scooter. With a 120-pound weight capacity and an adjustable handlebar, your child can ride it for years to come.
Due to the higher top speed, the minimum recommended age for this scooter is eight. It's a rear-wheel-drive scooter that gives you better balance and traction every step of the way. The Power Core E90 does have a front brake design, which means you'll have to be careful when slowing down.
For an electric scooter, it's lightweight, weighing only 22 pounds. Finally, this scooter has a retractable kickstand, so you can easily stand it up whether you're stepping off for just a few minutes or the rest of the day.
3.
Hurtle –
Best 3 Wheel Scooter for Kids
If you're looking for a 3-wheeled scooter for your toddler, you need to make sure you get the right one. This one has everything your child could need and more. The Hurtle has eight different color options to choose from and is perfect for those under the age of five.
Furthermore, it has three different handlebar adjustments to grow with your child and an extra-wide deck that is perfect for those just finding their balance. These scooters come with a 120mm wide back wheel and two 80mm wide front wheels for even more stability.
This scooter utilizes a lean-to-steer system, so it's near impossible for the little ones to fall off, and it's perfect for them to learn the ropes. Enticing kids further are the bright wheel lights that turn on whenever they start moving.
Finally, it comes with a foldable seat with a 45-pound weight capacity, which adds another element to the fun. The entire scooter weighs under eight pounds, so it's easy to take wherever you need it.
If you're looking for an ultra-lightweight for your toddler to learn on, this is one of the best options out there. Micro Kickboard designed the Mini Original for two-to-five-year olds, but with a 110-pound weight capacity, you don't have to worry about them outgrowing it for a while.
The scooter itself weighs less than four pounds, so you don't have to worry about it being too heavy for your kiddo. The Mini Original is a three-wheeled scooter and is lean-to-steer, so you don't have to worry about your kid twisting the handlebar too quickly and hurting themselves.
However, the Mini Original has a push-down rear brake, so your child can start mastering the basics that they'll need when they go to the next sized scooter.
The Micro Kickboard comes in eight different color options and has a two-year warranty, so it's more likely that your child will outgrow this scooter than it is to break.
5. Razor Jr. Lil' – Best Budget Kids Scooter
While there aren't many color options to choose from with this scooter, they still offer a durable design from a top brand for tons of fun.
The Razor Jr. Lil' is the perfect starter scooter for kids older than the age of three, and grows with them for a while with a weight capacity of 45-pounds. Moreover, Razor made this scooter from a lightweight steel alloy and and the entire scooter weighs just over five pounds.
It has a three-wheel design and has extra-large polymer wheels for added stability. However, the scooter still uses the classic twist handle instead of the lean-to-steer design that many other brands offer.
But with the twist handle, your child will learn to ride their scooter the same way they will when they upgrade to the next sized scooter!
No, it doesn't have light-up wheels or the other fancy features, but it's built to last and is a great way to introduce the little ones into the world of scooters!
6. WeSkate – Best 2 Wheel Scooter for Kids
It's a big day when your child is ready to upgrade from a three-wheeled scooter to one with two wheels. That's why you want to commemorate it with the best two-wheeled scooter out there. With tons of extra features and an ultra-sturdy design, this is the best two-wheel scooter for kids out there.
It has a 110-pound weight capacity, even though the scooter itself weighs under five pounds. There are five different color options to choose from, and it features an adjustable handlebar so it will grow with your child!
Additionally, this WeSkate scooter has light-up wheels and uses the same foldable design that larger scooters offer. This makes it easy to store when you're not using it!
Finally, whether your child is an experienced rider or is still a little wobbly, you want a scooter that helps keep them on their feet. The WeSkate offers an extra-wide deck and 120mm wheels, which offers a smooth ride and tons of stability – even for a two-wheeled scooter.
7. Allek – Best Scooter for Tall Kids
If you have a taller child, it can seem impossible to find a scooter that they can use comfortably. With this Allek kick scooter, that's not something you need to worry about.
This Allek scooter comes with an adjustable handlebar that rests an impressive 33″ from the ground when fully extended. The minimum height adjustment is 25.5″, which gives you a ton of room to work with.
Furthermore, this scooter has a lightweight yet durable aluminum frame that makes this scooter easy to move around. It has dual front wheels for extra stability and is a lean-to-steer model, so you don't have to worry about your kiddo twisting the steering wheel at the worst possible time.
There are five different color options to choose from and it has light-up wheels that kids love. If you're looking to disassemble the scooter for easy storage, you can do it with the click of a button. Assembly is just as easy as all you need to do is push the handlebar into place.
8. Lascoota 2-In- 1 – Best Kids Scooter with Seat
Some kids love scooters with seats, and it's not hard to see why! After they grow tired of pushing themselves around, they can sit down and take a break without leaving the fun.
But if you're getting a scooter with a seat, you need to make sure you pick a good one. The seat on this scooter has two different height settings, and you can easily remove it with the twist knob in the front.
Not only can you adjust the seat height, but the handlebar has four different height adjustments too! The Lascoota 2-in-1 is the perfect scooter to grow with your child, as it's suitable for children from two to eight years old. Moreover, it has a 110-pound weight capacity, so you don't have to worry about older siblings climbing on!
Finally, this scooter has eight different color options that your child will love, and the light-up wheels are an added perk that kids go wild for. It's an excellent scooter that your kid can use for years to come.
If you're looking for a motorized scooter for smaller kids, it's hard to beat the Kid Trax Toddler Vespa. The Toddler Vespa is made for three- to five-year-olds and has four different designs for you to choose from, including Disney Princess and Minnie Mouse!
It does have a maximum weight of 60-pounds but comes loaded with features that your kid will love. It has horn and engine sound effects, a working FM radio, MP3 player inputs, and under-seat storage!
If you're worried about safety, the Toddler Vespa only has a maximum speed of 2 miles per hour. That's fast enough for your kids to enjoy but slow enough to keep you from worrying!
This is a great way to get your kid into riding before and teach them the basics before upgrading to something a little more powerful. Finally, it utilizes a foot pedal to accelerate, just like a real car.
If you're looking to mix things up for your child, this swing scooter is a great way to go.The AODI Swing Scooter features a unique design that allows you to move by twisting your hips, not by kicking.
Despite the unique design, it's still easy to store and features a foldable design so you can easily tuck it away when your child finishes playing for the day.
This is the perfect scooter for kids seven and up and has a 187-pound weight capacity, so they might never outgrow it! Furthermore, with adjustable handlebars, you can easily find the perfect height for your child.
However, the scooter itself is still lightweight at 15.4 pounds and comes with a one-year warranty, so you don't have to worry about it breaking right after you get it out of the box.
There are three different color options for you to choose from. Finally, with adjustable brakes, if you want to stop on a dime, you can, but if you prefer something a little more gradual, you can do that too!
Some Honorary Mentions
Mini Micro Deluxe Kids Scooter
Micro has been making great scooters for kids forever. They have a legacy of excellence in their products, based on value, durability and consumer feedback. This particular model features a three-wheeled platform with an adjustable handlebar.
The latter feature is extremely important because you won't have to replace the scooter after a year or so. Adjustable bars allow the scooter to grow with your kids as they get taller.
Overall this scooter is a great choice, while it isn't cheap the value is outstanding. You'll bring home a scooter that will provide your kids with hours upon hours of fun. Remember to take note this scooter is recommended for kids ages 2 to 5.
Razor A2 Kids Scooter
Razor is the classic kick scooter, and the design is still going strong all the while being received well by the public. This scooter is recommended for kids a little older with a starting age of 5 years old. Razor's A2 kick scooter has a few upgrades from the original Razor scooter. Added on this model is the springless front suspension and wheelie bar.
Your kids will be able to perform wheelies all the while enjoying a slightly more comfortable ride. One of the major reasons for the A2 ranking so high on our list is the fact that it is backed by Razor. You can be confident that they will back their products so you won't have to worry about the value you'll receive.  At sub $48.00 you can't lose!
Mongoose Expo Kids Scooter
If you are shopping for kids a little bit older in the 7-year range the Mongoose is a great option. This large wheeled off-road scooter will take your kids straight back to the 80's. Mongoose incorporated a lot of great features into this scooter including:
12″ Air tires that perform well when riding on all surfaces

Wide Foot deck for balance and stability 

Caliper hand brake offer confident stopping
This is the only scooter on the list that can go just about anywhere, ride through grass, puddles, or regular paved streets. One thing to think about is that this scooter is a lot larger than the others so only an older kid can truly enjoy it.
Kids Pro Scooters
Fuzion X-3 Kids Pro Scooter
X-3 by Fuzion is an extremely popular scooter, kids and parents love it. However the Pro X-3 is a stunt scooter or pro scooter, this means that it is catered towards trick riding. If your kids are into YouTube and watching scooter riders do all the cool tricks, this is the scooter to buy them. Available in a wide variety of colors and backed by a strong manufacturer's warranty you can't go wrong!
Features of the X-3
High-end specs – IHC compression system with sealed bearings and Fuzion's new 3D Stamped Steel FAZE Fork.
Easy to Assemble – Only three bolts to tighten – you can start riding in no time at all. Dialed and ready to ride right out of the box.
Fuzion Z300 Kids Pro Scooter
If you are set on getting a pro scooter for your kids and you want something really nice go for the Fuzion Z300. Think of this scooter as being the X-3 but 2 times better. Fuzion spares no expense on this scooter as it is equipped with some of the same parts professional scooters have.
100mm wheels, Chromoly handlebars, pro-style deck, and premium grips are just some of the features on this stunt scooter. You will be the parent of the year if you bring home the Fuzion Z300 pro scooter. Value is off the Richter scale for this model as this scooter would cost almost $250 if bought piece by piece.
Kids 3 Wheel Scooters
Allek 3 Wheeled Kid Scooters
Parents looking for 3 wheeled scooters, the Allek kids 3 wheeler could be a good option. Think of the Micro Mini Deluxe scooter but a lower price point and LIGHT UP WHEELS! Everything about this scooter is ripped off from the Micro which isn't a bad thing at all.
Every spec evens up with the Micro and Globber three-wheelers. Three-wheeled scooters, in general, are great for youth development, these scooters will help with balance, coordination and overall mental health. What's even better is that this scooter folds down so its portable you can easily throw it in the trunk of the car and get to the closest park.
Available in 6 colors you're sure to make your kids happy!
Razor Delta Wing Kids Scooter
Although the Razor Delta Wing isn't the typical three-wheeled scooter it does have three wheels and its a blast. The  DeltaWing steps up to the next level of three-wheel action. Large pneumatic front tire and low-angle rear casters make the self-propelled DeltaWing a powerful scooter to glide through sidewalks.
Your kids will love the Razor Delta Wing, but it might take some time! This scooter isn't the classic scooter by any means which basically suggests that your kids will have to learn to ride it. The rear caster style wheels make the scooter glide from side to side when weight is shifted. We'd have ranked this three-wheel scooter higher but due to its "unique-ness" it falls down to seven.
Remember since it is produced by Razor you'll get a quality product and a nice warranty if you aren't satisfied.
Scooters for Little Kids
Paw Patrol Scooter Board for Kids
This scooter board for kids isn't technically a scooter but for younger kids, this is a great stepping stone to riding a scooter. These scooter boards take you back to gym class where a rider can slide on the floor back and forth and even spin around.  Features include non-marking wheels on casters and a solid deck foundation with cool graphic illustrations.
The pricing is great at only $20 these scooters make great gifts for your kids and all the others in your family.
Razor Jr. Folding Kids Scooter
Designed for young riders, the Razor Jr. kids kick scooter has a three-wheeled design that helps build coordination and maintain balance. This scooter features a deck that is slip-resistant and a new folding mechanism that allows easy storage and transportation. If your kids are 3 to 5 years in age this is a great choice.
Perfect for boys and girls the scooter comes in two different colors to accommodate your sons and daughters. Overall this is a great value scooter because it's under $40 and is produced by arguably the largest scooter maker in the world.
Things to Consider When Buying A Kid's Scooter: Buyer's Guide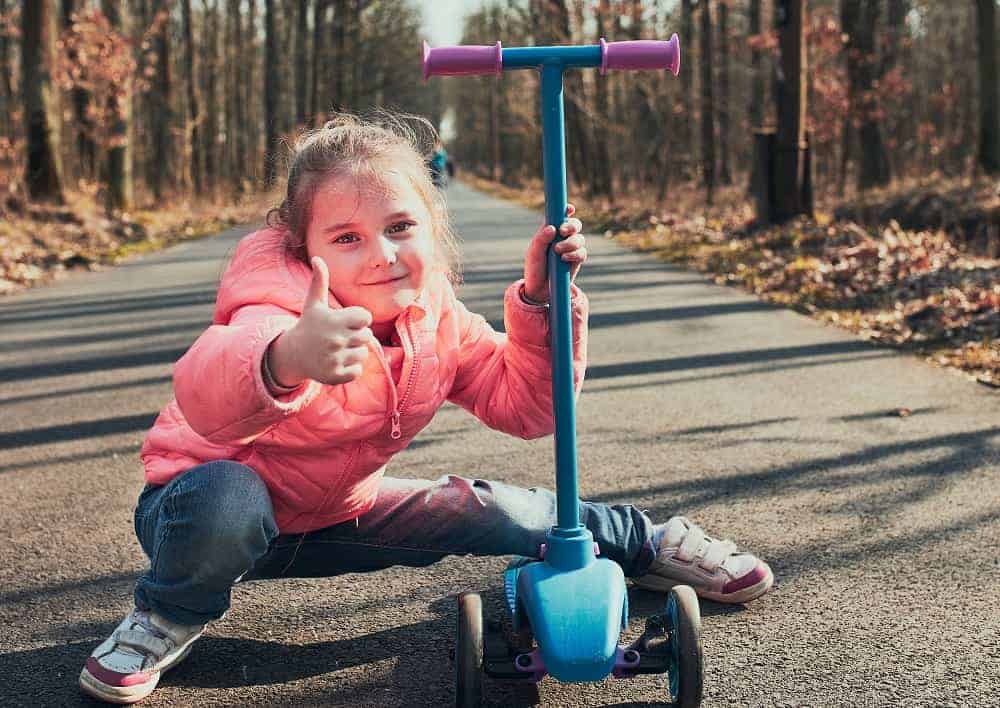 When you're picking out a scooter for yourself, it can be stressful enough, but when you're picking out a scooter for your child, you really don't want to get it wrong. That's why we broke down some of the most common questions you'll need to answer when picking out the perfect scooter for your child.
Age Considerations
The same scooter that works for a three-year-old won't be the perfect fit for a twelve-year-old. As your child ages, their scooter should too. There are a few considerations you need to look into before you purchase anything.
First, you need to consider the weight capacity. A scooter for smaller kids can rarely handle the weight of bigger children, so if the weight capacity is right, there's a good chance you're looking in the right direction.
From there, you need to consider the handlebar height. It's the most critical consideration when picking out a scooter for your child. If the handlebar is too high, they won't be able to control the scooter like they need to.
But if it's too low, they won't be able to ride the scooter comfortably. Ideally, the handlebar should be about waist height when standing on the deck of the scooter.
Lean-to-Steer vs. Twist Handles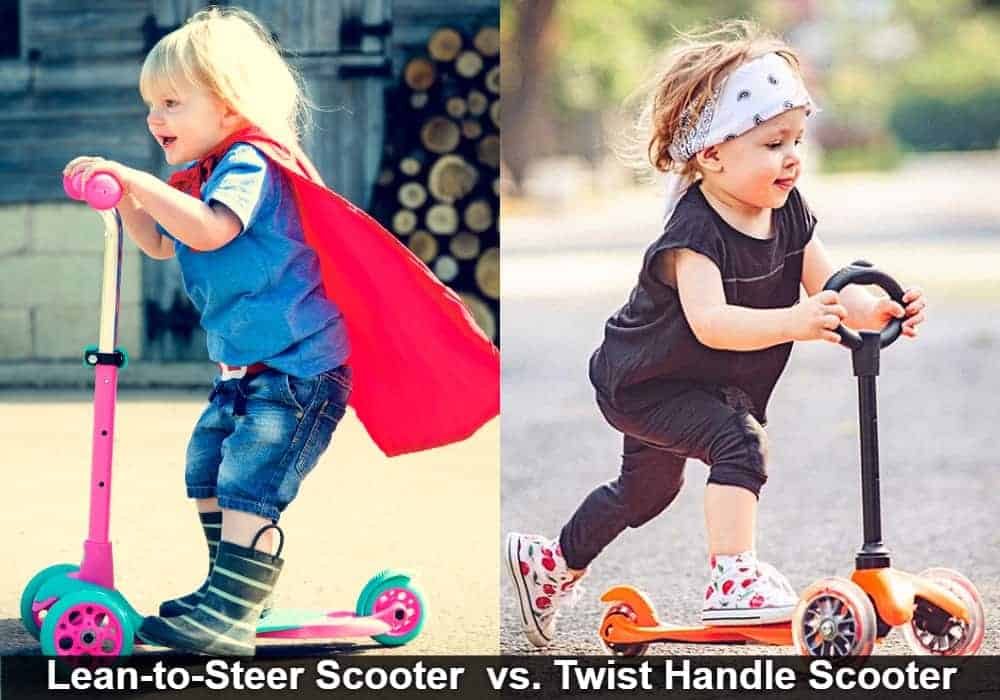 There are two common ways to steer newer scooters, the classic twist handles, and the newer lean-to-steer models. Twist handles offer you a little more control, but if you don't know what you're doing, it's easier to wipe out too.
Meanwhile, lean-to-steer systems offer more stability, but you won't have as much control over your scooter. Twist handles are ideal for older kids and more experienced riders, while lean-to-steer scooters are better for newer and younger riders.