If you're looking for a breakdown of the best 49cc scooters out there, you've come to the right place. While there are tons of 49cc scooters out there, some don't offer the features you need to enjoy your new scooter.
But if you take the time to get a top-notch scooter, you can enjoy both the feel of the open-air rushing across your face and the reliability and gas-mileage that a 49cc scooter offers!
We didn't want you getting stuck with a terrible scooter, which is why we took the time to find the best scooters on the market and broke down the best features for you to pick from!
Read our guide breaking down each scooter, then finish with the buyer's guide that breaks down everything you need to pick out the perfect scooter for you.
Our Top 49cc Scooter Picks
TaoTao ATM-50A1 BLACK 49cc Gas Automatic Scooter Moped w/ 10 Inch Steel Rims
50cc moped brought by Moto Pro.Please kindly choose your color and send us your color option.
Feisty 50cc, air-cooled, 4-stroke engine puts out strong, predictable power with incredible gas mileage.
Fan-assisted Air cooling system keeps engine temperatures reliably under control, even while idling at stoplights--for maximum efficiency and longer engine life.
If you're in the market for a 49cc scooter that can zip you around the block at 25 miles per hour, this is the scooter you've been looking for. It earns our nod as the best 49cc scooter for various reasons, and you won't have to worry about it falling apart on you after just a few uses.
While it's on the heavier end at 235-pounds, it still gets phenomenal fuel economy. It averages 110 and 130 miles per gallon, which puts just about every other transportation mode to shame.
Keep in mind that while the seating on this scooter is large enough to fit two people, it still has a maximum weight capacity of 225-pounds. While you can exceed this weight limit, your top speed and fuel economy will suffer as a result.
Overall, it's a well-built 4-stroke 49cc scooter with both front and rear brakes, a stable suspension system, and the ability for you to choose the color scooter you want. Furthermore, it has an electric start system and a backup kick starter that makes starting this scooter easier than ever.
Coleman Powersports 49CC Scooter - Street Legal Moped (JL50QT)
RELIABLE – Reliable 49cc air-cooled, 4 stroke engine and CDI ignition system will get you where you need to go. Built with a high-strength steel frame to keep you going for years
EASY AND SMOOTH – Easy electric start with back up kick start – simple to operate automatic transmission and front dual hydraulic forks and rear mono shock provide a soft, smooth, stable ride
FUN FOR ALL – Load capacity is 180 pounds and scooter measures 68.8" x 26" x 39.5". Top speed: 32mph
While the TaoTao scooter earns our top marks, the Coleman Powersports 49CC scooter is a close second. It has a slightly faster top speed at 32 miles per hour, but the load capacity is 45 pounds less at 180-pounds.
While you can exceed the weight capacity, you risk bottoming out the scooter if you exceed it by too much!
Furthermore, while it's still incredibly fuel-efficient, it's slightly lower at an average of 95 miles per gallon. Coleman made this scooter with a solid steel frame and hydraulic front and rear brakes for maximum performance. Even better, it has both dual front hydraulic forks and a rear shock for the smoothest possible ride.
Finally, like all the best scooters hitting the market today, the Coleman Powersports 49cc scooter has an electric start switch that allows you to start your scooter up with the click of a button!
Prices pulled from the Amazon Product Advertising API on:
Product prices and availability are accurate as of the date/time indicated and are subject to change. Any price and availability information displayed on [relevant Amazon Site(s), as applicable] at the time of purchase will apply to the purchase of this product.
It's an entirely different style of 49cc scooter. While the other scooters we looked at are perfect fits for trips on the pavement, this 2-stroke 49cc scooter is ideal for off-road mini dirt bike adventures.
It has a maximum speed of 19 miles per hour, an easy access kickstand, and a foldable handlebar design for easy storage.
While many of the 4-stroke scooters offer an electric switch to start the engine, this simply isn't an option with 2-stroke engines. Instead, this engine has an easy-to-use pull-start – all you need to do is pull the throttle while you hit the throttle, and you're good to go!
Despite the 2-stroke design, it's EPA approved and gets phenomenal gas mileage. If you're looking for a fun 49cc scooter to hit the trail with, this is the ideal choice!
The Verdict
If you're looking for the best 49cc scooter out there, you can't go wrong with the TaoTao ATM-50A1 49cc automatic scooter. However, if you're looking for something to take off the beaten path and find a little more adventure, the SAY YEAH 49cc 2-Stroke motorized mini scooter is a great choice too!
What's important is that you take the time to find the scooter that fits your needs, then make the purchase you've been waiting for! If you're still not sure if you need a 49cc scooter, just keep reading.
Why Buy A 49cc Scooter?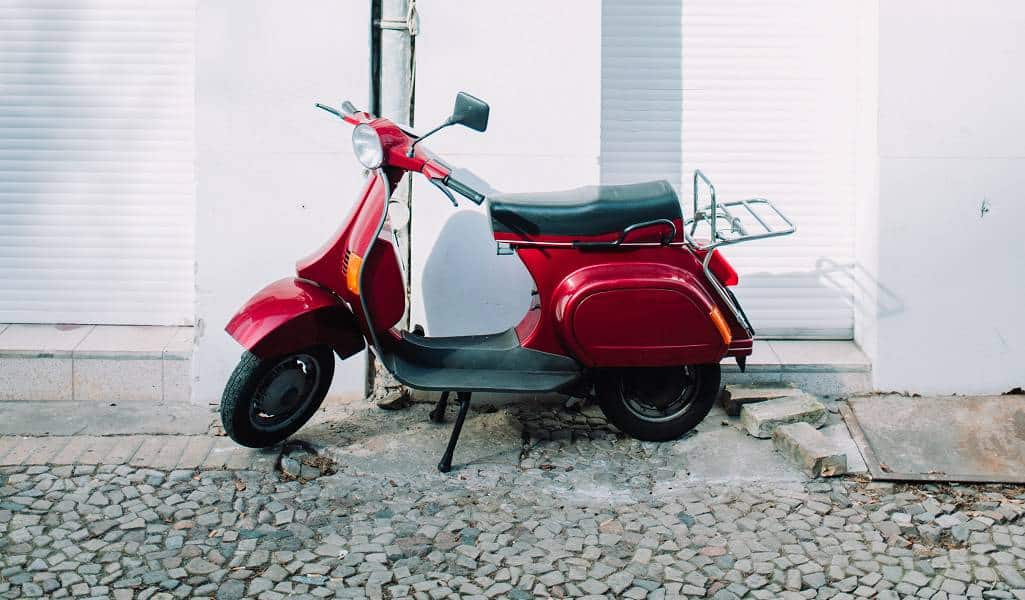 Whether you're looking to save a little money on gas or enjoy the feeling of the wind rushing through your hair as you drive down the road, 49cc scooters offer a ton of advantages.
Not only are they a blast to drive, but many states don't require that a licensed driver operate them, and even more states don't require that you register or insure it. This means more savings all around!
While 49cc scooters are cheaper than other bikes and cars out there, the best scooter manufacturers use the same high-quality materials when building a scooter. You get a great suspension system, hydraulic brakes, and a reliable engine to take you from one place to the next.
Even you don't plan on driving your 49cc scooter every day, just a few trips a month over the year more than pays for this investment. And did we mention that they're a blast to drive?
Consider These Things While Buying A 49cc Scooter
Before you purchase a 49cc scooter, there are a few things that you need to take into consideration. First, you need to get an accurate weight assessment of yourself.
Just because your driver's license says you weigh 180 pounds doesn't mean that you actually weigh 180 pounds. You can lie on your driver's license; the scooter won't let you get away with it.
From there, you need to consider where you're trying to get with your scooter. While a 49cc scooter is excellent to get around small towns and backroads, you can't drive them down major highways. 49cc scooters are great on gas, not great on highways.
Finally, before you purchase a 49cc scooter, you need to decide if you're looking for a little fun or something a little more practical. If you're looking for fun, why not opt for a 2-stroke scooter you can take on trails and dirt bike tracks?
Of course, if you need something practical, the 4-stroke scooters offer far more comfort features that make your commute more comfortable.
FAQs
We know you have questions about scooters – and you want those answers before you make a purchase. That's why we answered some of the most common questions below!
What Does 49cc Scooter Mean?
49cc scooter has a total of 49 cubic centimeters of displacement inside the cylinders. This is important because many states don't require licensing or registering a bike smaller than 50cc.
What kind of oil does a 49cc scooter take?
While you should always check your scooter's owner's manual – most 4-stroke 49cc scooters use 10-30W or 15-40W. If you have a 2-stroke 49cc scooter, you'll need special 2-stroke motor oil.
Do you need a license to drive a 49cc scooter?
Many states don't require that an operator of a 49cc scooter have a license. However, this largely depends on where you're driving the scooter. For a complete state-by-state breakdown, check out this list put out by AAA.
Related Topics: