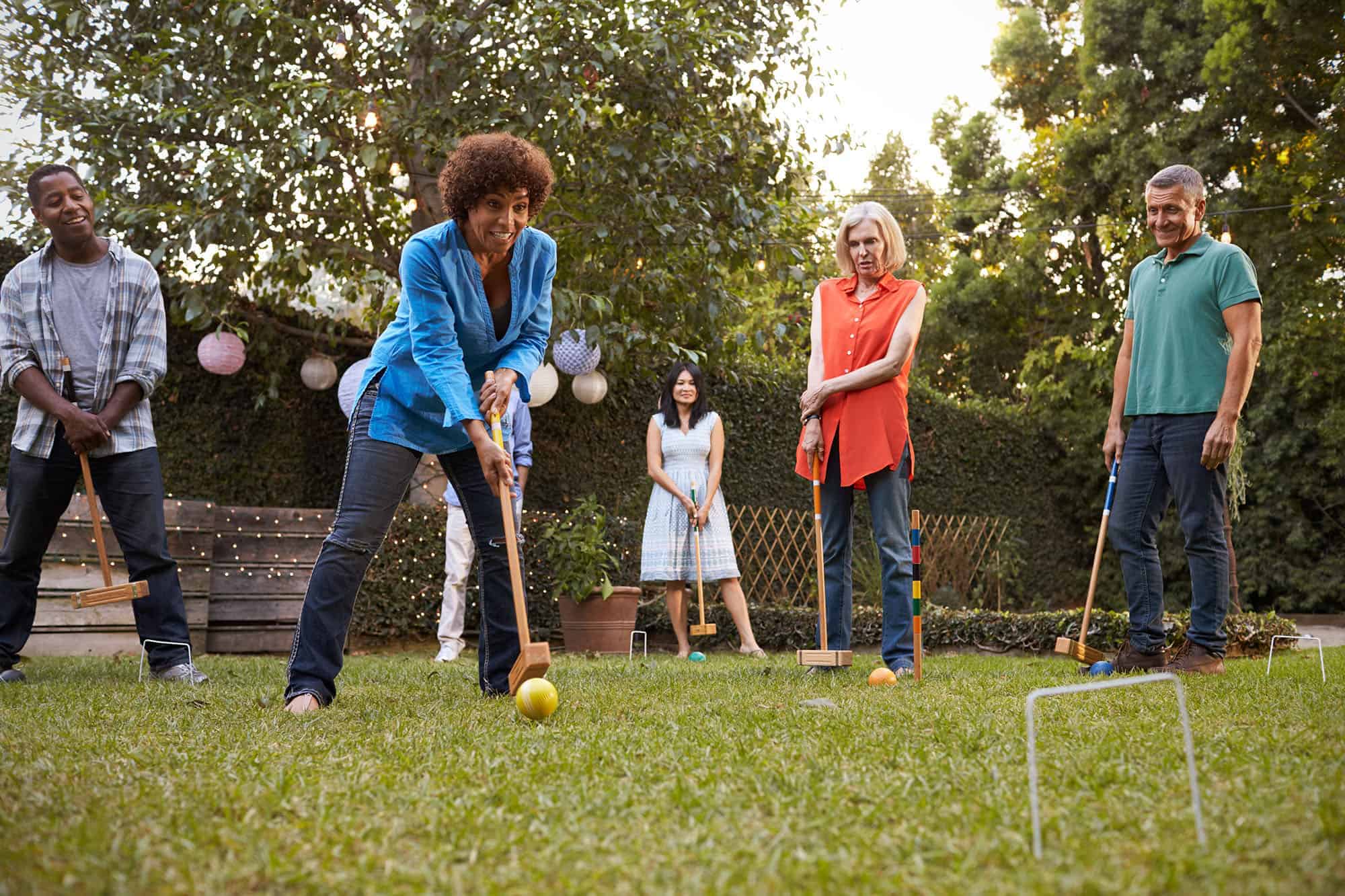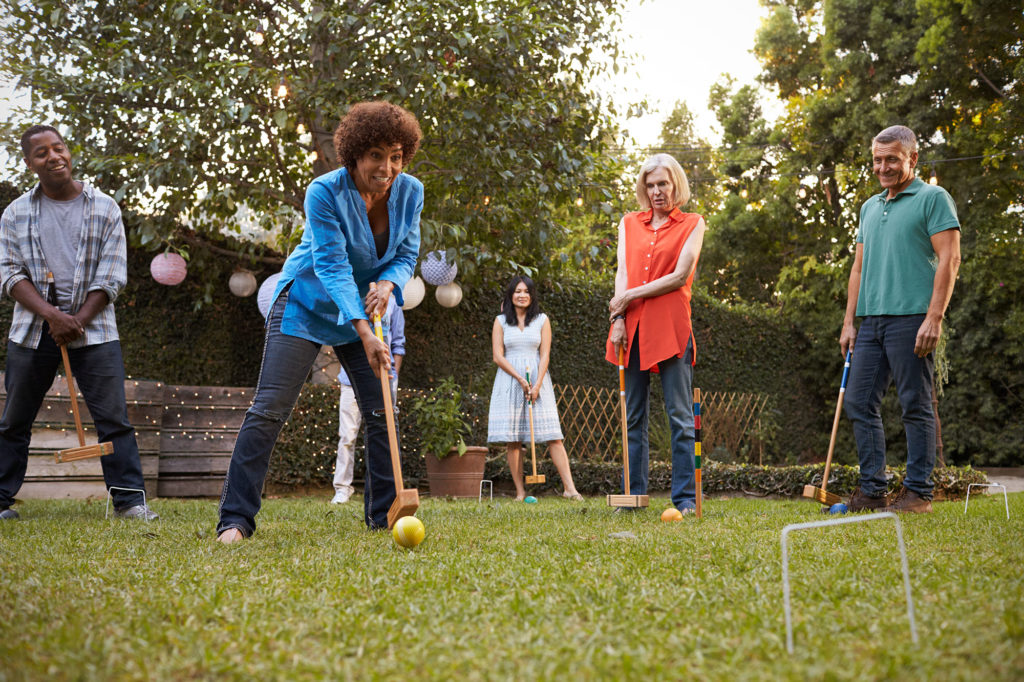 The winter season is about to end, and the sun will soon come out again. The long evenings and warm weather are surely the perfect timing to enjoy some outdoor activities with family and friends. But what if it is too far or tedious to hit the beach or go on camping?
Well, worry no more, we have got you covered! Backyard games never get old. Here are some classic, old-fashioned games that can help you pass the time outside and give that screen time break.
Top Backyard Games
Giant Jenga
The mechanics are exactly like regular Jenga… the only difference is its massive size! The game still puts a lot of pressure on its players, but this 19-level timber is without a doubt fun and exciting to play. From tabletop to lawn gaming, this giant Jenga can stand up to two and a half feet tall. But take note, the size can double during play.
The larger format is a good way to enjoy outdoor gatherings. It is perfect for young and old gamers alike. The game sounds easy to play, but the blocks have a lot of challenges to bring. There are 54 wooden blocks that have random variations. All you do is stack these bars by three and alternate their directions in a perpendicular manner.
After which, each player will try and remove each block until you can't remove any more. The person who built the tower makes the first move. But listen, if the tower or any parts collapse, you lose!
Its large blocks make this giant Jenga versatile to play. However, putting it away and setting it up can be cumbersome. Also, its best to be played on somewhere concrete, as grass surface is not that stable.
Pros:
Good for big gatherings

Heavy duty Jenga giant carry bag for storage and transport

Two extra blocks for added height
Cons:
Bulky to set up and store
GoSports Premium Croquet Set
Kids and kids at heart will surely enjoy this classic croquet game. The setup is pretty much like creating a golf course, where wickets are placed on the ground. All you need to do is hit the ball through the hoops in the right sequence in each direction and hit them against the center peg.
The set is enough for six people as it includes six color mallets, six balls, nine wickets, two end posts, and a rule book. The handles of the mallet are in full 35-inch size so it can be used by players of all sizes. The handles also come with a comfortable grip for control and convenience. The mallets are made from no cheap materials. They are crafted from premium hardwoods. It also boasts of a sleek, modern design that will look great on any backyard.
Pros:
Mallets made from premium wood

Great for adults and kids

Can accommodate even tall players

Has soft grip handles

Good value for the price
Cons:
St. Pierre American Professional Series Horseshoes
This tossing at the target type of game is a great outdoor activity for a group of 2 to 4 people (2 on 2 usually). The mechanic is quite simple, but the game is still challenging to do. There are four horseshoes that are tossed back and forth between two stakes that are placed on the lawn or in a sandbox, 40 inches apart.
Each player from the two teams takes alternate turns to throw both of their horseshoes at stakes. When all four horseshoes are thrown, it is called an inning. At each inning, only one team gets a score. The points are based on who throws the horseshoes closest to the pin. The first group to get 21 points wins the game.
This premium set is designed for those who are serious about the game. It comes with four pieces of NHPA-approved heavy forged-metal horseshoes, two solid steel stakes, a handbook, and a sturdy plastic carrying case.
Pros:
Made in the US

Tapered leading edge so shoes can easily slide to the stake

Ringer breaker to rotate the shoes
Cons:
Elite Ring Toss
No products found.
Regardless if you are playing with just two people or a huge crowd, the Elite Ring Toss will give everyone an unforgettable experience. Specifically designed for kids, this yard game promotes hand-eye coordination and helps kids develop gross and fine motor skills.
The mechanic of the game is almost the same as the horseshoes, but this uses rope rings that are tossed onto pegs instead. This makes it safer and easier for kids compared with the horseshoes.
The Elite Ring Toss also comes with everything you need. It has a sturdy wood ring board, five rope rings, and some extra 10 plastic rings. Each peg has point markings too so you can easily tally the scores you will earn.
Pros:
Helps with hand-eye coordination

No-risk lifetime warranty

Screwed in pegs so it stays in place
Cons:
Smaller than the actual thing
Jazzminton Paddle Ball Game
From the name itself, this is exactly like the badminton game but with a little twist. Instead of hitting shuttlecocks and using rackets, this action-packed yard game involves a feather birdie and paddles. The game includes two players who are between 5 and 30 feet apart. They need to hit the birdie back and forth to one another without dropping it.
This cross between badminton and beach paddle ball is definitely a fast-paced but totally fun game to play whether indoor or outdoor. It encourages exercise and promotes hand-eye coordination development. It is recommended for ages 6 years and above.
Pros:
Water-resistant pieces

Comes with a travel pouch

Patented LED birdies available for play at night
Cons:
KanJam Ultimate Disc Game
With the recent rise in popularity of Ultimate Frisbee and Frisbee's Golf, Frisbee enthusiasts will surely find this game quite exciting. However, KanJam Ultimate Disc Game is more than just flying a disc as it is designed to target cans. This 2-on-2 game requires players of each team to try to score in the opposing net (or can).
The thrower stands behind one can, while the deflector partner stands beside the opposite can, which is 50 feet away. The thrower tosses the disc and targets the opening of the opposite can.
On the other hand, the deflector is allowed to help direct the disc and alter the throw to give the team a higher chance of getting more points. The first team to score 21 points is declared as the winner. But want an instant and sure win? Easy! Just do a perfect throw and toss your disc directly through the small slot found in the can.
Whether you are young or old and an amateur or a pro, you are welcome to play KanJam. The set includes a KanJam disc and two durable, lightweight cans. PS: For kids, moving the cans closer to a distance of around 16 feet part will work better.
Pros:
Any flying disc or Frisbee will do

Collapsible cans for easy storing

Can be played at the beach, campsite, or park

Glow-in-the-dark disc and translucent cans set also available for night play
Cons:
Unreliable or weak lights for the illuminated version
Bucketball or Yard Pong
You have probably been living under the rocks if you have never heard about Beer Pong before, or really, just Pong of any kind, like Ping Pong. Does this ring a bell to you know? As obvious as it sounds, but the general thrust of bucketball has something to do with buckets and balls.
The gameplay includes a set of six blue and six orange buckets. The buckets of each color are set up in a triangular formation, with the sets around 15 to 25 feet apart from each other.
The same rules are applied as a normal pong. Players from each team attempt to throw a ball into the buckets of the opposing team. If your opponent makes a shot, that bucket is removed or stacked inside another bucket. The first team to toss the ball in all six buckets win! PS Filling the buckets with some water is recommended to stabilize them.
Pros:
Comes with portable, stacking buckets

Carrying case available

For ages 6 years and older
Cons:
Buckets need a weighted substance to prevent tipping easily
Spikeball
First appeared on the famous American reality TV series Shark Tank, Spikeball is like a twisted version of 2-on-2 volleyball. But it involves heavier and more spikes, tricks, drop shots, and dive.
This beach and park game revolves on a mini trampoline-style net. But here, the ball is not hit over a net but onto the net. The ball will ricochet off of the net giving the opposing team a chance to return it.
Teams try to hit the ball up to three times before they must return the ball or hit the net. The team who cannot hit the ball off the net before it hits the ground will lose the point.
Unlike volleyball though, both teams can use the entire area around the trampoline to play. In short, there are no sides or boundaries. The first team to reach 21 points win the game. Also, everyone serves registers a point.
The game is pretty intense to play, but it can give you that effective dose of outdoor exercise while having fun.
Pros:
Easy to setup

Strong and sturdy construction

A heavy and thick net system with ridges

Suitable even for a small backyard
Cons:
Tightening the net is difficult at first
Himal Portable Corn Hole Game
This classic game has been a family favorite for years. It is fun and competitive but has simple rules that anyone can easily understand and play regardless of athletic ability. With just PVC pipes and fittings to assemble, you really do not need to be a mad scientist at all.
To play the game, you just have to toss the bags into the hole. The bag cancels out one another so to secure a good score, target on getting as many on the top of the board as possible. The player who has the best aims is declared as the winner.  
Pros:
Stackable for easy storage

Best in portability

Easy to set up and disassemble

Bang for the bucks

Lightweight
Cons:
Board is not as rugged as others
GoSports Ladder Game
Sometimes called ladder golf, bolo ball, or Polish Horseshoes, the ladder game is a popular and fun indoor and outdoor game with a simple rulebook to follow. It may only involve some tossing, but the challenge is on mastering your techniques.
This 2-on-2 game involves tossing "bolos" (rubber golf balls attached to a 12-inch long string) towards the target ladders from an agreed distance (usually 15 feet). The ladder consists of three rungs (top, middle, and bottom), and each rung has a corresponding score.
The points are tallied after each round, and a mark is given only for bolos that were not knocked off from the ladder. The team to score exactly 21 points takes home the bacon.
The set includes a PVC ladder ball targets, 3 red and 3 blue bolos with thick rope, a rule book, and a carrying case. Young or old players can definitely join in the fun of throwing bolos towards the ladder. This activity is great for family reunions, summer outings, etc.
Pros:
Sturdy and durable

Easy to assemble and store

Comes in a zip-up carrying case

Bolos are made from a real golf ball
Cons:
Backyard games are a great excuse to take advantage of and enjoy the warm and sunny weather. All the games above will definitely give you lots of fun.
They are also the best way to encourage everyone to take their time off from social media and mingle with actual people. They can help sharpen your skills and allow you to participate in healthy competitions every now and then.
Overall, regardless if you plan to spike some bolos, pull blocks, or toss balls, these aforementioned backyard games are great for your next outdoor activity.