Back in the days, learning to ride a bicycle meant sitting on a pedal bike with two small wheels attached to the back axle aka training wheels. But things have changed these days as parents are turning away from training wheels and ride-on toys and towards balance bikes for toddlers.
Unlike traditional pedal bikes for kids, which only taught us to pedal a tricycle, balance bikes ditch that theory. It is still a two-wheeled bike but minus the pedals. It features a low seat height so children's feet can easily reach the ground.
The riders' knees are bent, and they use both their feet to push the bike and hold it upright. Modern parents are convinced after seeing the results balance bikes are getting their children. So the question is:
What's the best bike for a toddler?
After a considerable amount of research and testing the best balance bikes on the market are the GOMO balance bike, Strider 12x balance bike, FirstBike balance bike, and the Cruzee UltraLite bike.
The Top Balance Bike options Are.
1. GOMO
4. Bixe 16″
5. Banana Bike
Is your son or daughter already 4 years old? They might need a larger balance bike! Check these out – larger balance bikes for older kids.
Check this comparison chart of key features…
As soon as they have mastered balancing and steering and their speed and familiarity increase, they can lift their feet off the ground and enjoy exciting moments of balanced flight on two wheels. This point is why training wheels have become obsolete.
Rather than just teaching a child to pedal they can learn the most critical part of bike riding balance! Balance is fundamental for riding bikes for toddlers the same as it is for a kids mountain bike.
Kids' balance bikes are gifts for kids and a great way to teach a child how to ride a bicycle way better than training wheels. It gives them more control, and they are less likely to get stuck on uneven surfaces.
They can glide and jump with ease while minimizing the risks of getting scrapes and bruises from crashing. And more than anything they develop bike balance versus only learning to pedal when using training wheels.
In recent years, manufacturers have added extra features and have even developed larger balance bikes for toddlers. They have installed front and rear brakes and higher quality tires and wheels. But at the end of the day, they are all used in the same way and for the same reason.
Continue reading to check out our list of recommended bikes…
1. XJD Baby Bike – Best Balance Bike for 1 Year Old
Just because your child is just learning to balance themselves doesn't mean that they can't start to learn to ride! The XJD baby balance bike is perfect for little ones still getting their feet under them!
For starters, the XJD baby balance bike is easy to ride and steer. From there, it has a non-slip handle and soft yet durable seat that your child can ride on for hours.
If you're worried about safety, the XJD baby balance bike is ASTM and CE certified, so you rest easy knowing that your child is safe. There are many things to love about the XJD baby balance bike, easily earning our choice as the best balance bike for a 1-year-old.
Highs:
It helps develop balance and coordination
Many kids can ride before they can walk!
Non-slip handle and durable design
Nine color options to choose from
Lows:
It is too tall for a smaller 1-year old
2. Yvolution Y Velo – Best Balance Bike for Toddlers
If you're looking for a great all-around balance bike for your child to use through the toddler years, the Yvolution Y Velo Junior balance bike is an outstanding choice. While it utilizes a lightweight design that is easy for your child to manage, what really sets the Y Velo Junior apart is how it grows with your child.
Yvolution designed the balance bike to do this in two ways. First, both the seat and the handlebar are adjustable, making it easier for your child to fit this bike as they grow. Additionally, Yvolution utilizes a two-stage rear wheel design.
It starts as a dual-wheel design that makes it easier for your child to balance as they learn. Once they get a little better, you can take off the second wheel, increasing the challenge and the fun!
Highs:
Lightweight aluminum design
Large wheels help them tackle large obstacles on their playing surface
Adjustable handlebar and seat allows the bike to grow with your child
Two-stages to use as your child improves their balance
Lows:
The simpler design isn't as exciting for children
Prices pulled from the Amazon Product Advertising API on:
Product prices and availability are accurate as of the date/time indicated and are subject to change. Any price and availability information displayed on [relevant Amazon Site(s), as applicable] at the time of purchase will apply to the purchase of this product.
Once your child gets their balance down a bit, it's time to upgrade them to a top-notch two-wheeled balance bike. You still don't want it to be too tricky, though, which is why you want the JoyStar 12" Kids Balance Bike.
What really helps young kids out is the 12" foam-filled tires that make it a bit easier to balance on just two wheels. However, they also love the bike's padded seat and handlebars, which allow them to ride for hours comfortably.
Finally, the step-through frame makes it easy for kids to jump on and off without getting stuck on the frame.
Highs:
Eight color options to choose from
12" foam filled tire for superior balance and durability
Soft padded seat and grip for additional comfort
Lows:
The seat doesn't go extremely high – which is why it's perfect for 2-year-olds!
4. Little Tikes – Best Balance Bike for 3 Year Old
If your child is on the cusp of a balance bike and a regular, or you just don't want to buy a separate bike when they get a little older, the Little Tikes is an outstanding choice.
It's a 2-in-1 bike that transforms from a balance bike to a regular bike when your child is ready for it. Not only does this bike transform as your child grows, but both the seat and the handlebar are adjustable for a more comfortable ride.
Finally, it's an ultra-durable bike made from top-notch materials, so you don't have to worry about it falling apart after a few rides. Even better, Little Tikes used EVA foam-filled tires, so you never have to worry about a flat!
Highs:
Pedals that fold in and out so your child can learn to ride a regular bike
Adjustable seat and handlebar allow the bike to grow with your child
Tires made with EVA foam that never goes flat
Lows:
Pedals can get in the way even when folded up
5. Bixe Aluminum – Best Balance Bike for 4 Year Old
As your child starts to get a little older, you need a balance bike that keeps up the fun and excitement. That's precisely what the Bixe balance bike does.
There are four different vibrant designs to choose from, and the bike utilizes foam-filled tires, so you never have to worry about a flat. Furthermore, Bixe uses an aluminum frame to keep the weight down to a meager four pounds, and the adjustable handlebars and seat are a phenomenal perk.
We wish that Bixe would add a little extra padding to the seat, but that seems to be more for our comfort than the child's comfort. We haven't found a kid that complains yet!
Finally, the 60-pound weight capacity means that you won't have to worry about your 4-year-old exceeding the weight capacity anytime soon.
Highs:
Four color options to choose from
Ultra-lightweight design only weighs four pounds
Adjustable handlebars and seat so it can grow with your child
60-pound weight capacity is perfect for older children
Lows:
The seat has minimal padding
One of the best balance bikes out there is the TheCroco balance bike. They have over 12 different color options to choose from, so it's easier than ever to find a bike that your child will love.
From there, they have two different options to choose from, the basic model and the premium one. The main differences are that the premium model has a lighter frame and an adjustable handlebar.
These balance bikes by TheCroco are great for kids from 18 months to five years old. Not only do they grow with your child, but they TheCroco built them with durable materials like foam-filled rubber tires that never go flat.
Highs:
12 color options to choose from
Both premium and basic models available
Perfect for kids from 18 months to five years old
Foam-filled rubber tires for long-lasting performance
Lows:
The handlebar does not get tight enough – kids are not strong enough to move it though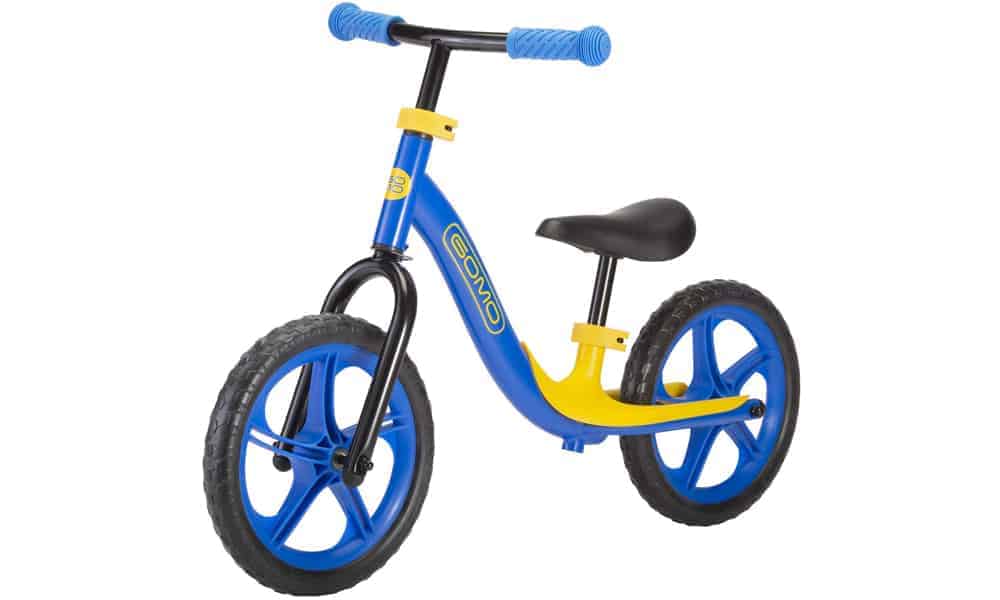 Our favorite bike for 3 year olds, the GOMO is the great option on our list. Stacks up well against the strider making it the Best budget buy! But the GOMO is more than a budget bike.
Short for "Get Out More Often," GOMO Bikes are designed for those who want a high-quality, budget bike. It is best for kids 18 months and 5 years old. Its low minimum seat height can be adjusted from 12" to 17.5", giving kids more room for growth and allowing kids of various sizes to easily touch the ground. The seat is installed well so it will not easily spin around.
The bike also has a wide-grip T-bar handle that measures up to 14.6" and a solid, lightweight build at only 6.4 pounds. This new GOMO provides a slightly bigger space between the handlebar and the seat. This improves the overall comfort of the kids.
It also allows them to extend their arms properly, giving them better control of the bike. It has a decent wheelbase, high handle height and low center of gravity.
The combination of these two features provide better balance and force kids to sit more upright so their weight is more centered on their hips. The bike comes with hard plastic rims and EVA tires, which will never go flat.
It also has a built-in footrest plant that most kids used during tricks. Although this is considered a minute detail, the grips have bumpers at the end for cushioning. A turning limiter has also been installed to prevent sharp turns.
We love the GOMO and deem it to be one of the best balance bikes for toddlers as it works for younger kids and is large enough to allow plenty of room for your kids to grow and still use it. Another key feature of the GOMO is the paint job the paint quality rivals that of a bike sold for a much higher price.
Highs:
Long wheelbase great for younger and older riders
Footrest does not interfere with a stride
Wider clamps with easy release on seat post and handlebar
Equipped with steering limiter

to prevent spills

No air tires to worry about
Great standover height

fit for kids of various sizes
Lows:
Foam tire has less traction and cushion
No option for air-filled rubber tires
A little big for 1-year-olds

doesn't offer

 hand brakes option
Would have been cool to offer a

removable footrest
GOMO - Toddler Training Bike for 18 Months, 2, 3, 4 and 5 Year Old Kids
THE HOTTEST BALANCE BIKE! JUST LIKE A BIG KIDS BIKE! Do you remember your first toddler bike? It needed to be light enough to drag, but strong enough for those moments of frustration when you threw it...
SAFETY FIRST: The GOMO kids bicycle has a turn limiter for greater control while they master the skill of steering. The custom footrest lets them place their feet safely as they go fast for their very...
STURDY ENOUGH TO GROW WITH THEM! To ride like the big kids', there'll be a few spills along the way. So we gave the GOMO push bike a steel frame that's as light as it is tough. It's the first...
---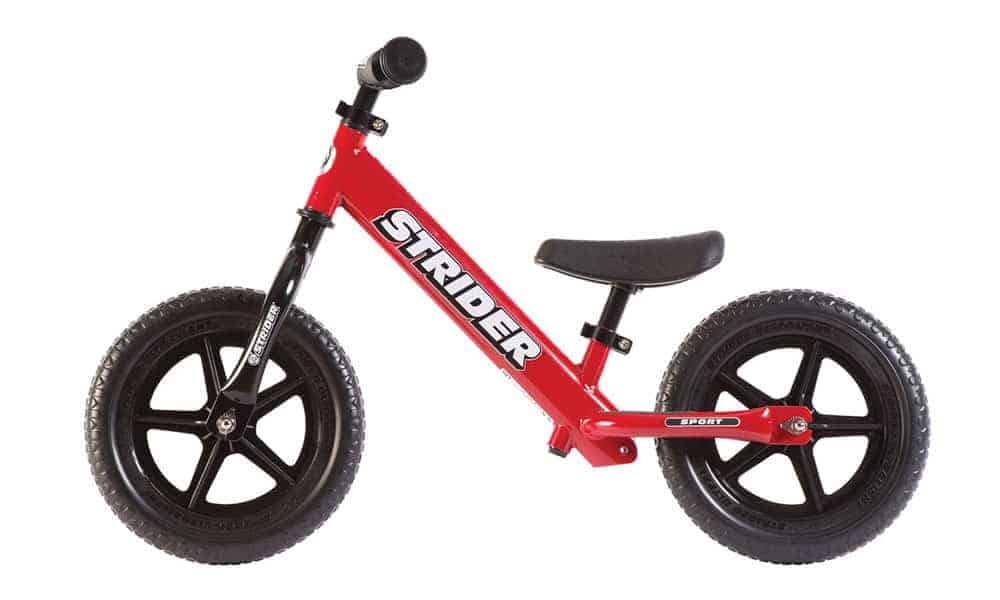 The most popular balance bike for toddlers, Strider Sport shown in red
Strider bikes have long been known for its well-designed, well-built bike, and the Strider 12 Sport is no exception. Suitable for kids between the 18 months and 5 years old age range, this lightweight bike is easy to adjust and handle.
Weighing in at only 6.7 lbs, this is one of the lightest and smallest rides for toddlers on the market. But really, within its price category, its well-designed geometry is a gem.
The Strider Sport has a narrow handlebar grip with knob-like ends. It features puncture-proof tires that provide good traction. You'll find It also comes with a non-intrusive footrest (with grip tape strip) to put their feet and unique footbrake, which can easily be activated using their heels.
Strider does offer a good amount of benefits like the Strider Cup (great for young athletic kids). Think of it like a Tour de France bike racing event designed for children where they develop skills of cycling from a young age.
Strider is a brand parents love and events like this that can mimic mountain biking helps children form lifelong love affinity to the brand. You just can't go wrong with a strider sport. We are currently working on a detailed post that will review Strider as a complete brand.
Highs:
Easy for a child to ride
Maintenance-free tires foam
Features an ideal geometry for kids to ride a balance bike
Easy to assemble

built-in footrests
Lows:
Exposed bolts can scratch children's inner legs
you'd find it's Not ideal for taller riders
higher-priced on the best balance bikes list
No front rear hand brakes option
Thin grips
Sale
Strider 12 Bike, Ages 18 Months to 5 Years
Learn to Ride Faster​ - Balance bikes are proven time and again to teach boys and girls to ride faster than training wheels. Learn balance and steering, to transition to a bicycle much easier.
Lowest Seat Rise​ - 11-inch seat height allows your toddler to straddle the bike at a young age. The seat and handlebar heights adjust to accommodate ages 18 months to 5 years.
Lightweight Frame​ - The steel frame weights just 6.7 lbs., allowing your child to easily steer, push and maneuver the bike as they learn to ride.
---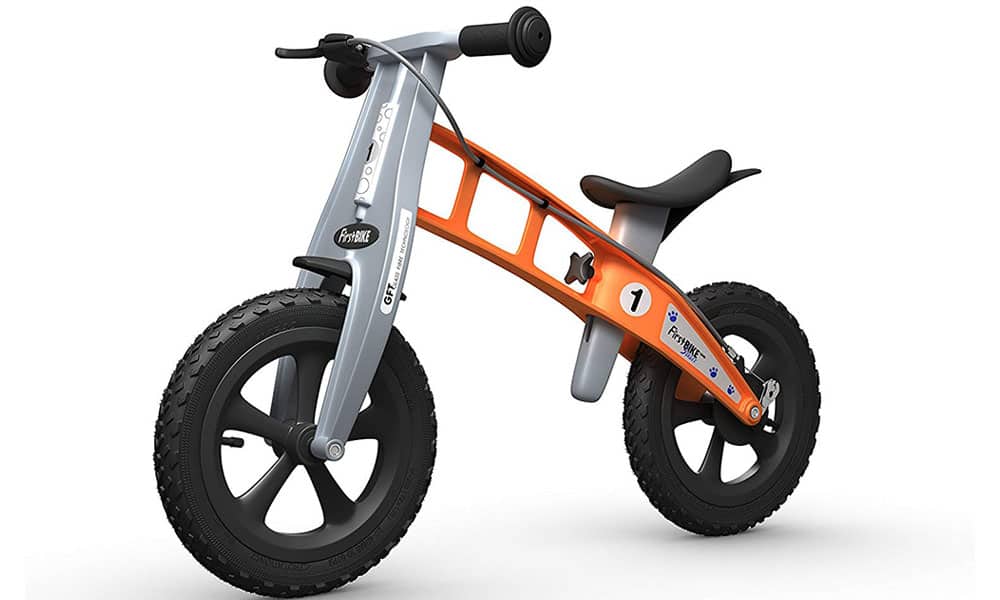 great balance bike with air-filled tires and a unique frame design
FirstBike has helped transform the popular balance bikes for kids industry in the United States, thanks to its wide range of safety and durable features. This waterproof bike is suitable for older children kids ages 5 years of age and up. It boasts of a smooth and unique nylon composite frame material, which lessens injuries caused by falls.
The bike's U-shaped saddle inhibits children from sliding off their bike seats. It also has a turning limiter, easy knob dial, quick release seat post adjuster, and to top it off the bike has a hand brake. To customize design options, there are several accessories you can buy, including a lowering kit, a monoski, and molded nylon baskets. Of note, a monoski transforms the bike into a sled.
Although its features remain unmatched, it has a flexing frame that is not recommended for taller and heavier kids. This kids' balance bicycle is built so similar to a traditional bike with pedals they could technically hook to bike trailers.
FirstBike has five different models, namely, the Basic, Cross, Street, Limited, and Special Edition. The last four models have identical features and differ only in color and tires. For instance, the Cross model is best for off-road surfaces, whereas the Racing and Limited Edition have more cushioning. The Basic model does not come with a hand brake.
Highs:
Weatherproof composite frame and fork
 Handbrake / rear brake
Wide tires improve the bikes balance
Lightweight at only 8.6 lbs

Perfect bike

super easy for a child to ride
Lows:
Not recommended for taller and heavier kids
U-shaped seat, 

range of seat

not suitable for small riders
Air tires can go flat and are ​​

​

added weight

​​

Standover height is too low
FirstBIKE Cross Balance Bike with Brake, Orange - for Kids & Toddlers Ages 2,3,4,5, 32.7 x 15 x 22 inches ; 7.5 pounds,...
GERMAN DESIGN AWARDED AROUND THE WORLD FOR SAFETY - child-friendly rear drum brake; horse saddle seat prevents children from slipping off; handlebar does not fully rotate and helps keep direction
UNIQUE MATERIAL – lightweight, high-strength yet flexible composite frame absorbing shock and protecting a child's spine; weatherproof balance bike with optional skis instead of wheels in winter
LIFETIME ASSURANCE ON FRAME & FORK and 5 year on all other parts; FirstBIKE's high-tech frame is extremely durable – it does not splinter, swell, or rust like wooden or metal frames
---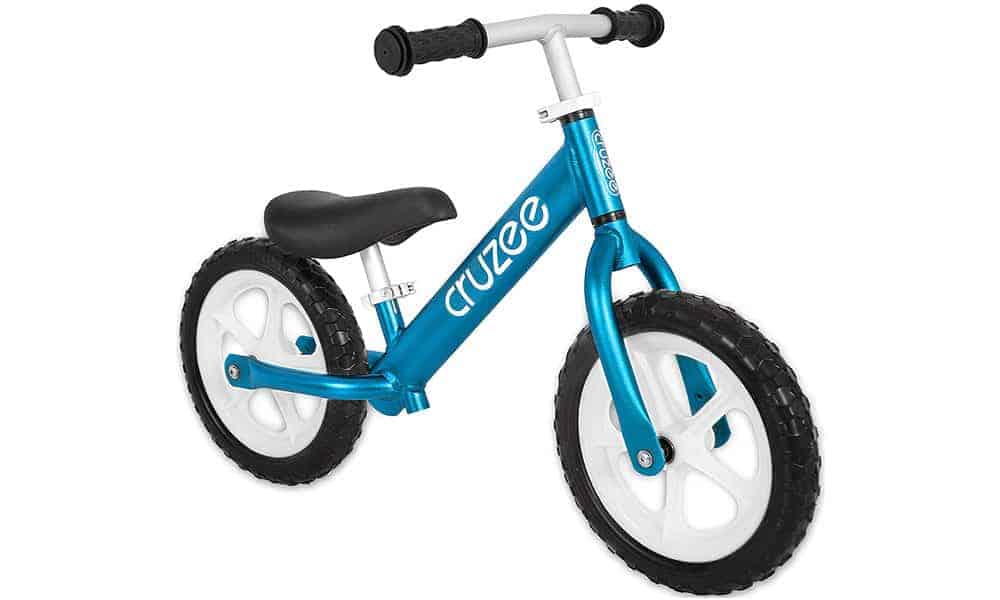 Similar to the Islabikes Rothan balance bikes the Cruzee is an affordable alternative best baby bike.
From the name itself, Cruzee Ultralite weighs in at only 4.4 lbs making it suitable for kids as young as 18 months old. This best budget bike features a highly adjustable two seat posts that range from 11" to 19" and handlebars that can be raised up to 4". Both can be adjusted through a tool-free quick-release lever.
The bike comes with metal rims and durable tires. It has sealed-bearing hubs that are securely mounted using 0.5" flat and scratch-proof axle bolts. Other notable features included are quick-release clamps and a well-padded seat. It also boasts of a rust-proof, anodized frame that provides the bike its attractive and shiny metallic finish.
Highs:
Lightweight
Comes with air tires
Flat axle bolts to protect against risks of injuries
Ideal for petite and hesitant riders

One of the best budget bikes
Lows:
No hand brakes

Poorly designed f

ootrest too big to fit a child's heel
Seat range not wide enough
air tires can be a hassle
Cruzee UltraLite Balance Bike (4.4 lbs) for Ages 1.5 to 5 Years | Best Sport Push Bicycle for 2, 3 & 4 Year Old Boys &...
TRY A DIFFERENT APPROACH TO LEARNING – Skip tricycles and training wheels. On a no-pedal blue Cruzee balance bike children LEARN TO BALANCE FIRST on two wheels. Pedaling on a traditional bike comes...
MAKE A LONG TERM INVESTMENT IN YOUR CHILD'S HAPPINESS – Constructed of rust-free anodized aluminum, Cruzees come with a LIFETIME WARRANTY. Wide seat and handlebar adjustment lets the bike grow...
THE LIGHTEST BALANCE BIKE IN THE WORLD – In cycling, lightweight equals performance & safety. Weighing just 4.4lbs, the Cruzee delivers effortless control & builds confidence in the smallest riders,...
---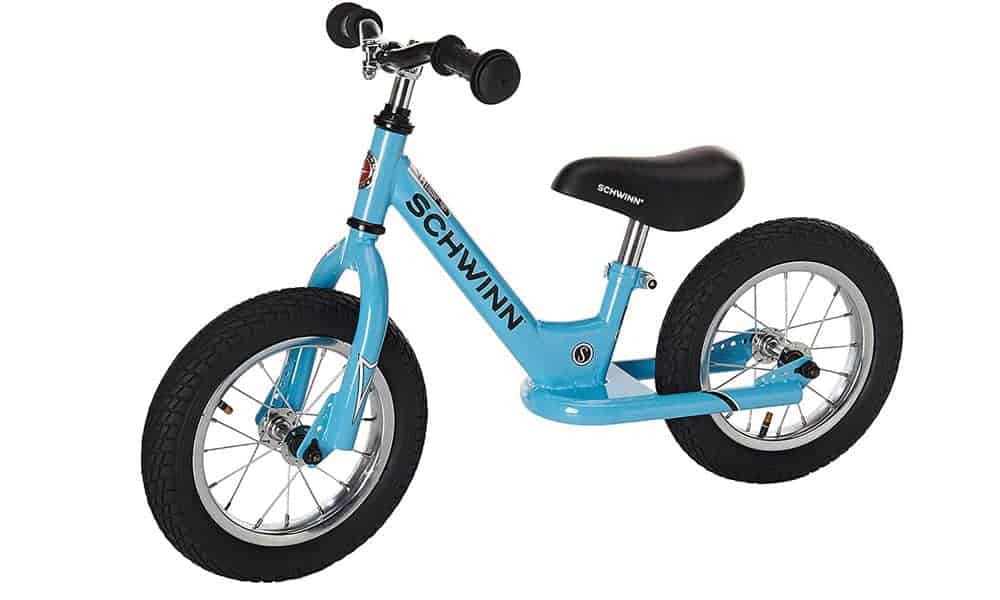 Schwinn balancing bike with one of the softer child bike seats
This is another budget balance child bike on the list, priced under $100. Weighing in at just 10.5 lbs, this bike is a perfect match for kids between 3 and 4 years old. You can easily adjust its seat height from 14" to 16.5". It has a solid build and comes with air tires, which have a good solid feel. We like air-filled rubber tires on this setup and think they complement the bike perfectly.
The Schwinn budget bike comes with a protruding footrest far out from the sides of the bike seats. This may be a problem for small children as there is a tendency for their calves to hit the footrest. Pre-schoolers won't likely face this issue though.
Highs:
Comes with cushioning air tires
Price won't break the bank

Perfect bike b

est for preschoolers
long wheelbase

best budget bike with air tires
Lows:
Protruding footrest on the far sides of the seat
Tires can go flat
Minimum seat height not low enough
Lacks removable turning limiter
Sale
---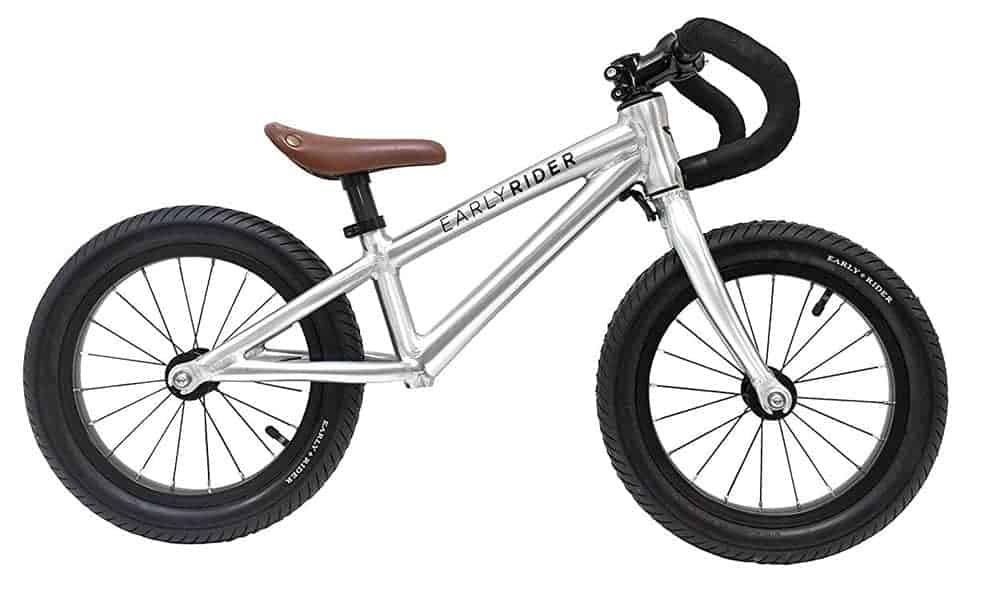 Big kid-approved, sturdy frame construction similar to a BMX bike. Perfect for kids ages 3 and up
If you are hunting for a do-it-all great 14-inch balance bike, then this baby is for you. Nothing beats the Road Runner's chic diamond frame when carrying off drop bars. The drop handlebars give riders a sense of control and added stability, thanks to a lower sense of gravity.
Weighing in at 7.9 lbs, this is great for kids from 3 to 5 years old. You can easily adjust its seat height between 14" and 18.5". The Road Runner boasts of a lightweight frame, aluminum fork and steerer, and aluminum stem. It also uses a riveted faux leather seat to achieve style and comfort.
Designed for the future road riders, the Road Runner has low resistance cartridge bearings and an integrated headset. It comes with a 14" pneumatic wheels too. This is one of the premier balance bikes with air tires.
Highs:
Made with lightweight aluminum materials
Drop handlebars imitate a mountain bike
Integrated threadless headset
great seat height range 

adjustable seat height

air tires for smooth riding

ball-bearing headset
Lows:
Hefty price tag
Air tires can be unreliable
No padding on this balance bike's top tube
seat and handlebars
Rather hard for child bike seats
---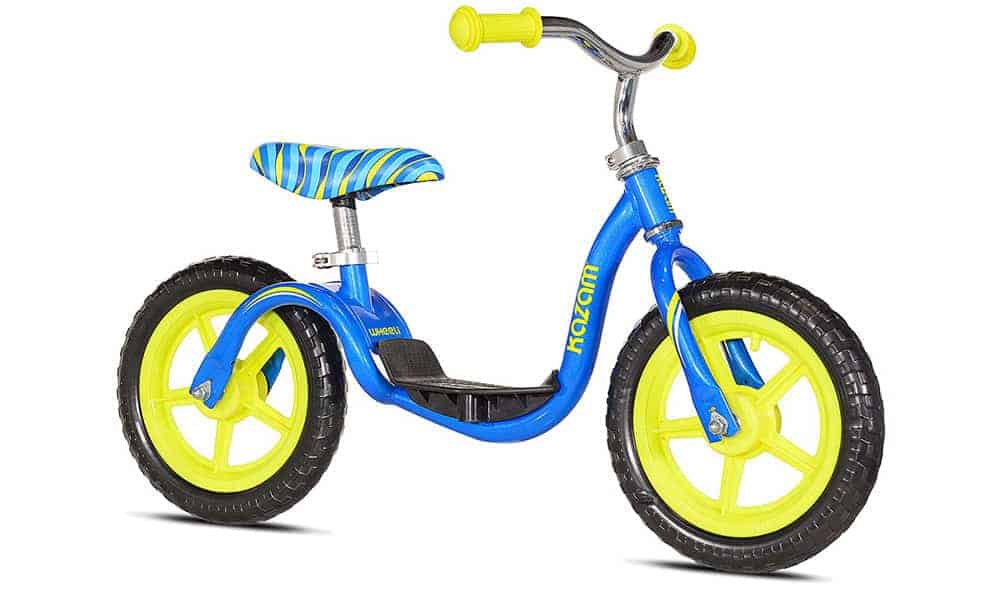 At under $60 the Kazaam is a solid budget bike option
If you have been binge-watching the famous Netflix series Shark Tank, then you may have probably seen this in one of its episodes. The Kazaam bike is like no other as it comes with a patented, ergonomic step-in footrest. Thanks to this, kids no longer need to lift their legs in the air when gliding.
The bike features foam tires, which work pretty fine in the dirt. Compared with the bike in this list, the v2e is a bit heavier at 9.9 lbs. But for its price range, this is one of the lightest along with the enkeeo 12 sport.
Its seat height can be adjusted between 14" and 17" this range is enough to accommodate almost any child's height. However, the v2e bike frame can be too wide for petite kids. This is highly recommended for average- to large-sized kiddos.
Highs:
Comes with air tires
Different color options available
Long wheelbase great for older kids
Great for toddlers and kids

Long wheelbase for stability
Lows:
Too wide frame for petite kids
Expensive compared with other balance bikes
Weird top tube design
Plastic tires
Ergonomics make it 

harder to balance
Kazam v2e No Pedal Balance Bike, Blue/Yellow
The only no-pedal bike options with an easy step-in patented footrest design - KaZAM's footrest is in the natural place, where feet would be if coasting on a pedaled bike, helping to find their center of gravity - Adjustable seating and handlebars - Kazam accommodates ages up to 5 years - Puncture resistant, maintenance-free EVA tires - never need air - As seen on Shark tank
---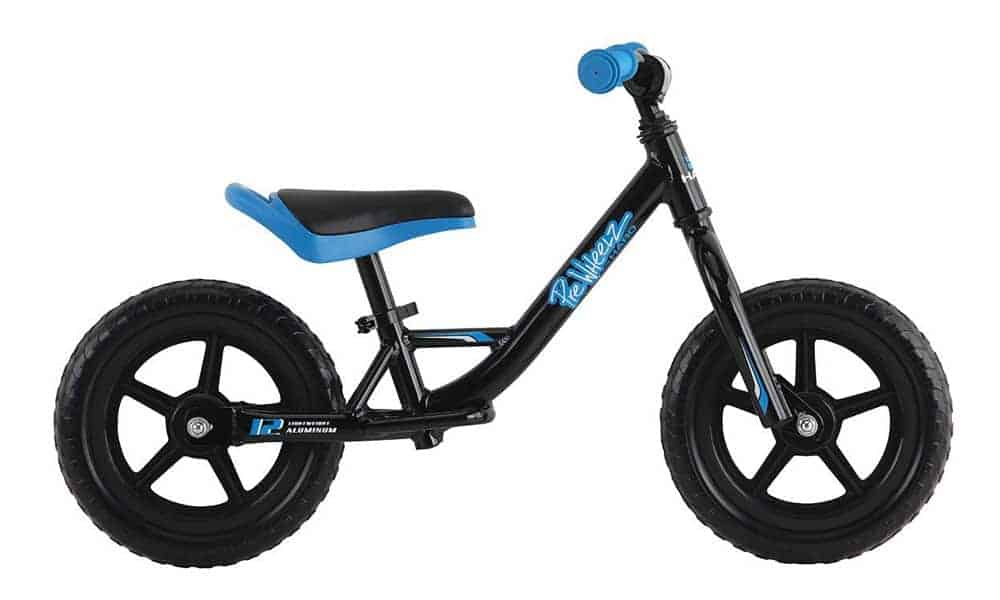 Haro is no stranger to consumers and enthusiasts because of its reputation in the bicycle market and premium quality. In case you do not know, Haro is a manufacturer of high-quality BMX and mountain bikes. Thus, it is safe to say that the z10 got those same manufacturing skills.
The Haro z10 can accommodate kids as early as 18 months old. The seat can be adjusted to as low as 11" and its smaller frame and wheels make it a very good choice for very young kids.
The Haro z10 is a sturdy bike that can handle a lot of abuse. However, the bike contains some exposed bolts, which can be a concern for some parents. But for its price of under $100, the Haro z10 is definitely a bang for the bucks. In terms of overall quality construction, size, and affordability, Haro z10 is a great bike for your toddler who is seeking some adventure.
Highs:
High-quality construction

Hi-ten steel frame 

Durable frame
Great seat height adjustability 

ideal for kids 24 months 

Affordable price
no air tires
Lows:
Exposed bolts
Small enough kids can easily outgrow
Minimum seat height too high
Colors are dark for a kids' bikes
Odd handlebars and seat position
No products found.
---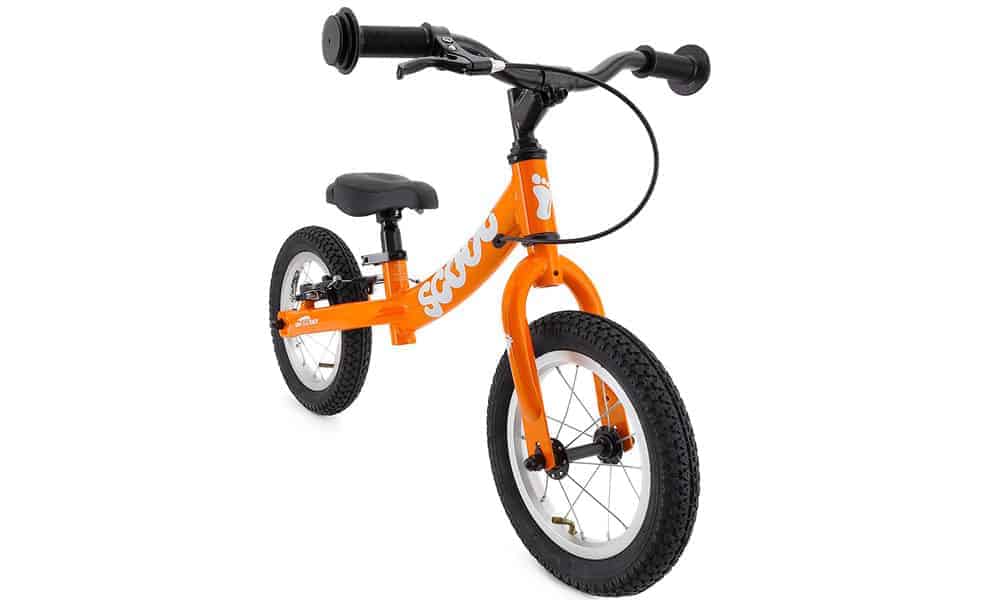 The Ridgeback scoot  balance bikes come in 4 colors – blue green pink red
Ridgeback has been crafting premium bicycles since the 1980s, and its excellent quality can be seen in its toddler balance bikes. Aimed at kids between 4 and 8 years old, this bike is made for children who want a worry-free learning experience. This is a bit heavier at 11.6 lbs, but it would not be a problem since it is meant for an older age group.
Compared with most on the best balance bikes list, the Scoot is taller and longer. And performance-wise, this is more like a pushbike than a toy. It also comes with two seat posts, allowing for a seat height adjustment of between 14" and 22".
You can easily adjust the seat height using a quick-release seat post clamp. Also, swapping the seat post is as simple as removing one screw below the saddle.
The Scoot is certainly built to last with its sturdy 6061 aluminum alloy. It has a longer wheelbase and more upright handlebars. It boasts of puncture-resistant 12" inflatable air tires and extra-wide handlebars. Such features allow riders to assume a more natural and comfortable riding position. This Scoot bike with air tires also comes with handbrakes and turning limiters.
Highs:
Heavy-duty, puncture-resistant inflatable air tires
Wider handlebars and longer wheelbase
Comes with two seat posts
Easy reach handbrake lever w rear brake no using

feet to stop

Has soft, padded leatherette seat
Lows:
Too heavy for small, young riders
Exposed bolts can pose scratching risks
Ridgeback Scoot kids' bikes can be expensive for some
Seat and handlebars
No products found.
---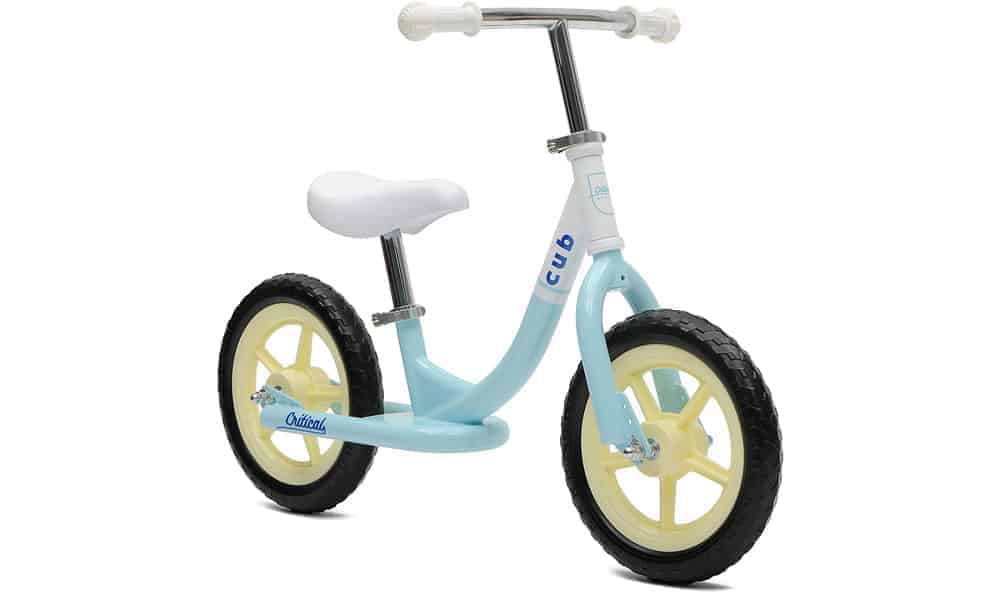 Although these balance bikes are cute consider which helmets fit your child best for their protection.
The Cub is one of the most sought-after from the best balance bikes for toddlers list, thanks to its unique foot-to-floor construction. It has a nice color combination and great safety features that can ease parents' minds. Crafted for kids between 18 months and 5 years old, the seat can range from 12.5" to 16". However, for a small bike, this can be a bit heavy at 9.2 lbs.
It takes durability to a whole new level having one of the strongest frame designs made from high-tensile steel. The frame's step-thru design provides a low profile. It also gives kids more room for growth as it features an adjustable bar and ergonomically designed seat.
The Cub has puncture-proof 12" foam tires, which are maintenance-free and never go flat. However, foam tires offer less traction, little cushioning, and minimal tread, which decreases their road grip ability.
Considering its material and size, the Cub is light enough at just 9 lbs. However, its footrest is too big it can interfere with kids during a stride.
Highs:
Cheap price
High-tensile frame

lightweight and easy to maneuver

Step-thru frame design
Unique foot-to-floor construction
Ease of assembly 

helps kids start riding fast
Lows:
Footrest too large
Should have an option with air tires
Strider bikes
No products found.
---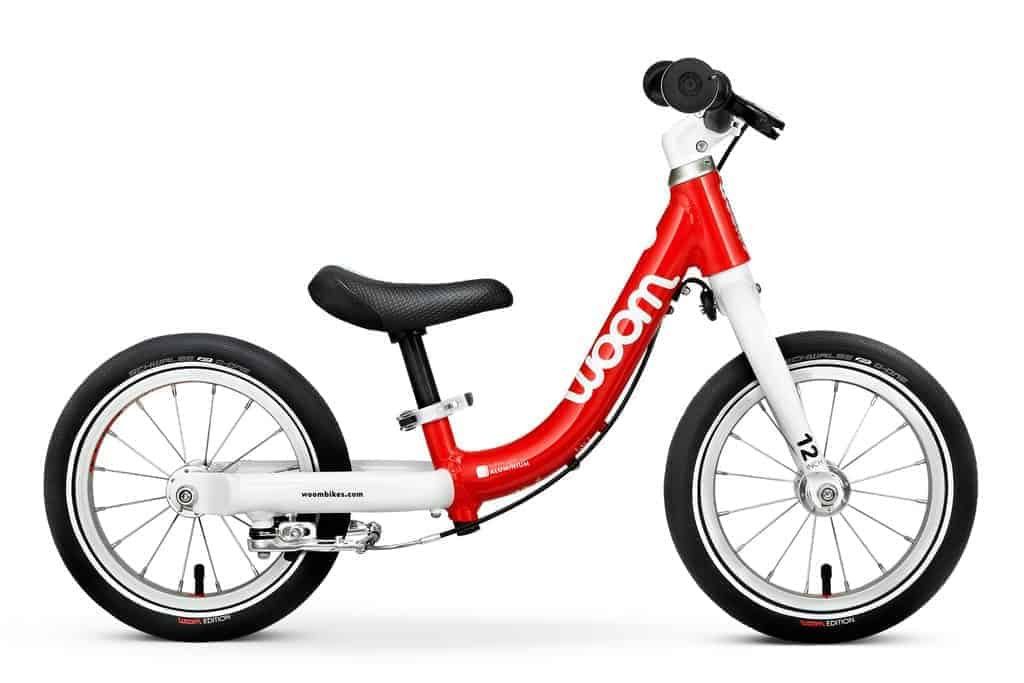 The Woom 1 balance bike is the choice for someone who isn't governed by a budget. Available in pink red blue
Woom balance bikes are a little pricey but they are extremely high quality with no expense spared in the design or manufacturing processes. One of our favorite features is the removable turn limiter on the Woom. The Woom 1 balance bike is a little pricey but they are really really nice. Woom bikes is based out of Austin Texas and their mechanics actually tune each bike before shipment.
No products found.
---
Banana makes a simple yet extremely nice bike. The Banana GT will get your kids out and about. Known for the banana-shaped frame,  the design makes it easy for kids to use but still cool enough for older kids.
Like most of the other bikes based on the list, the bike by Banana features puncture-proof EVA foam tyres, meaning you never have to worry about inflating these tires. What we like the most is the candy paint that graces the bike's frame. The metallic colors make this children's balance bike look more high end and elegant.
Overall these Bikes are an excellent choice but not our favorite. The simple curve design is a little too simple. While the paint treatments make up for the lack of creativity we feel there are better bikes on the market for the same price or less.
Highs:
Easy reach handbrake lever w rear brake
Has soft, padded leatherette seat
Heavy-duty, puncture-resistant EVA foam tires
Cool metallic paint
Comfortable bike seats
Lows:
Too heavy for kids, young riders
Exposed bolts can pose scratching risks
​Could use hand brakes
---
Radio Flyer has a long history of making quality products. You can't go wrong with a Radio Flyer Glide N' Go bike. It's actually the cheapest balance bicycle in this article.
Although its cheap compared to a bike like the Strider 14x sport balance bike it does have decent geometry and will still provide much better results for a kid learning to ride a bike than a pedal bike with training wheels!
This bike features wheels 12 inches in diameter, foam tires… If you are strapped for cash and considering the Radio Flyer Glide bike it's worth it and an excellent choice. Parents with children as young as 24 months to five years could purchase this real bike.
A few things that could be better about the radio flyer glide bike is the option for more features! Although the Radio Flyer Glide balance bikes for toddlers are affordable they come pretty stripped down.
There is no option for younger children who need a footrest put their feet, no coaster brakes and the bike doesn't offer any color options besides red making it easier to select a color.
On the bright side the bike is lightweight, has a great center of gravity, adjustable seat and handlebars. At the end of the day this is a good balance bike and you'll find younger children will excel on this bike.
---
The Red Bullet Helps the child gain balance. Seat adjusts from 13 up to 15 inches in height – Ergonomic and adjustable lightweight frame – Adjustable handlebar and seat, Soft tires foam.
While this is a small bike compared to the majority of balance bikes the Chicco is long-lasting, features adjustable seat post and handlebars, plastic wheels, and a cherry paint job. Designed to fit a variety of age ranges no list would be complete without the Chicco. Great bike for giving your child a solid foundation for future riding. @ on $49.99 it meets the best budget requirement.
---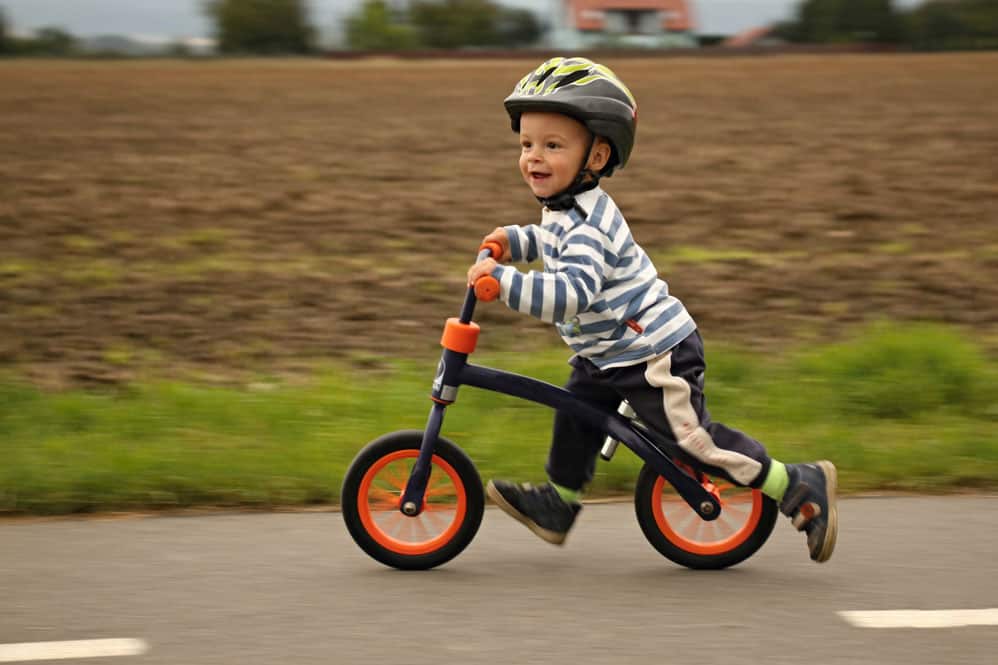 Consider all of the points below to help decide the best bike for your toddler. Look for features, bells and whistles. In addition, check the customer service solutions from the brand.
The Perfect Balance Bike Should…
Be Light Weight 
Here's a rule of thumb when considering the overall weight of a balance bike: it should not weigh more than 30% of your child's weight. For instance, if your child weighs 30 lbs and we apply this rule (30 lbs x 0.30), the ideal bike should weigh no more than 9 lbs.
Aside from ensuring safety, a lightweight bike is also much easier to grab and carry. Although becoming more popular the wooden balance bike is typically heavier.
Feature Seat Adjustability
Failure to choose the right bike size poses kids at risk of danger and inhibits them from properly learning how to ride. That being said, buy a lightweight balance bike that fits your kids now and not something that they will eventually grow into.
Think of it like car seats you wouldn't get the wrong size and risk injury to your child. How to find the right size? Find out your child's legs inseam measurement. The perfect saddle height for your kids should have them sitting on the seat saddle while their feet are flat on the ground and knees slightly bent.
A measurement of less than 1 inch than the child's inseam standover height is a good starting point. One more thing to consider the ideal bikes will feature an easy-to-adjust seat function. This will save you a lot of time and energy especially if you have two kids sharing one ride.
Bike Features to Consider
Air-Filled Tires vs Foam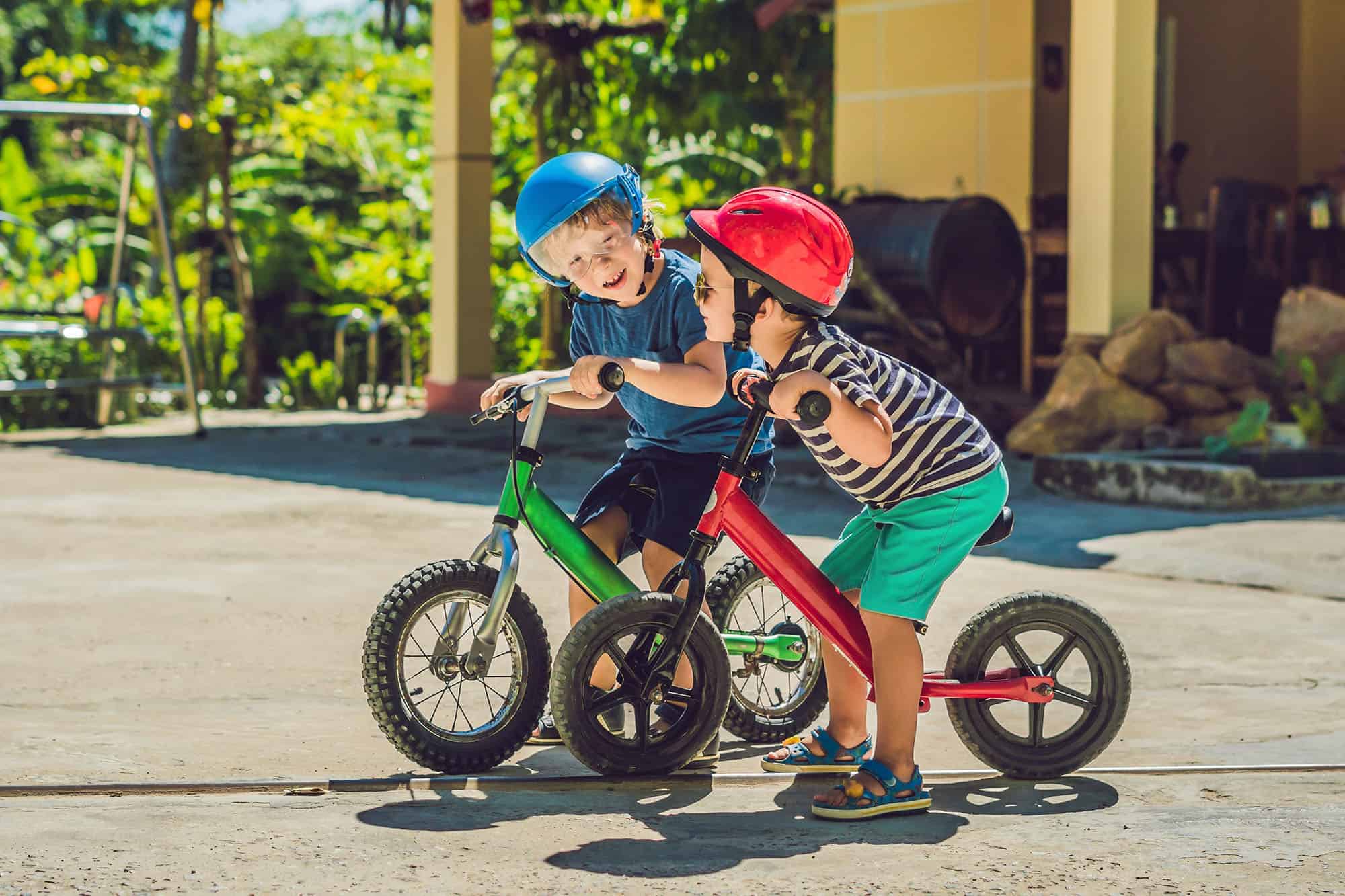 There are different types of tires available for balance bikes, and all come with various tread patterns. Keep in mind the kind of environment and surface condition the bike will be used in. Also consider the tire size while 12″ is standard bikes for older kids can features tires up to 16″ in diameter. 
For example, EVA foam tires weigh less than all the other bikes and are maintenance-free. They are good for both indoor and outdoor use. Safe for hardwood floors! However, they have little cushioning and less traction.
On the other hand, the air-filled tires are the standard and can provide cushion and comfort. But on the flip side, they can be prone to flats, and air pressure maintenance is required.
Rubber tires do not go flat like air tires or wear like foam or plastic tires, are maintenance-free and have a lot of traction. But they are most suitable for indoor areas only. Rubber will hold wear and tear better than foam.
EVA, rubber or foam tires can all be suitable. Foam tires are great because of their weight and are reliable because they don't go flat. They can wear down so it's a give and takes between foam and air.
However, foam tires are our pick because we are talking about kids who need lightweight balance bikes. Ultimately you'll get a good balance of weight and durability with foam, giving your kids a decently smooth and comfortable ride.
If you want pure comfort go for the air tires just remember they will be heavier although a bit more durable. We also think its only a matter of time before a brand brings pneumatic tires to this niche.
Another option when it comes to balancing bike tires selection is pneumatic tires. Typically found on the highest-end bikes pneumatic tires are slightly heavier but they do deliver the absolute best performance adding extra traction. 
Quality Frame materials
Best Wooden Balance Bikes
Just like tires, different bikes are made from various frame materials. There are metals, alloys, and even woods!
Metal bikes, obviously, tend to be heavier than the rest. They are most suitable for heavier and older kids though. In terms of resilience, they are top-notch. But like all metals, they are prone to rust and paint chips.
Aluminum or alloy bikes are best for those who are hunting for lightweight bikes. They are appropriate for best kids below 3 years old. The weight capacity limit of these kinds of bikes is between 60 and 75 lbs. Once the max weight limit is achieved, most kids find it easy to shift to learning a classic bike.The Bixe extreme light is a great example.
Composite bikes are the newcomers and have gained increasing popularity. Their frames are lightweight, almost indestructible, and easy to clean. But its key feature is they are able to survive most extreme weather conditions.
Wooden balance bike frames are the most environment-friendly of them all. But in terms of adjust-ability, they certainly have their limitations. They are best for flat or hard terrain surfaces and urban areas.
Turning limiter, hand grips, and footrests
Some bikes include a turning limiter that prevents both the handlebars and front wheel from steering a full 360 degrees and creating sharp turns. This reduces the potential risks of injuries and falls. Some bikes come with turning limiters, while others don't. Opting for a bike with the turn limiter will be very valuable while teaching your children to ride, as you'll be able to prevent a lot of unnecessary spills.
Hand grips, while considered minor a feature, provide comfort and protection to the riders. They help absorb impact and keep the child's hands safe from being accidentally scratched or pinched in case an accident occurs.
Lastly, having a footrest is okay as long as it does not interfere with the child's ability to stride. Also, this is most often utilized by kids who have already mastered their balance and want to challenge themselves by doing "tricks."
Frequently Asked Questions About Balance Bikes
How does a balance bike work?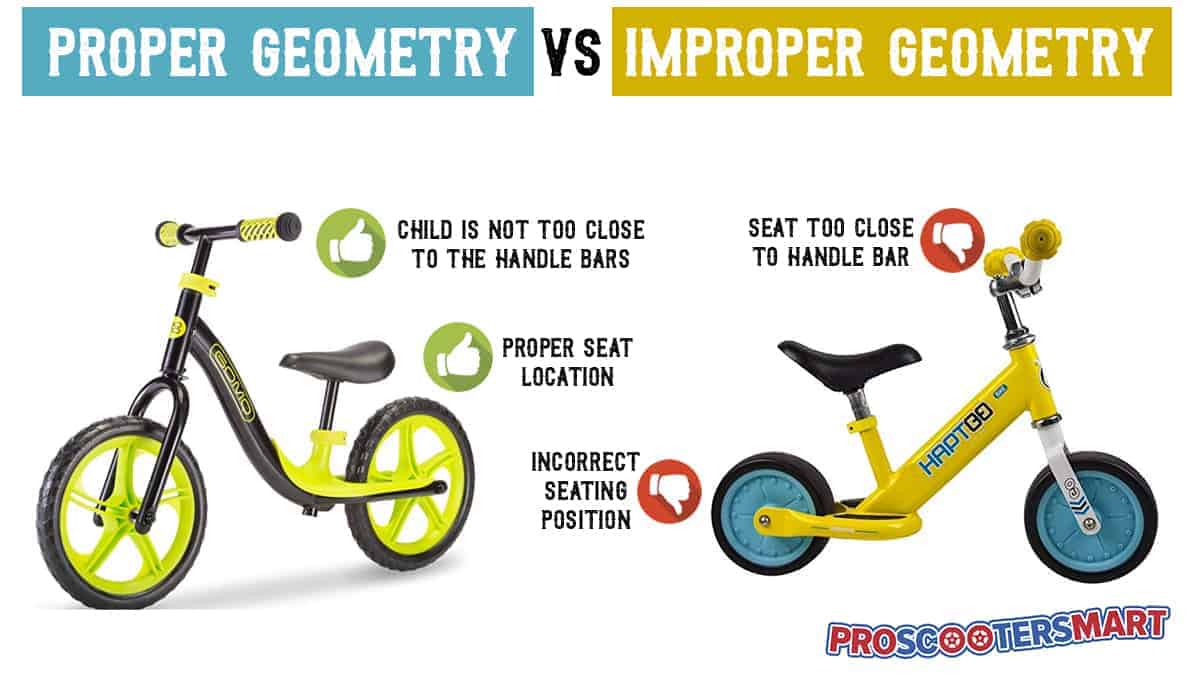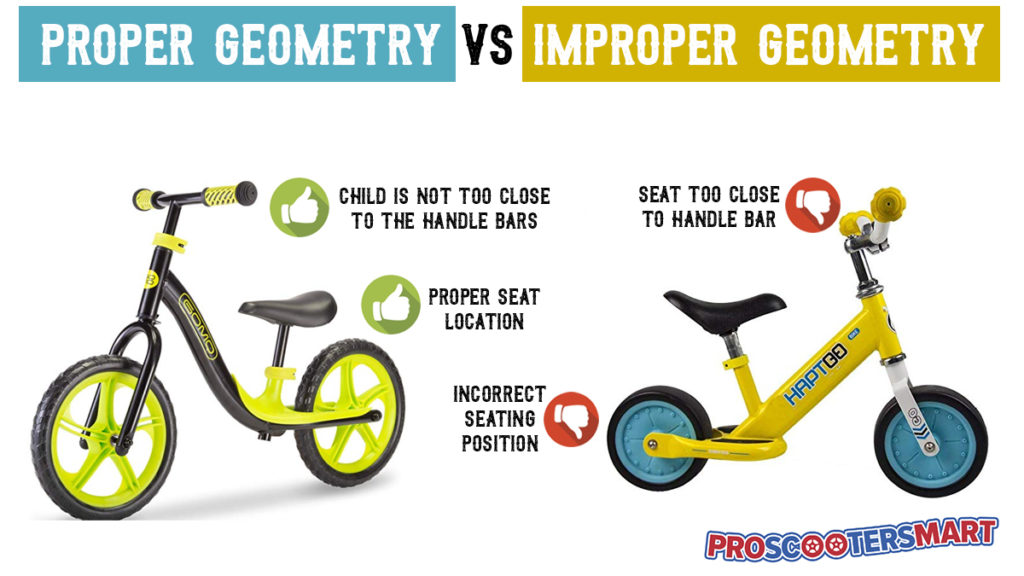 Geometry is king when going over bike features. The wrong geometry can defeat the entire purpose of the balance bike in the first place, making it extremely difficult for your child to balance and even giving them bad posture. See the above guide for an illustrated example of GOOD geometry vs BAD geometry. You can think about build material as well.
Which is better: balance bikes or training type wheels on a standard bike?
Kids who have learned to ride using add on wheels might need to relearn how to ride a bike without them. Children who are used to stabilizers are likely to depend on them greatly and they tend to have no sense of coordination. Once maintained, a high-quality bike will give your children more focus and control.
Often times, add on wheels are not spread evenly on the ground. With this in mind, trikes lean to one side. There are two potential problems for this issue.
First, the child will compensate their weight on one side, and this will only be corrected once they shift to a regular two-wheeler. Second, it can present hazards especially when moving at faster speeds and at an uneven surface.
In addition, training add on wheels tend to hold the bike vertically. This prevents the child from correctly maneuvering the bicycles when cornering or turning directions since they are always upright. A balance bike will develop and boost the maneuverability skills of kids, which are important when transitioning to a two-wheel bike.
If you are someone who isn't 100% convinced on getting a balance bike you can always opt for one that converts to a normal bike. That way once your child has learned to ride you don't need to get another bike.
When to buy a Balance Bike?
There are different bikes designed for various ages. The smallest balance bike for toddlers as young as 18 months old. Older toddlers can easily jump on a balance bike and begin scooting around.
A good rule of thumb to know when to buy a bike is if your kid is trying to walk all the time. This conveys they have the confidence they need to be successful, therefore the child is ready to start their balancing journey.
The longer exposure kids have on a 12-inch balance bike, the faster they will likely master their skill, before you know it they're ready to progress. Usually, they move up to a regular bike at the early age of 4 years and from there on to a bmx bike.
In some cases, a child might not be interested in balancing biking and it takes them longer to learn if this is your situation opt for a bike with a larger wheel size.
Can't I just remove the pedals off a bike?
The traditional bicycle is harder to maintain, and they are heavier than a balance bike. They are not a wise choice bike for your toddler nor preschoolers too. Besides, a balance bike offers more independence and is a great exercise in coordination and movements.
Mastering the art of riding a balance bike is the best foundation for getting on a standard bike and begin learning to pedal in the future. Again the main reason being a classic bike with training style wheels teaches a kid how to pedal not balance.
A traditional bike will also have a seat height range that is too high. Just think of the proportions of a cruiser bike compared to a balance bike frame there is a huge difference.
Benefits of Balance Bikes
​Although it only looks like a toy to kids, there are some benefits they can actually reap from using a balance bike.
First, it is way safer and more practical compared with tricycles and stabilizers. Instead of learning how to pedal, its best kids learn how to balance, and therefore they learn to ride faster. That being said, they are unlikely to fall as they are more prepared for an unexpected loss in balance.
Second, they give kids an avenue of learning and independence. It can provide kids with a sense of accomplishment and freedom. Also, experts have noted that kids who ride balancing bikes are learning to ride regular bikes earlier than kids who used training type wheels. Balance bike riders usually begin riding a bike at 3 to 4 years old, while training wheel riders start at 5 or 6 years old.
Third, it encourages families to do more outdoor activities. Even the best Kids these days are always on their gadgets and social media. Letting them cruise along sidewalks or bike paths would be a nice family thing to do.
And since it does not have bulky pedals on the sides, transporting these bikes is easy. Before you know it your kid will be riding a mountain bike with a hand brake lever after a few months of balance bike riding.
How do I teach my kid to ride their bike?
Before anything else, make sure that your child has worn a helmet properly and the saddle and handlebars have been adjusted accordingly. From there forward they can safely begin learning how to ride!
Getting on and off the bike
It is important to show kids how to lean on the bike and swing their legs over the rear wheel. When seated your child should have both feet flat on the ground and both hands on the handlebars.
If there are brakes, make sure the kid can easily reach it. Allow the child to get on and off the bike independently. Never lift them over.
Scooting
Encourage kids to walk slowly with the child bike and push on the ground using their feet. Remind them that if they want to stop, they simply need to stop walking.
Allow them to sit up, and remember to tell them to always look where they are heading. Repeat this step until they are able to sit naturally and gain some speed.
Lifting their feet off the ground
Once mastered, encourage them to start taking longer steps. You can verbally guide them too so they won't get distracted or confused. Find a gentle slope and encourage them to try to lift their feet from the ground.
This is a reason why the ideal child bike will have footrests that allow them to glide and not interfere with their strides. ( proper saddle height is important for riding while sitting both feet flat on the floor is ideal).
Bike Steering
High-quality bikes should be easy to use and easy for your child to get used to. Most kids do take some time to grow accustomed to riding their balance bike. After they are able to comfortably lift their feet, it is time to teach your child how to steer.
Let the kids lean slightly and turn the handlebars gently. Most of the bikes on our list feature turn limiters, which are beneficial and a primary reason why these kid's bikes are superior to the typical bike.
On the pedal bike, it's a free for all in the turning department allowing a young rider to turn so far as to fall over. With a turn limiter, a young rider is restricted to how far they can turn the handlebars. Just another powerful reason to opt away from a pedal bike and opt into the balance bike.
Stopping with and without the hand brake
Remind them that they can stop by putting their feet down. But for the bikes with a hand brake, this is the best time to teach them how to gently squeeze the lever. In our opinion we don't really view the hand brake option as important and here's why.
When teaching your kids to ride a bike that's what you are doing, adding a hand brake complicates things. Instead of the child concentrating on grabbing the hand brake, they can focus on riding their new bike.
As soon as the kid masters these basic steps, they can then move on to the next level perhaps a rear hand brake. Also, try to make learning fun by creating some challenging activities or obstacles.
Furthermore, keep in mind that kids easily get bored. So, stop your practice before this even happens. As much as possible, keep their cycling activity as fun, positive, and encouraging.
Features to Consider
The wooden balance bicycles are becoming more popular these days. Don't forget the kid's bike helmets! Even though we are talking kids bikes never underestimate the effects of even slight head trauma. Read our guide on the best helmets for kids.
Bike Accessories
Looking to make a unique bike for your child? Consider these accessories that will spruce up any bike and make it even more fun to ride. Another cool thing to note about these add ons is that they work great for kids of all ages. Use these same customized pieces for their next bike too.
Bike helmets are the most important though. Remember to protect your kids from other dangers! Riding in warmer weather can dehydrate your little one. Keeping hydration packs around or water is also important. Your local bike shop may also have some cool add on items.
Scooter Head Decoration Accessories - Unicorn Scooter Head with a Pair Streamers Suit for T Shape Design Scooter Bike,...
Multi-functional decoration for kids scooter: Suitable for the scooter which is T-shaped design, and children's bicycle head, baby carriage and other t-shaped structure. Pink Unicorn Toys Gifts for...
Package include: A pink unicorn horse head unicorn and a pair of streamers. our unicorn scooter accessories for our scooter to entice kids to ride and practice using it, and Cultivate children's...
A gift idea: Suit for the Scooter Head which is T-shape design!There is always a favorite of your child. You can choose it as a gift for your lovely kids. Our pink scooter accessories is the most...
Honorable Mention: Balance Bikes to Consider
Below you'll see the list of bikes that were good but didn't make our top balance bike on the market list, what you won't see is the wooden balance bicycle but we will do a specific review on this specialty segment.
Even though they weren't top picks the following bikes are good for getting the kids out of those child bike seats and developing their toddler balance. Another fun option is the TheCroco bikes these bikes help your kids learn to pedal.
The only reason the 14x Strider didn't make our bests list is that it's really a convertible bike for the older kids. While many of the other bikes on this list are designed for younger kids the Strider classic 14x is for kids 3 years old and up.
Another key difference with the Strider 14x is that it included pedals (crank arms) that can be added on to the run bike when its time for your child to transition from Strider balance bike to pedal bike.
Besides being a balancing bike that converts Other features include fully adjustable seating post, 14-inch wheels, inflatable tires for cushioning and traction, bottom bracket, coaster brake, comfortable seat and footrest. We're always asked can you review Strider bikes more? So in this article, we've included the traditional sport balance bike and the 14x sport balance bike. 
14x Sport Balance Bike
Learn to Ride Faster​ - Balance bikes are proven time and again to teach boys and girls to ride faster than training wheels. Learn balance and steering, to transition to a bicycle much easier.
Optional Pedal Kit Available - Simply add the pedal conversion kit to the Strider 14x and they begin pedaling and riding a bike like a pro. Pedals sold separately.
Lightweight Frame​ - The steel frame weights just over 12 lbs., allowing your child to easily steer, push and maneuver the bike as they learn to ride.
Overall the 14x by Strider sport is a smart buy but not a true balance bike. The Strider 14x sport will give your child confidence in stage #1 by developing their riding skills and then in stage #2 it will open up a world of adventure by becoming their first run bikes.
As two bikes in one, Strider 14x sport is a great first bike for any kid (especially older kid since this is a larger bike, older kid pedals the strider).
We like the blue Strider sport because it is the only kid bike on our list that converts to a pedal bike. Similar to the Strider 12 sport balance the 14x balance pedal bike is large and comes with the added pedal assembly.
If you are in the game to help your child to ride quickly the Strider 12 sport balance is the better choice but go for the strider 14x if you don't want to buy another bike anytime time soon as this is a great pick for kids closer to being ready for a pedal bike.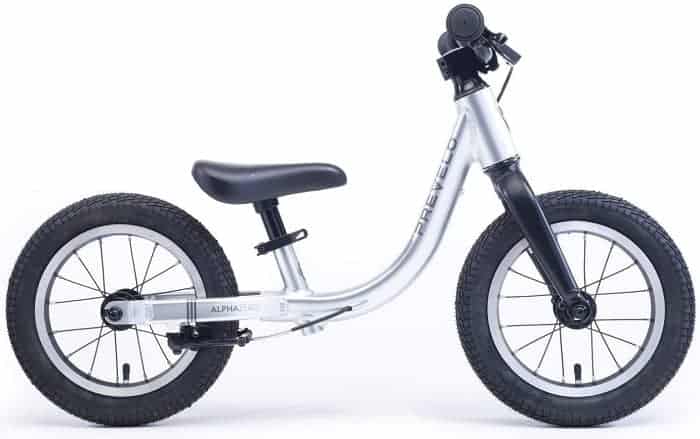 High-end toddler balance bikes, Prevelo Alpha shown in "Speed Silver" nice alternative to islabikes rothan as some of the more expensive kids bikes.
Prevelo Alpha Zero is like the Porsche of bikes for kids. There are no flamboyant attention-grabbing colors or tassels just an amazingly elegant and well-designed bike.  Everything about the Prevelo screams high end, from its quality finish and high-end quality components.
In comparison with some of the other best kids bikes on our list, it feels like the Prevelo Alpha's seat post could be more expensive than some entire pedal bikes.
This bike features an extra-long wheelbase for added balance and stability but what really makes this bike unique is the attention to detail. An ultra-light frame, aluminum frame, lightweight aluminum fork, tektro rear v-brakes, and rounded bolts throughout to prevent young ones from getting any scrapes.
One of the other things that we LOVE about the Prevelo is that they offer customization at checkout. Select your own custom-colored hand grips, add a bell and customer name lettering. Overall the Prevelo Alpha is a good balance bike but it is a little expensive for the average parent @ $199.99 and for that reason, we left it off the main list.
However, it is one of the top higher-end balance bikes if you have the cash. Click here to purchase the alpha zero balance bike.
No products found.
The Yedoo is another great honorable mention best kids bike. What we love about is most is the wide array of color options and themes, making this bike really fun for kids. It's probably color options wise one of if not the best on the market.
This Yedoo features inflatable tires on both wheels front and back wheel alike, a fast release feature on the extended seat post, great geometry for the perfect upright position, and a decent price. We also like the powerful hand brake that can stop a balance bike on a dime!
However, the purchase price point is what made it fall short of our best balance bike list. If you fall in love with a particular color you can't go wrong grabbing this bike for your toddler. Just know there are better options for less cash, we would suggest going for the pello ripple, radio flyer glide, Gomo, or Strider bikes.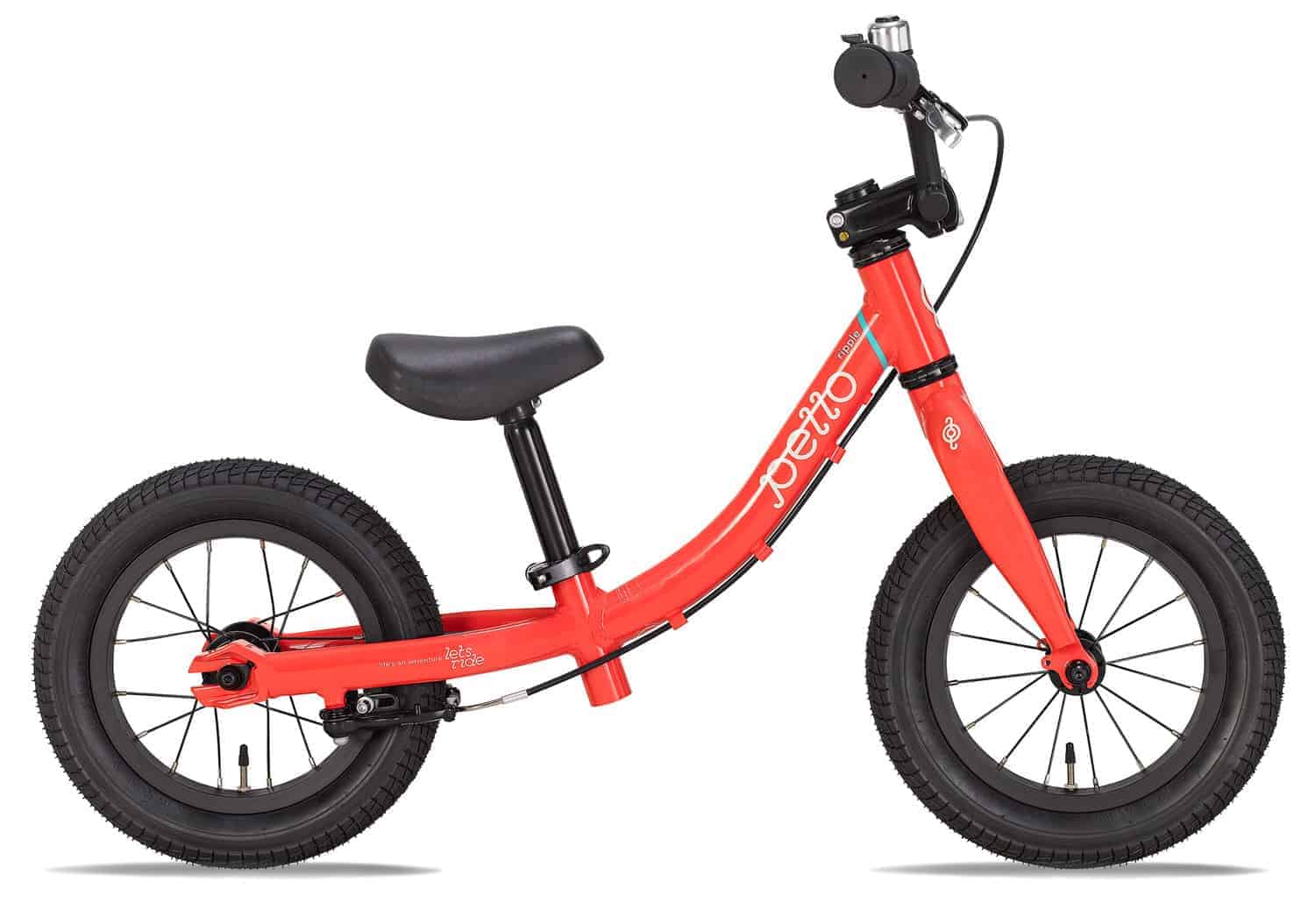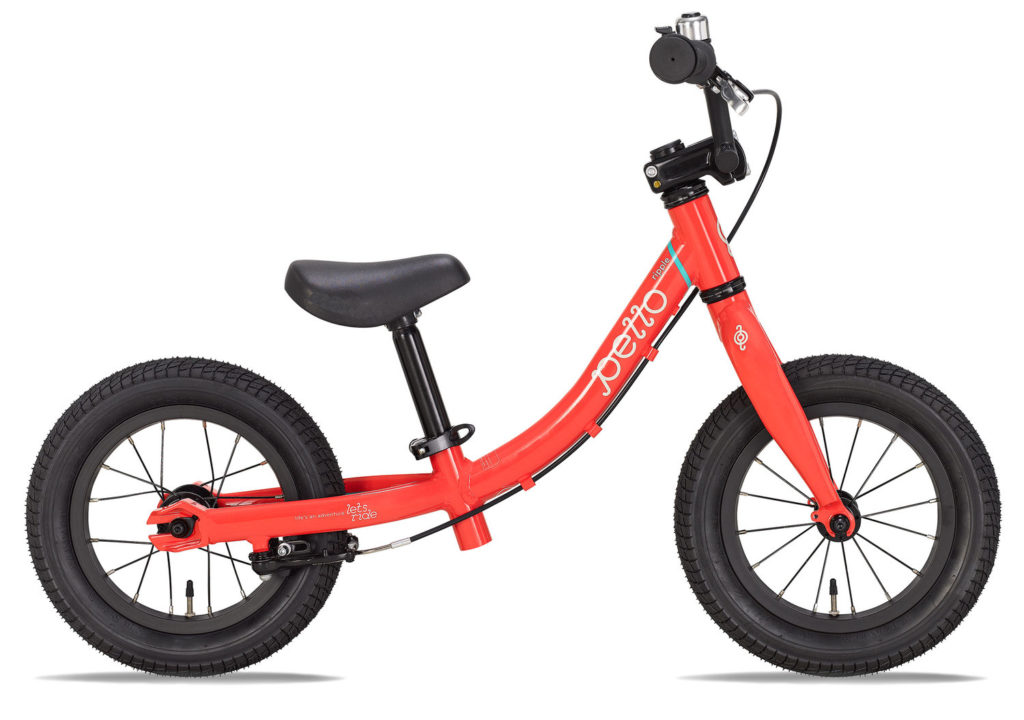 You might not have ever heard of the Pello Ripple bike but its a very nice option. Pello is a small town near the arctic circle meaning "I push, set in motion" in Latin. What an appropriate name for a pushbike designed to fit kids.
On the surface, the Pello Ripple doesn't seem to stand out in any area. In fact, we put it up against of series of questions which it failed. Is it one of the great budget bikes – NO. Is it a balance bike that converts to a pedal bicycle – NO.
Does it have a unique wheel and tire size – NO. Removable turning limiter – NO. Despite all these negative NO answers, the Pello is one of the best balance bike options in this entire article. And here's why!
Amazing quality! When you unbox a Pello Ripple it just feels different. I'd compare it to buying a burger from Mcdonalds and making one at home. In attention to detail, there is just no comparison.
A young rider will feel comfortable upright while in stride, even as the child grows. Unlike the budget balance bikes, the Pello Ripple has elite-level bike options like a handbrake, Kenda tires, step-through frame footrests, and plenty of room to grow as this is a bike with a minimum height of 20″ up to 23″.
Your youngster will have a place to rest their feet, a durable bike with added stability, adjustable baby bike seats, real rubber bike tires – w/ 12″ tire size. 
So there you have it, All of our top balance bikes picks! Overall, children's cycling life should start with a baby bike. It helps them develop all the necessary balance skills to cycle.
Hopefully, this guide will help you sift through the balance bike age options to make a well-informed decision and select the best for your kids. We hope this guide helped you come close to a buying decision!
Our site is funded by the ability to earn an affiliate commission, to help us please buy through one of our links so we can continue to create content and of course earn a commission 🙂
If your whole family loves biking you'll need something to hook your bikes to for weekend rides read the best bike trailers review to decide if you'd make your life easier by checking out some bike racks.
If your kids are right on the edge of not being able to ride on of these bikes because they might be too small, check out one of our new related articles on balance bikes for older kids.
Want something different for your kids? Check out our best budget buying guide for ride-on toys here. Want even more on these bikes? Check out our list. 
Need tips for you kid to learn how to ride? Check out even more in-depth reviews on the two-wheeling tots website they spent a few hours with the copious research in their guide.
To prevent returns maybe even consider visiting your local bike shop for side-by-side comparisons of these kid's bikes. Have other kids? You should have a look at this article on scooters for kids.
for any questions visit our about page. With qualifying purchases through these affiliate links, we are able to produce more content with the earnings from affiliate commission. All rights reserved.