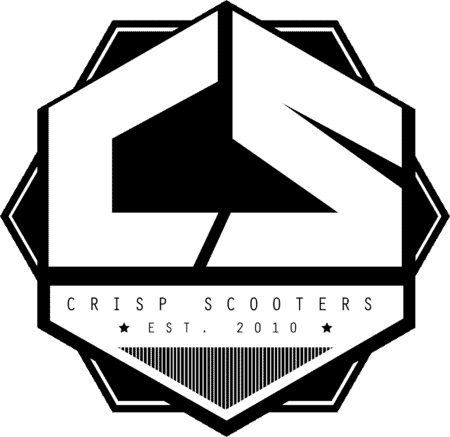 Crisp Scooters has always made the most innovative products to cater to professional riders. However, they have widened their market, and are now also releasing products for younger riders as well as beginners.
Crisp Scooters uses tried and tested technology, which makes it one of the most popular brands of scooters across the globe. Their scooter models are long-lasting with attractive designs and premium quality materials.
The talented teams of Crisp production see to it that the scooters they make will be able to give the rider the best riding experience. This is the result of a great combination between the United Kingdom and the Australian team.
The response from the scooting community was tremendous and the demand for the best Crisp scooters is really high.
Factors to Consider When Looking to Buy a  Crisp Pro Scooter
Weight. This applies to both your weight and the weight of the scooter. There are several different styles of scooters; some are ideal for adults while some are for younger riders.
To help you know if the weight of the scooter can support your body weight, check if the bar is of the same level as with your waistline. This means you can control the scooter quite well. Also, a lightweight scooter is better for easy control and you can carry it without difficulty.
Skill Level.

The design and features of a scooter are ideal for a specific skill level. It could also accommodate a couple of all skill levels. When purchasing your pro scooter, look for the one that complements your skill level.

Durability.

It is one of the most important factors to take into account when choosing for the best Crisp pro scooter. You want something that you can use for a long time. Consider a scooter that is made from aluminum as it is sturdy and lightweight at the same time.

Warranty.

A good manufacturer offers a warranty for their products and their parts. If the company gives a longer warranty, it is considered that the product is well-performing and made of quality materials.
Why Consider a Crisp Scooter?
Offerings aren't limited, no matter your size or preferences Crisp has something that will meet your needs if you are into their aesthetic.

Crisp scooters are durable and stylish, you will be a park stunner on a Crisp.

It is a great way to improve your social life. Even if you have a lot of friends, you can add a whole new group as you meet other people who enjoy scooter riding. Traveling to different contests also gives you a unique experience and opens up doors for seeing the world.

Riding a scooter helps you improve your self-confidence not to mention increases in your sense of responsibility.
Parts of Pro Scooters
A pro scooter makes up of 8 components. Each of them has important functionalities that contribute to the overall appearance and performance of the equipment.
Wheels.

There are two wheels for every scooter of the same size. One at the front and one at the back. The core rim is generally made of aluminum. The wheels will enable you to perform various tricks, so look for durable ones.

Deck.

You choose the size of the deck of your scooter according to the height of the rider. It is the same when you are purchasing your bike. The scooter deck must be able to support your body weight. There are two types of the deck; the integrated and the nonintegrated.

Compression System.

The job of the compression system is to provide a steady and strong connection between the fork and the bars. It also enables you to make some modifications to your headset. Check if the compression system is dependable to avoid the breakage of the equipment and/or injuries to the rider.

Handlebar.

Without the handlebar, you cannot call a scooter by its name. By using the handlebar, you can control where the scooter where it should behead. An ideal handlebar offers a firm grip and comfortable grips can reduce the risk of blisters from developing on your hands.

Grip Tape.

These are essential in providing you comfort as you ride and perform some tricks. They are responsible for preventing you to slip and fall.

Braking System.

As the name suggests, this system helps you stop the scooter, especially in an emergency situation. In the case of Crisp scooters, they generally use the spring-less brake method. For some models and brands, the Flex technology is used.
Title
Crisp Ultima 4.5 Pro Scooter (Dark Blue Metallic)
Crisp Blaster Mini Pro Scooter (Black)
Crisp Evolution Pro Scooter
Crisp Lewis Williams Pro Scooter (Black/Grey)
Crisp Ultima 4.8 Pro Scooter
The Top 5 Crisp Stunt Scooters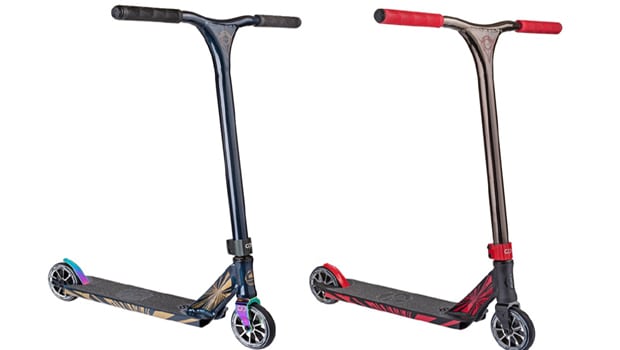 The Crisp Ultima is chosen by Joe Armstrong, the #3 ISA World in 2014. Since then, it is one of his favorite scooters in the world. It is no surprise because this pro scooter comes with a combination of durability and performance. You can depend on it for both technical and big tricks.
This Ultima pro scooter from Crisp Scooters has a deck with a built-in quad concave downtube. The size is 4.5 inches wide and 20 inches long. The wheels are 120mm X 28mm. The core wheels are in 7 spoke alloy. This makes the scooter run faster. Also, the brake is Crisp SST Flex.
Crisp Ultima 4.5 features aluminum bars with a size of 22 inches wide and 23 inches long. The HIC compression is light yet sturdy. It also boasts the all-new hybrid alloy fork. The entire scooter has a weight of 7.06 lbs.
The 4.5 Crisp Ultima is ideal for an intermediate rider. It is best suited for someone who is intent to get serious in this sport. While the features are good, the appearance is worth your money as well.
Pros
Fully integrated deck with headset and headline for an easy spin

Aluminum bar that is slightly upsweep

Extra strong fork

120mm core wheels have ABEC 9 bearings for more speed
Cons
The handlebars may be a bit short for tall people such as 6 footers

Handlebars also get scratched easily

Not as attractive as other scooters
---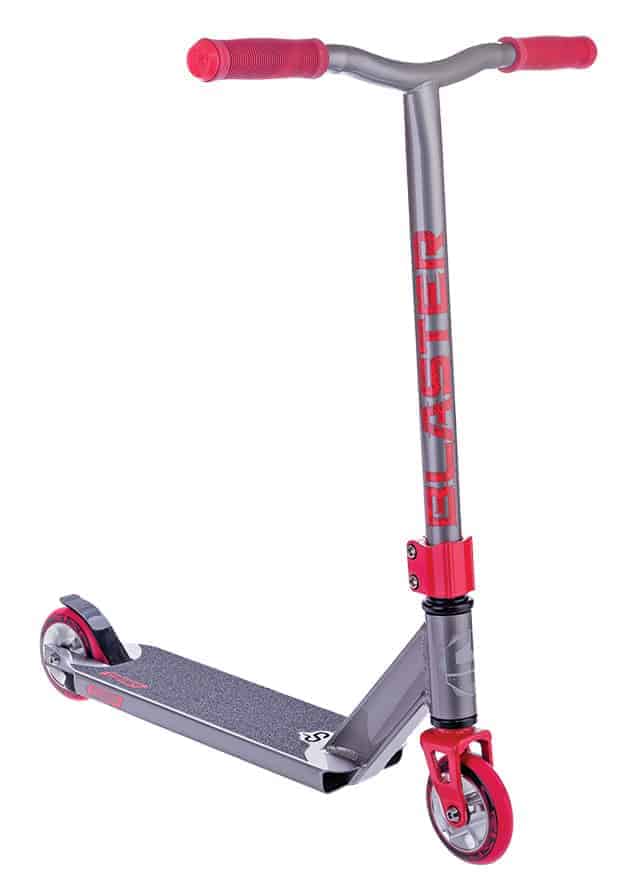 The Blaster mini pro scooter is specifically designed for younger riders who are just beginning to enjoy scooting. It is also ideal for intermediate scooter riders. The deck size is perfect for this particular group of riders with its 4.5 inches wide and 18.9 inches long dimensions.
The overall weight is 7.7lb. The deck is basically short and stable, making it easy for the rider to learn tricks. For added strength and smoother slide, it features a dual D downtube and concave triple channel.
The bars are narrower, which helps the younger riders to easily maneuver the equipment. The height of the lower bar is essential for learning big tricks. It boasts a tapering process that helps make the scooter resistant to damage brought on by impact.
Other important features include HIC compression and headset, double clamp, SST spring less brake, 88A super high rebound alloy core wheels in 100mm, and a high tensile fork. This makes the Crisp Blaster mini pro scooter easy to rotate.
Pros
The wheels provide just the right speed for easy control

Durable and high-end components to withstand wear and tear

Solid and steady to ride

Comes with a reasonable price

Performs well

Perfect for a rider in training
Cons
Not suitable for experienced riders

A bit short for tall newbies
---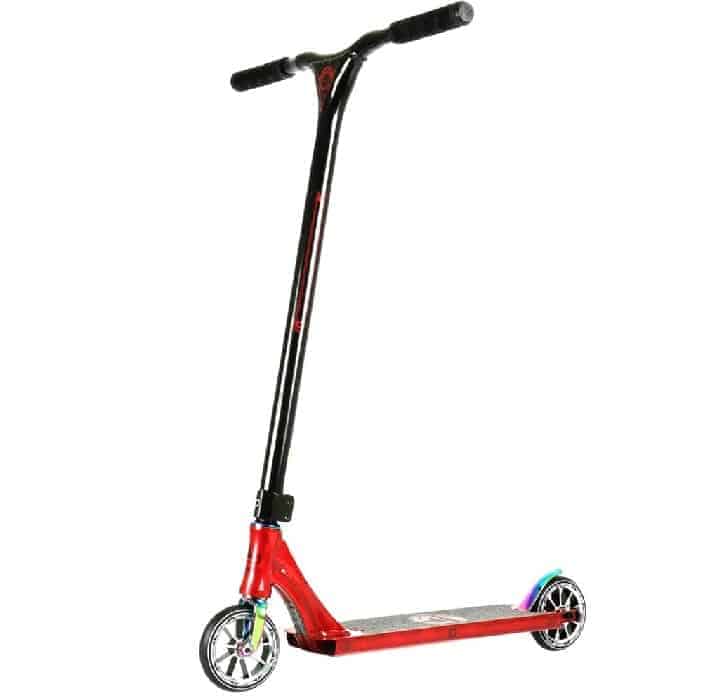 The Evolution pro scooter is another high-end model from Crisp Scooters. This model is great for intermediate and professional riders. With an entire weight of 7.5lbs, it is perfect for everyday scooting.
It has a 20.5 long and 4.8 wide deck dimensions, with a concave triple channel deck in aluminum material. It features a mini HIC compression, which allows for easy installation.
For stability, there is the Crisp forged alloy fork and aluminum double clamp. It also comes with an end-joined infinity downtube headtube and nylon HIC shim threadless headset.
For the wheels, it has the size of 120 x 28mm with ABEC 9 bearings, SST spring less brake, 6mm high tensile axle bolts, and super high rebound wheels. The wideness of the wheels l
Another important feature of the Evolution pro scooter is the aluminum alloy hive bars in 26.4 inches long and 24 inches wide, plus the custom Crisp grips.
These features all contribute to the appearance and performance of the Crisp Evolution pro scooter.
Pros
Wide super high rebound wheels

Mini HIC compression

ABEC 9 bearings

Premium quality materials

Great design

Ideal for park and street scooting
Cons
Is not ideal for those who are new to scooting.
---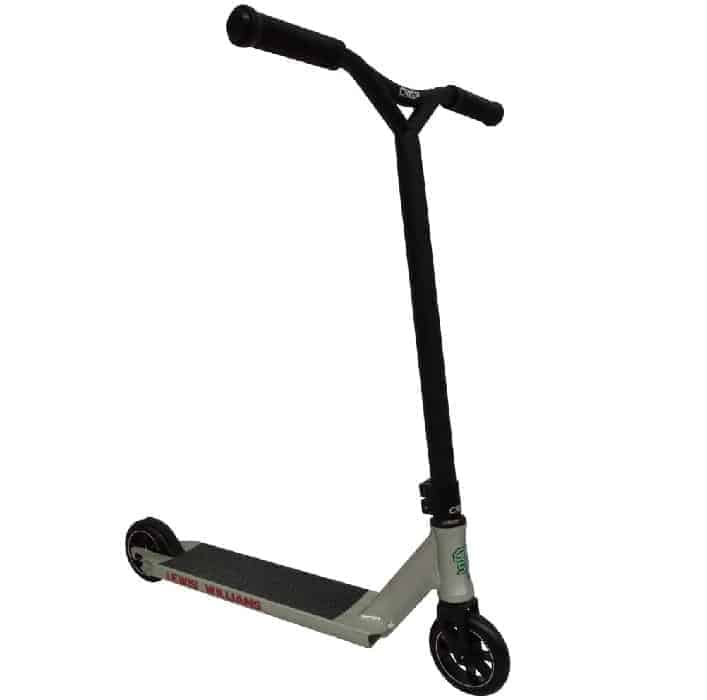 Professional rider from the UK, Lewis Williams has collaborated with Crisp Scooters, and the result is this Lewis Williams Signature pro scooter.
The scooting community has been anticipating this collaboration for the longest time, and they were not disappointed. This model is best suited for intermediate and advanced level riders.
The aluminum alloy bars are 20.5 inches wide and 22.75 inches long, with the signature of the world-famous Lewis Williams. These bars are designed to withstand different tricks while carrying the weight of the rider.
With their triangular gussets, the bars are extremely strong. They also help make the extra-wide crossbar become more durable.
The Lewis Williams pro scooter by Crisp features a five-degree back sweep. It reduces the strain on the wrists and makes the ride much more comfortable. The wheels come in 110mm 7 spoke metal alloy core with flat 2 bolt brake.
The deck is made of aluminum with a dimension of 19.7 inches long and 4.35 inches wide. The headset is fully sealed that has an 81 degree headline. For easy assembly, it comes with mini HIC compression. The Crisp hybrid aluminum alloy fork and aluminum double clamp help make the model lightweight. The entire weight of this pro scooter is 7.5lbs.
Pros
Unique deck design

Simple yet sleek design

With signature from professional scooter rider Lewis Williams
Cons
Not suitable for intermediate level scooters

Over tightened axel bolts

Quality could be better

Bearings not lubricated
---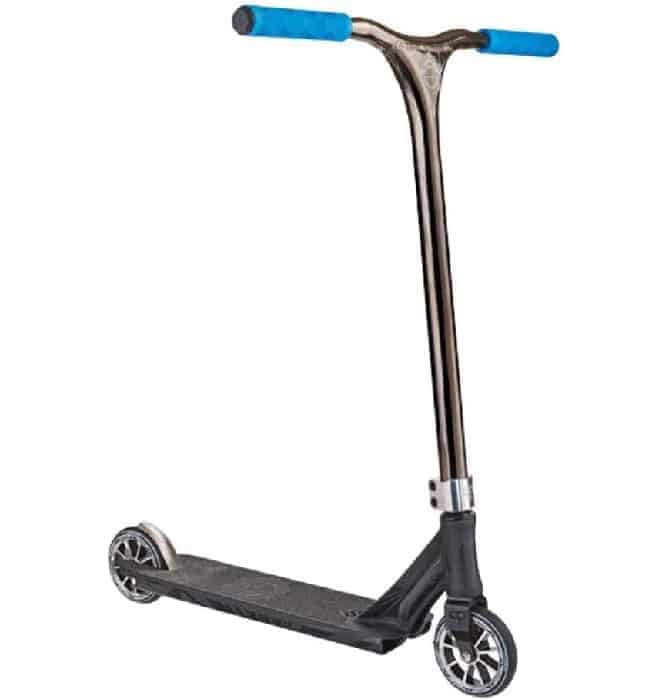 The Crisp Ultima 4.8 pro scooter is just like the 4.5 version, but bigger. It is sturdy, long-lasting, and lightweight. You will feel how light it is when riding the equipment. This is also brought on by the hollowed-out deck and the materials of choice in designing it.
The handlebars are made of quality materials. It does not wiggle that you can easily so some handlebar tricks on it such as tailwhips and barspins. In addition, the bar-ends can withstand damage because it is designed to handle this sort of impact.
Other features of the Crisp Ultima 4.8 pro scooter are the concave triple channel deck that has a quadri concave down tube for additional support. The deck dimensions are 20 inches long and 4.8 inches wide. There is also the hybrid alloy fork and standard grips. The core wheels are in super high rebound 7 spoke alloy.
The overall weight of the 4.8 Ultima scooter is 7.06lbs. With its features and promised performance, it is suitable for intermediate and advanced level scooters.
Pros
Grinds well

Extremely lightweight

Sturdy and quality handlebars

Great for handlebar tricks

Reasonable price

Looks cool
Cons
Grip tape is poor

The HIC becomes easily loosed

The bars need to be constantly tightened to the deck

Clamps tend to get loose easily

Wheels can get damaged easily
The best Crisp scooters have greatly contributed to the scooting industry. The company may have been focusing on making high-end products for the advanced level market, the beginners and intermediate levels also have a lot of choices nowadays.
The Crisp Scooters team is constantly making improvements to the quality of their modes. All the pro scooters mentioned above are made out of high-end technology, but our top pick is the Crisp Evolution pro scooter.
It is perfect for both well-skilled and intermediate scooter levels. The features and overall performance of the Evolution scooter certainly do not disappoint.