Engaging in activities like riding scooters and skateboarding means you need to invest in proper safety equipment. You need to have your knee and elbow pads but most important of all, you must have an appropriate helmet for these activities.
You might think that safety equipment like helmets doesn't look cool, but think about the possible concussions and head injuries one can get due to carelessness and wearing a helmet might not sound that bad.
Doctor A. Joseph Layon, who practices medicine in the Florida area highlights that it could cost BIG to ride without a helmet. If you were to take a bad fall and land in the hospital treatment for head trauma could cost upwards of $150,000 not to mention the extensive rehab to follow.
You can still kick butt while riding your scooter since there are a lot of helmets specifically made for your protection. Not only that quite a few of them look pretty good and have cool graphics and designs.
Everyone should be able to find a helmet that their head will feel comfortable in. We already gave you the reasons why you should wear helmets for safety. Now let's get into some of the best options available.
Title
Retrospec CM-1 Classic Commuter Helmet
Flybar Helmet- Dual Certified CPSC Multi-Sport Impact Protection
Razor V-17 Youth Multi-Sport Helmet
Vega Helmets 7823-054 Unisex-Adult Half Helmet
Triple Eight Sweatsaver Liner Skateboarding Helmet
Review of the Top Five Scooter Helmets
We have compiled 10 bestselling scooter helmets and described essential features and considerations that we think you need to know.
Avoiding fractures and concussions while enjoying your favorite activities is a must, so it pays to purchase nothing but the best scooter helmet in the land. Check out our list and see which of these products will be your next fave.
If you're looking for the perfect combination of comfort, safety, and affordability, the Retrospec Commuter C-1 helmet is the ideal choice. It has an affordable price, but Retrospec didn't sacrifice safety or comfort to get the price down.
They have three different size options to choose from, in addition to their ten different color choices. Even better, it has eight vents throughout to keep you cool and two sets of interchangeable pads, so you get a perfect fit.
That's important because, with anything less, the helmet can shift around, providing you with less-than-ideal protection. Additionally, the ABS outer shell is the industry standard, giving you premium protection every time you put it on.
Specifications
Weight: 16 ounces
Size Info: 51-63 cm (three sizes available)
Construction: ABS outer shell and EPS foam
Vents: 8
2. Flybar –
Best Pro Scooter Helmet
When you're into competitive riding, you need the best protection out there. You'll be performing at higher speeds and doing more dangerous stunts, so you need the best protection. The Flybar helmet gives you the best protection in the industry.
Flybar made it with an ABS outer shell, which gives the best protection you can find. From there, it has twelve different vents throughout, which keeps airflow going throughout your ride.
Not only are there three different sizing options to choose from, but there are also 11 different designs. It's an excellent choice for kids and adults alike. When you want safety, you want this Flybar helmet.
Specifications
Weight: 16 ounces
Size Info: 53-61 cm (three sizes available)
Construction: ABS outer shell and EPS foam
Vents: 12
3. Razor V-17 Youth – Best Electric Scooter Helmet
If you're looking for a helmet for your child to wear while they ride their electric scooter, this Razor V-17 Youth helmet is an outstanding choice. It fits kids with heads from 21.5 to 23-inches, typically kids who are 8 to 14 years old.
From there, it has 17 different vents to give them a comfortable ride without having to worry about their head overheating. It's lightweight at only 15-ounces and comes in seven different styles to choose from.
While the pricing varies by style, they're all affordable and provide top-notch protection by one of the biggest brands in the scooter world.
Specifications
Weight: 15 ounces
Size Info: 21.5 to 23 inches
Vents: 17
4. TurboSke –
Best Kids Scooter Helmet
Every parent wants to protect their kids, and there's no better way to do that than with a top-notch helmet. The TurboSke exceeds every standard. It's both CPSC and ASTM certified, which means you know you're getting a helmet that will hold up when your child needs it the most.
The TurboSke comes in three different sizes to fit a child with a head circumference ranging from 20.5" to 22.5". You'll get a perfect fit for your child, so you rest easy knowing they're protected.
But that doesn't mean that they have to sacrifice style or comfort. The TurboSke has 11 different cooling vents and nine different color options to choose from. With the TurboSke, you can protect your child with a helmet they'll love – it's a win-win.
Specifications
Weight: 14 ounces
Size Info: 20.5" to 22.5" (three sizes available)
Construction: ABS shell with EPS foam liner
Vents: 11
5.

JBM

–

Best Budget Scooter Helmet

If you're looking to save a little money, that doesn't mean you need to sacrifice on safety. This helmet by JBM provides excellent protection for a price that your wallet can handle.

JBM made this helmet with a PVC and PC outer shell that provides outstanding protection. This helmet comes in three different sizes, ranging in size from 18.2" all the way up to 23.2".

From there, it has nine different vents, which provide more than enough airflow to keep you comfortable as you ride.

Don't sacrifice on safety, especially when JBM produces such a high-quality helmet for an affordable price.

Specifications
Weight: 15 ounces
Size Info: 18.2" to 23.2" (three sizes available)
Construction: PVC & PC shell – EPS foam
Vents: 9
6.

Vega

–

Best Motor Scooter Helmet

If you're taking your scooter off the sidewalk and onto the roadway, you need something a little stronger than a bike helmet. That's precisely what you get with these helmets by Vega.

They're DOT certified, so whether you're riding a motorized scooter or a full-blown motorcycle, you're good to go.

There are six different sizes to choose from, and they fit anyone with a head circumference from 19.5" to 25.2". Furthermore, they come in seven different styles. Whether you're looking for a classic helmet or something with a little more flair, Vega has you covered.

Keep in mind that this a heavy-duty helmet. While it's lightweight for a DOT-approved helmet, it still weighs over two pounds and isn't ideal for small electric kick scooters.

Specifications
Weight: 35 ounces
Size Info: 19.5" to 25.2" (six sizes available)
Vents: 0
7. KORIMEFA – Best Kick Scooter Helmet
If you're looking for the best kick scooter helmet, the KORIMEFA helmet is a great choice. KORIMEFA is selling it for an affordable price, but the helmet still offers CPSC and EN 1078 certifications, so you know you're getting a quality product.
There are three different sizing options, but the smallest starts at 21.3", so you probably want a smaller helmet for children.
This helmet does have 11 different vents to help keep your head cool as you ride. Finally, it has an ABS out shell, which is the best material you can find for kick scooter helmets.
There are five different color options available, so you'll be sure to find one that you like!
Specifications
Size Info: 21.3" to 24" (three sizes available)
Construction: ABS outer shell and EPS foam liner
Vents: 11
Triple Eight designs and produces an excellent range of protective gear for extreme sports enthusiasts. Their Lil 8 model is created just for your teeny toddlers who love showing off their scooter moves while being adequately protected of course.
It comes in a good range of bright and neutral colors with a classic, spunky design that will delight kids and provide safety for their scooter adventures.
Specifications
Weight: 17 oz.

Construction: Hardshell

Vents: 10

Size Info: 46-52 cm.

Internal adjust: Dial
The Lil 8 comes with a classic side cut helmet design and has an ABS outer shell equipped with an EPS liner. If you want the helmet to fit your kid's head perfectly, you can adjust it by means of the item's adjustable-fit dial system. To complete the look, the helmet has the brand's customized logo rivets.
The helmet also includes a pinch-saver padded chin strap that won't pull on your toddler's delicate skin. It has the brand's popular Sweatsaver fit pads for the ultimate in comfort and most importantly, is Dual-Certified to meet US CPSC bike and ASTM skate safety standards.
The helmet is recommended for use not only for scooter riding but skateboarding, inline skating, and roller-skating as well. These certifications prove that the helmet will be safe for use on those activities.
We all know that sweating can be a pain during physical activities; it flows on our faces, hampering our vision and it stinks to boot. One of the good things that this item offers is the inclusion of the company's renowned Sweatsaver liner.
This liner comes with a layer that wicks moisture and restricts sweat from dripping on the wearer's face. The liner also comes with an anti-bacterial solution which makes it practically free from odors even with hours and hours of continuous skating and scooter riding.
Another great deal about this product is that it is backed by a 90-day warranty to assure customers of the product's quality. For a good fit, try measuring your kid's head circumference first beginning in the middle of the forehead.
One factor to consider: It is recommended that you go one size bigger than usual if you want a good fit.
Pro-Tec Classic Bucky Skate Helmet
Large size professional quality retro helmet for action sports; fits head 22.8-23.6 inches (58-60cm)
Outer HDPE shell and 2-stage premium soft foam liner protect against low impacts and bumps
Plush moisture wicking liner and fabric prevents dripping sweat, allowing wearer to stay drier and focus
Protecting our melons even on activities like scooters is required and is of utmost importance. That is why helmets have a particular, carefully-crafted design to achieve the perfect degree of protection for users' heads.
The Pro-Tec Bucky Skate Helmet is just the type of safety equipment that will help guard your noggin against any bump and drastic fall that comes about.
Specifications
Size Info: XS (52-54 cm.), S (54-56 cm.), M (56-58 cm.), L (58-60 cm.), XL (60-62 cm.)

Construction: HDPE Flex

Vents: 11

Stainless hardware

Webbing straps
The Classic Bucky features an external HDPE shell and a high-quality soft foam liner for loads of protection against drops and bumps.
Sweat can be a bother during energetic activities like scooter riding under the sun, so it helps that this helmet has a moisture-wicking fabric and liner which stops sweat from dripping all over the wearer's face.
This is a lightweight and low-profile model that is capable of sustaining the great vision and excellent maneuverability while, at the same time, providing the safety that wearers need. For better airflow all over, the helmet has 11 strategically placed vents too.
Another advantage of this helmet is that it comes with webbed nylon straps. The straps are completely adjustable, and they are simple and easy to buckle for a more personalized fit. It will guarantee that users will remain secure and safe even during times of bumps and falls.
You have to remember though to go a size bigger than your usual size if you want the perfect fit. The product is backed by a 1-year warranty in case you encounter problems with the item.
No products found.
High-energy activities like scooter riding, skateboarding, and inline skating involve high speeds, which can lead to joint or head injury. Hence to avoid injury, it is recommended that you take up quality helmets that will help protect your head.
The Vokul Sports Helmet is a certified protective material by the CPSC and is recommended for such extreme activities.
Specifications
Weight: 15 oz.

Construction: ABS outer shell

Vents: 11

Size Info: S (52-55 cm.), M (55-58 cm.), L (58-60 cm.)

Stylish four-color design
A helmet that is uncomfortable can hamper performance on the street and at worse, can lead to injury. This model from Vokul is certainly breathable and adjustable to keep users safe during a ride. The product comes with a formidable ABS outer shell with 2 cm EPS foam lining for secure protection.
Airflow is important on helmets to keep users dry and cool. Thankfully this product includes a nice 11 vents to allow air to trickle in and out of your noggin as you breeze through the streets with your scooter on.
If you want a good fit, all you need to do is fiddle with the helmet's strong polyester straps and Quick-Release buckle, and you are good to go.
This helmet is certified safe by CPSC so you can use it for scooters and skateboarding. One consideration to think about when it comes to this product is the fit; if you want a better fit, it is great if you go one size larger than your usual size. Overall, this is a good product made with fine materials plus approval from the CPSC.
Measuring the Head for Scooter Helmets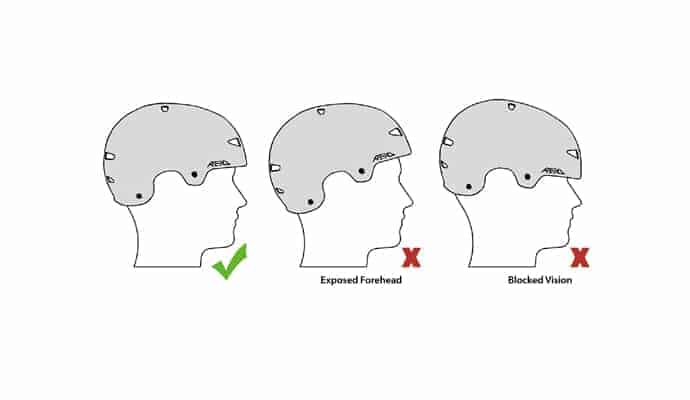 As mentioned earlier, wearing safety gear is an important part of engaging in extreme sports. The size of a helmet is something you need to consider seriously, because not only will size have an impact on your performance, the perfect fit will also take hours of play more comfortable for you.
Being aware of the size of your head guarantees that the helmet will fit it properly, even if you need to order one online. Here are the steps you need to do.
1. Get a measuring tape and wrap it all over the forehead. The tape must lie over the eyebrows and the ears the way a helmet will lean low on the wearer's forehead. Make sure to keep it parallel from the front and the back of the head. You can ask a friend or use a mirror to correct this.
2. Do not wrap the tape measure too loose or tight. Jot down the circumference by means of inches or centimeters.
3. If you do not have a measuring tape on hand, you can do the steps by using a string. As soon as you have wrapped the string correctly all over the head, mark them and measure it using a ruler.
4. If you cannot measure your head, you can also determine head size through hat sizes. Check out a hat that fits your head well since this will provide you an approximate estimate of a good helmet size.
Remember, the helmet should be able to sit low on your forehead and must come with protective cushioning as well. The helmet must not budge or move about while you are riding or doing tricks on your scooter.
Last But Not Least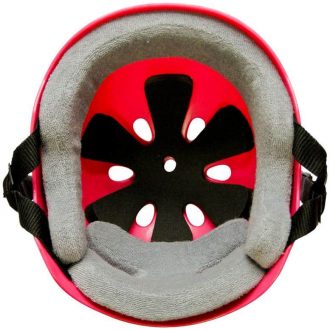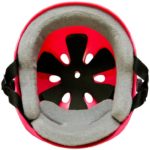 It is best that you change your helmet on a regular basis. If the item displays damage from frequent usage, it is high time that you invest in a new one.
If you are a young scooter enthusiast, keep in mind that your head will grow still, and you need to change helmets each time the item feels cramped and too small for your safety and comfort.
Any questions or concerns feel free to contact us!