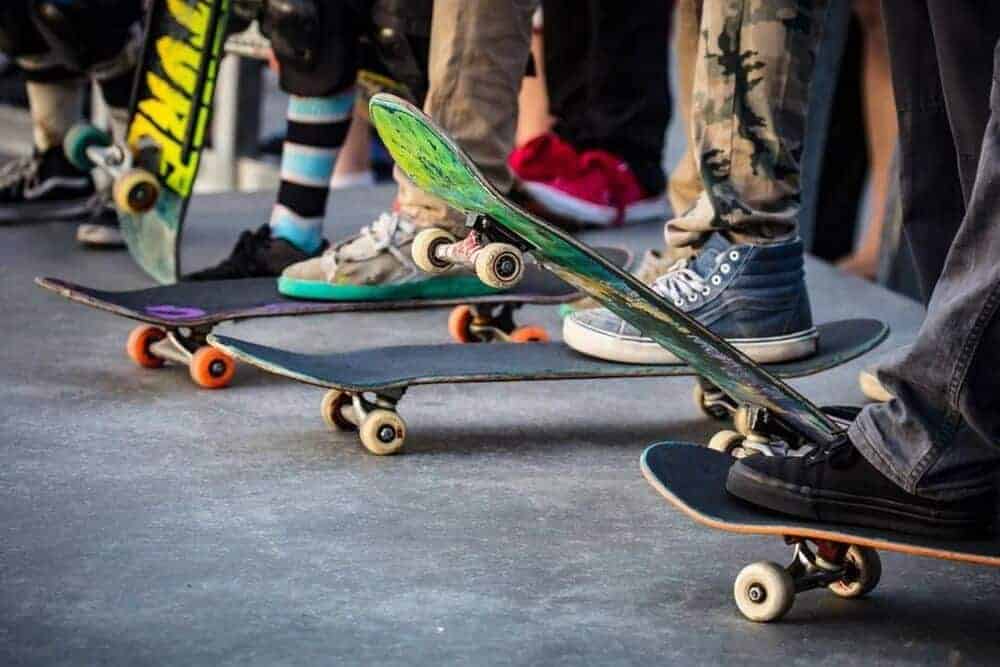 Skateboarding is a modern sport that is loved by many people around the world but is something that parents often are skeptical about. However, it is an activity that could develop one's social skills and can even contribute to the betterment of the environment. In the past, only teenagers were seen riding their skateboards throughout the town or city.
But now, both teens and kids as young as three or even adults in their fifties are seen shredding up the streets. If you are currently searching for a skateboard that would suit you best, go through this list to learn about the best products available on the market today.
Best Complete Skateboards for Kids
1. Merkapa 22″ 
– Best Skateboard for Beginners Kid
If your child is new to skateboarding, you need to get them a skateboard to set them up for success. The 22" board by Merkaba is the perfect board for your kids to learn off of.
Not only do they get a wider 6" deck to help them keep their balance, but they also get extra-wide 60mm wheels for extra stability.
Even better, with a 180-pound weight capacity, it doesn't matter how old your child is. If they're trying to learn, this is the board you want!
Pros
The wide 6" base adds stability
60mm wheels give you a smooth ride
Light up wheels that kids love
Cons
Product Specs:
| | |
| --- | --- |
| Dimensions | 22" x 6" |
| Weight Capacity | 180 pounds |
| Product Weight4 |  pounds |
| Wheels | 60mm |
| Bearings | ABEC-7 |
| Trucks  | 3.2" Aluminum |
| Deck | Plastic |
Sometimes it can be hard to get your kids into skateboarding. One way to make it easier is to give them a board they're excited to use. With both Frozen and Spiderman options available, that's precisely where PlayWheels excels.
While you might think that you'd have to spend a ton to get a high-quality character board, you'd be mistaken. These boards are affordable and exactly what your child needs to get excited about getting outside and skating!
Pros
Disney character designs that your child will love
Affordably priced
PVC injected 50mm wheels gives them a smooth ride
Cons
Limited age range (5 to 8)
Product Specs:
| | |
| --- | --- |
| Dimensions | 21" x 6" |
| Weight Capacity | 100 pounds |
| Product Weight | 4 pounds |
| Wheels | 50mm |
| Bearings | Nylon |
| Trucks  | Composite |
| Deck | 9-ply maple |
The best way to get your child into skating is to start them while they're young! That's why the Playshion Complete is the perfect board to introduce your three-year-old into the skating world.
Not only does it have a smaller design that makes it easier for your child to ride, but it also comes with a tool that allows you to adjust the wheels. The tighter you adjust them, the slower the board will go, perfect little ones still learning to ride!
As your child grows, they won't outgrow this board, though. The Playshion Elite has a 220-pound weight capacity, so they can use it as long as they'd like!
Pros
It comes with a tool to let you slow down and speed up the wheels
Made from durable materials
The smaller size is perfect for younger kids, and the high weight capacity allows it to grow with them
Cons
Product Specs:
| | |
| --- | --- |
| Dimensions | 22" x 6" |
| Weight Capacity | 220 pounds |
| Product Weight | 1.5 pounds |
| Wheels | 59mm |
| Bearings | ABEC-9 |
| Trucks  | 3.25" Aluminum |
| Deck | Fiberglass compound |
While traditional skateboards are a blast, sometimes you need something a little different to spice up the fun. That's where the Ripster steps in.
It's a unique two-wheel design that allows you to ride it like a snowboard. Once you master it, you can do all kinds of unique tricks with this board.
While it's not ideal for smaller kids, for older kids, it's just what they need to keep them interested and entertained for hours at a time.
Pros
Unique design adds a new element to the fun
Smaller size allows for more tricks
Perfect for older kids (8+)
Cons
Product Specs:
| | |
| --- | --- |
| Dimensions | 27" x 9" |
| Weight Capacity | 175 pounds |
| Product Weight | 4.2 pounds |
| Wheels | 66mm |
| Bearings | ABEC-5 |
| Trucks  | Tilt-wheel |
| Deck | Caster |
Some beginners worry about the design of the skateboard. They often start with the one that looks boring and plain. However, this product comes in five different models for you to choose from. If you want something simple, you can select the Origin. For those that want to appear cool, you can pick the Lava design or Neon.
There are also a few fun graphics, such as the Mushroom Dude, Ying Yang Cats, and Ducky Tube. If the available designs are not enough, need not worry, because this product comes with a logo sticker pack and unique grip tapes.
The overall construction and design of the skateboard were well-planned. Due to its symmetrical shape, users have enough space to kick tail and nose, while the mediate concave form gives the rider additional maneuverability in whatever stance they are using.
The manufacturer of this skateboard ensures that it was produced in the most environmental-friendly method possible. They get materials from sustainable woods and even collect off-cut to recycle them. The glue that they use is methanol-free.  
The amazing thing about this model is that there are different artwork or graphics to choose from that are suitable for different people of different ages or genders. It all comes down to preference. You can check out their attractive collection and see which one is the most 'you.' Also, you don't have to worry about the graphics fading over time because the bottom design is durable. 
Pros:
stable ride with ABEC-9 bearings

allows you to reach your top speed in only three power paddles

spacious kick tail and nose
Cons:
may wear out quickly after continuous use

soft wheels
Product specs:
| | |
| --- | --- |
| Dimensions | 8" x 32" |
| Weight Capacity | 220 pounds |
| Product Weight | 4.7 pounds |
| Wheels | 52mm 102A PU |
| Bearings | ABEC-9  |
| Trucks  | 5-inch aluminum alloy |
| Deck | 7-ply hard-rock maple cold pressed |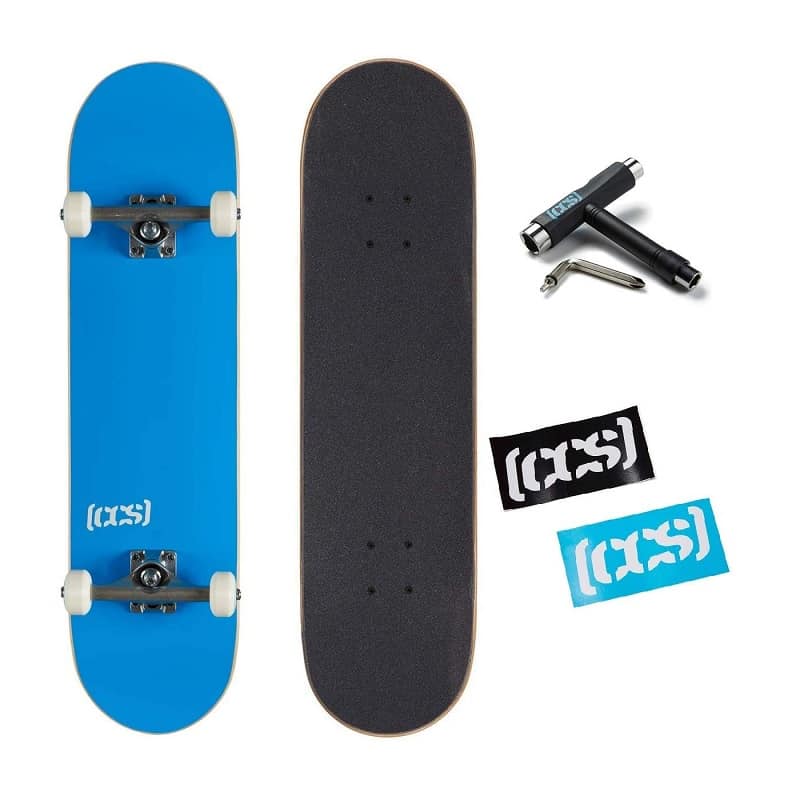 The CCS Skateboard will arrive at your doorstep fully assembled. You need not hassle yourself by taking several minutes to decipher the instructions and putting the parts together. All you have to do is open the box, and then you can immediately start practicing.
The shape of the board has a significant impact on the capability of the rider to perform their tricks. Luckily, this product has a true twin symmetrical shape, which is ideal for cruising and tricks. Also, the manufacturer uses high-quality maple wood, giving you the right combination of both flex and stiffness. 
If you often ride a skateboard, you would know how important it is to always have a set of tools with you during your cruise. Some people use this as their mode of transport sometimes, and if it suddenly breaks down, then you might arrive at your destination a little late. However, you don't have to worry because CCS provides you with skateboard tools. You can bring these with you in case of emergencies. 
Pros:
stable enough for beginners but flexible enough for skilled riders

comes with a set of skateboard tools

provided with logo stickers

the width of the board is up to you
Cons:
grip tape job may not be perfect

wheels may be too tightly screwed
Product Specs:
| | |
| --- | --- |
| Dimensions | 32″ in length, width is up to you |
| Weight Capacity | 220 pounds |
| Product Weight | Depends on agreed width |
| Wheels | 52mm 100a durometer |
| Bearings | ABEC-7 |
| Trucks  | 139mm |
| Deck | High-quality maple wood |
In terms of its physical appearance, you can browse through their series collection. For this one, they started with the graphics of two different animals, namely the white tiger and the wolf. But now, they have expanded and included the bear, cobra, and dragon. These are very bold designs, and you can choose your "beast" to use. Also, the wheels are also designed to match the graphics underneath the board. 
Pros:
five options to choose from a striking design collection

very sturdy for kid beginners

perfect size for those still trying out the sport

can be used on various surfaces due to its durable wheels and trucks
Cons:
Only good for kids and teenagers, not so much for adults

bearings may not be enough as you progress and hone your skills
Product Specs:
| | |
| --- | --- |
| Dimensions | 7.5" x 31" |
| Weight Capacity | 200 pounds |
| Product Weight | 4.4 pounds |
| Wheels | 52mm 99a high-rebound urethane |
| Bearings | ABEC-7 |
| Trucks  | 5-inch aluminum |
| Deck | Canadian maple construction |
This is yet another product created by Krown, which is a skateboard company that started in 1996. It does not only create boards but also different accessories, tools, and equipment used in this sport. 
Instead of a medium concave, the Pro features a modern concave, making it more comfortable to use and easier to learn new tricks. Just like Rookie boards, this will arrive fully assembled, and you can ride it straight out the box.
Although the wheels are sturdy enough for you to ride on the street, it would be much better to use it in skateparks. It will be fine as long as you avoid any big cracks or extremely rocky pavement that could easily damage your wheels. If you would rather practice on a road, you could buy larger wheels and attach them on the board. 
To ensure that everyone can find one that suits their taste, Krown created several designs with combinations of a variety of colors. Unlike the Rookie series, this has more options to choose from in terms of patterns. Just find the time to browse through their collection and select your favorite one. 
Pros:
sturdy enough to handle practicing tricks with all the trial and errors

all parts meet the industry standards

interesting collection of designs to choose from
Cons:
Wheels, trucks, and bearings may need adjusting at the beginning
Product Specs:
| | |
| --- | --- |
| Dimensions | 7.7" x 31.5" |
| Weight Capacity | 200 pounds |
| Product Weight | 5.4 pounds |
| Wheels | 52 mm 99A high-rebound urethane |
| Bearings | ABEC-7 |
| Trucks  | Heavy-duty aluminum |
| Deck | Canadian maple construction |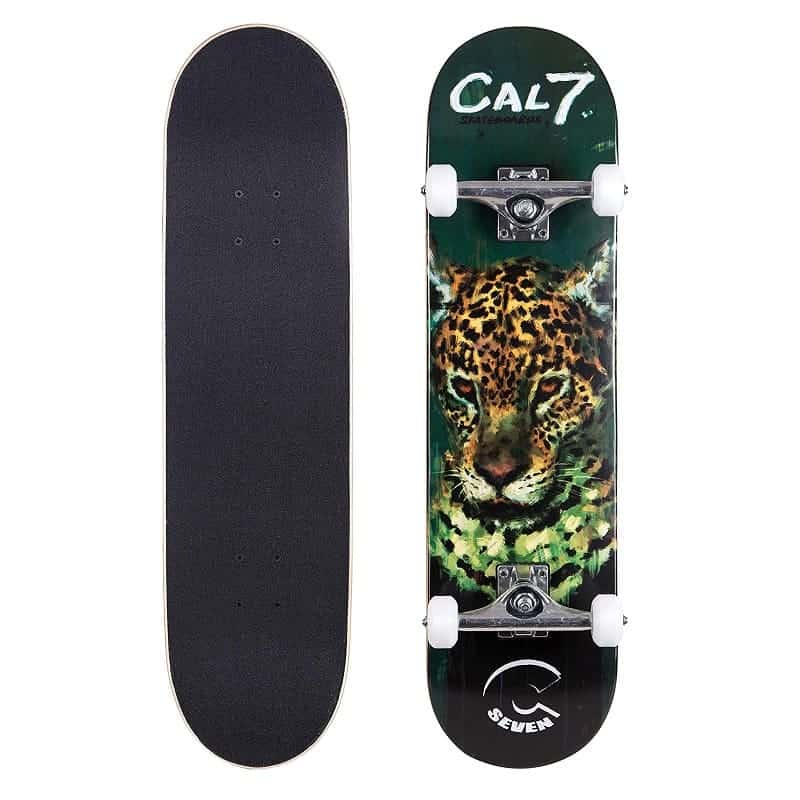 In skateboarding, there are several types of styles that one can adopt. The classic Popsicle form that it has works well both on the street and at the park. Its symmetrical shape allows for sudden switching, while the medium concave is enough for you to grab and catch your board when you are trying to do flip tricks. Throughout your practice, you will notice the high amount of stability and consistent control you have over your skateboard. 
Its wheels are also capable of withstanding switches from smooth surfaces to rough terrain. The bushings are relatively soft, allowing for greater shock absorption on trick landings.
It comes in different designs. Now, they have introduced the Wild Masquerade series, which is a collection of seven different primitive creatures, including the eagle, grizzly bear, gorilla, shark, wolf, alligator, and cheetah. You can select whichever you think fits your personality the best, or what appeals to you the most.
If you are looking for a skateboard that is easy to carry around, then the mini cruiser would be the best option for you. Manufacturers designed this to fit an everyday skater's routine. It is small and light, making it very easy to carry.
The unique feature this skateboard has in comparison with the regular boards is that it has the double kick tails, which takes your skating experience to a different level of fun and performance. There are even more tricks that are possible because of this fantastic feature. You can do ollies, mannies, flip tricks, and the usual tick-tacking. 
It has asymmetric front and back kick tails, making it appear distinct from other models. Its shape is different, but that doesn't mean it will perform any less compared with others. Also, with its durable Canadian maple deck, you won't have to worry about trying whatever trick you wish to have a go at. 
Pros:
very small, light, and portable

no plastic parts used 

double kick tails enable you to perform tick-taking, ollies, flip tricks, and mannies

built cleanly and accurately

graphics are well-made and durable
Cons:
A little more challenging than the bigger boards for beginner adults
Product Specs:
| | |
| --- | --- |
| Dimensions | 7.75" x 27.5" |
| Weight Capacity | 275 pounds |
| Product Weight | 5.5 pounds |
| Wheels | 60mm Shore 78a durometer |
| Bearings | Anecdotal 11 |
| Trucks  | 5-inch |
| Deck | Canadian maple |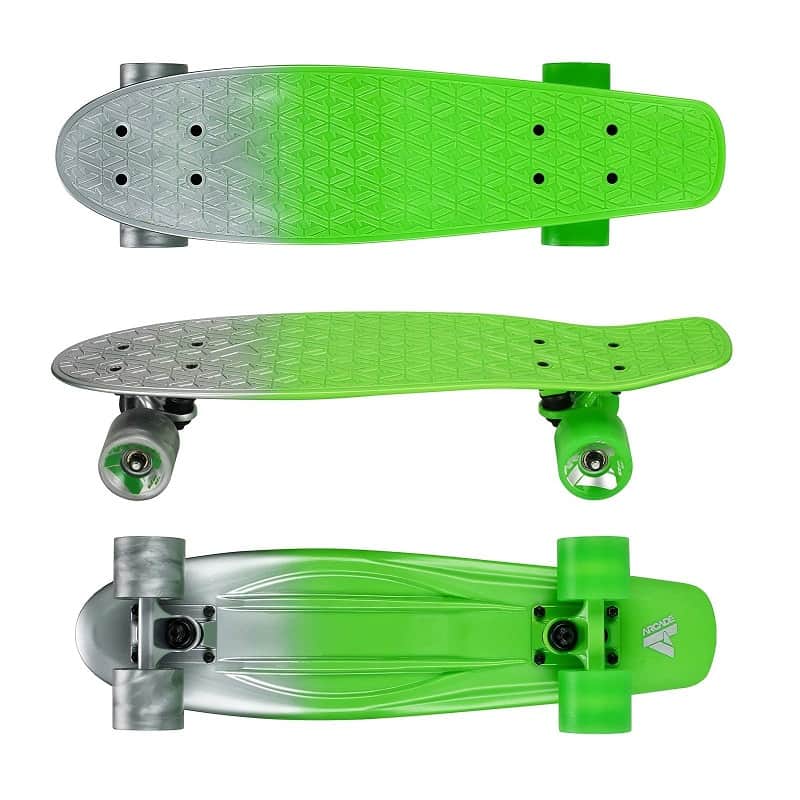 Its form is described as a Torpedo Dynamic Shape. As for its design and graphics, you can choose any of its six patterns or colors, namely Beach Party, What the Duck, Whirlpool, Neon Night, Freedom, and Atomic Surfer. Don't worry about the grip tape ruining the entire appearance, because the manufacturer made sure that they incorporate matching patterns for it to complete the look.
To ensure the rider's safety, Arcade used metal components instead of plastic, which is what many other skateboards utilize. 
Again, it works for all ages. You can use it as a beginner board or for daily commute to your school or any other place in the city. The size is perfect for kids, because to them, it will feel like a normal-sized skateboard. 
Pros:
extremely portable

works for all ages

six design options to choose from
Cons:
users may need an update if you want to improve your skills and perform various tricks
Product Specs:
| | |
| --- | --- |
| Dimensions | 6" x 22" |
| Weight Capacity | 220 pounds |
| Product Weight | 4 pounds |
| Wheels | 62mm x 51mm 84a durometer |
| Bearings | Smooth Custom Arcade Bearings |
| Trucks  | T6 Aluminum  |
| Deck | High Impact Polypropylene |
Also, this skateboard can be used by all people of different ages. It doesn't matter if you are only a beginner or already a master skater. You can rely on its stability even on rough terrains. Just make sure not to continually expose it to such surfaces because it may get damaged as time passes by. 
Its parts are very sturdy and durable, which is why it would be an excellent practice board. No matter how many times it will get thrown to far distances after failed attempts. Your little ones can do whatever they want with it, and you would never have to worry about buying a new one for them if its breaks.
Pros:
a vast array of colors and patterns to choose from 

has CE certification, meaning it is well-built and is suitable for any rider level

maybe used on any type of surface
Cons:
some beginner kids may have difficulty maneuvering this board
Product Specs:
| | |
| --- | --- |
| Dimensions | 6" x 22" |
| Weight Capacity | 200 pounds |
| Product Weight | 3.8 pounds |
| Wheels | 60mm x 45mm PU 78a |
| Bearings | ABEC-7 |
| Trucks  | Heavy-duty high-quality aluminum |
| Deck | Polypropylene |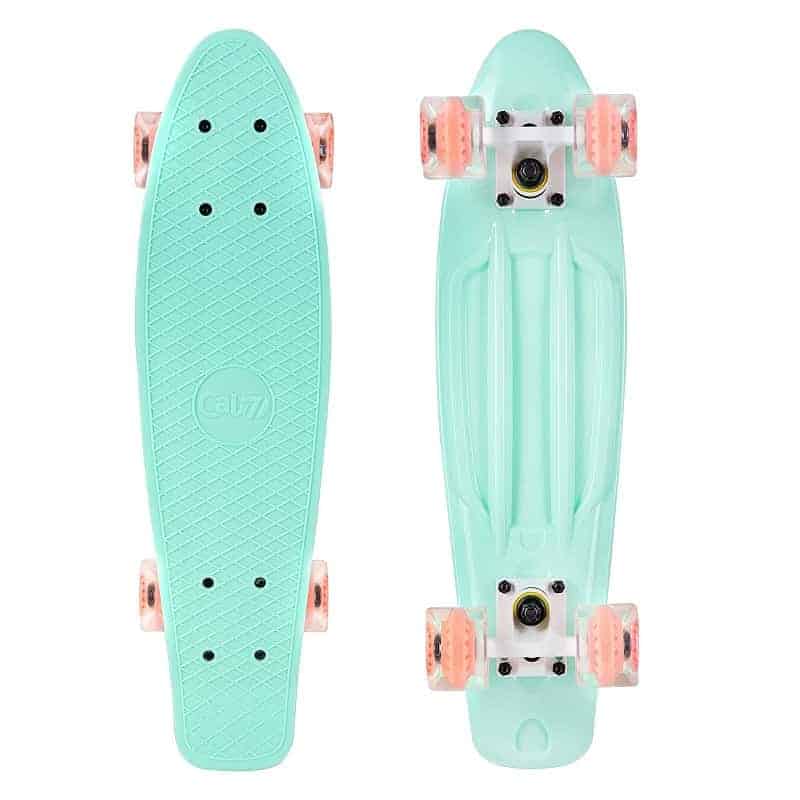 One significant advantage of choosing this model is that you get to select your pick of colorful designs from their fabulous collection. They've got several options available, from soft pastels to bold patterns and designs. There is even one that has a transparent deck, which is a trend in the industry nowadays.
This skateboard has the classic cruiser shape, which allows riders to navigate through crowds and maneuver corners without struggling. Because of its waffle top deck, riders have plenty of grip, while the soft and bouncy 78A wheels can easily absorb shock encountered on rough terrains, such as a street or road. 
Pros:
Easy carving

smooth cruising and skating

very durable

collection of designs are cool, trendy, and unique
Cons:
may need to replace bearings with new ones at the beginning
Product Specs:
| | |
| --- | --- |
| Dimensions | 6" x 22.5" |
| Weight Capacity | 176 pounds |
| Product Weight | 3.6 pounds |
| Wheels | 60mm |
| Bearings | ABEC-7 |
| Trucks  | 3.125-inch aluminum alloy |
| Deck | plastic |
This model is yet another board that would work well with both beginners and advanced skaters. It is a dual concave deck double-kick skateboard. Its shape provides it with the strength to carry as much as a 200-pound man. Also, it allows your feet to stay in the best position for skateboarding. Not only that, but you even have ultimate control of your board for you to perform different stunts and tricks. 
It is quite interesting to see experienced skateboarders do fancy flips and dangerous stunts, but you need to have superior control over your board during the whole performance. To ensure that you can execute those tricks, you will need to have excellent grip tape. The Cherry Blossom Skateboard makes use of high-quality heavy grit Skateboard 80AB Grip Tape that can provide enough traction between your feet and the deck. 
Pros:
conforms to HR4040 and EN13613 standards

very durable

excellent choice for beginners
Cons:
Trucks need to be loosened while the bearings must be replaced before using
Product Specs:
| | |
| --- | --- |
| Dimensions | 7.75" x 31.5" |
| Weight Capacity | 200 pounds |
| Product Weight | 5.9 pounds |
| Wheels | 54mm x 36mm PU |
| Bearings | ABEC-7 |
| Trucks  | Heavy-duty 5-inch alloy |
| Deck | 7-ply Canadian maple |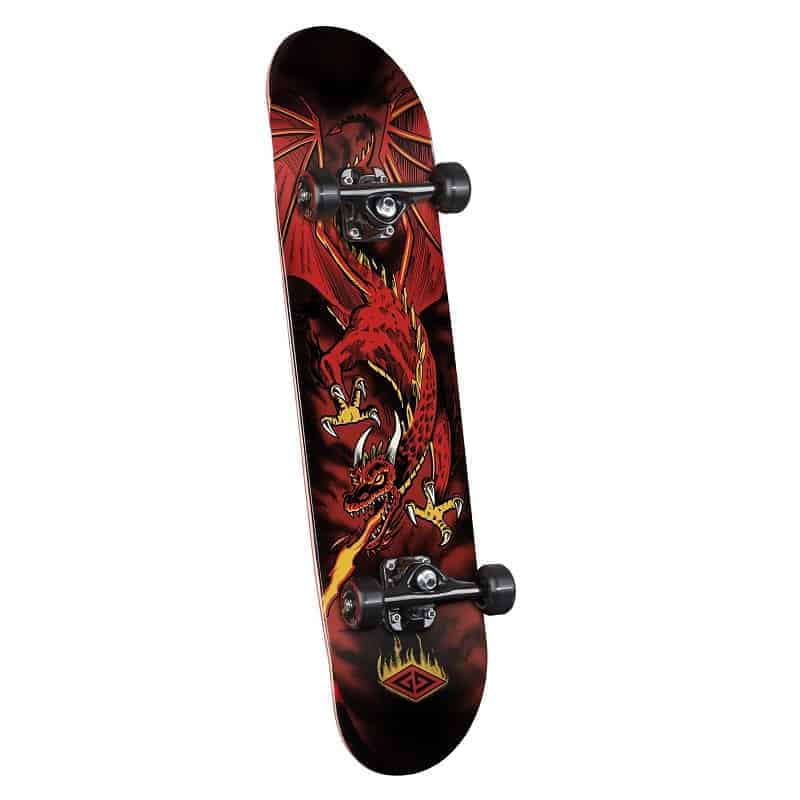 Each of its components is manufactured in a way that promotes consistency in its measurements and quality. Also, all of its parts are durable, which means you can use it for an extended period. This will save you money as you won't have to replace your skateboard frequently. 
Pros:
Perfect for all ages

well-built for mid-level skaters

cool graphics and design
Cons:
trucks are plastic, not metal
Product Specs:
| | |
| --- | --- |
| Dimensions | 7.625" x 31.6" |
| Weight Capacity | 200 pounds |
| Product Weight | 4.8 pounds |
| Wheels | 54mm 99a durometer |
| Bearings | ABEC-7 |
| Trucks  | Custom Golden Dragon |
| Deck | Layered  wood |
This skateboard is also perfect for those who want to execute stunts. The fully symmetrical double kick concave design it has enables you to have greater control over your board; thus, allowing you to perform various tricks, including but not limited to kickflip, nose pickup, and nollie. However, that doesn't mean that beginners cannot use it. It still provides the stability that starters need to have to learn the basics, such as balancing and turning. 
Just like most skateboards in this list, the Enkeeo model has a brushed black surface that provides an anti-slip coating on the top of the deck. This feature enables you to have greater control over the board and remain stable while riding the board.  
The best thing about this product is that it is made of genuine aluminum trucks, which provide excellent durability and maneuverability. The bushings and high-quality truck cushions available also contribute to its maneuverability. 
Pros:
light and portable despite its large size

excellent maneuverability and durability

perfect for execution of stunts and tricks
Cons:
some adjustments may need to be made with the assembled product
Product Specs:
| | |
| --- | --- |
| Dimensions | 32″ in length, width is up to you |
| Weight Capacity | 220 pounds |
| Product Weight | 4.3 pounds |
| Wheels | Anti-shock 85a PU |
| Bearings | ABEC-9 |
| Trucks  | Genuine tough aluminum |
| Deck | 9-ply quality maple wood |
Durable and robust are two characteristics of this product. Unlike the previous skateboards in this list, Retrospec uses both Canadian maple and sustainably sourced bamboo. The result of the combination of these two is a super flexible board that is perfect for cruising. 
Also, they have found a way to reduce or avoid wheel bite. They have incorporated an anti-bite technology, wherein your wheel will not come into contact with your deck when you are making a turn. 
The wheels used are comparatively soft and shock absorbent, which will make your ride or cruise go much smoother than usual.
Pros:
vast array of beautiful design options to choose from and graphics are of good quality

extraordinarily stable and durable

more than enough space to do tricks comfortably
Cons:
some adjustments need to be made with the bearings, trucks, or wheels
Product Specs:
| | |
| --- | --- |
| Dimensions | 9.5" x 44" |
| Weight Capacity | 220 pounds |
| Product Weight | 8 pounds |
| Wheels | 70mm x 50mm  |
| Bearings | ABEC-7 |
| Trucks  | 7-inch aluminum |
| Deck | 8-ply bamboo and Canadian maple |
 This model is small, which makes it easy to bring on your commutes. It will not disturb other people on the bus, plane, subway, and train, because it can be placed in a bag.  
Bearings are usually made of carbon steel. However, the Skatro Mini Cruiser uses steel metal, which is much harder than the former. It helps decrease the friction when bearings rotate. With this, riders can increase their speed quickly and experience a smooth rotation of the wheels.
Pros:
  optimal flex ensured, with each board containing the right amount of plastic

Bearing steel metal allows a quick increase in speed and a smoother ride

small enough to bring around anywhere

comes with a matching T-tool
Cons:
wheels and trucks may be too tight during delivery
Product Specs:
| | |
| --- | --- |
| Dimensions | 6" x 22" |
| Weight Capacity | 220 pounds |
| Product Weight | 5 pounds |
| Wheels | 59mm urethane |
| Bearings | ABEC-7 |
| Trucks  | 3-inch lightweight aluminum |
| Deck | Plastic waffle pattern |
This model is the original and standard skateboard produced by the company. It is quick and nimble, making it the best choice to get from point to another quickly without any hassle. You can easily slip this board into your Penny Pouch Backpack if you wish to bring it with you on your trips or commutes. 
There are several designs that you can choose, and all you have to do is browse through their collection and select the one you find most attractive. They have various color combinations that you may want to check out or their unique patterns that would stand out. 
They make use of the classic waffle top that can provide a non-slip deck for riders. However, if anything happens to your skateboard, you won't have to worry. Penny provides a lifetime manufacturer's warranty to their clients. 
Pros:
several design options to choose from

lifetime warranty

comes with color-coded high tensile deck bolts
Cons:
bolts, wheels, and trucks may need adjustments before using
Product Specs:
| | |
| --- | --- |
| Dimensions | 22" in length |
| Weight Capacity | 220 pounds |
| Product Weight | 4.3 pounds |
| Wheels | 59mm 83a durometer |
| Bearings | ABEC-7 stainless steel |
| Trucks  | 3-inch aluminum with powder-coated finish |
| Deck | Classic waffle top |
Skateboard Types/Categories
For children who are still beginning to learn the sport, there are several types of skateboards available. However, there are two ways you can categorize these boards. You could either classify them by their deck shapes or their deck sizes. The former is often used for adult riders, because they are more particular with which skateboard would allow them to execute their specific skating style. The latter would be used for kids since they still haven't figured out what kind of skating style suits them best. 
Here are the types according to deck shape:
shortboard

cruiser

old school

longboard
On the other hand, here are the classes according to deck size:
full-sized (around 7.5-inch deck width)

mid-sized (7.3-inch deck width)

mini board (7-inch deck width)

micro boards (6.5-6.75- inch deck width)
Best Starter Skateboard
Because there are various models available on the market today, you can focus on looking for one that has all these qualities:
Right size for you – check if it's comfortable or can hold your weight and shoe size

durable grip tape

perfect wheel size and durometer

enough concave depth

standard board shape

sturdy deck material
If you use a board that has all these, then you are good to go. 
Best Skateboard for 5-year old
When it comes to selecting a skateboard for children, you should not try to find one that would suit their age. But instead, you should look for one that could handle their height and shoe size. Usually, children around five have a height of more or less 3'4″ and a shoe size of under 3. If that is the case with your kid, you should get a micro skateboard. Our recommendation is the Arcade Mini Cruiser board. 
Best Skateboard for 8-year old
At this point, children could already have a sense of what their skateboarding style is if they have been practicing since they were five. That is why the parent must now consider that. However, foot size still plays a significant role in the selection. 
You must take note that the narrower the rider's feet are, they should be using a narrower deck width to enable them to have control. Also, the younger the skater, the better it is for them to use boards with shorter decks.
Usually, eight-year-olds are about 3'5″ to 4'4″ tall and have a shoe size around 4-6. If your child fits the criteria, then you can get him a mini-sized skateboard.
Best Cheap Skateboard
Among all the skateboards in this list, the best cheap one would be the Enkeeo 32" skateboard. It uses 9-ply maple wood as its deck, which contributes to the robustness of the product. It is also strong enough to carry as heavy as 220 pounds. It also uses ABEC-9, allowing skilled skaters to move fast and perform several types of stunts and tricks. 
It is only around $54 dollars, which is much cheaper than the usual skateboards that cost about $100. Although it is more affordable, its performance is at par or maybe even better than those than cost a lot more. 
There are hundreds, if not thousands of available skateboards on the market today. All the products listed above are at a good price range and are of high-quality. However, when choosing a board, you must find one that can handle your weight and the skating style that you like. Also, you always have to remember never to compromise on the quality. Don't select the cheapest one just because it will cost you less. In the end, if you have to replace your skateboard often, you will end up spending a lot more money. 
Tips to Help Your Kids Learn to Skate Quickly

Skateboarding FAQS
What Age can a child Skateboard?
Although there are some child prodigies out there who begin skating as young as 2 years old, it is advised that kids shouldn't begin skateboarding until age 5 or 6. Even then it would make sense to keep young kids under close parental or responsible adult supervision.
What should I look for in a Skateboard?
When picking out a skateboard you should take into consideration the size of your deck, wheels, and trucks. Selecting a deck depends on the style of skating and on your size and height. For technical street skating with lots of flip tricks a smaller board between 7.5″ and 8″ makes the most sense.
Do I need Risers on my Skateboard?
In short NO. Riser pads are also known simply as risers are the hard or rubbery plastic pad that goes in between your trucks and deck. These risers are used to avoid wheel bite which happens when turning on your skateboard and the wheels rub against the wood.
Do Skateboard Decks come with Wheels?
Depending on if you are buying a complete skateboard or just a deck. Buying a complete board with come with wheels, trucks, grip tape, and a deck. If your shopping for skate decks then you will only get the wooden part of the skateboard.
Do Skateboard Wheels go bad?
Nope, skateboard wheels aren't made from perishable materials so they don't go bad over time. You typically will need to ride your wheels on rigid terrain or just frequently enough for them to wear down. Eventually, you'll need to replace them with a new set of wheels. For most street and park skaters we'd suggest grabbing a set of these 52mm Spitfire wheels.
Do Skateboards break easily?
Boards typically do not break easily especially with kids riding. However, for a seasoned adult skater who is established and rides hard, it's not uncommon to break a skateboard every week or so. Another way to run through some board is missing bolt landings. Landing in the middle of your skateboard will surely test its durability.
How can I take my Skateboard on a plane?
While TSA doesn't ban skateboards from passing through the security checkpoints. The majority of airlines will not allow passengers to carry on skateboards. If you have carried your complete through security you may be able to check it at the gate before departure.
Do Skateboards count as a carry-on?
Yes, if you have two bags/personal items already being carried on to the airplane you might be charged an extra luggage fee for your skateboard. We also wrote a cool guide on skateboard backpacks to check it out would be a good thing.
Do Trucks matter on a Skateboard?
Yes! Trucks matter a lot more than people might think. We would even go as far as saying that the trucks you choose directly relate to what you are able to do and not do on a skateboard. Another key point is that the truck size correlates with the deck size you ride. When considering truck width a 5″ inch hanger and 7.75″ inch axle will fit decks 7.5 inches to 8 inches. For decks above 8 inches up to 8.5 inches, you'll opt for a 5.25″ inch hanger.
Should I wear a Helmet when Skateboarding?
ABSOLUTELY! Most people coming into the world of skateboard see professional skaters like Eric Koston, Nyjah Huston and Terry Kennedy jumping down handrails with no helmets. The key factor is that they are professionals in other words DON'T TRY THIS AT HOME. Average skateboarders should always wear a helmet as the risk of serious injury is always present when trying skateboard tricks.
How can I get a Free Skateboard?
Get really good at skateboard! Practicing a hell of a lot will help you to progress and progression could mean sponsorship. Being a sponsored skater even as an amateur or flow rider will net you free skateboards as you need them.
How can I hang my Skateboard on the wall?
Depending on if you want to hang a complete skateboard or just the deck we recommend two different methods. To just hang your deck up or a collection of decks you can use the Skateptych wall mount. If you want to hang up your complete skateboard between sessions you can use the Grab and Go skateboard wall hangar. 
How can I make my Skateboard Faster?
So you want more speed out of your skateboard? There are two distinct ways to get this done, the easiest and fastest way to increase speed is adding larger wheels onto your setup. Another way to add speed to your board and make it faster is by upgrading your bearings. Most complete boards especially the ones on our list (excluding the Powell Golden Dragon and CCS complete) come with pretty low-end bearings.
Our favorite upgrade bearings are Bones REDS Check them out below…
When is Skateboarding in the Olympics?
Skateboarding is going to make its first appearance in the Summer Olympics during the 2022 Olympic Games in Tokyo, Japan.
Who is on the USA Olympic skateboard team?
For the upcoming Olympic games the USA skateboard team is split into men's and women's teams. The women's team consists of Jordyn Barratt, Bryce Wettstein, Brighton Zeuner, Nicole Hause, Mariah Duran, Jenn Soto, Alexis Sablone, and Lacey Baker.
On the Men's team Nyjah Huston, Chris Joslin, Louise Lopez, Jagger Eaton, Alex Sorgente, Tristan Rennie, Tom Schaar, and Zion Wright.
What Size Skateboard should I get?
The skateboard you get should be based on your height and shoe size. For younger skaters under 3'4 and shoe size 3 or less the appropriate board would be 6.5 to 6.75 (Micro-sized deck). Next size up is the (Mini-sized deck) ideal for skaters up to 4'4 and shoe size up to size 5. Probably the most common size in the early 2000's is the mid-sized deck ranging from 7.5″ to 7.6″. For teenagers and adults, we would suggest going with size 7.7 and above.
Who is the Best Skateboarder in the world?
In our opinion, the best skateboard in the world is Nyjah Huston!
Skateboarding trick tips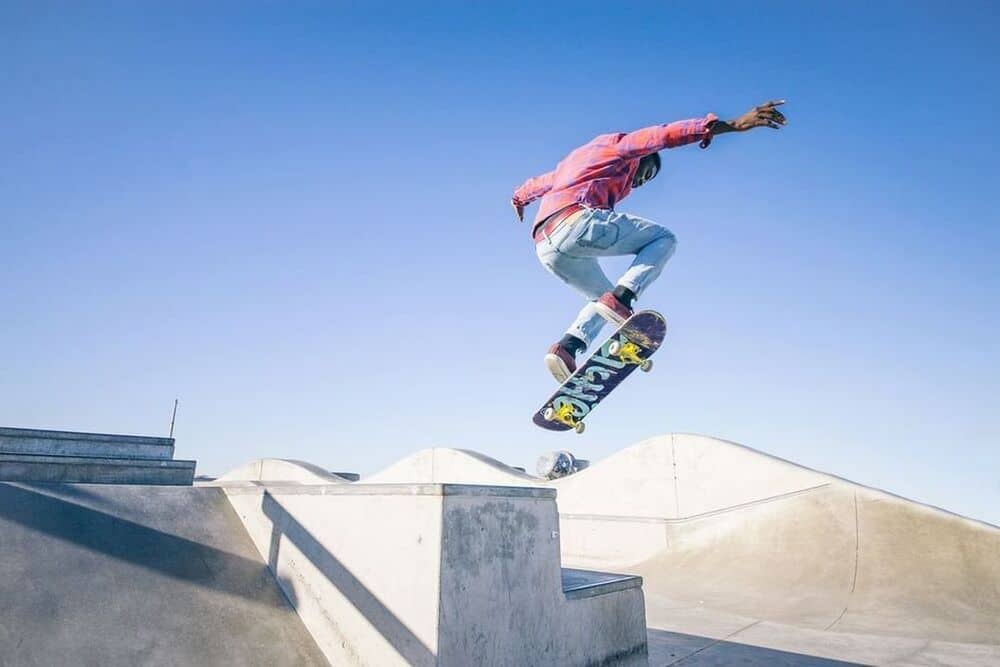 How to Ollie on a skateboard for beginners
How to do a Kickflip on a skateboard
How to do easy tricks on a skateboard