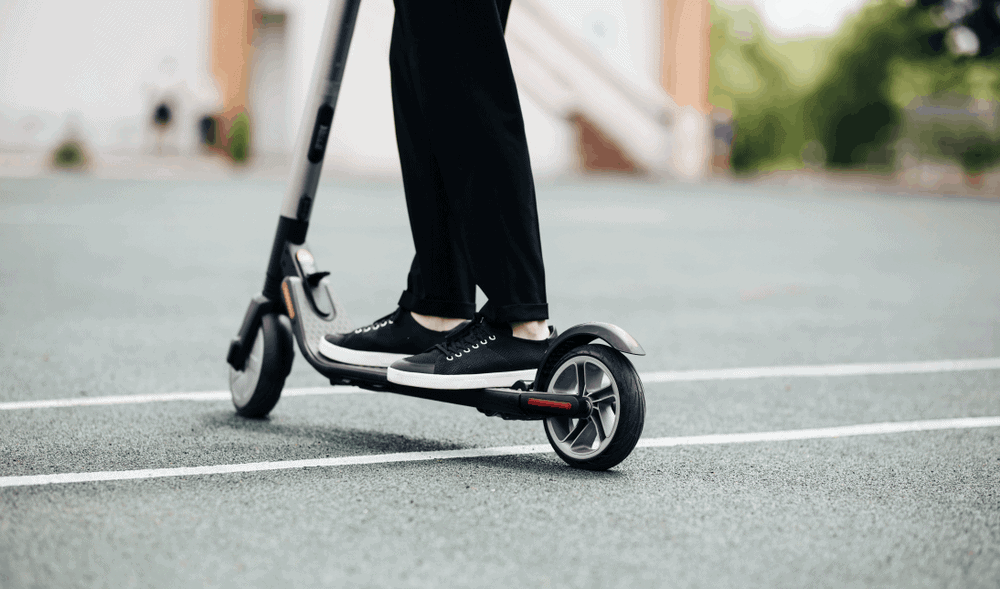 Finding out the top performers  in the electric scooter category is important and we've done just that in this review . No one wants a slow electric scooter that would be almost as bad as walking.
Before you decide to buy keep reading to find out what the fastest electric scooters available are.  We've listed the fastest and best electric scooters on the market today and categorized them so you can check out which one is best suited for your specific needs.
Fastest Electric Scooter Comparison Chart
The Fastest Electric Scooter for Adults
Starting the list with powerful specs from the Taiwanese brand, Qiewa Q1 Hummer. Their Q line is their latest collection of high-speed electric scooters.
Their flagship Qiewa Q1 Hummer is their bestselling model that promises not only speed but also durability and versatility. It's like having a motorbike but the difference is you can actually fold it and stow it away in your trunk.
Q1 Hummer is not only super fast but can also endure a long commute for a few hours. That's something really worth checking out.
No products found.
Max speed: 37mph
Mile range per charge: 62 miles
Battery: 26Ah 48V 5C lithium battery
Charging Time: 3.5 hours to full charge
Tires: 10-inch pneumatic tires
Max load capacity: 550 lbs.
E-scooters for adults require more unique features and several functions to be really enjoyed. Q1 Hummer is not short on this. In terms of build and materials,
Q1 is made to last for many years with a body made of high-grade aluminum. It also past IP6 waterproof test which means it can handle light rain and splashes along the way.
The mud flap is also a good addition to keep it neat. It is also very portable with its subcompact 2-second folding mechanism designed for ease of use. If you wish to park it, just keep it still using the kickstand.
Whether you are riding for a long commute or just want to go around for leisure, Q1 Hummer can throttle up to 35 miles per hour in 3 adjustable speed. The 800-watt battery allows you to travel a max range of 62 miles on a full charge.
Guaranteed smooth rides with front and rear suspensions for absorbing the shock of its 10 inches pneumatic tires. It means it doesn't get shaky on uneven and rough grounds.
If you're on the heavy side, it can support a weight class of up to 550 lbs. This electric scooter is also designed with an optional installable seat for separate purchase. Riders can opt to stand or sit for added travel comfort.
This fast adult scooter also has added cool features you won't find from other competitions. It has dual disc brakes for effortless wheel control and electric gauge.
There's a USB charging port that allows users to charge their phone when riding. It's not short on safety features either with its remote-control anti-theft, lock, and unlocks. Riders get full visibility with its headlight, sidelight and tail braking light. And yes, it also has a horn.
Qiewa Q1 Hummer Electric Scooter leans on the pricier side, but every feature is worth the price tag. If you are looking for a fast, versatile, and durable e-scooter with powerful long battery life, then this your best option in the market.
The Fastest Electric Scooter for Kids
If your budget is not enough to buy the cool Q1 Hummer, then let's look at its cheaper alternative. Pricing below $500, Razor E300 Electric Scooter is a rechargeable scooter for kids and adults. Razor is reputable for its e-scooters with good speed.
What separates the E300 is it runs up to 15mph top speed and lasts you up to 45 minutes. Powered by a 250-watt high torque, single-speed, chain-driven motor, you can zip fast enough around the neighborhood minus the pedals and kicks.
Sale
Razor 13113614 E300 Electric Scooter - Matte Gray
With its super-sized deck and frame, the Razor E300 electric scooter is ready to roll for teen and adult riders up to 220 pounds (100 kg)
Powered by a 250-watt, high-torque, single-speed, chain-driven motor that delivers a top speed of up to 15 mph (24 km/h)
Rechargeable 24V (two 12V) sealed lead-acid battery system provides up to 40 minutes of continuous use
Max speed: 15mph
Mile range per charge: 11 miles
Battery: 24-volt rechargeable battery
Charging Time: 10-12 hours
Tires: 10-inch pneumatic tires
Max load capacity: 220 lbs.
Razor E300 Electric Scooter is a popular ride-on toy for kids above 6 years old. Of course, it doesn't mean adults can't ride on it. After all, the solid and sturdy design can hold a max weight capacity of 220 lbs. teenager or adult.
But if you are looking for an e-scooter that's easy to maneuver and safe for kids to cruise around the neighborhood, then this is the fastest and most affordable choice you have in the market.
Other than being fast, Razor E300 also has other unique features to enjoy the ride. Featuring 10 inches of pneumatic tires with urethane wheels that can hold even slight uneven grounds for smoother rides.
The supersized deck and frame and the proportioned height of the handlebars make it comfortable for users of different height and sizes. It has twist-grip speed control and hand-controlled rear gear for easy acceleration. The braking system is also very efficient and easy even for younger riders.
The Razor E300 is definitely powerful and high-end but at a very affordable price. It is highly recommended for kids and adults who want a decent speed for an easy commute.
If there's a downside on this scooter, it is the long charging time. It takes 10-12 hours to full charge and recommended to be recharged even if the battery life is not fully consumed.
The Fastest Off-road Electric Scooter
This electric scooter claims to be the most powerful electric scooter in the world. Well, it is. Aside from its extremely fast 55mph top speed, you can actually ride this off-road.
This all-terrain scooter is your best bet if you're not a fan of dirt bike or mountain bike or the big ATV but still want that adventure and action.
Dualtron Ultra High Speed Electric E Scooter for Adults Foldable, 5400W Peak Power Dual Motor| 60V 35Ah 2072Wh Battery | 80...
Bloc dual hub motor max 5400W - a motor propels the e-scooter to a max speed of 40+ MPH; high capacity 60V 35ah 2072Wh battery with a maximum Travel range of up to 80 miles
Powerful braking ability - this electric scooter Controlled by electronic brakes provide the best braking performance with regenerative charging; prevent premature locking of the mechanical brake on...
Ultra suspension - high impact PU suspension that tempers both large impacts and small vibrations is attached to the front and rear wheels to provide excellent shock absorption for the best riding...
Max speed: 55 mph
Mile range per charge: 74 miles
Battery: 60V 35Ah LG Li-Ion
Charging Time: 4.2 to 20hrs.
Tires: Dual 11″ x 4″ pneumatic tubeless tires
Max load capacity: 331 lbs.
Other e-scooters could reach you a 20-mile range if you are a careful driver but not with this monster Dualtron Thunder. Flooring the accelerator could send you up to 74 miles and at a speed of 50mph.
It could also climb a max of 47 degrees incline. The speed is well-matched with dual Nutt-branded 160 mm hydraulic disc brakes which require minimal force to engage. You can go on a full stop effortlessly.
Off roads are very tricky for most types of vehicles. Normal scooters even the motorized ones are mostly not built to endure rough roads and terrains. Many are without suspensions and made to run only on pavements. But Dualtron Thunder's tires were made to go smoothly on rough grounds.
The 11″ and 4″ wide tubeless mini motorcycle tires were designed for maximum traction and supported by front and rear rubber suspensions. These tires were meant to be thick and durable to go around the city or off-road obstacles.
For a fast electric scooter, balance and stability are needed for safety. That's why the Thunder's deck is 1-foot wide to have more room for foot shifting and maintain balance while riding. Beneath the huge deck are the powerful motors.
Thunder has dual 2700-watt brushless DC motors for front and rear with an output of 5400 watts. A monster motor like this is definitely backed by long-lasting and durable batteries.
Going to the handlebars, it might look a little complex but every inch and a bit of this cockpit showcases impressive features. The right grip houses the LCD EYE throttle, index finger accelerator, brake, and fingerprint recognizer.
On the left, you will find another brake lever emergency button and motor system control. If you want a monster electric scooter that can withstand off roads and the urban, this one is the best the market can offer.
4. NANROBOT D5
The Fastest Electric Scooter with Seat
The fastest on the list and market today, NANROBOT D5 is a real speedster. Running a max speed of 40 mph, it can easily cruise a sizeable urban with ease. Although the Q1 Hummer also has a seat, it comes as optional.
RS7 however, has installed seat for a more convenient and comfortable ride. Following its predecessor D4, both run the same motor, specs and build. The only difference is that D5 can climb up to 65 degrees incline and has a max mile range of 50 miles.
Compared to other scooters on the list, the mile range indeed is not as impressive. However, this e-scooter can run with others on this list and can give them serious competition.
No products found.
Max speed: 40 mph
Mile range per charge: 55 miles
Battery: 60V 31.2Ah Lithium battery
Charging Time: 6-10 hours
Tires: 11″ wear-resistant tires
Max load capacity: 330 lbs.
This high-end electric scooter is the fastest and one of the most durable in the market. If you are looking for a fast off-road e-scooter than gives you a decent mile range, then this is another good choice.
Supported by c-shaped hydraulic shock absorption its 11 inches tires are made to roll smoothly on surfaces such as ceramic tiles, sand, narrow sections, uphill, and even on wet grounds.
Powered by dual 1600W hub motors with a combined output of 3200W, it is actually impressive that it gives you the top speed with less power needed. Safety features include front and rear disc brake system, LED headlight, and taillight.
The cockpit is also packed with the necessary function keys. On the left side of the handlebar, you can find the controls for the head and tail lights and two buttons for horns. The right houses the speed throttle, brake lever, power button, speed modules, motor controls, and eco turbo button. The design is very practical and user-friendly.
There are more electric scooters that probably offer faster speed, but these are the fastest e-scooters that you can actually buy in many parts of the world right now.  Just make sure you wear a helmet and you check the laws on electric scooters in your country just to be safe.