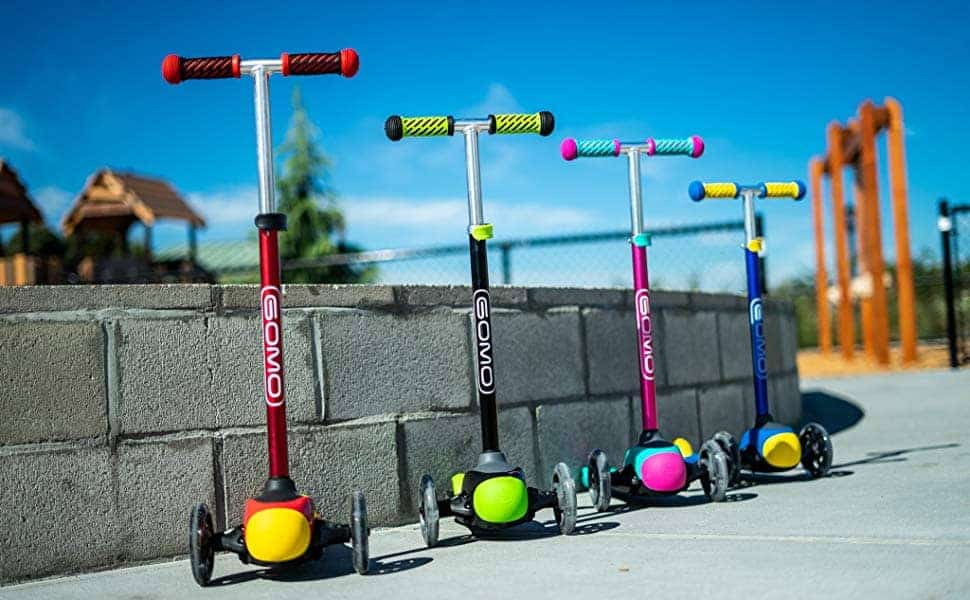 Christmas is just around the corner and you are still pondering on what to buy for your kids. Gadgets are out of the question because we now know about the negative effects they can have on our kid's health when used for long periods of time. Why not consider a gift that will bring back your kid's love for playing outdoors instead of lying down on your couch playing online games.
A scooter is a perfect gift for kids aged 2 to 5. They will surely enjoy the freedom that riding a scooter brings.  Did you know that scooters help improve your toddler's balance, motor skills, and coordination? Now you may ask what scooter must I buy? No need to worry we've got you covered.
The GOMO 3 Wheel Scooter is one of the best scooters you can buy and here are some of the reasons why:
GOMO stands for "Get Out More Often" and that's what this 3 wheeler can do for your kids

The GOMO comes in the coolest designs and colors, your kids will surely stand out as they ride their new 3 wheeled companions. 

Two-tone designs with colors made for boys and girls. Choose from Blue and Yellow, Lime and Black, Pink and Teal, & Red and Yellow.

Built as a first scooter for toddlers who are not big enough to operate a big kids scooter

The hands of our kids can be sensitive which is why GOMO made sure that they installed soft rubber grips for comfort

Your kids will enjoy their GOMO scooter for years to come, the aluminum handlebar can be adjusted to 3 different height settings

Bright LED lights light up the wheels of your scooter for added visibility especially at night

Awesome stopping power with an easy to operate foot brake for safe and reliable operation

The body is made of sturdy and durable ABS material with a nylon-reinforced deck to make your 3 wheeler last a long time

Parents will love the lightweight but strong design which makes it easy to carry around

Features a patented "Lean and Turn" system where the scooter turns naturally as they lean

Comes with a 2-year manufacturing warranty
Is the GOMO 3 Wheel Scooter Worth Buying?
To answer this question it makes sense to look at the other popular 3 wheel scooters available and how the GOMO stacks up against them. The first scooter in question is the Micro mini deluxe. Micro in a sense godfathered the 3 wheel scooter movement but their design is dated and hasn't been innovative since it released in 1999/2000.
In comparison, the GOMO has taken the lean-to-steer ideal and expounded upon it, added light-up wheels, softer handgrips, and our favorite a bumper on the front of the scooter to prevent wall damage.
Up next is the Globber three-wheel scooter, looking closely at Globber there are really no features that make it unique. If any it's the handlebar release button "Yaaayy" :-(. Yep, that's right absolutely no innovation and no standout features. In comparison, the GOMO scooter is leaps and bounds better than the Globber. So to answer that question…is it worth buying absolutely! You can grab the GOMO three-wheeler for around $60.
GOMO Scooter Added Benefits
Parents would love to see their child's hair blowing in the breeze as they kick-off on their new toy. No need to tell them that their "time is up" with their smartphones and gadgets.
Your kids can now get in shape as they spend more time outdoors than in front of a video screen. Overweight children can burn as much as 150 calories when they scooter for 30 minutes. Bones are strengthened, lungs breathe in the fresh air, the heart gets stronger and happy hormones to flood their brains.
Confidence builds up when your kid starts to master the are of scootering. They learn how to make decisions on the fly whenever they reach a corner or encounter an obstacle.
Get your GOMO 3 wheel scooter now and turn your toddler into a happy and healthy child!