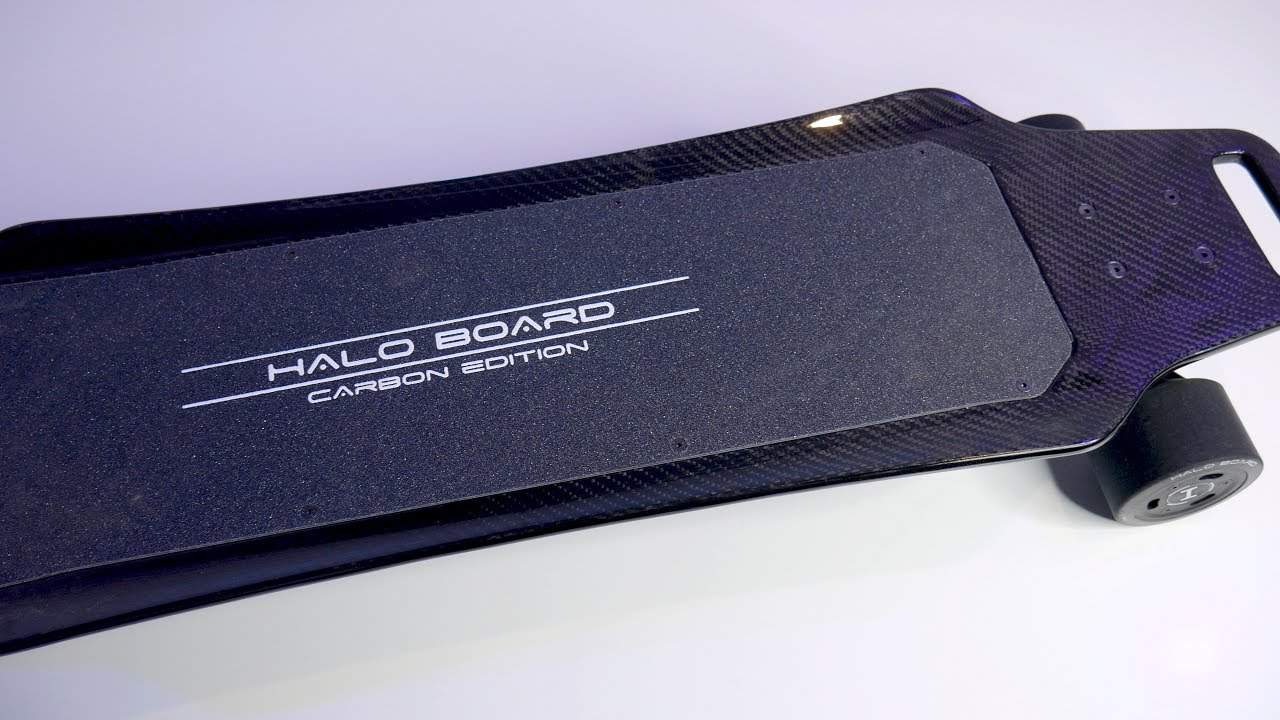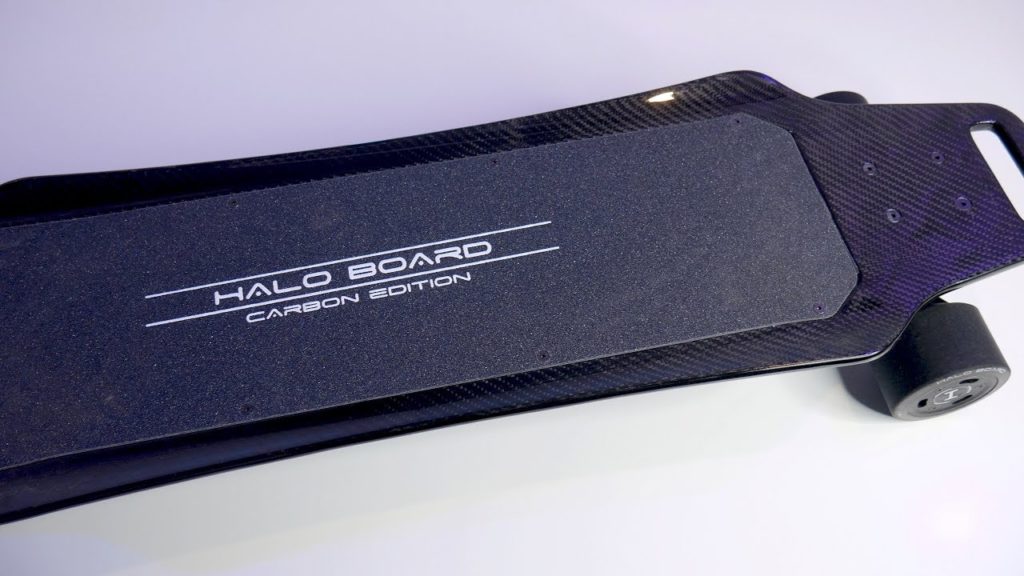 The electric skateboard industry is pretty huge. Thus, it is not surprising to see well-developed products being released every now and then. Names like the Boosted Board may ring a bell to most enthusiasts. But there's more to this world than that.
Ever heard of the Halo Board 2 for instance? The brand is gaining attention, thanks to its high-quality build and superb performance.
DESIGN AND BUILD
Perhaps one of the most intriguing features of the Halo Board 2 is its full carbon fiber design, which boasts to use a Japanese T700 type carbon fiber.
And in case you do not know, it is one of the strongest yet lightest materials known. So what does this mean? Well, you can pretty much expect the Halo Board 2 to be not only sturdy and durable but also light at only 14 lbs.
Its sleek, all-black stealthy design with round edges can really capture the attention it deserves.  The deck is equipped with a high-quality grip tape that really keeps your feet in place.
Also, many loved how Halo neatly tucked away from the usual cumbersome battery packs we see on most electric skateboards. Its wheels are smooth and perfectly sized, and the trucks can easily be adjusted as desired.  
What is electric skateboard when it is not equipped with motors? The Halo Board 2 has a dual hub motor design, with a total power output that can reach up to 3000 W. If you are a newbie, then do know that is a lot of power.   
Gone are the days when you have to control and maneuver your board with your foot. Halo Board 2 comes with a remote control that lets you control your direction and speed. Your riding experience is also made comfortable, easier, and safer as stats are displayed on the remote's LCD screen—board battery life, signal strength, remote battery life, etc.
PERFORMANCE
The Halo Board 2 can surprisingly reach a top speed of 22 mph with a range of up to 14 miles, which is decent enough for a hub motor board. It has noiseless in-wheel motors for a quiet and no maintenance-ride experience.
In case you run out of batteries, you can still kick push the board. However, at top speed, the board tends to wobble a little, but this is generally not something to be worried about.
Also, this board cannot handle bumpy terrains or cracks in the road well. It is best used on smooth pavements and flat grounds.
Thanks to its huge torque power, this board can maintain that speed even when going uphill. Its official rating says the board can climb up to 25 degrees. Just a piece of advice, make sure your battery is full when you plan to head to up steep hills.
When it comes to brakes, the Halo Board 2 does not perform that good. It was a bit of a surprise considering its premium price. Anyways, the board features a regenerative braking system.
This is an energy recovery mechanism that converts and stores the loss of kinetic energy to be used to power your electric motor later on. In short, the board recharges your batteries each time you brake.
Its batteries can fully charge pretty fast. Halo indicated it can charge up to 3 hours, but 2 is already enough. The Halo Board comes with certified fire-safe batteries along with a UL certified charger.
Highs:
Stylish look with a full carbon fiber build
Top speed of 22 mph
User-friendly remote control packed with great features
You can easily get the hang of it
Lows:
Hefty price tag
Doesn't have the best brakes
OTHER GREAT OPTIONS
No products found.
No products found.
Sale
CONCLUSION
Overall, Halo Board 2 is a good pick for people who are looking for something to hop on to their way to work or school or those who are just enjoying this newfound hobby. Despite its pitfalls, it is still a fun and good board to ride with.
Finding one with this quality is quite hard, although the price is really far from light. And of course, just like any material thing you buy, you need to handle them well to avoid breaking it.