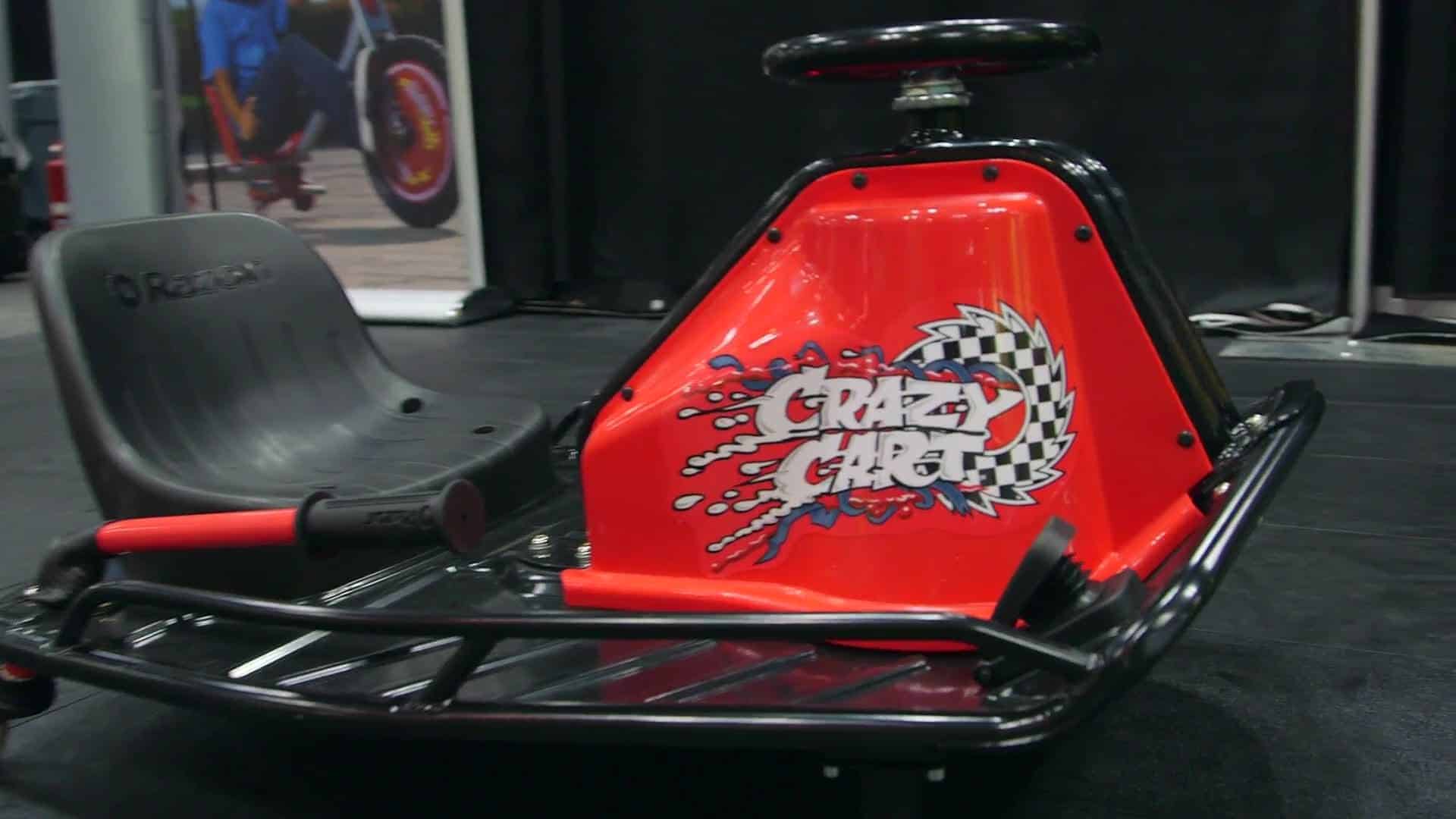 The Razor Crazy Cart line of kid rideables took toy stores by storm for years. There's no denying that kids go crazy over these ride-on toys because of its play play pattern is ten times more fun compared to the dated car toys on the market.
If you're a parent that wants to get a Razor Crazy Cart ride-on toy for your little one but still hesitant about it, then you've come to the right place.
Allow me to fully review the Razor Crazy Cart line in this article so that you'll see if the Crazy Cart line is worth the money you'll spend. Let's just say you're kids are going to LOVE you! Without further ado, continue reading down below.
Razor Crazy Cart Options
Razor Crazy Cart Shift
Razor Crazy Cart Shift - Red
The Shift model features a simplified drift system that automatically engages rear end drifts so that drivers can keep both hands on the wheel at all times while focusing on steering and throttle control.
Standout Features
Simplified drift system
Entry level "Low" speed setting great for younger kids
Features a "High" setting which will allow older kids to enjoy as well.
Chain free drive system
Thoughts:​
The Crazy Cart "Shift" is our top pick because it's amazingly versatile in that is works with younger and older kids alike. It is also the cheapest version in the Crazy Cart line up. If you are on a budget this is the choice for you!
Razor Crazy Cart 360 Spinning Drift
Standout Features
Very powerful! Reaching top speeds of 12 miles per hour.
As safe as it can be. Features an adjustable seat belt and visibility flag.
Real throttle response.
Solid battery life lasts up to 40 minutes with continuous use.
Thoughts:​
The 360 Spinning drift is our favorite model in the Crazy Cart series but the almost $500 price tag can be unbearable to certain families. If money wasn't a factor THIS is the tone one. This cart can even handle adults!
Razor Crazy Cart DLX
Standout Features
Reasonably priced!
Multi-directional driving
"Brodie" steering knob, think fork lift style
Go Cart mode allows for standard driving without spinning or drifting.
Thoughts:
While still packing more than enough entertainment value, the DLX Crazy Cart is last on our list because it isn't AS fun as the other options. That doesn't mean your kids won't enjoy it. We believe Razor created this model to squeeze right in between the other models price wise.
What I do really like about the DLX is the "standard" drive mode. Sometimes spinning around and drifting gets old but just having a cool go cart around the house never will.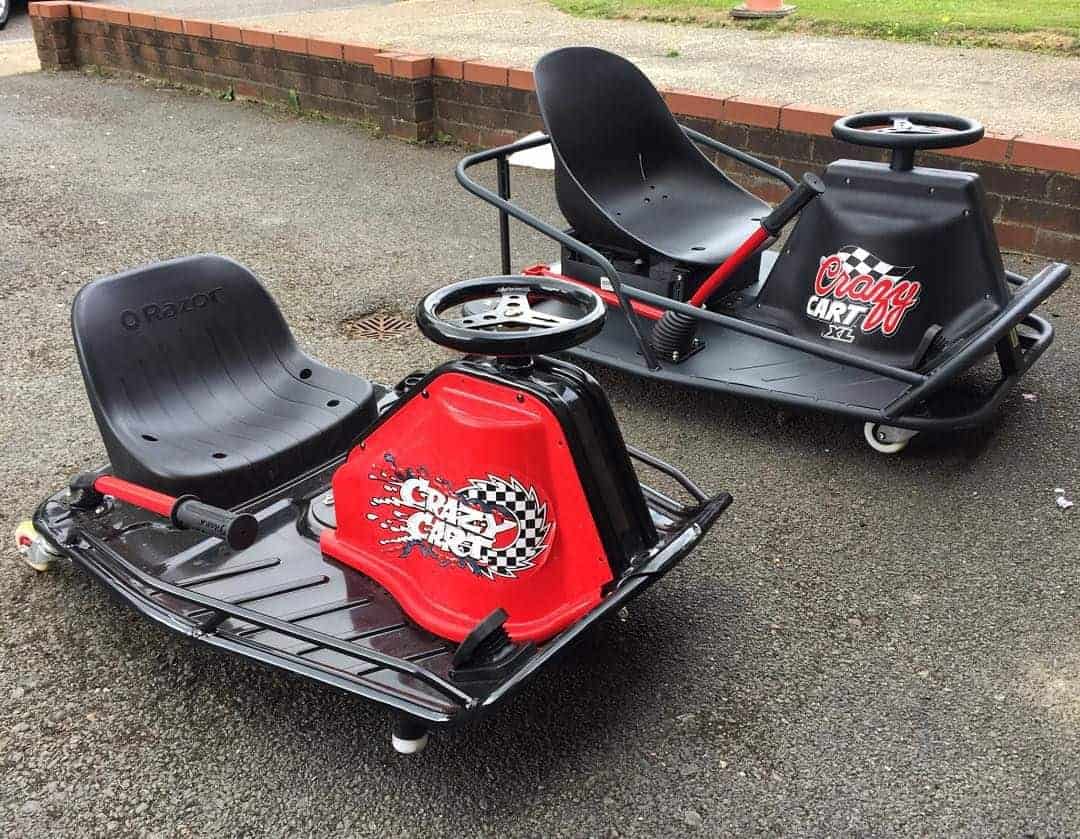 A Cart for Everyone
As expected from a brand like Razor, the build quality of their Crazy Cart products is top-notch. Although the pricier ones have a special treatment, of course, with added bells and whistles such as steel frames and more durable tires, and the like.
But even if you opt for the affordable ones, its build quality is still acceptable and will surely last for long. But if you have the cash to buy the costlier ones for its added features and more robust material choice, then go for it.
Build Quality
The design of Razor's Crazy Cart line looks identical to the bigger cart's for adults. After all, it's still a "cart" but only made for kids. Different Crazy Kart's come with different color options to choose from.
If your kid wants something that looks modern, then a black Crazy Cart is just what he/she needs. But being colorful and vibey is your kid's cup of tea, then there are other colors too such as red, blue, and white. Each variant also has design additions too.
The shift comes with a flag on the back, the XL has a higher chair that fits shorter kids, the DXL has safety mini rails on the side, and so on.
Speed and Other Features
Razor's Crazy Cart products have different motor speeds and features depending on the price. The most affordable one, simply called the "Crazy Cart", has a maximum speed of 12mph, which is already speedy enough for casual rides.
While the XL variant has a maximum speed of 14mph if your kid loves to be daring along the streets. Just make sure to let them wear safety gear and watch over them every time they go for a ride.
Features also vary depending on the product. The Shift variant, for example, has a longer battery life because of its smaller motor which consumes less power. The normal and XL variant, however, has bigger motors which consumes more battery life.
As you can see, each product has its own pros and cons. Smaller motor is equal to longer battery life but lesser speed. Bigger motors have higher speeds but also a short battery life.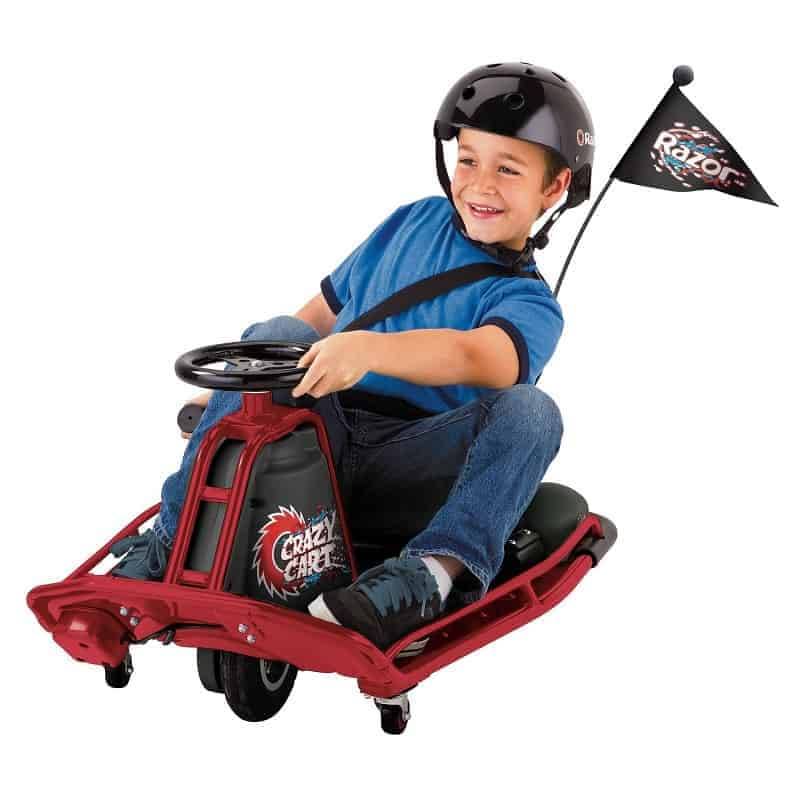 Pricing
From affordable to costly variants, there's always a Razor Crazy Cart for everyone. Choosing the right cart for your kid depends on your budget and the features your little one wants.
The affordable base variant is already enough, at least for me. It already got good enough speed and features, but a bit lacking in build quality.
If you want to prioritize safety, get the "Shift" variant because of its smaller motor that has a maximum speed of 8mph, and of course, long battery life and affordable price tag.
But if durability is your cup of tea, the DLX variant has a steel frame and high-impact tires that will surely stand the test of time. However, the price of the DLX variant will surely take a toll in your wallet.
Closing Thoughts
So, should you get a Razor Crazy Cart for your kid? The answer is YES. Ride-on toys are a breath of fresh air from the traditional static toys that will only collect dusts as time goes by. Ride-on toys such as the Razor Crazy Cart products serve as an educational tool for your children. Educational tool in what way, how so?
First, a ride-on toy will enhance your child's motor skills. Second, it teaches them how to drive carefully, which they can carry on as they grow older if they have their own vehicle. Third, ride-on toys are less of a bore and have a significant value that makes investing into one worth every dime you paid for.
So instead of buying hoards of action figures, teddy bears, or remote-controlled car toys, you should definitely give Razor's Crazy Cart lineup a try. Your kids will surely thank you later.