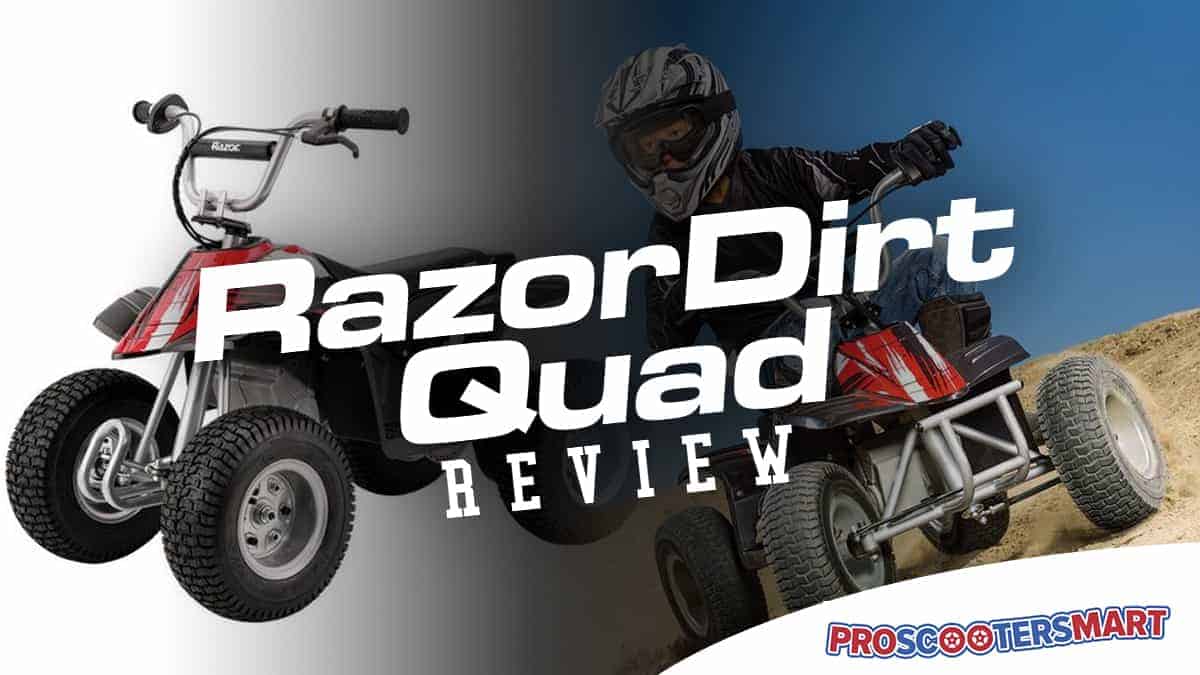 Children will become more and more adventurous and imaginative as they grow up. They want to explore every possibility when it comes to their playtime. Children also tend to mimic what they see from their parents, siblings, or on the television .Parents can facilitate their children's exploration by having them play with a Razor Dirt Quad.
For almost two decades, Razor has been producing top-notch electric rides. Adding to their flock, the Dirt Quad gives kids the thrill they're eager to experience. But what's the deal with this electric ride? Here are some of the pros and cons that come with the Razor Dirt Quad.
With its polished black and red color combination and sturdiness, the Razor Dirt Quad is the best four-wheeled electric ride. Here are some of the reasons why its amazing:
Easy Storage
One of the best features of this electric vehicle is it's easy to store. With a dimension of only 43″ x 24″ x 31.5″, you can store it vertically anywhere in your house. This way, it doesn't take up too much and saves up some space for other toys.
Adjustable Handlebars
Honestly, any parent doesn't like to waste money on a toy that wouldn't last long. Unlike those toys, your kid can have tons of fun with the Razor Dirt Quad. This electric toy can accommodate the height of your growing kid with its adjustable handlebars. With this fantastic innovation, kids can drive around your house from six up to 12 years old.
Assembly Time
Like any other ride-able toy vehicle, this also needs to be put together. Assembling it is a rather straightforward procedure, it only takes ten to thirty minutes to build this. Then again, this all depends on how you segregate the parts and comprehension of the instructions.
Money Saver
You don't need to worry about shelling out money for this toy's fuel because it is electrically-powered. Another advantage of an electric toy vehicle is safety. You don't have to worry about the harmful smoke associated with gas-powered toy vehicles.
Maneuverability
Kids will surely love this four-wheeled toy vehicle because it is easy to steer and stop. Its twist-grip acceleration and the hand-operated brakes give the rider full command of this awesome toy.
Standout Features
Shatter-resistant Brush Bar and Fairings The Razor Dirt Quad's frame is made from premium steel that has a powder-coated finish. This ensures that it's easy to clean and looking fresh all day long no matter what the weather conditions are. Its front bush bar can also be hooked straight onto trailers and SUVs.
Chain Drive he chain drive has a variable speed feature that ensures that it efficiently transfers power via the high-torque transmission system so that you can easily climb and go over any kind of obstacle.
Manual Brakes and Throttle You have full control over your quad bike, making it safe and easy to maneuver. It also has loads of stopping power in case you want to immediately stop.
Coil Shock Suspension Its coil shock suspension ensures you can comfortably and confidently glide through rocky terrain. Precision riding is on point, you have better control, and handling is smooth as silk.
High Weight Capacity and Efficient Battery System Maximum weight capacity is at 120 lbs., which means it's not only for kids but for light adults as well. This goes perfectly with its 12V batteries that has around 40 minutes of running time.
Aggressive Knobby Tires You can shred through the gnarliest of trails without fearing flats or punctures with the ultra-aggressive tires with wide-profile knobs.
High-capacity Electrical System The dirt quad bike can gain full capacity in just 12 hours of charging time thanks to its 2x12V batteries. Optimum performance is clocked at 250 cycles as well.
What makes the Razor Dirt Quad standout?
Fuel-efficient. The Razor Dirt Quad is best known for its fuel-efficiency, not because it consumes minimal gasoline, but because it uses a different kind of fuel to power it up — electricity. This means that you can save up on the expensive price of gases, help save the environment, as well as ensure that your child inhales clean and fresh air.
Built for the off-road. This beast is built for the off-road due to its heavy-duty chassis, body, and suspension system. You don't have to worry if you're going to go through mud, gravel, dirt, grass, or even streams because this is one strong workhorse. Its suspension system is supported by coil shocks, making it ever-ready to take on even the rockiest of pathways.
Child-friendly. Another nice thing about the Razor Dirt Quad is that it's child-friendly. You don't have to worry about having your child injured because these are specifically built for kids. It's got an ergonomic body frame so that kids can comfortably and securely fit on it while riding. The frame is also equipped with rubber sidings so that they won't be hurt if they accidentally hit it.
Final Thoughts
If you are looking for a dirt quad bike that you and your children can enjoy, then the Razor Dirt Quad bike is what you need. Not only is it safe, economical, and durable, but it's also stylish and aesthetically pleasing.
Just make sure that you do your best to not drain it to a point that it's got zero remaining battery so that its battery life will not deteriorate through time. Also, see to it that your child knows how to operate it using its controls.
Don't let them go ahead and drive it on their own for the first time. Following these guidelines will not only ensure a hassle-free and enjoyable dirt quad experience but will also be crucial in the social and personal development of your child. The Razor Dirt Quad surely is a great bang for your buck.