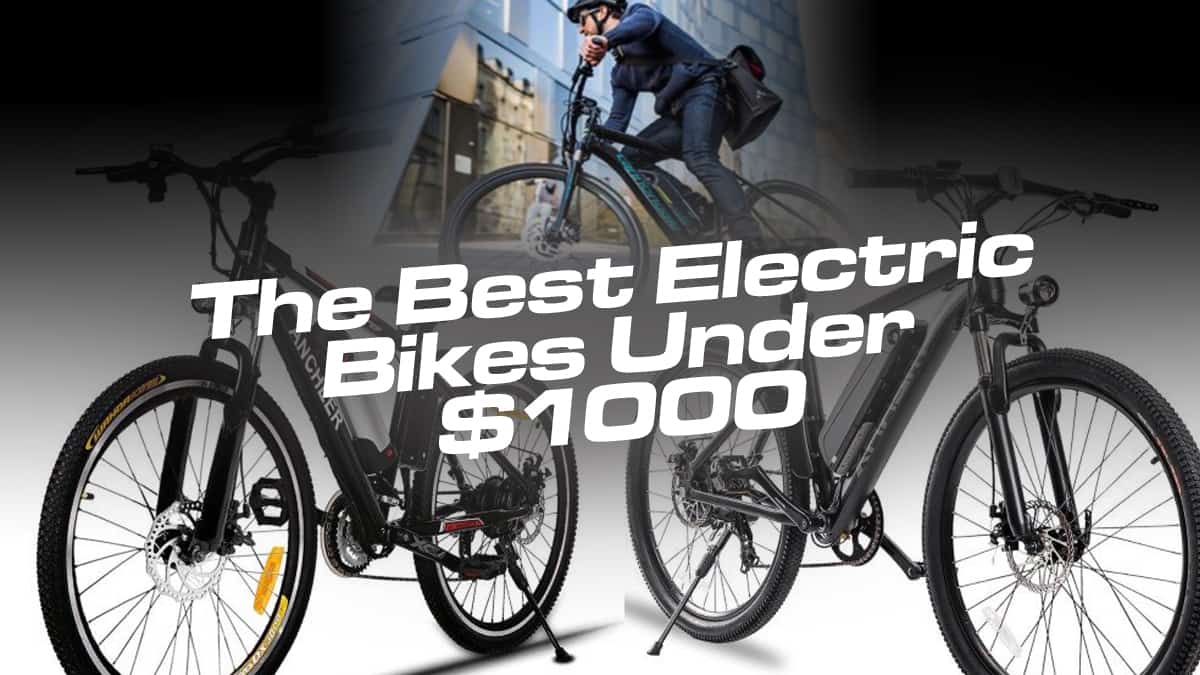 A traditional bicycle is a great tool of transportation for those who are on a budget. But what if you want automatic control and adjustable speeds without spending thousands for a car? This is where electric bikes come into play.
Say goodbye to the old and say hello to the future with electric bikes. These battery-powered bicycles offer more than a traditional bike. You can adjust the speed, monitor the battery, work in different kinds of terrain, and more. It's a bike with a modern twist thanks to extra functionality.
However, electric bikes cost a fortune. And you will probably end up with an empty wallet if you opt for one. But the price is still justifiable because of its features. And if you're looking for an affordable e-bike without breaking your bank account, then this article is for you.
Below, we'll give you e-bike recommendations as well as some factors to help you choose the best e-bike for you.
Top 3 products
The Top 10 best E-bikes Under $1000
Best Folding E-bikes
SwagCycle EB-5 Pro
Sale
SWAGTRON Swagcycle EB5 Lightweight & Aluminum Folding Ebike with Pedals, Black, 58cm/Medium
Price: $499.99The SwagCycle EB-5 Pro is a foldable ebike that suits teens and adults thanks to its adjustable height. It can hold a weight of up to 264 pounds maximum and can withstand different terrains thanks to its air-filled rubber tires. You can fold this ebike three times making it compact and easy to carry wherever you go. It also features an adjustable throttle so you can blast your way into the road in case you're running late for work, or just have appointments that you need to attend on time. It also features an "Autoguard" brake control technology that automatically disengage the motor to stop the bike immediately and prevent accidents. And thanks to its rechargeable li-on battery, you can use this ebike for up to 15.5 miles of busy roads, challenging trail tracks, and busy streets.
Standout Features
Autoguard brake technology Automatically stops the ebike immediately within a second even if you're going full throttle and prevent accidents.
Long battery life Ride to your heart's content up to 15.5 miles with different terrain.
ECOTRIC 20″ New Fat Tire Folding Electric Bike
ECOTRIC 20" New Fat Tire Folding Electric Bike Beach Snow Bicycle ebike 500W Electric Moped Electric Mountain Bicycles … (White and Black)
Price: $815.00Want a long lasting e-bike that can take whatever terrain it goes? The ECOTRIC Fat Tire Folding e-bike is just what you need. It features a 20'' X 4.0'' fat tire that is suitable for any terrain. So in case you are going for an adventure in the trail and deep down in the woods, rest assured that this e-bike will guide you on the way without stopping. It has a maximum speed of 20 Mph with an adjustable grip throttle as well as a 500W Geared Motor that gives enough power to operate this beast of an e-bike. It's made from aluminum alloy for that sturdy build quality and folds into two parts so you can carry it around with ease. What's best is that it is equipped with a 36V/12AH Removable Lithium Battery so you can replace it when needed. It weighs 57.3 pounds making it a little lightweight compared to its competitors.
Standout Features
Fat tire Durable fat tires that can withstand different kinds of terrain for a long lasting bike-riding adventure.
Removable battery Worried that the battery might die after months of usage? Fear no more with its 36V/12AH replaceable battery.
Best Fat Tire Electric Bikes
ECOTRIC Fat Tire Electric Bike
ECOTRIC Fat Tire Electric Bike Beach Snow Bicycle 26" 4.0 inch Fat Tire ebike 500W 36V/13AH Electric Mountain Bicycle with Shimano 7 Speeds Lithium Battery - Black/Orange/Blue (Orange)
Price: $919.00Here's another ECOTRIC e-bike that you will definitely love. It has a 500 Watt brushless rear motor that can operate up to 23 Mph and a 36V Lithium Cell along with a battery charger. Its tires are made with durability in mind. Instead of traditional tires, it features a 26 X 4.0 fat tire that can run in different terrains. There is a dual brake system which is the Outage braking system for the automated function and a mechanical brake that you can operate manually. These brakes can be combined together to put the e-bike into a full halt to keep accidents at bay. The ECOTRIC Fat Tire E-bike is also made from alloy for that top-notch durability. So rest assured that this e-bike will last long and can withstand the test of time.
Standout Features
Dual brake system Get the best of both worlds with the outage brake and mechanical brake function that will automatically stop the e-bike immediately in less than a second.
Blazing fast speed With a 500W brushless gear motor combined with a 36V battery, you can rule the streets for up to 23 Mph of speed.
ECOTRIC Fat Tire Folding Electric Bike
ECOTRIC Powerful 500W Folding Electric Bicycle 20" Fat Tire Alloy Frame 36V/12.5AH Lithium Battery Ebike Rear Motor LED Display (Black)
Price: $795.00A folding and fat-tired e-bike combined into one? Your search ends here with the ECOTRIC Fat Tire Folding Electric Bike. It has a 1/2 twist throttle that can make the e-bike run up to 20 Mph. The best part? It features a 20'' X 4.0'' fat tire that can smoothly run not only on rocky and muddy roads, but also snow as well. This e-bike is made with different weather conditions in mind. Not to mention, its aluminum alloy build makes it durable too. And it's also foldable too so you can carry it anywhere or place it on the back of your car without taking too much space. A 500W geared motor is just the tip of the iceberg because it is also combined with a 36V/12AH replaceable battery and a shimano 7-speed braking system too. Charging time for the battery takes about 6-8 hours and the maximum lifespan is about 18-23 miles.
Standout Features
The best of both worlds A folding e-bike with fat tires that can run into snow, rocky surfaces, mud, and sand? Count us in!
Ride longer With up to 18-23 miles of riding distance, you can go beyond horizons and explore new places you've never been before.
Swagtron EB-6 Bandit E-Bike
Swagtron EB-6 Bandit E-Bike 350W Motor, Power Assist, 4" Tires, 20" Wheels, Removable 36V Lithium Ion Battery, Dual Disc Brakes– Electric Bike 7-Speed Shimano SIS Shifting Built for Trail Riding
Price:$799.99Dual disk brakes, fat tires, and 7-speed gears? That's what the Swagtron EB-6 Bandit E-Bike is all about. It's the ultimate e-bike that's packed with all the essentials. It is a hybrid e-bike that you can use either automatic and manual. It also comes with a bell that acts as a horn as well. With the Swagtron EB-6 Bandit's 350W hub motor, you can get speeds of up to 20 Mph and conquer the road. And it's not just roads too! Thanks to its 4-inch fat tires, this e-bike can run smoothly on different kinds of terrain such as trails, rocky surfaces, and even snow. The 36V 7.8 Ah li-ion battery will keep the e-bike running for 20 miles non-stop. Charging time is also lesser compared to its competitors with a total of 4-5 hours. Not to mention, this e-bike is also rated IPX4. Which means it can withstand different weather conditions. No amount of storm or hail can damage this e-bike.
Standout Features
Shorter charging times Do more instead of charging more. The Swagtron EB-6 Bandit only takes 4-5 hours of charging time for the battery to be full so you can enjoy more bike-riding escapades.
IPX4 rating Bike under the raging storm thanks to its IPX4 rating, which makes the e-bike survive even the harshest weather conditions.
Best Electric Cruiser Bikes
NAKTO 26″ Adult Electric Bicycle
NAKTO 26" Adult Electric Bicycle for Men High-Speed Brushless Motor, V Brake, Sporting Shimano 6-Speed Gear, Removable 36V 10A Lithium Battery Charger and Lock (Male Black)
Price:$649.99A lightweight e-bike that lasts long is what the NAKTO 26" Adult Electric Bicycle is here for. It's made with comfort and durability in mind thanks to its streamlined carbon steel frame and rust-proof coating. It also has a shock absorber in the form of a high-quality cushion for a smooth experience when you ride along rocky paths. It also features an adjustable seat to suit different heights too which is lacking in some other e-bikes. Worried about night rides? Fear no more with its LED light and bike bell up front so you can alert if ever someone is in the way when you ride into dark paths. When it comes to power, it has a 36V 10A lithium battery with 500-650 Cycles and a 250W brushless motor. Charging time is only 3-4 hours thanks to its fast charger that is included in the bundle.
Standout Features
Ride towards the dark With a powerful LED light combined with a bike bell, you can enjoy night time rides without worrying of someone getting in your way.
Long-lasting battery Thanks to its 36V 10A battery and a fast charger, you can enjoy more bike-riding sessions without waiting too much for it to charge.
NAKTO 26″ 250W Cargo Electric Bicycle
Sale
Standout Features
Dual modes Choose between fully automatic e-bike mode or manual assisted mode. Or just combine both of them to utilize the e-bike's power.
Removable battery Worry no more about performance issues thanks to its replaceable battery. Now you can slap a new one if the stock battery starts to show some issues.
Cyclamatic GTE PRO Step-Through Electric Bike
Cyclamatic GTE PRO Step-Through Electric Bike with Lithium-Ion Battery
Price:$749.99Looking for the best step-through e-bike? Then the Cyclamatic GTE PRO is the one you shouldn't miss. It features a 700C alloy frame, non-removable sealed battery, adjustable seat, and a 250 watt brushless motor with a maximum speed of 15 Mph. The best feature of this e-bike is its step-through design. With a design like this, there is no need to climb over high frames and you can get on and off easily without hassle.
Standout Features
Step-through design The frame of the Cyclamatic GTE Pro is step-through so you can easily get on and off the bike without the hassle of raising your legs too high.
Durability at its finest Thanks to the 700C alloy material, this e-bike is made with durability in mind and will stand the test of time.
Best Compact Electric Bike
SwagCycle Pro Folding Electric Bike
SwagCycle Pro Folding Electric Bike, Pedal Free and App Enabled, 18 mph E Bike with USB Port to Charge on The Go (Black)
Price:$399.99Looking for a compact electric bike that is lightweight and easy to use? Say no more with the SwagCycle Pro Folding E-bike. And since it is compact, this e-bike is fully automated and doesn't even have foot pedals. That means you're going to rely more on its automatic power. It has a robust frame and can carry a maximum of 264 pounds. The handlebars and stem are also adjustable so you can store it easily almost everywhere. And the best part? It has a dedicated app where you can optimize and control its speed. However, the bike is only suitable for flat terrain, making it a street bike only and not for adventurous stuff like trail or snow biking.
Standout Features
Take control via the app It's the only e-bike in this list that has a dedicated app.
Light and compact This e-bike's ergonomic design makes it light and compact to use. Not to mention, it's collapsible stem and handlebars are equal to easy storage.
Best Electric Mountain Bikes
ANCHEER Power Plus Electric Mountain Bike
ANCHEER Power Plus Electric Mountain Bike, 26'' Electric Bike with Removable 36V 8Ah Lithium-Ion Battery, 21 Speed Shifter (Black)
Price:$599.99Want a durable mountain e-bike that lasts long for years? Look no further with the ANCHEER Power Plus. Get the best of both worlds of carbon steel and aluminum alloy with this mountain e-bike. Now that's what you call uncompromised durability at a price that won't hurt your wallet.The ANCHEER Power Plus comes with a 36V 8Ah removable battery and an easy charge system that powers up the device without waiting for several hours. The maximum speed can go up to 15 mph thanks to its 250W high speed brushless gear motors.
Standout Features
Made with durability in mind The combination of carbon steel and aluminum alloy makes this the perfect mountain e-bike with unmatched durability.
Easy charge system Say goodbye to longer charging times with its fast easy charge system.
Aceshin 26" Electric Mountain Bike
Standout Features
All-terrain tires With tires that are made with different kinds of terrain in mind, you can go almost anywhere ranging from smooth surfaces down to rocky and muddy trails.
21-speed transitioning system Adjust the speed of the e-bike at your own will to an optimal level and prevent uncanny accidents with the built-in brakes.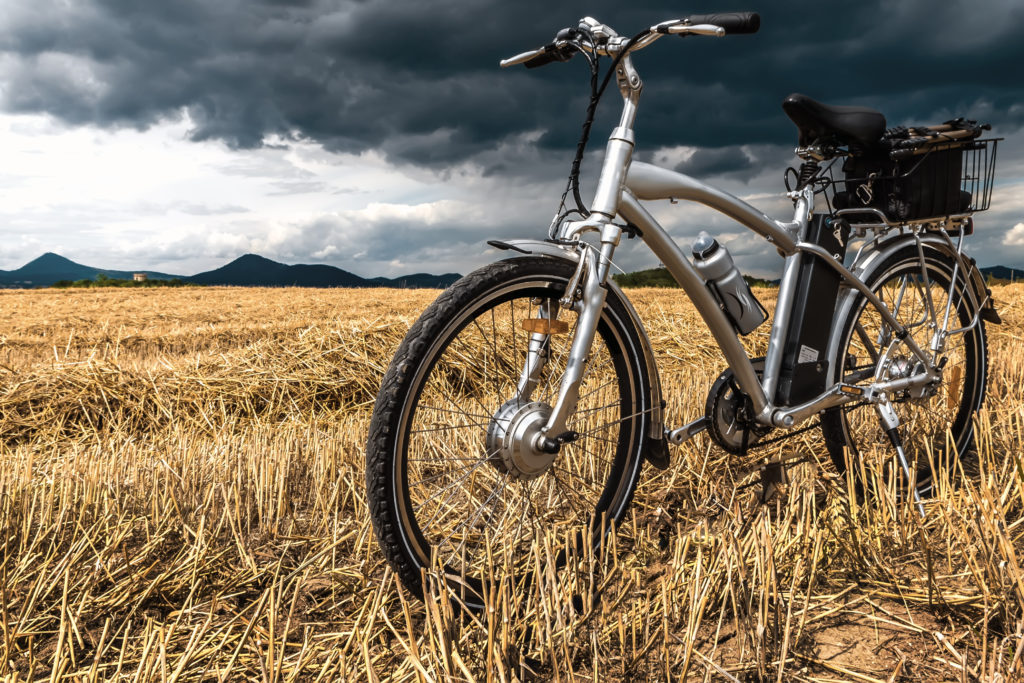 Factors to Consider in Selecting an e-Bike
Bike Style
Always opt for an e-bike that is ergonomically designed and not too complicated to look at. Having a good e-bike design not only looks pleasing to the eyes, but also comfortable to ride on to as well.
Motors
The motors are the core of the e-bike for it to run. Higher motor watts is equal to higher motor speeds. Make sure that the motor of the e-bike you've been eyeing on is at least 250W so you'll get the best optimal speed.
Batteries
What's an e-bike with a low-quality performing battery? Choose an e-bike that can last long on a single charge. Don't settle on e-bikes with batteries that only lasts for a few hours and so.
Charging Times
The lesser the charging time, the more fun and adventure you can have. Don't you just hate it when you are on the road and your e-bike suddenly stops out of nowhere? So what's the next thing to do? Go home and charge it for hours. Always opt for an e-bike that has a built-in fast charging system or ones that come with a high-watt charger.
How to prevent your electric bike from getting stolen?
We can't deny that an e-bike is a luxury item, which makes it a favorite subject among thieves. If you're at home, do not leave your e-bike outside. It's not a traditional bike that you can just display outside your home and hope no one is going to take it.
If you're at work, secure your e-bike with an alarm-enabled lock. Yes, this one works differently from traditional locks. If someone tries to unlock it, an alarm will be triggered automatically. Make sure to park your e-bike in well-lit areas too.
FAQ
Do you need a licence for electric bikes?
Since e-bikes operate just like other vehicles that are battery-powered such as cars, then yes. This will also depend on the location you are living too. There are some regions or countries that don't have any strict laws for e-bikes.
Do you have to pedal electric bikes?
This depends on the e-bike. There are some e-bikes that have both a pedal and automatic function, and there are also others that don't come with a pedal. It depends on what kind of e-bike you opt for. It is highly recommended that you should get an e-bike with a pedal. So that you can still use it when the battery is out of juice in the middle of the road.
Do electric bikes have gears?
Yes, e-bikes have gears just like other battery-dependent vehicles. The more gears an e-bike has, the faster the speed.
Electric bikes: How fast can they go?
It depends on the motor, the battery, and the gears of the e-bike. Ideally, the higher the numbers the better the performance. So when it comes to choosing e-bikes, always opt for ones that have a higher battery capacity, gears, and motor speed.
Electric bikes: How far can they go?
E-bikes can go as far as you want depending on the battery capacity. Choose an e-bike that has a battery of at least 36V and 10A. This capacity is enough for 15 miles of e-bike traveling.
How much are electric bikes?
The price of an e-bike depends on its features and materials used. Ideally, costlier e-bikes have more features and better power capacities. Prices can range from $400 up to $1000 or more depending on the brand of the e-bike.
How long do electric bikes last?
Typically, an electric bike can last for 5 hours or more depending on the usage. E-bike usage is often measured in miles. So the longer the mile, the longer it will last. You will notice it on e-commerce sites where they will always mention "miles" in the listing page.
How much do electric bikes weigh?
Electric bikes are usually heavier compared to their traditional counterparts. This is because there are a lot of equipment involved such as newer brakes, gears, motors, and batteries. Lightweight e-bikes are usually the foldable ones because they are designed with easy carrability in mind.
Which are the best electric mountain bikes?
The best mountain e-bikes depend on the brand. "ANCHEER" is a reputable brand in the e-bike industry and they are famous because of its top-notch durability in their e-bikes. "Aceshin" is also worth mentioning too. This company is known for its ergonomically-designed mountain e-bikes that are stunning to look at.
Why are electric bikes good?
Electric bikes are better than traditional bikes because of their extra functionalities. This explains why e-bikes cost twice, or not thrice the price of a traditional bike. But at least you get what you paid for. It also encourages you to exercise more too. Some e-bikes come with a built-in display where it tracks your time, distance, and your heart rate.