Why a guide to help identify the best electric scooters? With the explosion of last-mile transportation companies (i.e Bird and Lime) in the United States, more people than ever are aware of the benefits electric scooters provide. Traditionally someone who uses public transit would be forced to walk or hail a cab to complete the final leg of their journey. However, with the availability of an electric scooter for hire, all one has to do is scan a barcode on their phone and they are off!
Because electric scooters are relatively new in the market no one knows which scooters are good and which ones are pure junk. So we created this guide to help you make an educated decision when purchasing your very own electric scoot.
Best Electric Scooters
The following list of electric scooters is reviewed based on a variety of factors such as price, specifications, pros, cons, special features, etc. Aside from each item's pros and cons, a table for every item's top speed, weight limit, charging time, and motor type are added to better help you determine the best electric scooter for your own needs.
2.

Macwheel
–

Best Electric Scooter Under $500
3. VIRO Rides 550E – Best Electric Scooter Under $200
4. UberScoot – Best Electric Scooter for Heavy Adults
5.

Segway Ninebot MAX
–

Best Adult Electric Kick Scooter
6.

Gotrax XR Ultra
–

Best Affordable Electric Scooter
7.

Razor E300
–

Best Electric Scooter for Climbing Hill
8.

Gotrax GKS
– 

Best Electric Scooter for Kids
9. Razor E100 Glow – Best Electric Scooter for Teenagers
Our Top Picks: Best Electric Scooters
Honorable Mentions: Other Good Electric Scooters
Here are our top electric scooter picks in order from best to our least favorites. The ranking system is based on prices, value, durability, quality, battery life, and versatility. Enjoy these scooter reviews and if you have any questions feel free to reach out to us!
Another favorite among fans of the electric scooter is the second generation of Segway's Ninebot ES1. It is fitted with 8" tires and surprisingly, it has no chain engines that make it stand out from most electric scooters in the market. It is made even better with its sleek and light kick scooter design.
Segway Ninebot ES1 Gen2 Electric Kick Scooter, Lightweight and Foldable, Upgraded Motor Power, Dark Grey (New Version)
Sharing the Future of Micro Mobility: With an upgraded motor of 300W, the Segway ES1 Gen2 KickScooter can reach to 15 mph, travel up to 15 miles and accommodate a max load of 220 lbs. It help us escape heavy traffic and revolutionizing the way we ride.
Lightweight & Foldable: With a total weight of 24. 9 lbs and the one-click folding system, the Segway ES1 Gen2 KickScooter can be carried with one hand. Easy to fold and store in a car or on public transport, making it a perfect travel companion.
Safe & Comfortable Riding: Front wheel shock absorbers equipped with large solid tires provide maximum rider comfort. The mechanical and electrical anti-lock braking system ensures an efficient, responsive braking distance of just 13. 1ft.
Superior Technology: Equipped with LED display, bluetooth capabilities, cruise control, mobile APP connectivity for firmware updates and more. Quality inspection has been conducted for every scooter before sale (some test data may be on the app).
In comparison to its predecessor ES1, the second generation now uses rubber wheels – you no longer have to worry about tire pressure, the risk of getting flat, and the hassles of replacing them in the middle of a ride. Moreover, the tires at the front are 8 inches in diameter while the rear wheels close to 7.5"
You might be surprised to find that there is no bulky space underneath the deck since the power cell that runs its 700-watt motor is securely housed in the front post. Weighing only 24.9 lbs and with the one-click folding system, you can carry it and store it in most public transport.
Heavy coil shock absorbers housed in the front wheel keeps your travel safe and comfortable, even as you reach its top speed of 15MPH over a 15-mile long route. The deck is lined with anti-slip rubber matting which is guaranteed to keep you on your feet when you cruise or when you hit a snag, it keeps you from wobbling. It also includes the electrical and mechanical anti-lock braking system that comes with most Segway electric scooter models.   
Lastly, as an added precaution, it has LED headlights and small LED near the base, keeping the path in front of you well lit while also keeping you visible to other motorists who might share the road with you. It also allows you to choose your desired speed for cruise control via the LED screen that rests in between the handlebars. You no longer have to play with the accelerator paddle in trying to get that right speed.
While it does come with its own battery pack, most riders will recommend getting a second battery pack. With the Ninebot ES1 Gen 2, swapping battery packs is easy and keeps you going without having to worry about your consumption or your remaining charge. 
Pros:
LED lights in the base provide ample visibility

Slim design for the chassis and the deck, which is lined with anti-slip rubber mat

Lighter than most electric scooters available, at only 24.9 lbs

Shorter charging time
Cons:
No tail lights included

Slightly more expensive than most models, averaging close to 500 USD.

Lower top speed and battery capacity
| | |
| --- | --- |
| Top Speed | 15 MPH |
| Weight Limit | 220 lbs |
| Motor Type | 300-watt motor |
| Charging Time | 3.5 hours |
One of the leading manufacturers of electric scooters, hoverboards, and electric bikes, Gotrax rallied people to love their daily commutes with the GXL V2. While it is largely similar to its predecessor, the GXL, in terms of size, weight, and design, V2 (or Version 2) greatly improves on the brakes. While the original GXL incorporated an electric brake supported by a foot pedal for decelerating or stopping, GXL V2 replaces this with a hand brake setup.
It has also worked on its secured mobility by adding a new safety bolt to the scooter's reinforced rear wheel fender. Users will feel the difference with the folding mechanism now made easier and faster. However, it runs on 8.5-inch pneumatic tires and is powered by a 250-volt electric motor. It will allow a driving range of up to 12 miles on one full charge at a top speed of 15.5 miles per hour.
While it looks light and compact, it easily carries passengers up to 220 lbs. You should take note of the deck though, it is also slim and appears quite narrow so riders with larger feet or those with bulkier shoes might find a little difficulty staying on it. Make sure you opt in for a second charger to charge your scooter at home and at the office. Find out more in our detailed Gotrax electric scooter review
Pros:
Hand brakes allow for more control in decelerating or stopping

Improved locking mechanism when putting it away, so you can securely store it in small spaces

Fitted with an ultra-bright headlight for better visibility

Quick charging time
Cons:
Lower capacity motor unadvisable for uphill roads

The narrow deck might be uncomfortable for people with larger feet or those wearing larger or bulkier footwear

Short travel range
| | |
| --- | --- |
| Top Speed | 15.5 MPH |
| Weight Limit | 220 lbs |
| Motor Type | 250-watt motor |
| Charging Time | 4 hours |
14. Glion Dolly –
 

Best Electric Scooter for Commuting
Glion's foldable dolly system scooter has been on the market for a few years now and is still a great performer. In fact, the only reason that it isn't topping our list is due to the lack of upgrades since this scooter was released. In regards to power, the Glion has 600 watts of power and a top speed of 15mph, equal power to any other scooter on this list.
Battery life is such an important area to consider when it comes to electric scooters because with no battery life you're not going anywhere. In fact battery life is an area the Glion outperforms the #1 electric scooter on our list the GoTrax, Glion delivers an additional 3 miles on average per charge in comparison.
Weight for the Glion is pretty standard it weighs in at 27lbs slightly heavier than some of the other scooters reviewed. One unique selling point that Glion has relied on is the "dolly system" where a rider can fold the scooter down and roll it instead of worrying of carrying it. In a nutshell, the Glion scooter was an amazing scooter 3 years ago but due to the lack of upgrades its only average in 2021.
Overall though buying the Glion electric scooter is still a great choice but with the $629.99 price tag, your money could be better used towards the GoTrax.
Next up on the list is the Swagger electric scooter by Swagtron, when this scooter hit the market it was on FIRE. Never had an electric scooter been so easily attainable by any and everyone. When first arriving in 2021 the Swagger was at an industry low of $500, this was major at a time when the average price was $900 and up. With such a popular product Swagtron initially had a hard time keeping up with demand and product support.
Many customers have had problems getting in contact with Swagtron for customer support and spare parts. One person who we got intel from even claimed that "if something breaks it will stay broken". Goes to prove our point of VALUE when looking for scooters not only the initial purchase price.
Today in 2021 Sawgtron has upped their game and improved the product. However, it does seem that they are interested in a lot of products these days than their electric scooter. It's important to know that the price point for this scooter has increased, we believe this is to cover the increased quality and after purchase support of the scooter. At the end of the day, this scooter has good power, decent battery life but it is the Lightest electric scooter on our list weighing in at only 17 lbs.
For someone looking for something versatile, the Swagtron scooter might be the one for you with its solid performance and ultra-low curb weight.
16. Xiaomi Mi – Best Electric Scooter for Long-distance
The Chinese tech giant extends past their smartphones and into electric scooters with their flagship product. Design-wise, it also sports the common matte black frame but minimizes the housing underneath the deck. Marketed to be "as simple as it looks," Xiaomi's first foray in the electric scooter market does offer something stylish and quite comprehensive to use, regardless if you are an experienced rider or just starting out with these rides.
Combining form and function, its handlebar fork sports a 4-LED indicator for battery level, a pedestrian bell and a pair of 1.1-watt headlights. Additionally, its rear fender is also fitted with a red LED taillight that keeps you visible even at night.
Like most high-end electric scooters, it also comes with a dedicated app that allows you to activate cruise control and soft-lock your scooter. You can also monitor your stats like speed, power, and mileage.
Xiaomi's e-scooter is also powered by a 250-watt hub electric motor that peaks at 15.5 miles per hour and can take you as far as 18.6 miles on one full charge. For the braking system, it does so with a combination of a front-wheel regenerative electric brake and rear-wheel disc brakes. You can even configure the strength of the regen braking with three different settings.
Like most items in this market, the Mi e-scooter also does not have a suspension setup integrated into the design. However, any bump or shock in the road will most likely be absorbed by its 8.5-inch pneumatic tires. However, you might want to keep these road irregularities to a minimum as large obstacles and potholes can still throw you off your balance.
After your comfortable ride around town, neatly fold the handlebar downwards and lock it in place through a hood in the rear fender. Its secure holding mechanism allows you to carry the Mi Electric Scooter through the length of the handlebar without anything else to worry about.
Pros:
Complete with both headlights and taillights

A combination brake system that is further customizable

Lighter than most electric scooters available
Cons:
The weaker motor makes uphill climb difficult
| | |
| --- | --- |
| Top Speed | 18.6 MPH |
| Weight Limit | 220 lbs |
| Motor Type | 250-watt motor |
| Charging Time | 5 hours |
17. Hiboy MAX – Best Electric Scooter for Adults
One of the brands leading the electric scooter market is HiBoy, making yet another surprising entry with their third model, the HiBoy Max. It boasts superior performance with its 350-watt motor that can tackle 15-degree steep hills at 18.6 miles per hour. 
It comes in a design that is loved by tech reviewers and riders everywhere. With the sleek body and solid tires, HiBoy definitely covers safety on all sides with this one thanks to its braking system paired with a front-mounted shock absorber.
The HiBoy Max uses solid tires with a honeycomb design, keeping you far from flat tires while keeping the ride comfortable. Even the design aids in an ergonomic riding experience with wider anti-slip pedals for a bigger area of support. It also comes with a pair of headlights for better visibility, even during foggy weather or nighttime.
For its price, it is surprisingly packed with features such as a wide and easy to read LED display. Keep your conditions on track by periodically checking out your speed, the battery levels, and the mode at which you are currently running – beginner, normal, and sport.
These modes control the maximum speed at which the HiBoy Max can go. It is perfect for places with speed limits or for a family with users of varying ages and skill levels. The LED display also shows bluetooth connectivity status, which you can pair up with your phone via a dedicated app.
It also has a cruise control option that you can activate by keeping your foot on the pedal for six seconds, and an audible beep confirms the feature activated. It also has double brakes to meet your safety requirements – a hand brake for gradually stopping on the right side and a twist-grip brake for a sudden full stop on the left side.
Get on buses or trains without any problem with its portability. The HiBoy Max boasts an innovative 1-second folding mechanism you can initiate with a foot actuator. By simply stepping on the latch, you get to see the scooter collapse and fold quite nicely as you prepare to pick it up. Weighing only 34 lbs, you can carry it one-handed after folding. After unfolding, you can be sure that everything is locked into place since the latches make a loud click. 
Pros:
Two separate braking systems depending on your needs

Larger footing support with its wider base

Cruise control feature, speed trigger can be changed via the smartphone app

Overall, price-efficient at around 440 USD
Cons:
Slightly heavy to carry around.
| | |
| --- | --- |
| Top Speed | 18.6 MPH |
| Weight Limit | 220 lbs |
| Motor Type | 350-watt motor |
| Charging Time | 6 hours |
18. Razor EcoSmart – Best Electric Scooter for Adults with Seat
If you are looking for an environmentally-conscious mode of transportation with a homely feel, Razor's EcoSmart Metro Electric Scooter has your back with its bamboo deck and adjustable handlebar rake. What's more, it even has a particularly handy basket for running errands and a passed seat to make your neighborhood shopping even more enjoyable
Most of its electrical and mechanical parts are stored safely and securely under the deck, including a 500-watt, 36-volt, high torque motor that can carry you comfortably even on uphill slopes. An added point to the Razor EcoSmart being eco-friendly aside from the emission-less transport is that it stays relatively free from noise even when loaded or going uphill.
It has a rear-wheel-drive for increased safety, increased traction, and better control. It also uses a rear braking system, allowing you to grind to a halt in a few seconds.  Moving you smoothly around the neighborhood are 16-inch pneumatic wheels which are just the same as most bicycle wheels.
The metal spikes on the interior of the wheels distribute the load properly and keep you running for longer. Unfortunately, like riding a bicycle, you get to feel most bumps since the EcoSmart does not have suspension systems installed in it.
Pros:
It is relatively cheap at an average of 440 USD

Tires are 16-inch tires on metal spoke wheels

The bamboo deck is surprisingly sturdy

Wide, comfortable seat that is adjustable together with the handlebar
Cons:
The battery pack is bought separately in some places

It has no suspension systems installed
| | |
| --- | --- |
| Top Speed | 20 MPH |
| Weight Limit | 220 lbs |
| Motor Type | 500-watt high torque motor |
| Charging Time | 8 hours |
The MegaWheels electric scooter boasts efficiency, power, and versatility. But how does this scooter really measure up to these lofty claims? From our tests, this is a solid little scooter. While it claims top speeds of 14mph we managed to only reach about 12 mph. This isn't a bad thing because our test subject was 6'2″ and weighs about 206 lbs. A smaller person around 170 lbs would probably be able to reach the top speed.
In the actual product, overview MegaWheels suggests this scooter for riders under 150 lbs. So that means the scooter outperformed its claims. Another attractive feature of this electric scooter is its price tag at only 299.99 $229.99 this is a steal. Battery life is an area for some concern though, the manufacturer's suggestion the scooter is capable of 5-8 miles of run time for a 150 lb rider.
Anyone who weighs in a little heavier is going to dramatically lower the trip length. On the bright side though this scooter weighs less than 20 lbs, so for portability and travel you really can't beat the MegaWheels Electric Scooter. Just make sure you buy the optional warranty!
20. Hover-1 Alpha – Best Portable Electric Scooter for Adults
If you are looking for an electric kick scooter that combines style and function, the Hover-1 Alpha might be the item for you. Its lightweight and sleek design can carry more than other electric scooters with a rated maximum load of 264 lbs without the slightest signs of slowing down. It is fitted with 10-inch pneumatic tires that can absorb most bumps without compromising your stability.
While it appears smaller and lighter than most, it packs more punch with its 450W brushless DC motor powered by a 30-cell Lithium-Ion battery pack – designed to keep you running up to 17.4 miles per hour for up to 12 miles in a single charge. It also incorporates mechanical and electrical brakes with a disc braking system to help you stop, even when on short notice.
Its small and thin deck compartment houses most of the electrical and mechanical parts, made visually appealing with the addition of blue LED lights installed underneath.
Pros:
Blue-white LED headlamp included which increases nighttime visibility

Blue LED under lights make you visible to others, not to mention makes it cool together with the black frame.

450 watts translate to more power, even on uphill roads.

Higher load capacity

Reasonably priced for around 400 USD
Cons:
Replacement parts are difficult to come by

Batteries drain quite fast
| | |
| --- | --- |
| Top Speed | 18 MPH |
| Weight Limit | 264 lbs |
| Motor Type | 400-watt motor |
| Charging Time | 3 hours |
Why Electric Scooters?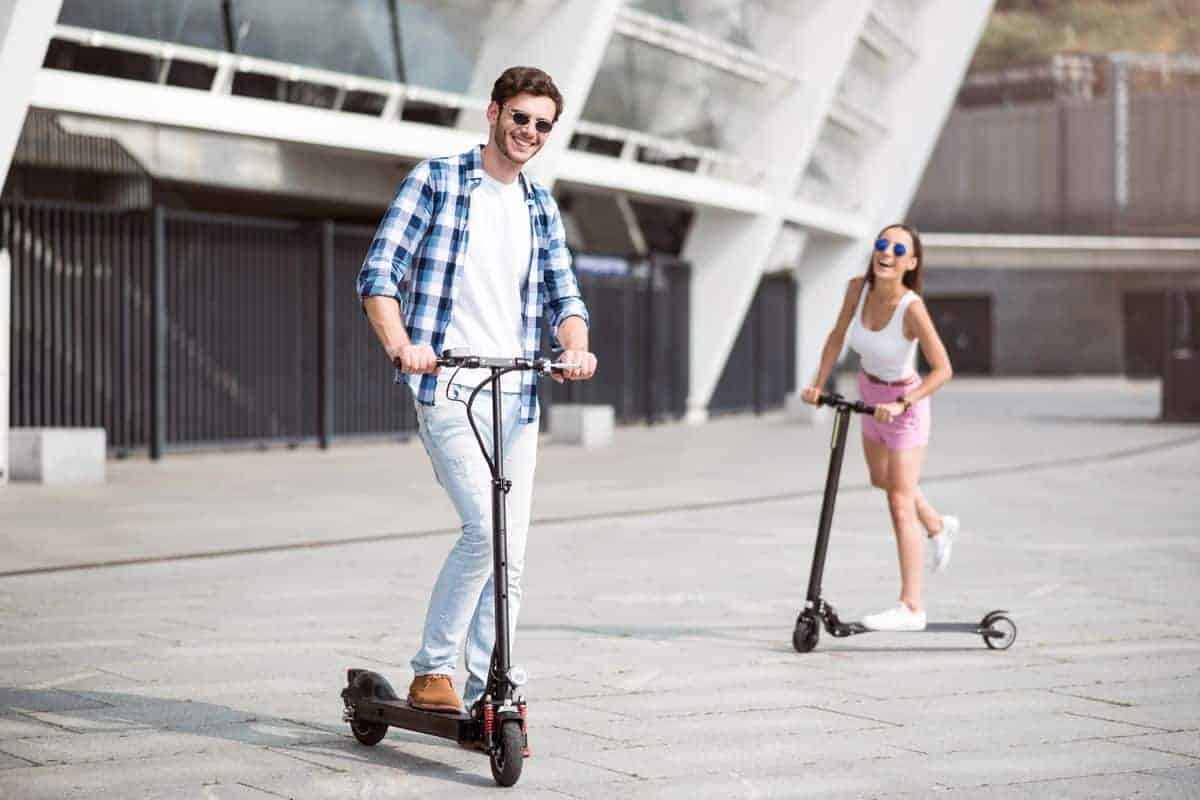 Just as we alluded in the opening of this article electric scooters are valuable transportation vehicles. They are convenient, easy to operate, efficient, and relatively inexpensive considering the value received. Think about the cost of rideshare for a moderate commute of 10 miles one can expect to pay around $13 to $15 dollars even in the oh so inconvenient "pool" option. Now compare that to taking public transit for $4 to $7 then adding in a 10-minute scenic scooter ride.
Doing the simple math that is only around an $8 difference but that math works going 1 way. So multiply that by 2 then by 5 for a week's worth of travel (which is how often the average person travels to work). This leaves us with the grand total of savings of $80 per week using an electric scooter versus Uber or Lyft Pool services.
But is that enough savings to justify buying a scooter? The second scooter in our "Top Picks List" is only around $400. 400 divided by 80 is equal to 5, so that means in 5 weeks your scooter would be paid for. Not to mention the scooter will surely provide an additional way to make trips on the weekends too! Just think you could go on "unique dates" with your dream girl holding on to you as you glide through beautiful scenery, beats the movies any day of the week!
How Much are Electric Scooters for Adults?
Best Lower Priced Electric Scooters
"Only $1 to Start" is an appealing offer but even that cash adds up multiplied by 5 weeks after week. So the question comes up is it time to buy your own personal electric scooter? You're the only one that can answer that question but we will help you weigh the pros and cons of electric scooter ownership and if it makes sense to bite the bullet on one of these convenient energy-efficient vehicles.
Prices on scooters range quite a bit depending on the scooter you decide to buy but that doesn't mean you need to spend an arm and a leg on your scooter. The lowest-priced scooters don't always equate to the best buy. Everything depends on the value, that is what you get for the money.
Just because one scooter costs $200 and another one costs $500 don't jump toward the lower-priced one if you can afford the nicer one. There is an old saying "You get what you pay for" and when buying electronics especially one you'll rely on for transport you don't want to not get what you didn't pay for and be left stranded.
Frequently Asked Electric Scooter Questions
When were electric scooters invented?
Who invented electric scooters?
How do electric scooters charge?
Electric scooter charge relatively simply. All you have to do is plug your charger into a compatible wall outlet. After that just find your scooter's charging port and plug the male end into the female charging port. Typically every charger will have a light indicator system on the charger itself that will change from "Red" which usually means charging to a "Green" or "Blue" meaningfully charged. 
Do you have to register electric scooters?
Currently, there are no states that require electric scooters to be registered. However, with the popularity increase in the industry, we wouldn't be shocked if states started to cash in on the market by requiring plates, registration, and other taxes.  Where are electric scooters legal? Just to confirm New York state has a banned status on electric scooters.
Other cities like San Francisco may temporarily ban rental electric scooters due to some of the foul things people have been doing to them including rubbing them down with poop, burying them in the sand, burning them, and hanging them on telephone poles.
How far can Electric Scooters go?
Buying an electric scooter you need to know exactly what your needs for that scooter are going to be. How far is your last mile commute? What is the terrain like? Knowing the answers to these questions will help you make the most educated decision when deciding which scooter to buy. Ultimately you'll want your scooter to meet your needs!
So how far do scooters go? There is no cut and dry answer because someone lighter is going to be propelled on the scooter faster and further. Due to this fact, we will speak in averages. On average most scooters will get you 12 to 15 miles per full charge if you have a daily commute that is greater than these numbers you'll want to purchase an extra charger to keep at your place of employment. Doing so will allow you to charge up in between rides.
If your only concern is how far your scooter can go on one charge and no other factor really matters. Then the NANROBOT D4 might be for you. This scooter is massive and heavy but they are good for 40 miles per charge! However, it's important before you run off and get one to realize that these bad boys weigh in at 70 lbs!
How fast are electric scooters? Most electric scooters will reach speeds of 15 mph. There are some larger less versatile scooters that are HEAVY that will reach higher speeds up to 40 mph. But for last-mile commute, no one wants to lug around a Giant 40lbs behemoth. 
What stores have electric scooters? Right now more and more electric bike shops are carrying electric scooters. Their expertise in electronics makes for good places to buy them too. Most electric bike stores will have a service department to help you maintain your scooter for the duration of your ownership. Finding a bike shop that fixes electric scooters is great because having to ship scooters back and forth for service can be a headache. 
How much are Bird Electric Scooters?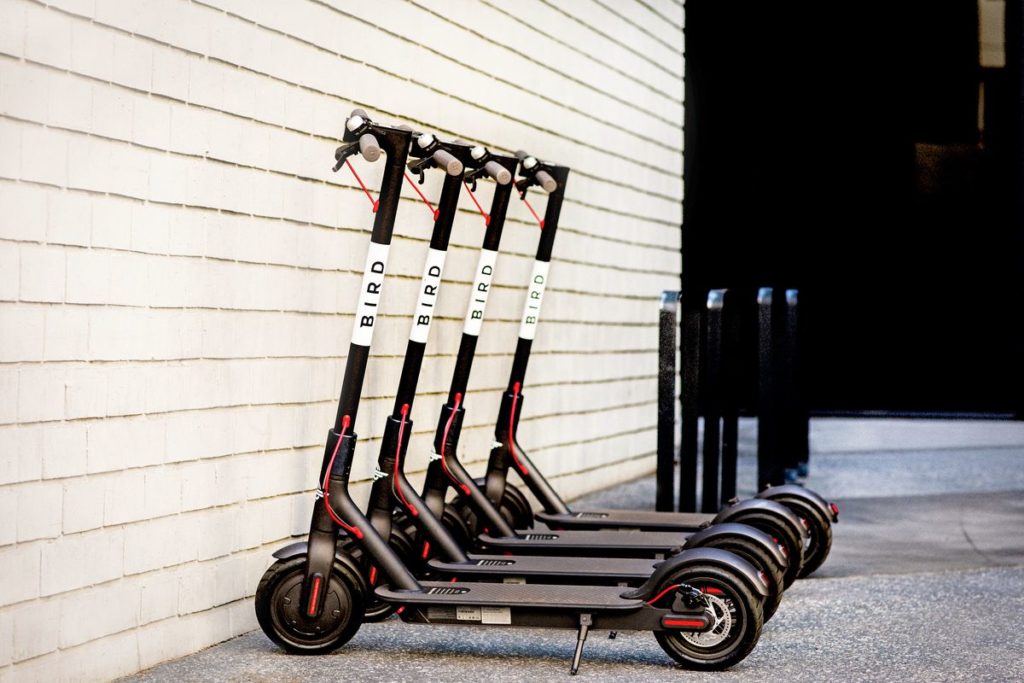 Bird Scooters seem to be on the corner of every developed city and people love them. The Bird is like the cool scooter to ride not a lot of logos or promotion just good performance and a sleek straight-to-business look. Frankly, people are tired of having to rent them every day. How much does it cost to own your very own Bird Scooter? Well since Bird doesn't sell them direct to the consumer you need to find the factory that sells them to Bird.
Finding the legit factory might involve going to China and asking a lot of questions. So to avoid plane tickets and visas you can benefit from our investigative work. After looking through the various scooters available from top to bottom it turns out that the GoTrax electric scooter is actually the Bird scooter with different branding!
So basically you'll get the same performance, same battery life, the same everything with no rental fees every just your very own Bird Scooter that caters to you, no more coming outside and having someone else ride off on your scooter.
The Fastest Electric Scooters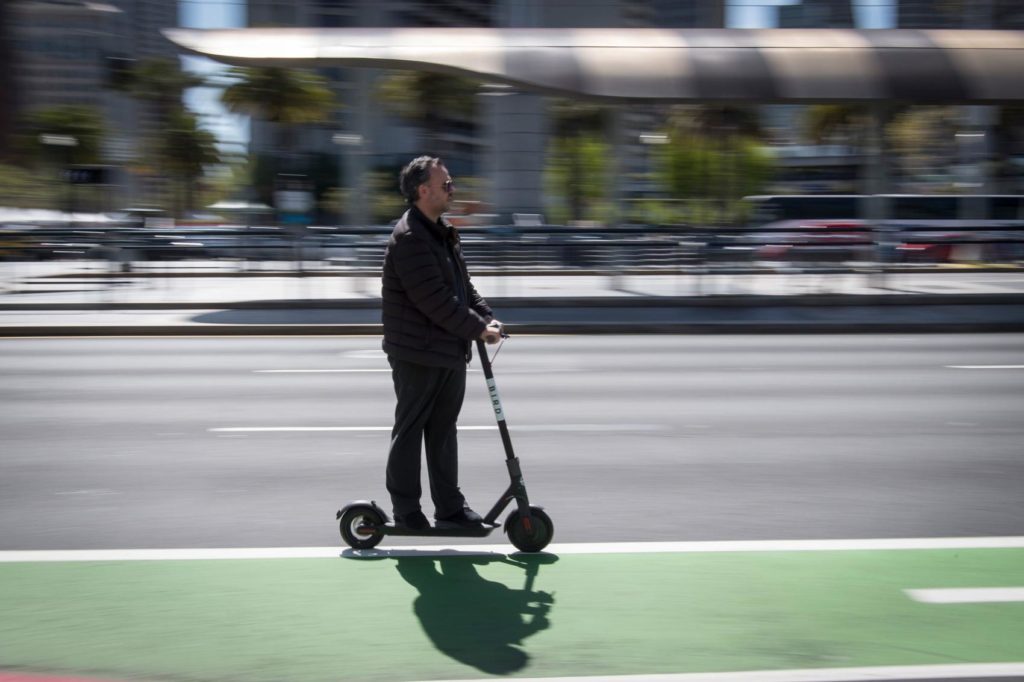 Speed is relative to power and weight, but let's face it more power is equal to more speed! Here are the fastest electric scooters out there.
#1 Pick for Speed
Factors to Consider in Finding the Best Electric Scooter
To further help you decide on finding the best electric scooter for you, here are some of the most important factors you might want to include in your decision-making process.
Quality
it is the top criteria and is the one most difficult to follow, mainly because better quality often translates to higher prices. While the market is now flooded with foreign-made off-brand scooters, most of them are poorly manufactured and are bound to break down after a few weeks' worth of use. Spare yourself the disappointment and invest in quality-made scooters. Ask a dealer and as much as possible, stick to brand name manufacturers.
Speed
electronic scooters are not motorcycles, in case that had to be pointed out. The best items in the market in terms of speed can go up to 25 miles an hour, with most of the products going in the 15 to 18 miles per hour range.
It is important to note that the rated top speed of an electronic scooter is one measured under controlled and ideal conditions, You can expect a decrease in the speed based on the battery charge, tire pressure, road elevation, and the weight of the load on it. Usually, motors with higher power rating can get you faster travel times.
Range 
the travel range refers to the distance your electronic scooter can take you within a single charge. The typical values go from 8 to 20 miles and are again affected by the same factors which affect speed. An electric motor with a larger battery capacity or a more efficient driving system can get you a better travel range.
Battery
the power storage device dictates the amount of juice you can expect from your new commute. You might want to consider lead-acid batteries if you don't mind the longer charging time in exchange for a longer lifespan and safety from combustion risks. On the other hand, the lighter lithium-ion batteries charge faster and are relatively lighter, but requires a little care when it comes to exposure to heat.
Frame and Body
the material at which the electric scooter is made is also an important factor in choosing. You have to take note, however, that if it is made with extremely durable materials like steel, expect it to be heavy. On the other hand, if it is both light and durable, it will definitely get back to you via the price tag.
Some scooters prefer to get their frame made in plastic, which is lightweight but prone to cracks and breakages. You can make considerations based on the expected load you will put upon the scooter. Meanwhile, the deck can also be made of the same materials but make sure to choose a deck that is comfortable and safe to ride on.
Brakes
Every scooter employs a braking system of some sort, primarily in compliance with existing safety requirements for electric scooters. The most common types include caliper, drum, disc, and hub. Often, these are used in conjunction with one another or the front wheels employ one type of brake and the rear wheel uses another.
You would want to note of models that offer an automatic throttle shut-off system that cuts power to the engine while you are braking. This is a safety feature, that, in the event of a sudden stop or rider panic, you can apply brakes without the risk of still running the engine. Trying to run the engine while braking can prematurely wear off your brakes or worse, cause an overload to the engine.
Not 100% convinced about buying a scooter? Then a Scoot Bike might be a solid option for you!
Reputable Brands that make electric scooters are Glion, GoTrax, Swagtron, and Razor. Be careful not to buy no-name Chinese brands that might not offer any warranties or support post-purchase. Hopefully, this guide helped you gain some extra insight into the electric scooter market before taking the plunge and buying your very own scooter. 
If you liked our review, please leave your feedback.
Top Pick
Glion Dolly Foldable Lightweight Adult Electric Scooter w/ Premium Li-Ion Battery
Runner Up
Swagtron Swagger 1, Black High-Speed Adult Electric Scooter