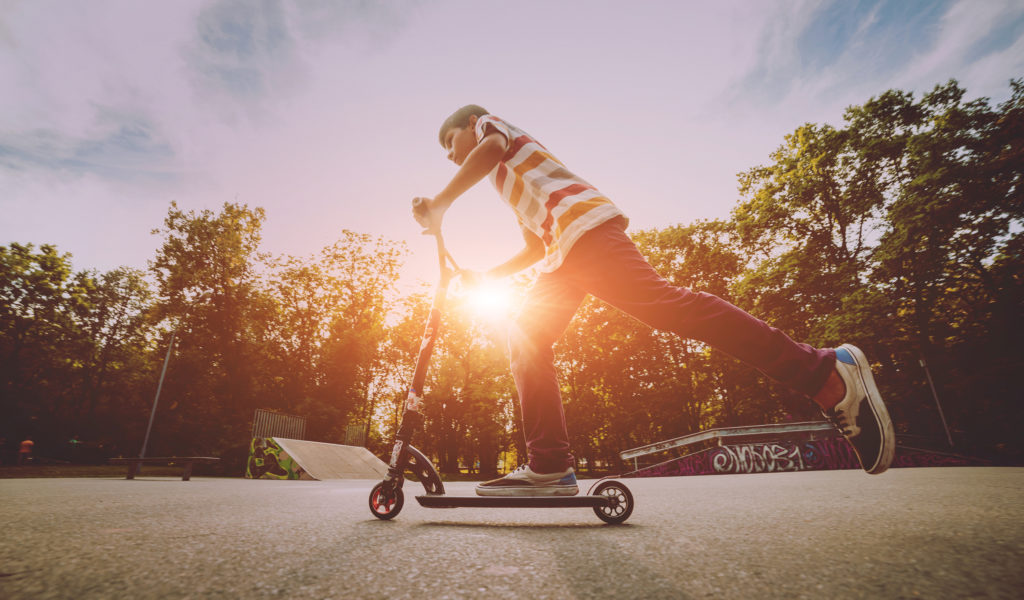 Selecting the best pro scooter ultimately comes down to who the scooter is going to be used by. There is a wealth of great complete scooters on the market right now, however, there really isn't a one size fit all solution to answer the question "What is the best pro scooter?" Here is our top 4…
The above mentioned questions are only the beginning of variables that come into question in making a selection of which scooter to purchase. There is a whole other element involved like colorways, style, design and graphics.
Although there is no way for us to know your personal preferences of style we can take what we know about certain scooter products and relay them to you in a way that will make sense and eventually lead you into making an educated decision when selecting a complete pro scooter.
The Best Scooters on the market are:
Below you'll get a closer look at all the contestants involved in this test including the top four, enjoy!
1. Fuzion Z300 Pro Scooter Complete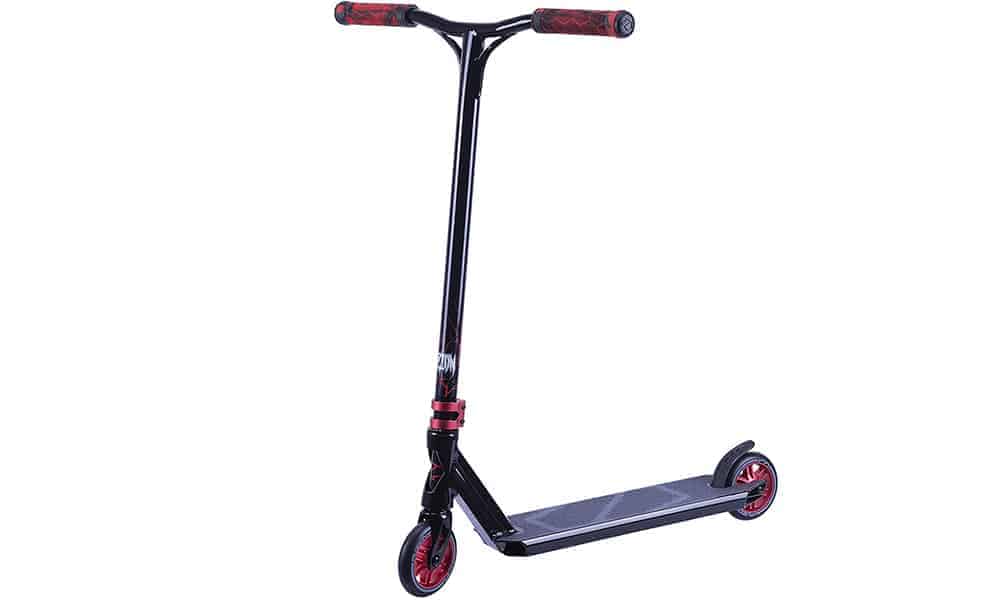 The Z300 is a great all-round scooter option. We classify it as the Swiss army knife of entry-level pro scooters. A solid go-to option for new and intermediate riders. Let's go into the specifications a little bit, first the platform you ride on or the deck of the pro scooter on the Z300 is perfect for teens. Deck sizing is 4.5 inches wide and 19.5 inches in length, the down tube or neck on the deck is reinforced for strength but is also flush to the front of the deck for performing coping tricks at the skate park.
Solid Components – surrounding the deck Fuzion's intermediate complete has chromoly steel handlebars (measuring 23 inches tall by 22 inches wide), the compression system (which keeps the front end of your scooter together and the handlebars spinning) is IHC and requires standard sized bars. Holding everything together is the modernized double clamp (serving as a great accent to your scooters color scheme), a whole slew of other custom parts like 110 millimeter metal core wheels, comfortable hand grips, sculpted steel fork and more.
You can tell Fuzion worked hard on their newest designs and the reception from the community must feel good to them. All in all this is a great scooter option for someone starting off into the sport and still a great choice for someone who's experienced and in need of some good parts. The deck, wheels and grips combo on this pro scooter is good enough to go on any setup.
2. Fuzion Z250 Pro Scooter Complete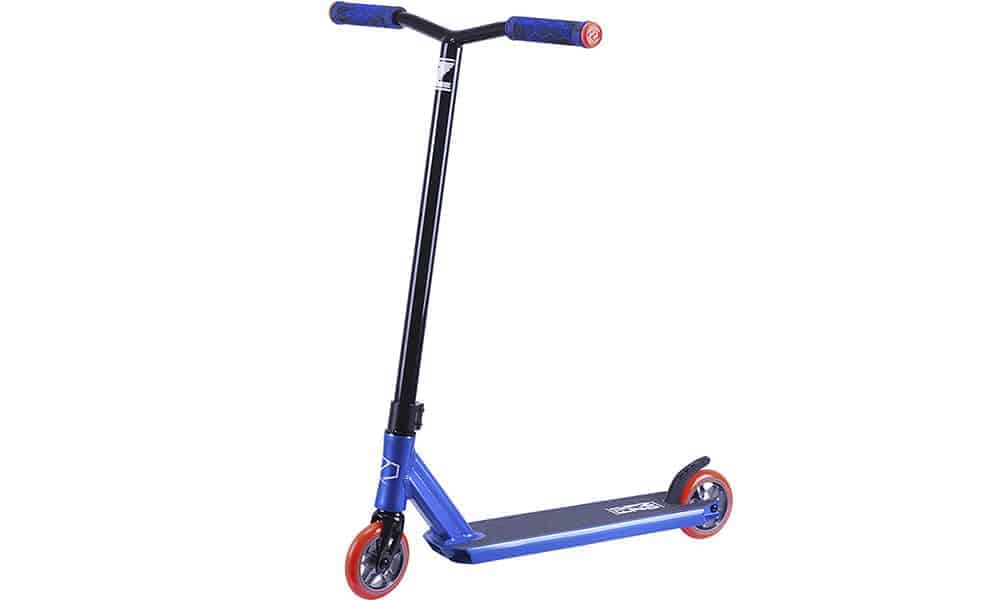 Not to sound biased in any way but the next scooter on the list is also a Fuzion Pro Scooters product. They've done a remarkably good job of producing the best scooters at the entry/intermediate level. Another thing great about their line when it comes to the first two models the Z250 and Z300 is that they are relatively safe. The colorways and themes aren't polarizing to the point where they exclude any customer group from potentially buying them.The Z250 complete scooter is very similar to the aforementioned Z300 but it has its differences too. First off the deck (or riding platform) on the Z250 is smaller, it measures in at 4.25 inches and 19.5 inches in width and length respectively. Handlebars are a place where to the two models differ quite a bit. The bars on the Z250 do not have supports also known as gussets underneath the crossbar, this little bit of extra support doubles as styling. Otherwise, most of the same parts that come on the Z300 are also used on the Z250. Again these components like the metal core wheels and grips are among the elite in the scooter industry all on an entry level pro scooter.
3. Arcade PLUS Pro Scooter
A relatively newer brand Arcade is taking the stunt scooter scene by storm! What makes their scooters stand out is the unique less is more neck design and BOLD patterns and colors. As shown above (in the Ultra Lava graphics package) Arcade scooters standout in a good way. Beside this cool color scheme, there are 3 other great styles to choose from. This all-new model the "PLUS" features reinforced handlebar supports, a 4.5″ deck, nylon brake system and even PEGS for grinds and coping tricks.
No other trick scooter on our list has this man features at such a reasonable price. We'd recommend buying not 1 but 2 of these at this price. However, this scooter isn't perfect! The one upgrade that this scooter could use is larger wheels. From our first glance, it seems the Arcade PLUS pro scooter has 100mm wheels while the majority of the scooters in this buying guide feature at least 110mm wheels.
If you have to have the fastest scooter maybe opt for another model but overall you can not go wrong with this selection. ProScootersMart highly recommends the Arcade PLUS!
No products found.
At the new #4 spot we have the Root Industries Type-R complete scooter. When this complete was released it caught our attention but finally, once we saw it in person and laid hands on it, it was a no-brainer that it would replace the Lucky T-Fox scooter on the best-of list. The Type-R by Root features a wide 4.8″ deck that is also 19.6 inches long, perfect a for teenage park rider.
Root claims an incredible 6.61 lbs , but we weight it in at closer to 7.5 lbs. Any young rider would be beyond excited to get this complete, tt has everything! The best feature is the deck and cool paint swirl graphics. When you see this stunt scooter up close and personal it just screams quality and attention to detail. Standard 100mm wheel, nylon flex brake, double clamp and forged fork make this a hell of a complete scooter for under $200.
4. Lucky TFox Sig Pro Scooter Complete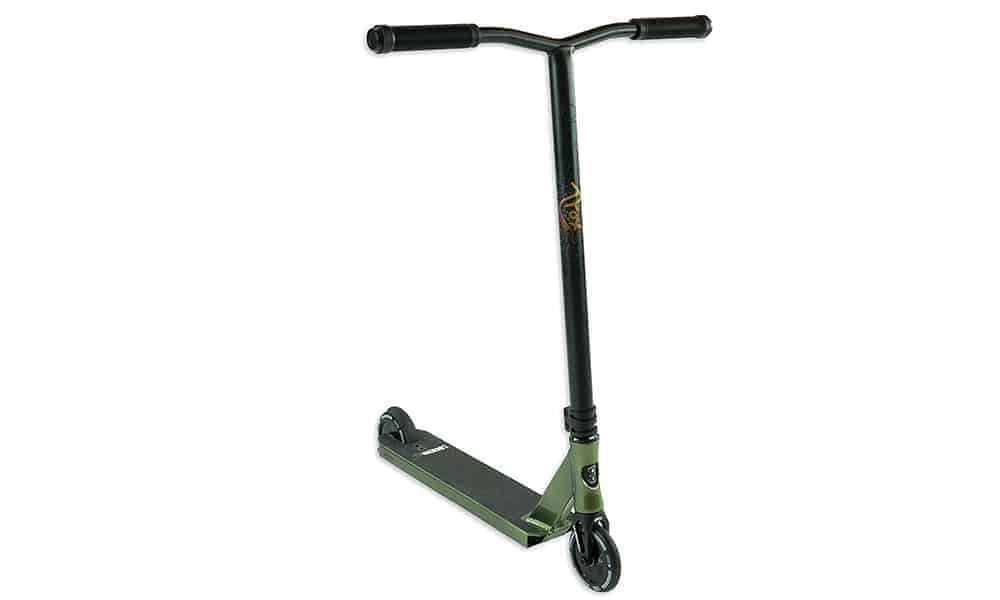 Mostly (probably) driven by the hype surrounding the persona that this scooter represents the TFox complete scooter is a good solid option. This scooter is basically a Lucky Prospect scooter with a little bit of Tanner Fox branding.The Prospect package is fairly well endowed, this scooter is built on a deck measuring 4.25 inches by 19.5 inches, has handlebars made from chromoly steel, double clampand features a hollow core wheel.One of the great debates about this scooter is that it didn't come with the aftermarket TFox signature wheels that everyone loved. That wasn't a big deal in our opinion although having those parts on this scooter would have probably helped the sales a bit. All in all this is the Lucky Prospect re-purposed to feature custom Tanner Fox (arguably the most famous scooter personality) artwork. Great scooter but due to the fact that it is $60 more than the Fuzion Z300 it came in behind it in spot #3. If your son or daughter is Tanner Fox fans and tune in to his weekly videos buying them this scooter is a no brainer you will make their day!
5. Envy Series 8 Prodigy
Envy is really the king of the hill right now, everyone wants to be on their pro team and rider their parts. The way they gained all of this momentum is amazing but they do create stunning complete scooters and scooter parts.The Prodigy complete scooter is basically a scooter riders dream, the decks measure 4.7 inches wide and 19.5 inches long and are painted or dipped in a variety of cool treatments like the Candy colorway, Splatter colorway and Oil Slick colorways. Style is the main area that gives Envy a leg up one the competition, the attention to detail on their product all the way down to the bolts is A+.Diving more into product features the Envy Prodigy like most of the other scooters in this review has chromoly handlebars. Unlike some of the other scooters on the list their bars are tall for a complete scooter measuring in at 24.5 inches tall by 21.5 inches in width. Something new to the game with the series 6 complete is the swirled grips and the newly designed front and rear deck inserts (basically plastic caps on the decks openings). A nylon flex brake is included on the Prodigy to minimize any noise and rattles that ordinary flex brakes are known for. Buying this scooter for a gift is going to make just about any teenage kid jump for joy. Our take on the Prodigy is that it is an incredible complete scooter option, comes in great colors and it durable built to withstand punishment.
6. Fuzion Pro X-5 Complete Scooter the Best Kids Scooter
We held the Fuzion X-3 scooter off of this list because we wanted to keep the review to higher quality scooters. But we just couldn't keep the Fuzion X-5 pro off of the list. Really the only differences between the two model Fuzion X-3 and Fuzion Pro X-5 are the handlebars and the wheel designs.
The X-5 is equipped with upgraded components that much higher priced scooters typically come with. This is the very best beginners scooter for younger riders who may or may not seriously take to scooter riding. As a parent the last thing you want is a garage full of super expensive toys that aren't used, the Pro X-5 is a sure way to get your son or daughters foot in the door while still being budget conscious. The later down the road if they show a real interest in riding scooters grab a nice upgrade like a Fuzion Z300.
Getting into the specifics, the Fuzion Pro X-5 is a solid complete with good enough parts to last a few skatepark sessions without being destroyed. The deck measures 4 inches wide by 20" long. Other components include a smooth compression system, aluminum 100mm metal core wheels, double clamp,nylon flex brake (no rattles like cheap scooter), threadless headset (prevents loosening and promotes stability) and sturdy V-style bars. We don't think there is a better scooter in the universe at a cheaper price. If you find one let us know!
No products found.
7. Lucky Covenant Complete Pro Scooter good for Adults
Covenant is Lucky's flagship park scooter these days. This scooter is designed and built to withstand the harshest riding conditions basically riders throwing giants tricks like flair combos over mega ramps.This rendition of the Covenant is basically a complete built from all of Lucky's best scooter parts. The deck on this scoot is a bit longer than the others covered in this guide but the width is right in the middle at 4.45 inches. Handlebars are oversized and measure 24 inches tall and 23 inches wide.Graphics are a focal point on the Covenant, Lucky hired a Japanese artist name Shogo Ota to create the premise and theme displayed on this scooter. The Covenant comes in 7 different colorways to appeal to the widest possible audience. If you are a Lucky fan this scooter is a good choice for anyone looking to ride parks or a mix of park with some street.
7. Mongoose Rise 110 Expert Complete Scooter
Mongoose has tons of experience in the bicycle and BMX segments and recently they jumped into the pro scooter wars. While their line of scooters is pretty extensive the design and features are pretty "old school".  This overbuilt clunky style does have some advantages as the Rise 110 expert is heavy duty and stands up to tons of abuse and wear.
This scooter was designed for the younger rider just starting out, Mongoose themselves actually mentioned this scooter as a good option for riders ages 9 and up. Main features include 110mm aluminum core wheels, kinked t bar, ABEC 9 wheels and BUILT-UP hollow box deck that handles riders up to 220 lbs.
8. Envy One Complete Scooter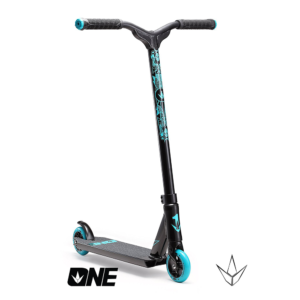 Envy One is basically Envy's answer to the growing demand for entry-level scooters. Once upon a time Envy wouldn't have created the "One" but due to the growth of the pro scooter scene there has been an influx of new people into the sport. New kids into the sport are going to need equipment to help them learn and progress.
This scooter was designed for the younger rider just starting out, Envy themselves actually mentioned this scooter as a good option for riders looking to upgrade from the "Razor A Series" scooter. One things that we don't like about the Envy One complete is that it has a 2-piece handlebar, while the design is a good solution for packing the scooter in a smaller box the overall feeling of putting a handle bar together doesn't resonate well with us. To the defense of Envy we've never heard of a scenario where the bar failed while being ridden.
Another downside to this complete pro scooter is the lack of creativity in colorways and graphics. While the Envy One does come in 6 different colors ways they are all accent colors. Every scooter is black and comes with colored pu w/metal core wheels, stickers and bar ends. Great way to get an Envy branded product at a pretty low price. Just a bummer that it doesn't even have 110mm wheels.
A good option for a beginning scooter rider wanting a reliable and durable scooter.
9. Envy Colt Pro Scooter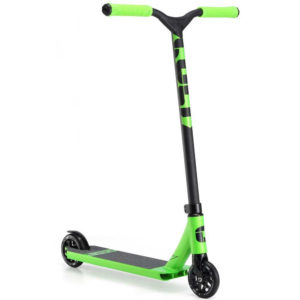 The Envy Colt is basically what the Envy One should be. If It were up to us, we would just like to see the Envy Colt and One combined into one scooter. With the Colt you at least get decks in different colors (three to be exact Teal, Red and Green). Buyers also get IHC compression system, 110mm aluminum core wheels and a one piece handlebar. All features delivered on the Fuzion Z250 and Z300 ( now you can see why we are big fans of the Fuzion products). The aluminum deck size is rather large on the Colt Complete coming in at 4.8 inches wide and 19.5 inches in length. As mentioned earlier the one piece handle is featured on this complete which measures in at 23 inches tall by 20.5 inches wide.
The COlt is a great complete pro scooter for intermediate riders but it should be the Envy One. Why should the consumer have to pay a premium for features that are pretty standard in the scooter industry today!
This is 2018 it's time for brands to deliver the goods and stop holding them. If this pro scooter was delivered at a lower price point and had more creative graphics it for sure will shoot up the rankings chart.
10. Madd Gear VX7 Pro Scooter
The  Madd Gear VX7 basic model is the Madd Gear entry-level scooter option. Pretty straight forward lower end pro stunt scooter the VX7 comes in a wide variety of color choices (8 colors to be exact). A highlight on the topic of color is that the Madd Gear scooter comes in a pink and powder blue colorways which is only the second freestyle scooter on this list to feature a true girl friendly color.
Beside the traditional Madd Gear down tube styling, the rest of the scooter is pretty simple.This freestyle scooter features an integrated deck measuring 19.5 inches in length and 4 inches in width. Other components are a smooth compression system and slightly bent handlebars measuring 23 inches tall and 21 inches wide. A feature that many riders love about Madd Gear pro decks is their concave and this scooter deck has 3 degrees concave.
Where the Madd Gear vx7 fails to impress us is in the components, like the Envy One they are only giving us 100 mm wheels. Everything else checks out just fine, for many people the Madd Gear styling is a little too extreme but if the visuals on this scooter tickle your fancy you won't be let down if you choose to buy it.
11. Phoenix Force Pro Scooter for Teens
Phoenix is one of the legendary brands in the scooter scene, they are famous for the Reventon deck that was marketed as indestructible and high quality. It was very sturdy and strong but it weighed a ton! The new Phoenix is capable of providing durability at lighter weights. This Force complete is a prime example, this pro scooter weighs in at 7 ½ pounds.
Perfectly set up for a newer rider that is polishing their skills, this freestyle scooter has a lot going for it. Great deck size 4.5 inches by 19.5 inches, great handlebar size 22.8 inches by 22.8 inches wide, traditional T-bar, another good thing about this scooter is that Phoenix made it to be compatible with other Phoenix scooter parts. This means you can grab this pro scooter to get started in the sport and then upgrade it as you see fit.
A few things that didn't come on the Force complete scooter is AGAIN 110mm wheels, 100mm wheels are following these entry level scooters like the plague. A standard flex brake comes on this scooter and a lot of models out now are coming with the nylon brake. We will endorse the Phoenix Force though, this is a nice scooter at a very good price. Envy could learn a little something from Phoenix when they design the next series of Envy One and Colt scooters.
12. Kota Mania Pro Scooter
Kota Brand is the newest on our list and they are doing a lot of things the RIGHT way! What else would you expect from a multiple world scootering champion? Dakota Schuetz is basically the rain man of scooter riding and it makes sense that he has his own brand of scooters. With the release of his first line up, there was a lot of controversies initially, everything turned positive after the discrepancy of the similar District designs were cleared up.
What we think of the Mania complete: Just about everything about the Mania is pretty good, the deck size is right at 4.5 inches by 19.5 inches. Weight on this pro scooter is pretty ideal, coming in on the scales at 8.4 pounds. Another key factor is the wheels, the Mania solves the issue of the wheels by providing 110mm wheels and not the too small outdated 100mm metal core wheels that many brands offer.
A couple of other things we love about the Mania is the graphics selection and price point. The graphics are spot on because scooter riding has a young audience so the playful graphics are appealing to this segment. The second thing we absolutely love about the Mania is that it is available in a Mini Size for the little shredders. A lot of kids these days are getting really good at really young ages. To make their kids scooters as comfortable as possible many parents are getting scooters cut down to be easier to handle. Kota scooters are making the mini-sized scooters and that opens their product up to the youngest riders a really SMART move.
13. Dominator Sniper Pro Scooter, great for kids
Dominator is a spin off of the District pro scooters brand, this brand is their way of getting into the lower tier entry level market without discounting their flagship brand. District are great products and it's apparent that they have good leadership in their company.
We really like the Sniper by Dominator! It's a simple yet well done scooter with features like HIC compression system, thread-less steel fork, 6061 Aluminum deck, bars 23" tall by 22" wide, deck measuring 4.5 inches wide by 20.5 inches in length and 110mm WHEELS!!! The deck length on this scooter is a little bit longer than most of the market comparable scooters. With more length the deck is going to allow for more foot space for riding and ultimately landing tricks. 7 different color options make this scooter extra appealing to riders with all different tastes.
The Sniper from Dominator Pro Scooters get the thumb up from Pro Scooters Mart, good price, nice colors, solid components and the right wheel size. If you like the way it looks pick this scooter up!
How Are Pro Scooters Made?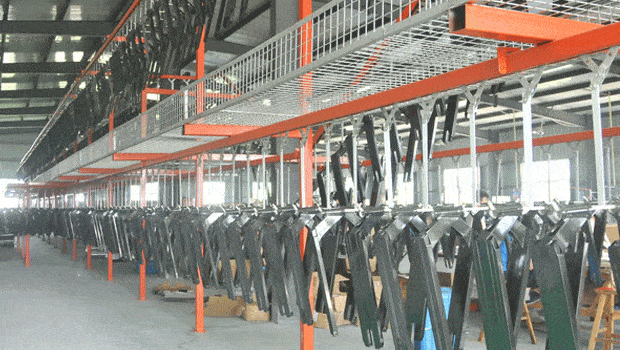 By no means are scooters a new thing, history shows that original scooters date back over 100 years but today's pro scooters aren't anything like these primitive models. If we look back to roots of where today's scooters come from we would be forced to look to the design that of Wim Ouboter of Micro Mobility Systems (based in Switzerland).
In the United States suburban kids all over the country started doing tricks on the Razor scooters that took over the mainstream in the early 2000's. These kids immediately found these lightweight scooters not up to taking the punishment and abuse of their new aggressive riding styles. A major weak point in the Razor A scooter was the folding mechanism. When riders would land hard on the scooter from tricks the folding system would just buckle and fold up throwing the rider to the ground. This issue was solved by bolting the mechanism open adding much-needed strength to the neck of the scooter.
Small tweaks like this started the movement of real structural innovation like what we see today. Nowadays the best pro scooters aren't made from thin cheap sheet aluminum. Now Aircraft grades of Aluminum are commonplace along with heavy welds and manufacturing processes like extruding and forging. Product testing is also a key component to making pro scooters. Many of the factories are equipped with state of the equipment allowing them to simulate the scooters under heavy loads similar to what they are under while being ridden. While this is typical for factory testing the real product testing should be through the scooter brands. Pro riders will ride prototype scooters and give feedback on how the scooter part performed.Scooters today are light years ahead of where they used to be. The way things are shaping up now a looming war of scooter innovation is upon the horizon. Truly the pro scooter scene is in good hands and growing rapidly with more high-quality options than ever before.
How Much Do Pro Scooter Riders Make?
With the growth of the scene and ultimately the sports therein many big brands are taking notice. Where there is popularity and fandom there is money! A lot of pro scooters riders who once were OK with riding and representing brands for free parts are now recognizing their marketability and starting to receive compensation. While there is no union watching the wages paid in the pro scooter industry there are plenty of companies willing to pay their sponsored riders.
In this digital age, riders are sitting still and waiting to receive increases in pay for their riding skills many are taking things into their own hands making themselves more marketable and thus increasing their earnings potential. We are going to take a look at a few standouts from the scooter crowd who have turned their decks and wheels into dollars signs in a variety of different ways.
Tanner Fox Earnings
Tanner Fox is the poster child for pro scooter riders who got paid! This young man made an empire by creating entertaining content on YouTube. And it all started from scooter riding. We believe the first breakout video he created was hoverboard tricks in the skatepark. After some success here he and his friend Jake Angeles did a video in Jake's channel centered around Things Scooter Riders Say. Videos like this work because they are relatable to their audience. Scooter kids around the globe could relate to the different jokes in the video, such authentic content draws people in.
Since his start, Tanner has come a long way developing into not only a scooter rider but a young businessman with his own empire which includes "T Fox Brand" and royalty deals with Lucky Scooters. Nowadays Tanner has it all, a beautiful girlfriend, fancy cars and a loyal fan base that tune into his videos on a daily basis. More than anything Tanner started a revolution getting kids to create and do more even at a young age. Thumbs up for Tanner, among scooter-related personalities he is one of the top earners making big money. We are estimating him to make into the 7 figure range.
Dakota Schuetz Earnings
Kota has been around forever in the scooter scene, really since it began. He is arguably the most talented rider of all time. When discussing the best riders most people will debate between Kota, R.Willy and Jordan Clark. After winning many prizes purses including the world championships in 2012, 2013 and 2014 Dakota started to really build his brand using his talent and his love for the next generation by giving back with the Kota Camp Tours.
More recently Dakota partnered with District to launch the Kota brand. A bright and colorful line of scooter perfect for the younger riders he inspires all over the world. Nowadays Kota is seeing cruising in a right-hand drive GTR and a Tesla Model X those aren't cheap! We estimate Kota has to be pulling in well into 6 figures per year.
There are a wide array of ways to make money as a pro scooter rider. Some of the most lucrative are sponsorship, content creation (YouTube, Instagram), merchandise (t-shirts, pop sockets, etc.), your own brand (i.e. Kota Scooters). Smart pro scooter riders will combine all of these elements into one formula and earn top dollar. Right now the average professional rider through everything mentioned about plus gear and travel should be making around $50,000 per year.
When Were Pro Scooters Invented?
Pro scooters, stunt scooters or whatever you might call them as we know them today were date back to 2008. This year is significant because it is when TSI or "Trick Scooters International" released the very first one-piece scooter deck that is now the industry standard except for the Proto Space Deck which still utilizes a two-piece design.
Who Makes The Best Pro Scooters?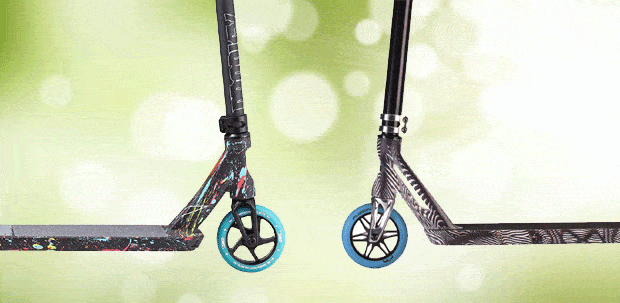 To be 100% honest in our opinion arguably the most impressive and best pro scooters available right now is a toss-up between Envy and Fuzion. Envy has the game on lock with the attention to details and trend-setting designs(i.e. prodigy pro scooter) but Fuzion is also doing an amazing job by pushing the envelope of what scooters and brands should and can offer in their complete scooter lineups. The 2018 Z-Series scooters are pretty trendy themselves a wide variety of colors and components options are also available.
These scooters didn't make the list but they are all very solid options. Hopefully, this guide helps you decide which pro scooter is the best for your circumstances. If you've already bought your scooter why not upgrade it with some cool aftermarket parts to create the best pro scooter for YOU!
Not Ready for a Pro Trick Scooter?
If you're not ready for the intensity of stunt riding then going from something less action-packed might be better for you. In that case, check out our best scooters for kids post or select from these cool scooter options