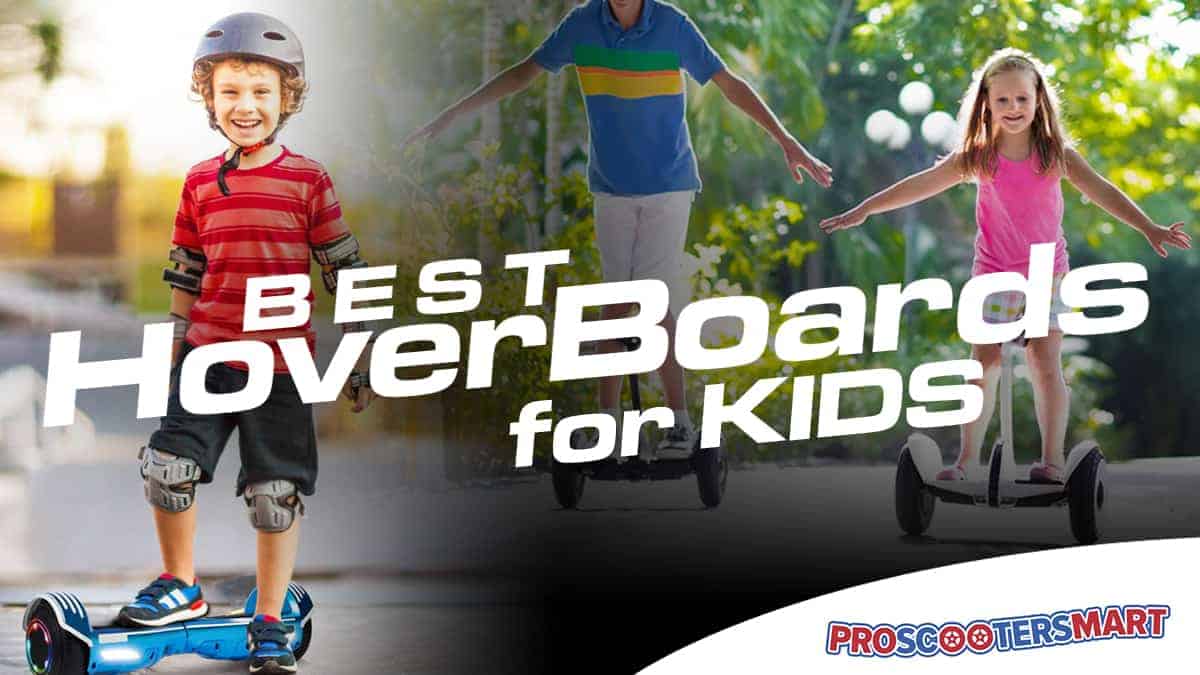 When you're looking around for the best hoverboards for kids, it can seem like a tiring task to even browse that many options, but we're here to help! They are one of the hottest ways that kids can move around, and they are as varied as the riders who would buy them.
Here is a rundown of the best kids' hoverboards, and what makes them great. Stay with us until the end, and you'll have a good working knowledge of the best choices out there.
Our Top 3 Hoverboard Picks
The best overall hoverboard we found, the XPRIT Hoverboard is both functional and stylish. It has a max speed of just 6mph, which makes it ideal for young, small, or otherwise novice riders. The self-balancng capability means that if your young one is not yet familiar with hoverboarding, they can learn quickly and easily.
The XPRIT Hoverboard can carry a maximum weight of 165lbs, and it is designed to operate with a minimum weight of 45lbs. The super-fast 2-3 hour wait for a full 2000mAh charge will give approximately 45-75 minutes of ride time or operation.
Ride in style with more than 10 colors available, and crank up the tunes on the built-in Bluetooth speaker. It has 6.5" solid rubber wheels, with LED lights incorporated into the core, and vibrant LED headlights for safe and enjoyable rides. Adding to the safety of the XPRIT Hoverboard, are the anti-slip rubber footpads.
Highs:
Great beginner or learning hoverboard
Anti-slip foot pads
Solid rubber wheels
Pairs with your phone for music
UL 2272 certified
2000mAh battery
2. JOLEGE – Best Hoverboard for Beginners
One of the best hoverboards for beginners on the market, the JOLEGE Hoverboard is simple to get set up and riding. Once the rider is on, it features an incredibly powerful self-balancing feature that can help learn basic operation in only 5 minutes. It is able to go forward, backward, rotate, and spin.
The JOLEGE Hoverboard makes use of flashing LEDs incorporated into the wheel cores, as well as two powerful LED headlights. These add style as well as safety during low light operation.
Highs:
Huge variety of colors and patterns to choose from
Super-fast learning curve
The solid rubber wheels work on smooth or rough surfaces
UL 2272 certified for safety
Lows:
Sound from the speaker can get muffled
3. Gyroor T581 – Best Off Road Hoverboard for Kids
The Gyroor T581 Hoverboard is the sleek and sturdy hoverboard you need to get you over rough terrain and off-road. The incredibly powerful dual 300-watt motors gives the Gyroor T581 Hoverboard what it needs to get over almost any terrain.
Pair the Gyroor T581 with the companion app to gain the ability to change operating modes, check the battery charge level, and even throttle the speed. The dual-mode operation lets inexperienced riders get acclimated to the strength of the hoverboard, and lets experienced riders open it up for more power.
A great fit for almost any rider that wants to get off the pavement for a while, this hoverboard can carry up to 220lbs. After a 1.5-2 hour full charge, the average rider can expect to go about 10mph for between 3.75 and 7.5 miles.
Highs:
Robust dual 300-watt motors
Solid 6.5" off-road wheels
Bluetooth speaker
Powerful self-balancing ability
Companion app
UL2271 listed
Lows:
Difficult to obtain top speed
4. VEVELINE – Best Budget Hoverboard for Kids
In the budget category, you can't go wrong with a VEVELINE hoverboard. You get highly comparable features and capabilities, at anincredbly reasonable price point. VEVELINE puts an eye toward safety with the 6.5" solid rubber wheels and non-slip footpads. This hoverboard has also been UL2272 tested to ensure proper electrical safety.
The LED headlights and the LED flash wheels give this model a similar look to brands that are much more expensive. The powerful self-balancing feature helps everyone from first-timers to experienced riders get the best ride possible. The zero-turn radius allows riders to do full 360-degree spins.
Highs:
Bluetooth speaker
Includes charger
Battery indicator onboard
Available in pink, green, purple, black, white, and blue
Lows:
Limited appearance options
5.

HOVERSTAR

– Best Kids Hoverboard Under $200

The all-new HOVERSTAR HS2.0 hoverboard is a flashy hoverboard with all the bells and whistles, for less than $200, which makes it great for so many occasions. The housing itself is made from a fire-resistant material, and the all-terrain wheels move smoothly across all types of pavement and off-road terrain.

This hoverboard really stands out with its appearance. The wheels have LED lights, there are super-bright LED headlights, and the fenders covering the wheels each have dual LED strips. The HOVERSTAR HS2.0 hoverboard is designed to turn heads and the built-in Bluetooth speakers will have it all happen to your chosen soundtrack.
Highs:
Lots of LED lighting
All-terrain solid wheels
Self-balancing
Top speed of 10mph
Ten-mile range
Lows:
165lbs weight limit is lower than some others
6. UNI-SUN – Best Hoverboard for 10 Year Old
The UNI-SUN kids hoverboard is great for kids that are a bit older or bigger, and do not want to start out on a beginners hoverboard. This self-balancing hoverboard is available in more than a dozen colors and patterns. The robust construction and 6.5" solid tires make this hoverboard highly effective at standing up to the use of the average ten-year-old.
Safety is always assured with the battery and electrical system that meets UL2272 and ensures the safety of the rider and those nearby. You can choose between models with and without Bluetooth.
Highs:
10km range
220lbs capacity
Optional Bluetooth speaker
Lows:
3-5 hour charge time is longer than some others
7. Hover-1 – Fastest Hoverboards for Kids
When you have to get a hoverboard that will make your little speed demon happy, you should put some serious consideration into the Hover-1 H1 hoverboard. Not only does it get its rider up to 9mph, but it can also go up to a full 9 mile range. The lithium ion battery charges completely in just 2.5 hours.
The onboard LEDs are fully customizable, so you can always dial in the look you want. Use the companion app to adjust the music, 3-level skill mode, and lighting effects.
Highs:
9mph top speed
9-mile range
Customizable LEDs
Companion app
264lbs capacity
Lows:
Slightly longer charge time
8.

SISIGAD

– Best Long Range Hoverboard

If you find that your range with other hoverboards just isn't quite where you would like it to be, take a look at the SISIGAD hoverboard. Not only do the solid 6.5-inch wheels move you easily, the powerful motor gets you farther, faster.

The SISIGAD hoverboard also has a built-in wireless Bluetooth speaker, so you can enjoy your music wherever you go, and while you're getting there. It is available in black, white, and two different shades of blue.
Highs:
Colorful lights
Decent speaker
High-quality wheel cores
Self-balancng
Lows:
Less flashy than some other models, only three basic colors available
With a sleek and futuristic look, the Felimoda hoverboard is a great option for anyone looking to get on board the craze. It is self-balancing, has 6.5" wheels, and will work just as well for adults as it will for kids.
Highs:
One of the largest selections of color and pattern
Sleek design
UL2272 certified
6-mile range
Overcharge protection
Lows:
6mph top speed is relatively low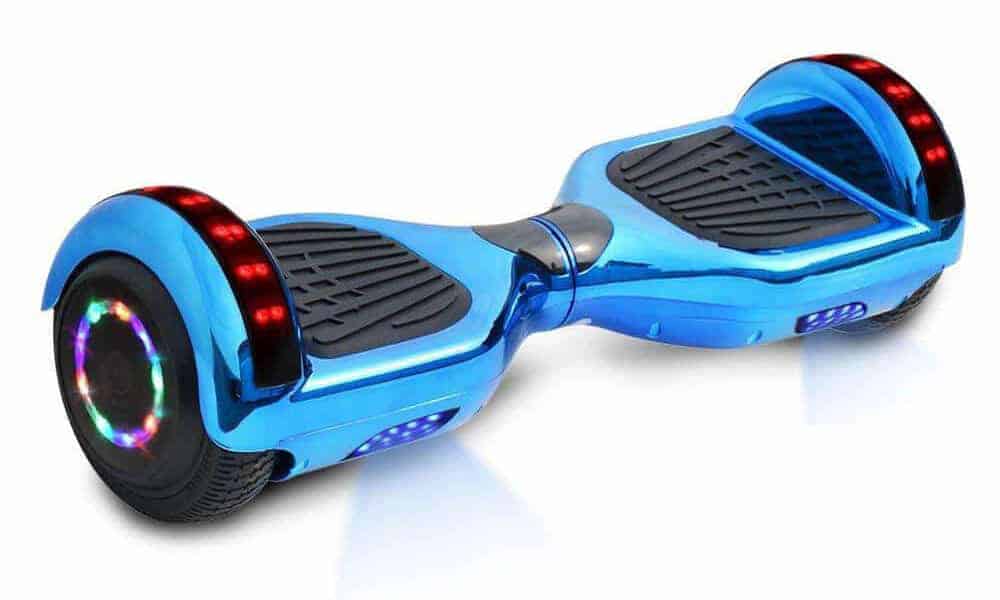 Regardless if you are a kid or just a kid at heart, the Tomoloo K1 X-Men is the best there is in the market. The brand itself is known to make the best kinds of hoverboards in the market.
Aside from its aggressive design and durable finish, the coolest feature of this top-rated hoverboard is its Bluetooth connectivity. You can easily connect your hoverboard to your smartphone and control basically everything.
You can regulate and get information such as lighting effects, battery levels, speed, and auto-shutdown time. What's more, it provides a real-time tracking location!
It has a massive 16 million RGD color combinations, so you can have fun with your lighting effects. As for the music, well, say goodbye to boring cruises as this hoverboard allows you to play songs via the official Tomoloo app. It comes with a decent built-in speaker, by the way, and the power jack comes with a waterproof cap.
The Tomoloo K1 is powered by UL2271-certified Samsung Battery Core batteries. They are safely placed in a fire-resistant cabinet. To ensure optimum safety, the outer shell is made of fire-resistant material as well.
This self-balancing scooter is integrated with the latest version of Smart Battery Management System to prevent it from overheating, short circuits, and overcharging.
The Tomoloo K1 has a maximum speed of 10 mph and mileage of up to 12 miles. It can carry up to 264 lbs of weight. It is equipped with 300-watt dual motors, with a battery capacity of up to 43,000mAh.
Highs:
Can be controlled using a smartphone app

IP4 waterproof (middle level of moisture resistance)

UL2272 certified by the CPSC (the entire hoverboard)

Comes with rubber tires that do not need to be inflated

Quick 2-hour charging time

Multi-terrain types
Lows:
Non-stop beeping sound when maximum speed is reached
Another well-known hoverboard maker in the market is Segway, and its MiniPRO is definitely one of the best there is on the market. However, unlike your usual hoverboards, its design is more like an advanced personal transporter.
This easy-to-ride, lightweight, and portable hoverboard come with safety app-enabled features. You can easily connect your hoverboard to your smartphone app via Bluetooth and control everything from it. It allows you to regulate the speed, customize the lights, and keep updated with diagnostics and firmware.
But wait… there's more! This hoverboard comes with anti-theft features. If the alarm is activated, it will make a beeping sound and you will receive an alert message on your phone. Its control sensor is also located at the knee pad, which helps analyze your body's movement and maintain balance.
This UL2272-certified hoverboard is powered by a lithium battery. It charges using 100V to 240V and has a top speed of 10 mph with up to 14-mile range per full charge. It is equipped with an 800-watt motor and can handle almost any kind of obstacle and terrain. It can accommodate people with different heights from 3'11" to 6'6".
Highs:
Adjustable knee pads

Corrosion-resistant

Shock absorber

Durable magnesium alloy frame

Air-filled, shock-resistant tires

Customizable front and back LED lights
Lows:
Heavy

Long charging time

Not allowed on flights
From the brand name itself, Swagtron makes swag-looking and swag-performing hoverboards. There are a lot of versions available on the market, but the T6 caught our attention the most.
This hoverboard is made for riders who are on the heavy side of the weighing scale, with a maximum weight capacity of 420 lbs. It is also made of ABS plastic and aluminum for added weight support.
Unlike most hoverboards, the Swagtron T6 can climb up to 30 degrees slope regardless of the kind of terrain. This baby also comes with IPX56-rated, gigantic 10" wheels to ensure you can survive all the bumps and puddles. A full charge can get you up to 12 miles at a maximum speed of 12 mph.
In terms of safety, the Swagtron T6 is UL2272 certified. Its batteries also have a superior Sentry Shield, which protects your hoverboard while charging or using. Don't worry, this comes with a Bluetooth speaker for your music.
Highs:
Maximum weight capacity is up to 420 lbs

All-terrain board

Equipped with two 35-watt motors under the hood

Sentry Shield multi-layered battery protection

Versatile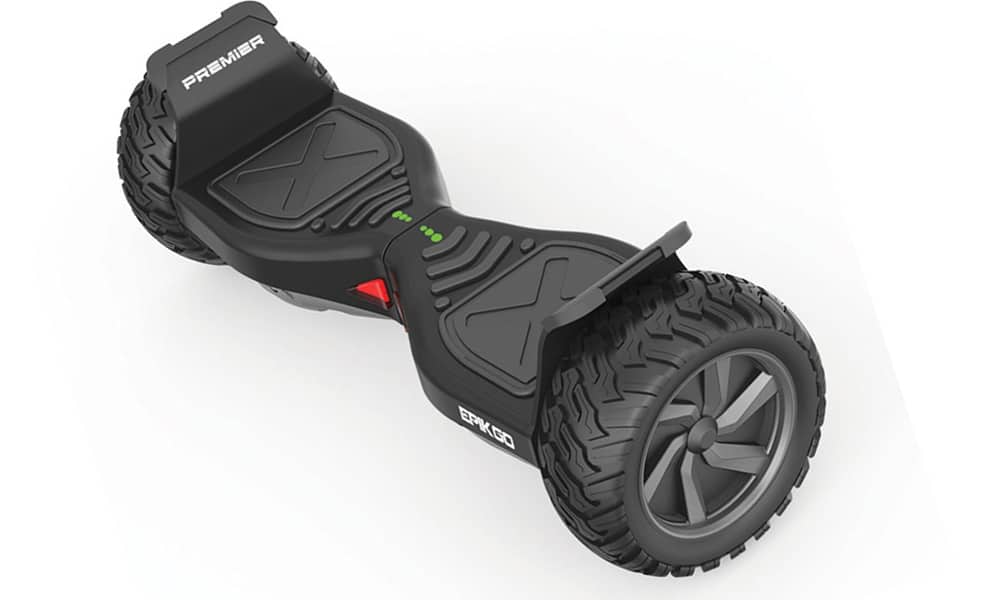 Ideal for teenagers over 13 years old, this hoverboard offers 30% more foot space and wheels compared with other hoverboards in the market. It is packed with 400W dual motors, providing better acceleration, more power, and faster speed.
As for the wheels, they allow you to explore many kinds of terrain you want. Dirt, grass, pavement, puddles, or grit? No worries! This baby can handle it. It can also be used on slopes of up to 18 degrees. Surely, this is suitable for all adventure lovers out there.  
The Epikgo is UL 2272 certified, making it safe against fire and electrical hazards. It can travel up to a distance of 10 miles or 1 hour following a full charge. Its charging time is pretty quick too at as fast as 2 hours.
This hoverboard has a maximum weight capacity of up to 265 lbs. Quality-wise, it is made from top-notch materials. For instance, its alloy wheels and aluminum alloy frame are beyond the definition of sturdy.
Highs:
Wheels made of indestructible aluminum

Highly durable ABS body chassis

Great grip on different kinds of terrain

Powerful motors

Provide a good balance
Lows:
Large wheels place your center of gravity at a higher level
No products found.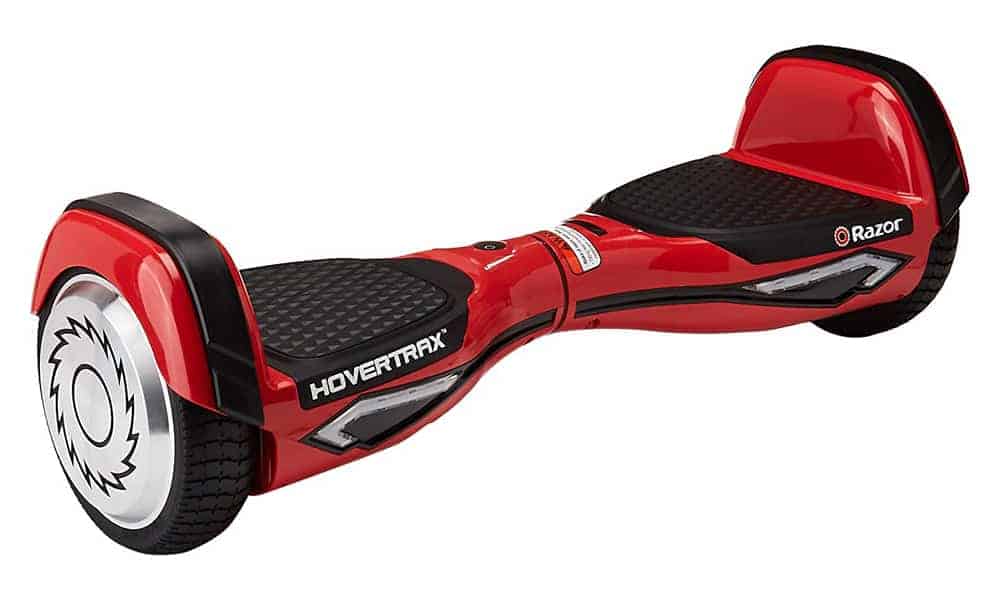 Its sleek design and powerful new technology are tough to beat features against its rivals in the market. It uses the so-called EverBalance Technology, which offers intelligent engineering and a smoother ride. It has a speed of up to 8 mph, with a maximum load capacity of 220 lbs.
Safety-wise, this baby has met the standards being UL 2272 certified and approved for safety when used by anyone. It has also been tested for emissions and has abode with environment-friendly tests, making it safe to use.  Its body is made from polycarbonate too, which is robust to support any travels.
It is powered by a 36 V lithium-ion battery, featuring a smart battery management system. Such innovation prevents overcharging and short circuits. In addition, the 350-watt motor provides a powerful engine back up and proper traction on turns and speed.
Highs:
Comes with a Bluetooth speaker

Long battery life

Shield battery system with a smart battery management system

Eco-friendly

EverBalance Technology
Lows:
Not water resistant so stay away from puddles
No products found.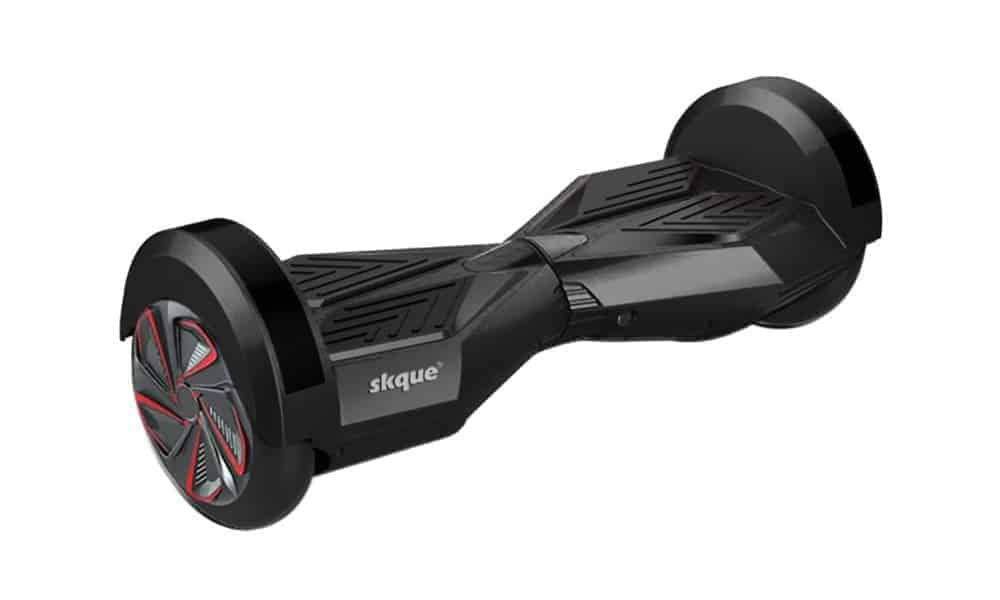 Although relatively new to the market, Skque is doing a good job of introducing new features in its hoverboards. Flaunting its trendy and hip looks, this hoverboard comes in chic features such as Bluetooth speakers and LED lights.
What's interesting about this hoverboard is its zero turning radius. This allows you to simply stand on one spot and turn your hoverboard to a full 360-degree circle. This makes it easy and convenient to operate even in narrow spaces. Its improved motherboard also features gyro sensors.
This hoverboard has a battery capacity of 44,000 mAh and can be fully charged within 1 to 2 hours. It is powered by two motors of 350 watts each and can travel up to 12 mph on one full charge.
Like most top contenders on the market, the Skque X1 is also UL 2272 certified. Thus, it is not prone to catch fire and experience a short circuit. They are available in three sizes too (6.5", 8", and 10"), so you can easily pick something that will suit your needs.
Highs:
Available in three sizes

Zero turning radius

Perfect for compact spaces

Quick charging times of 1 to 2 hours

Comes with Bluetooth speakers and LED lights

Improved motherboard with a more resilient shell and chassis
Lows:
No tail light available

A little pricey
No products found.
How the hoverboard got its name and who invented it?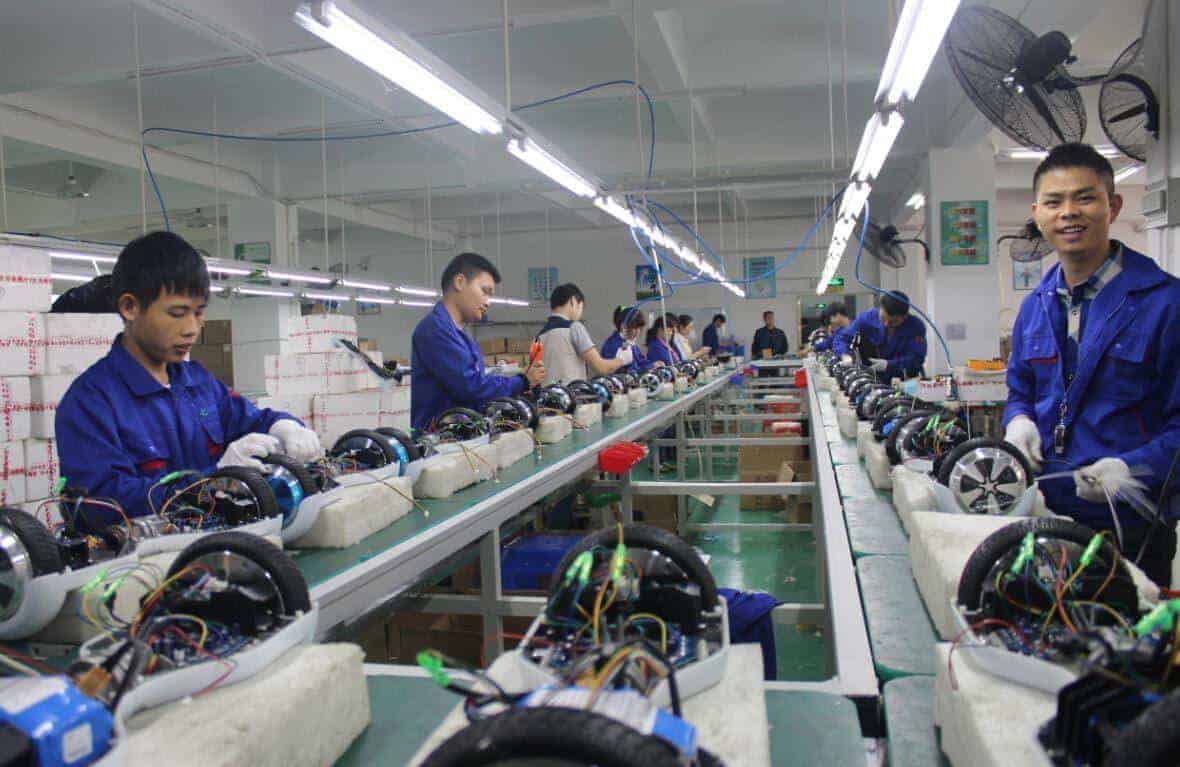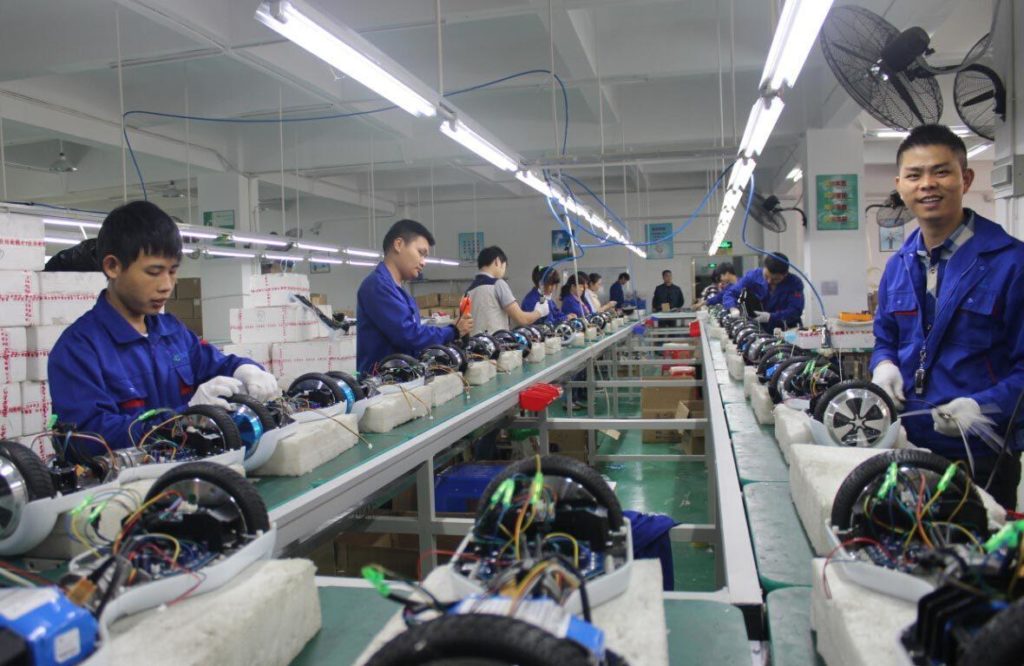 Since they make you feel like you belong to the future, here's is a short history and quick facts about hoverboards.
Although they are named hoverboards, they do not hover. The hoverboard is simply a term used to define self-balancing scooters, and its trademark was first registered in 1996.
In 1967, Science fiction novel writer MK Joseph first described hoverboard as a skateboard-like device that floats above the ground. While the idea already exists, Shane Chan put life to it and invented hoverboards.
How do hoverboards work?
Hoverboards work by sensors. Without the sensors, then they will end up just like your usual skateboard. These sensors detect feet movements that allow you to stop, start, slow down, and take turns.
What are the factors I should consider when buying a hoverboard?
Safety first
For self-balancing boards, safety should always be at the top of your consideration list. As you may have noticed, all of the hoverboards in our list are UL 2272 certified, which means they all went through rigorous standard tests to ensure optimum safety for their riders.
Also, most UL 2272 certified hoverboards have a "safe stop" feature. So when the hoverboard suddenly loses power, it will break through a safe glide instead of a screeching halt.
Speed and Range
For kids who love adventures, speed and range are most likely the things they would look for in a hoverboard. "How fast can this thing go?" Of course, most want one that will not only run fast but also run for hours. The majority of the self-balancing boards for kids reach up to 8 mph and for adults around 11 mph.
But don't just look at the hoverboard's capacity, try also to consider other factors such as the weight of the rider or the terrain. Also, knowing your speed and range gives you a good estimate of the amount of time it will take you to go to certain places.
Tire Type
Usually, hoverboard tires are made of plastic or rubber. They both have their pros and cons. For instance, plastic tires work best on hard surfaces, while rubber tires are excellent for use on soft surfaces.
Different wheel sizes also work on various types of pavements. Bigger wheels would work better on uneven surfaces that smaller ones. They also offer more stability even when going around curbs. Usual wheel sizes are around 6.5 to 7 inches, but newer ones are as big as 8 to 10 inches.
Battery Life
Hoverboards are meant to be enjoyed and ridden for hours, or that's the concept every kid thinks. Getting a hoverboard with long battery life is the same reason as checking the battery life of a laptop or mobile phone you want to buy. The battery life should at least allow your kid to arrive at a destination or last a few hours for enjoyment.
But like speed and range, battery life is also affected by several factors. These can include rider weight, surface type, weather, or mode. On average, most good brands offer between 1 and 3 hours on a full charge.
Climbing angle and cornering
As a rider or parent of the rider, you should know the capacity of your hoverboards. For instance, in terms of the climbing angle, you should know how steep your hoverboard can go without experiencing any difficulties.
On the other hand, cornering tells you how you can turn the hoverboard. Some hoverboards have a zero-degree rotation. Both climbing angle and cornering are measured in degrees.
Maximum rider weight
Nearly all of the features and capabilities of the hoverboard depend greatly on the rider's maximum weight capacity. We also meant about the hoverboard's durability. Some brands that are made of low-quality parts tend to easily break down under pressure.
What is the ideal age for kids to ride a hoverboard?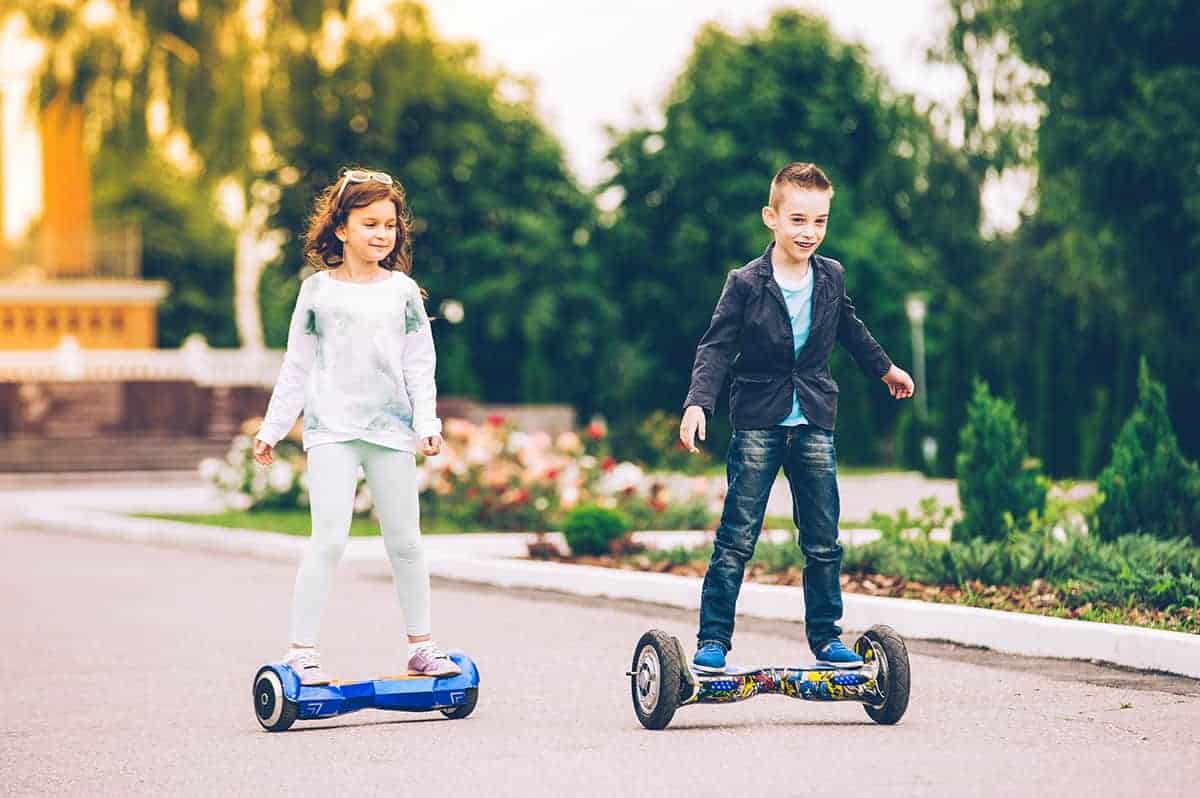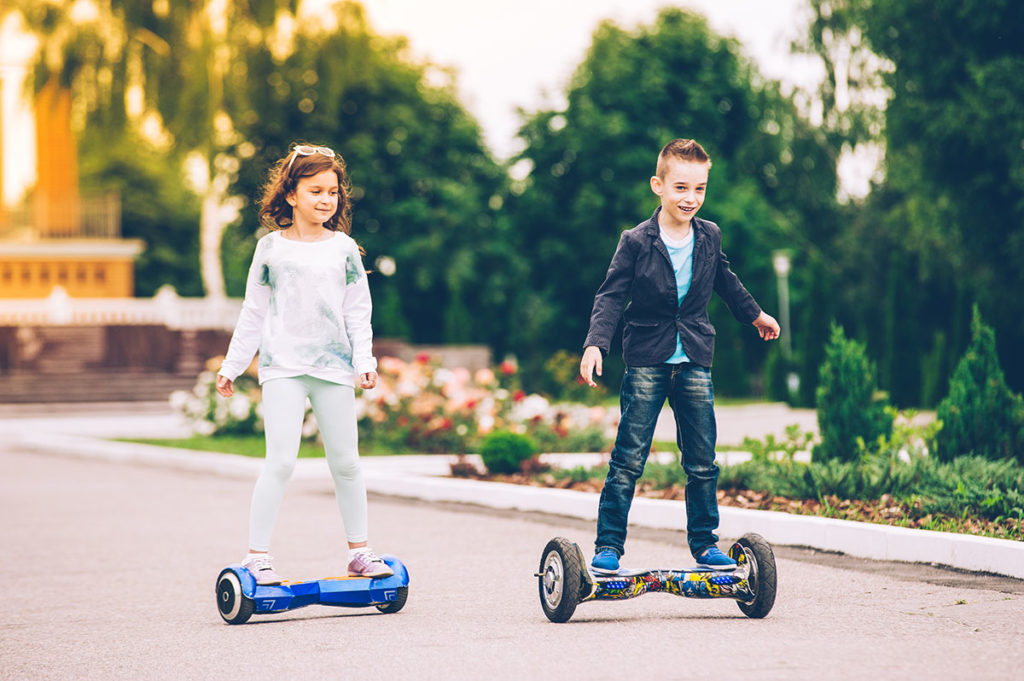 To be honest, the answer to this question can be a little tricky. Some kids start young and have been riding flawlessly. While it is always best to follow the manufacturer's instructions, here is a general age guide.
8 years old and below
A hoverboard equipped with 6.5-inch wheels is recommended for this age group. Consider getting something that runs slow as well, like one that has a top speed of not greater than 6 mph. However, do take note that it is still best to follow the manufacturer's recommendation.
8-12 years old
For most manufacturers, this is really the starting age point for hoverboard riders. Consider buying a hoverboard with smaller wheels so it is easier for them to balance. As for the speed, get something on the slower end with a max speed of up to 10 mph only.
12 years and above
You have a lot of freedom when choosing for this age group as their motor skills are more developed. You can get something with bigger wheels, a more powerful engine, and other cool and interesting features such as Bluetooth connectivity led lights and speakers. Speed and ranger are all left in your consideration.
How to ride a hoverboard?
Most kids will eventually learn their ways and find techniques and style they are most comfortable with. But here are some tips and tricks to help them learn the basics real quick.
This part seems to be the hardest. Always remember to step one foot at a time. Go with the dominant one first and then followed by the second foot. Try to imagine you are about to climb a stair. At first, you will feel like you are off-center, and allow us to reassure you that is perfectly normal. Do not worry.
To move the board, you need to shift your weight in the direction. So if you want to go forward, then lean slightly forward to move. This is where panic usually starts to sink in. Consider shifting your balance from your hips instead of your feet so you won't lose your balance easily.
This might seem a little difficult from the start. Slightly leaning your weight backward will slow you down to a stop from a fast speed. Standing straight with weight evenly balanced will come to a full brake.
Whether you are headed to the left or right, simply move the corresponding foot forward. The principle is almost similar to how a rudder changes the course of a boat. Accidental spin? Do not fret! Relax and just balance the weight of your feet and hips and stand up straight.
Of course, you just can't jump out of the board for it to stop. Usually, kids step off in front of the board. The ideal is actually stepping back behind the board using your dominant foot first and then followed by the second one immediately afterward.
If you know how to pedal your bike, then you can undoubtedly ride a hoverboard.  
Do Hoverboards Explode?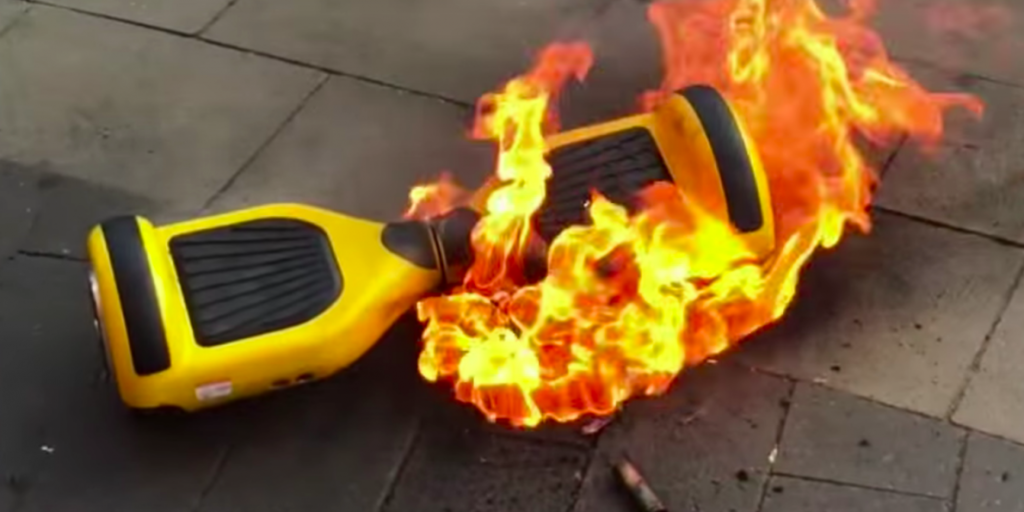 Just like any battery-operated gadgets, hoverboards can explore it charging is kept for long. That is why it is important that you avoid knock-off ones and choose those that have the best battery quality, like the ones we listed above.
Some companies use cheap batteries to cost-cut, and you should not gamble the safety of your kid for a few dollars off.
How do you charge a hoverboard?
Similar to charging your device, charging your hoverboard is relatively easy. First, you need to make sure that the charger has been connected to the hoverboard. Then, plug the charger in the socket. Switch on the plug connected to the socket.
Hoverboards feature a charging light indicator. A green light indicates that the battery is full already, while an orange light means the unit is charging.
Are hoverboards waterproof? Where can I use it?
This depends on the manufacturer so make sure you have read the instruction manuals before using them. Hoverboards are designed to run on smooth roads or pavements. Avoid grass, rocky terrains, and gravel for the best experience.
What extra features should I look for in a hoverboard?
To attract potential customers, most manufacturers have add-ons to up their game. Interestingly, most of these add-ons are useful to the rider.
For instance, some hoverboards are now equipped with GPS and built-in Bluetooth speakers that you can easily connect and control through your smartphone. There are also some with gyroscopic, sensor pads, and car key-like remote.
The add-ons entirely depend on your needs. But always do consider the added value it can bring to your hoverboard. But really, these extra features simply add that "cool" factor.
Conclusion: Selecting your Hoverboard
There are a lot of things you need to consider when buying a hoverboard for your kids, but we hope that this guide helped you find the perfect one for your little one. Regardless of your kid is a newbie or an advanced learner, there is a hoverboard for them.
As parents, just make sure you gear them up properly and ensure safety at all times. Carefully read and follow the instructions in the manufacturer's manuals. Also, quality, quality, quality!
Find a hoverboard that is guaranteed to be made from the best materials in the market today. Watch out for knock offs and do not buy anything that does not come with a return policy.
One more thing, before "hovering" down the street, check with the local laws or your local police department about laws regarding hoverboards and where you can ride them without getting fined.