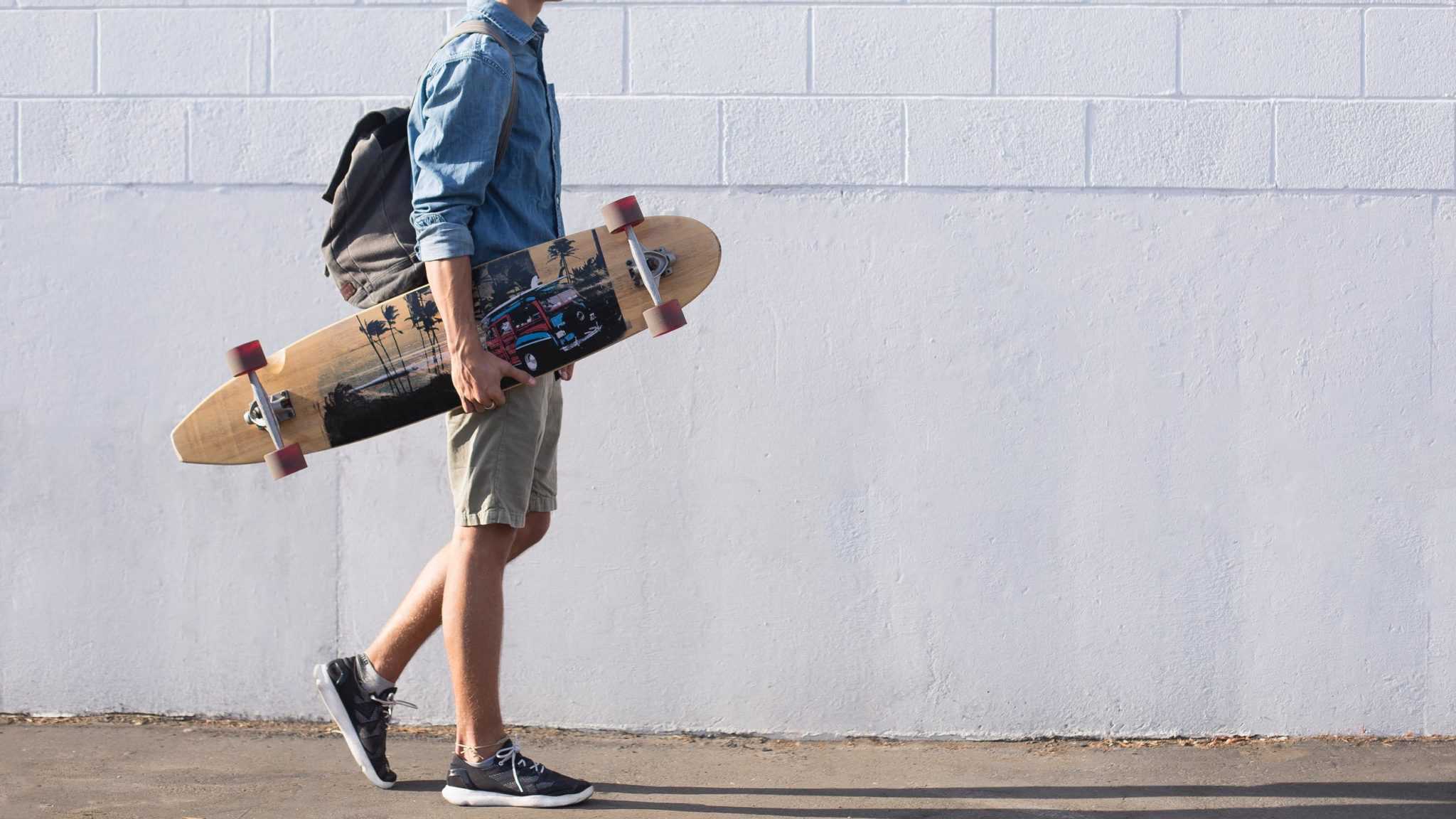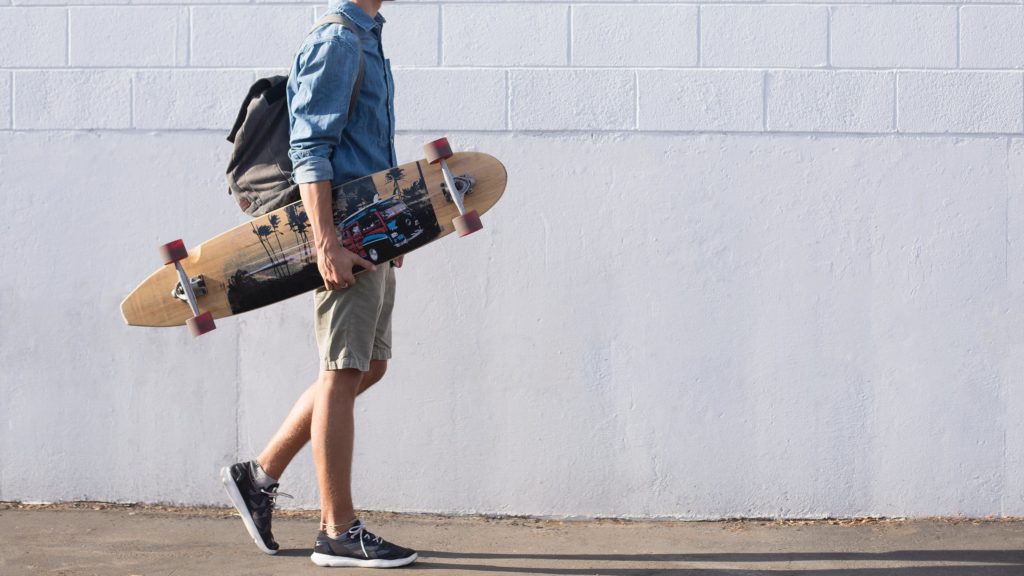 Welcome to our best longboards buyer's/review guide, we're going to take you from A to Z in the world of longboards so you'll know everything you need to know before buying your first longboard (or one for a family member or friend).
This is a no-judgment zone, therefore we'll start with the basics of what makes a longboard a longboard and then we'll compare various other styles of skateboards to see if they actually fit your needs better.
Another thing you'll notice in this guide is our components breakdown. We will discuss the various parts that when put together make up a complete longboard. Brands are another focal point of this article, which brands are the best?
We will discuss the top longboard makers and what they each offer to the niche. Lastly, we'll give you some recommendations on which boards to buys and close it out with some beginner's tricks and tips to get you rolling off to a good start.
For those who don't like to read… here are the top Longboards on the market this year. We made these selections based on price, value, and overall quality.
Best Longboards for 2022
No matter what you want to get from your longboard these are the very best boards on the market today!
1. Retrospec
Leading the list is the Retrospec Zed Bamboo Longboard. This board is the perfect choice for teens and adults. The combination of bamboo and Canadian maple make this board sturdy, stylish, and environmentally friendly. Not only will you have a ton of fun on your new board, you'll look great doing it.
One of the most important things to look for when searching for a new longboard is one that is going to be safe, especially if you are giving that board as a gift. The precision ball bearings allow the rider to get to higher speeds while keeping the ride smooth. Add in the fact that the anti-bite technology helps prevent wheel bite, ensuring you stay safe on your board.
Pros:
Superior grip thanks to the rock finish
8-ply Canadian maple makes this board extremely strong
70 mm polyurethane wheels with anti-bite technology prevent falls
Cons:
Board is rigid and does not flex at all
2. Atom
This longboard from Atom is going to be your new favorite. There are three finishes available, making it easier to find the perfect board to fit your style. Whether you're into the bamboo look or you want something more colorful, there is a board available for you.
The course grip is 46 grit, which is excellent for all types of weather; no more wet shoes slipping on your board. The wheels are nice and sturdy, at 70mm in diameter and 51 mm wide. With the ABEC 9 bearings plus high-speed lubricant, you'll be able to move quickly.
Pros:
3 finishes to choose from
Course grit grip for non-slip riding
Affordable cost – perfect for a gift for a kid or teen
Cons:
Trucks may become loose and need to be tightened
3. VOLADOR
If you're in the market for a long board that not only will perform great but looks awesome, look no further! This board from Volador is a fantastic deal. Not only is the price point amazing, but the board is super sturdy and it is stylish. With eight finishes to choose from, you're sure to find the perfect board, whether you are shopping for yourself, a friend, or your kid. Let's take a closer look at the details.
This board from Volador is super sturdy. It has a rock maple deck, aluminum trucks, and polyurethane wheels. The ABEC 9 bearings are solid and built to last, just like the rest of the board. With a weight capacity of 250 lbs, this board is perfect for kids, parents, and anyone in between.
Pros:
Trucks are adjustable
Comes in 8 different designs
Reasonable price, making it great for a gift
Cons:
Deck tilts even with trucks fully tightened
4. Playshion
For anyone looking for an entry-level longboard, this board from Playshion would be a great buy. With a weight limit of 250lbs, it has the ability to hold most people, making it perfect for people of all ages. With 5 finishes available, you should have no problem finding the perfect board for you.
Soft PU wheels plus the ABEC-9 Bearings ensure a smooth ride, even on rough terrain. This board is a good choice for learning because it is low to the ground, which helps with dismounting. Channel your inner child and give the Playshion Drop Through Freestyle Longboard a try for yourself.
Pros:
5 styles to choose from
Deck is only 39 inches
Weight capacity of 250lbs
Cons:
Really fast, which can make it harder to learn with
5. Magneto
When you need a super long and flexible board, you should take a serious look at the Magneto Longboard. The bamboo construction lets the deck flex to an incredible degree, while the fiberglass reinforcement helps it retain much of its strength. The dual kick tails, and the arched camber let you do a wide variety of tricks and stunts, and give the board a lively feel when riding.
The 7-inch Paris-style trucks make this one of the most stable boards you can ride. Dance however your style dictates, this board will be your partner. It includes 70mm 78A urethane wheels to make sure your board stays planted on the pavement when and where you want it.
Pros:
Several colors and designs available
Bamboo construction is sustainable and robust
The epic deck is 46" long
Cons:
6. MINORITY
When you need a bit shorter and stiffer board, the MINORITY Downhill Maple Longboard is a great contender. It comes in at a modest 40 inches, and is made from 100% maple, pressed into an 8-ply board. The 37 inch wheelbase is still really roomy, and the 10 inch width gives you lots of room to spread out.
The 7-inch aluminum trucks can be set to 45 or 50 degrees, depending on your preference for maneuverability. The MINORITY Downhill Maple Longboard comes with 70mmx51xx 78A urethane wheels, so they are on the softer side of the spectrum. The ABEC-9 bearings give you a nearly unbeatable smooth and quiet ride.
Pros:
ABEC-9 bearings are high-precision
8-ply maple construction gives a very strong board
The 78A wheels work well during downhill runs to avoid slipping
Cons:
This board is extremely rigid
7. YOCAHER
If you are one of the longboarding downhill addicts, you will find a great board in the Yocaher Professional Speed Drop. Not only does the 41×9 deck give you plenty of room to lean and flex as you take those downhill speed runs like a pro. The included wheels are a fairly soft 78A urethane, so you can really stick to the street.
The 9.6" trucks are super-wide so you always have the peak balance and stability. The aluminum alloy gives you all the strength you will need, without adding a ton of extra weight. The board is concave just slightly to give you an edge in grip, as the deck itself is designed for skaters with a lower center of gravity.
Pros:
6" aluminum alloy trucks
Drop-down deck allows more stability
70mmx52mm PU wheels
Cons:
Really soft wheels, pick up spares if you like a little firmer ride
8. Slendor
The Slendor Longboard is a super long 42 inch longboard that is 9 inches wide. The drop through camber deck offers some flex and shock absorption. The aluminum trucks can take significant abuse, and will stand up to both routine cruising, as well as hard speed riding or stunting.
The ABEC-11 speed bearings let you hit top speeds you have only dreamed about, while the 7-inch adjustable-angle trucks give you plenty of stability. Included with the Slendor Longboard are semi-soft 85A urethane wheels. This board is built for downhill speedboarding as well as freestyle riding.
Pros:
One of a kind look
Super long drop-through deck
Tons of color choices
Cons:
The deck is very flexible, may not be right for those who prefer rigid boards
9. Razor
For long steady cruises there is no longboard more suited than the RazorX Longboard Electric Skateboard. At its foundation is a kick to start motor, that puts a powerful 125 watts into a geared rear wheel drive system. This moves the ride at up to 10mph, for up to 40 minutes of riding time.
The deck is 37.5" long and is made of 5-ply bamboo, so there's plenty of room and it won't crack on you. It comes with a remote, so you can control your speed at the touch of a button, without even taking a foot off the board.
Pros:
Supports up to 220lbs
5-ply bamboo makes this board super durable and crack resistant
125-watt geared motor move the board easily
Digital remote
Cons:
Since it is electric, you will need to make sure it is always charged and ready
10. Eggboards
The Eggboards Mini Longboard is a sustainably-designed bamboo mini longboard. It is a much more portable version of the ultra-trendy longboards. The super wide construction makes the Eggboard extremely stable and smooth-riding. The ABEC-9 bearings bring a super high-precision feel to your ride.
Since the boards are made from bamboo, they are much more durable than other wood like maple. The trucks are cast from solid aluminum and will hold up to your riding style, no matter how hard or how casual you board.
Pros:
Sustainable design
Great for kids as well as adults
Super portable longboard
Cons:
The deck may be difficult for some to ride
What makes it a Longboard?
A longboard at its core is a longer skateboard, i.e. "Longboard" or long skateboard. Other differences besides length are the various shapes available in the longboard category.
While longboard started in Hawaii with surfers customizing skateboards to create a way to imitate the rolling waves on land, The first longboards available commercially came out in the 1950s and caught on in California by the mid to late '70s.
Longboards are much faster than traditional skateboards used for street tricks or park riding. Due to the larger wheels and wider axle set up longboards can be used high-speed downhill bombing commonly called "free-ride" longboarding, check out this insane video!!!!
Don't be disheartened because you'll never have to do anything remotely close to that if you don't want to. Many others find longboards great for leisurely neighborhood cruises and even commuting. 
Components that make up your Longboard
A longboard is typically made up of 6 parts or sets of parts. First, you have arguably the most important part which is the deck followed by your grip tape, trucks, bearings, wheels, and hardware.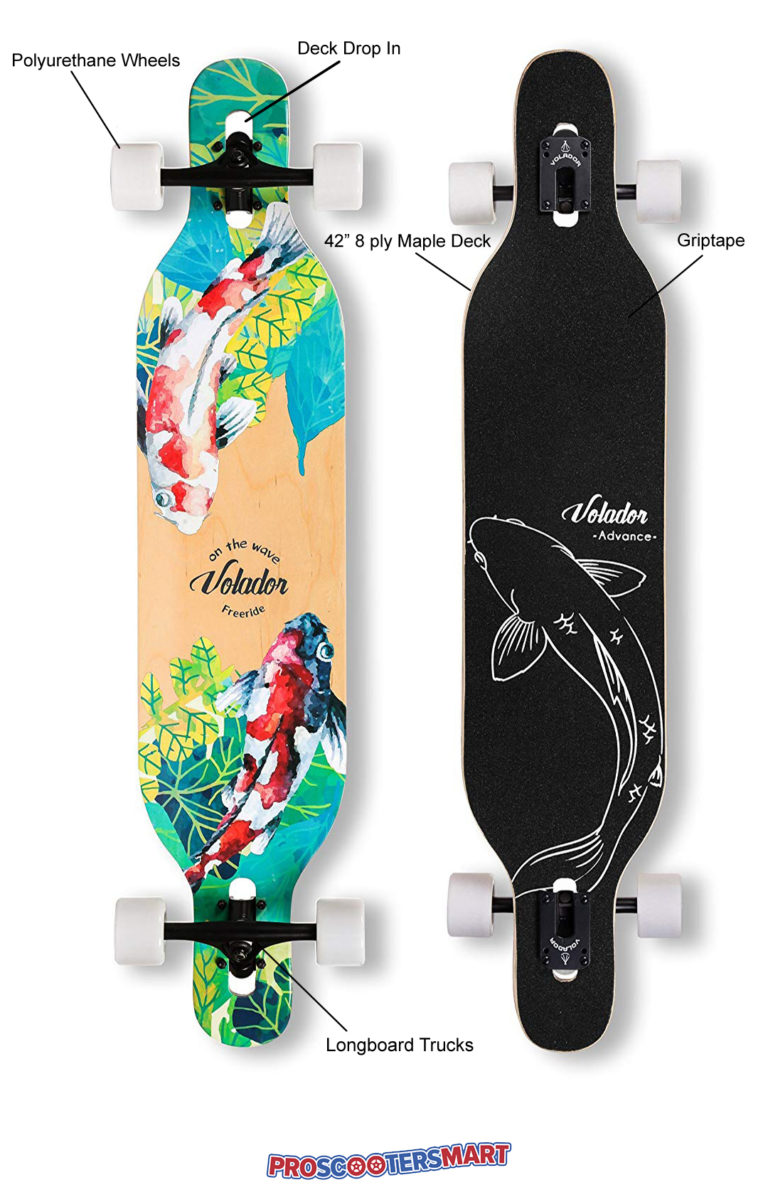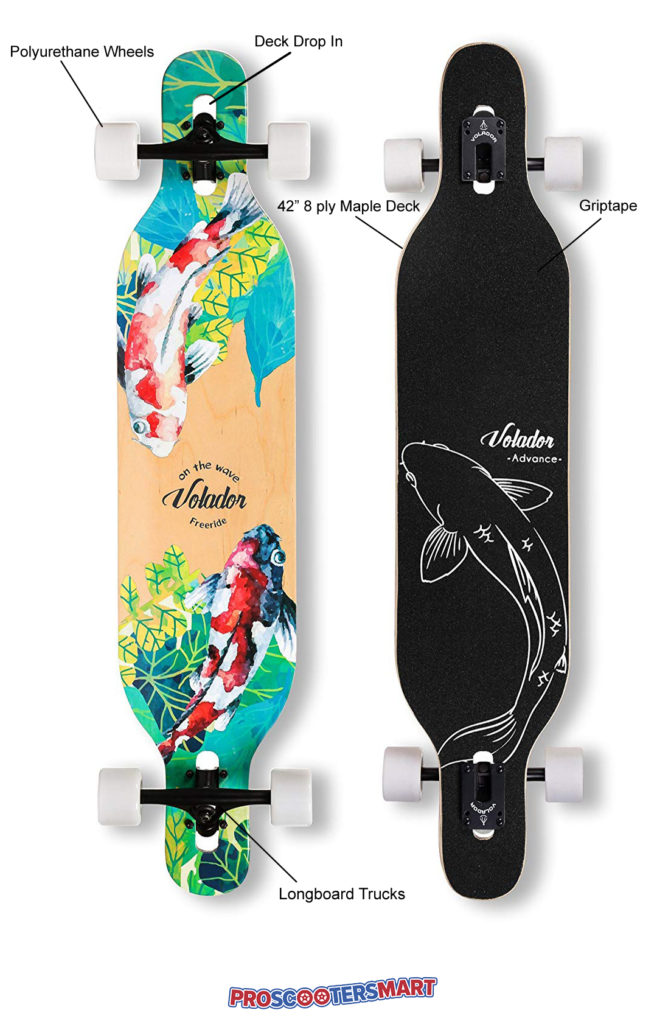 Skateboarding VS Longboarding
Skateboarders aren't really into longboarding because of how different the two activities can be. Both consist of a wooden deck, trucks, grip tape, bearings, hardware, and wheels but the movements and skills utilized couldn't be more different.
A skateboarder is going to be concerned with technical skills and a longboarder is going to be concerned with balance and flowing movements. Because of these key differences, the physical characteristics of the two boards differ quite a bit.
Length is a major difference, a longboard will measure between 35″ and 60″ inches. On the other hand, a traditional skateboard will fall somewhere between 28″ and 34″ inches, making the longest skateboard an inch shorter than the shortest longboard.
Wheels on a Longboard will also be bigger and softer than the wheels found on a shortboard. Thinking physics makes a whole lot of sense. If you've been on a skateboard before you know that a rock or deep crack can ruin your day throwing you headfirst off the board.
Larger wheels will absorb pebbles and cracks with no issues keeping you rolling. The trucks on a longboard will be lose in comparison to those on a skateboard when longboarding you need more flexibility to pull off tighter turns and maneuvers.
Longboard Riding Styles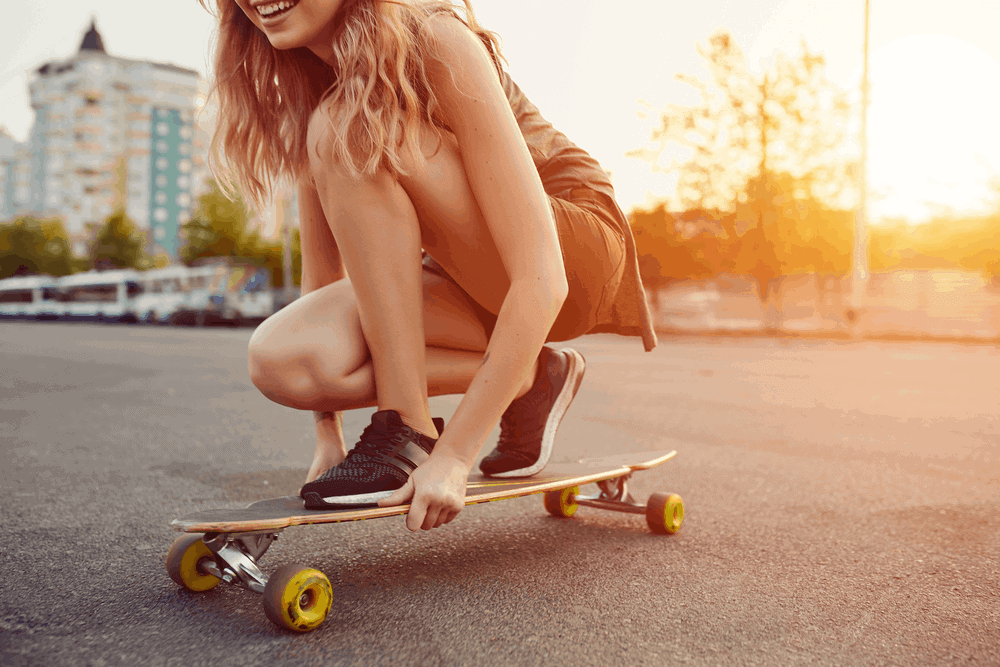 Bombing down steep hills and freestyle tricks aren't for everyone, sometimes you just want the sensation of wind in your face which can be accomplished just cruising down the sidewalk. You can have a ton of fun on any well-paved path or trail, especially if its beachside.
Longboard cruising is a great alternative to going for a brisk walk! Your legs and core are all activated while kicking and steering your board.
If you think you'd get board with just cruising think about getting into Longboard freestyle. Free-styling can include basic flat ground tricks like shuv-its, fancy footwork and dance moves.
What is cool about long board dancing is the element of individuality and freedom one gets from expressing themselves on their long board. No two long board dancers will be exactly the same, so be you on your board and have fun!  For one wanting to get into cruising and freestyle dancing here are some of our recommended boards.
Best Cruising & Freestyle Longboards
Maintaining  Your Board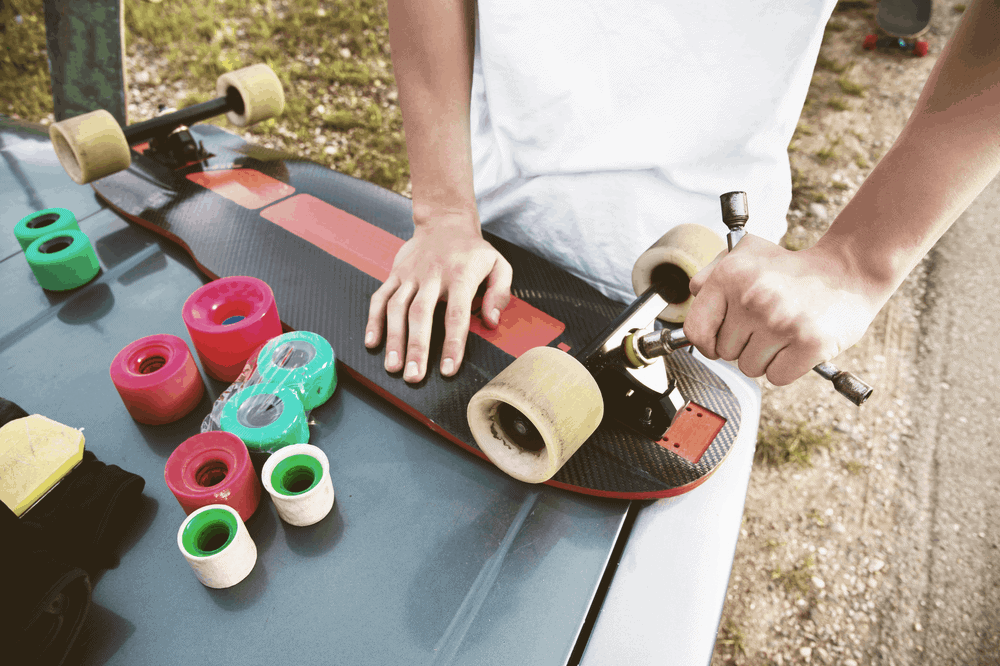 The first thing you can do to keep your Longboard rolling smoothly is to clean the bearings! Wheel bearings although small are really one of the main components of your board.
Basically, they are what make you go, so making sure they are functioning properly is key. Your bearings are exposed to harsh elements like rain, dust, dirt, mud and grime. When left unchecked a failed bearing can lead to serious issues and even injury.
To limit the amount of maintenance needed on your bearings make sure to AVOID RIDING IN THE RAIN! This can't be stressed enough, everything on your board is adversely affected by rain water…your bearings and the deck could both be ruined.
Use shock pads! Those little rubber rectangles that sit under your trucks are important. They preserve the life of your deck by preventing your trucks from being forced into the soft maple wood of your deck. You'll be surprised how much damage is prevented by using these seemingly insignificant components.
Lastly, rotating your wheels for wear is a good routine to get into. Longboard wheels wear unevenly due to the variety of surfaces you ride over. Switching your wheels around occasionally will make them last longer.
Taking care of your bearings is quite easy and can be accomplished following these simple steps:
Safety First While Long boarding!
As you've seen early on in this guide riding your long board can be potentially dangerous, so we advise that before engaging in any hill bombing or trick riding that you wear the proper safety equipment.
At the very least wear a helmet, while you might be able to shake off a scraped knee it's never cool to risk impact to your head. Here are a few of our recommended helmets and other safety gear!
Helmets & Other Safety Gear
Longboarding can be both a fun and rewarding activity when done properly. Be sure to always wear the appropriate safety gear and be careful when riding in uncontrolled environments. Also, don't forget to check your bolts and hardware before riding.
Hopefully, you've learned enough from this guide to be able to make an informed decision on the best longboard for you and even how to maintain the board you select because that's the purpose of this write-up. Thanks for reading!