Grips are one of the often overlooked components of a pro scooter. Riders typically don't pay attention to their grips until it's too late, yep when their hands are all callused or when their grips are peeling off.
Before recently it was mainly ODI as the only real player in the scooter grips category but now all of the industry-leading brands are making grips and even some smaller parts companies are throwing their grips into the mix.
Our Top Picks in Scooter Grips
In this post, we are going to highlight the top 10 best grips for stunt scooters. When looking for a pair of grips you should be mindful of these factors:
Grip Comfort
Comfort is extremely important and probably the most important factor in our minds. If your grips are rough or uncomfortable it's going to make your riding sessions less enjoyable.
You won't be able to ride your scooter all that long and even worse over time you'll develop blisters and nobody has time for that. Selecting a pair of grips that are comfortable is what you focus on when making a decision.
Grip Durability
Durability is probably second to comfort in the most important factors to consider when selecting grips.
You don't want to be replacing your grips frequently as it just a pain to do and also if you buy grips you don't want to waste your money on crappy grips that peel apart. The perfect pair of grips will be soft, durable and look good. That brings us to our last point…Style!
Grip Style
Nowadays long gone are the times when there were only solid "ODI" style grips. Everyone has their own unique take on grips. Custom bar ends and urethane blends are abundant but there is still a lot of junk out there.
Plenty of crappy cheaply made grips that tear up after you spend 30 minutes wiggling them on with a boatload of zip ties.
There are lots of cool colors and patterns available, glow in the dark, the overused swirl effect and other graphic prints. Select something that you like and complements the color scheme of your set up.
The 10 Best Scooter Grips Reviewed
Below you'll find the top 10 scooter grips on the market, our list takes into consideration price, durability and comfort.
The Kutrick Pro Scooter Handle Bar Grips are comfy, soft, but stylish and grippy handle bar grips. They offer a very similar feel to some larger names on the market, while being able to offer them at a lower price wth the Kutrick name. The 145mm soft flangeless grips are super simple to install without the use of any glue.
Available in an array of colors, including rainbow, red & black, and an icy blue rainbow, you can pick the perfect look to match your rig. They can easily be used on scooters, both pro, and beginner, as well as BMX and other similar handlebars. The extra-long 145mm longneck style grips give you plenty of room to cover your handlebars, with material that is simple to trim if needed, for a custom fit.
When you ride your scooter hard, whether it is while cruising, or while stunting and pulling off difficult tricks, you want to make sure you have the ultimate grips. Using shock absorbing natural rubber, the Ethic Pro Scooter Grips deliver optimal comfort in a simple yet effective pro scooter grip.
When you have comfortable handle grips on your scooter, you don't have to worry about taking it easy. You can ride hard, you can ride fast, and you can stunt big. The Ethic Pro Scooter Grips will protect your hands and wrists from damaging vibration and discomfort while looking absolutely amazing doing it.
With a traditional finned grip. the Ethic Pro Scooter Grips won't let go if you don't. They are simple to install and are long enough to cover even the widest scooter handlebars in just minutes.
Showing the big brands how to provide comfort and protection in an attractive package and at an incredibly attractive price, are the MARQUE Chevron BMX Handlebar Grips. They feature a unique chevron pattern in the gripping surface, allowing riders to keep a positive and confident grip on their handle bars.
The extra-long 140mm grips and included end caps will fit nearly any handlebars that you need to add a little cushion to. In addition to being able to fit nearly any scooter handlebars, they install in just moments, without the need for tools or adhesives. The plugs close the ends off and complete the look. They will also work well on BMX bikes and pro-level scooters, so they make great gifts for the active ones in your life.
While keeping a solid grip on your handlebars, you can deliver the look you want thanks to the wide array of colors that the MARQUE Chevron BMX Handlebar Grips are available in. They come in 11 colors, including hulk green, glacier blue, quarts, purple storm, camo, and more.
When you stunt and trick hard, you need to protect your hands and wrists not only from discomfort, but also from damage and injury. The Boenoea Pro Stunt Scooter Grips let you protect your hands while riding your scooter and come in a nearly universally useful 145mm length.
The TPE rubber and extended length afford you the ultimate in comfort and protection as you ride your scooter. The pro-quality grips feature a ribbed texture to minimize slipping in any direction. Included are both grips, as well as end caps to close off the openings and clean up the finished appearance. Coming in blue, green, red, and purple, there is a good chance you can get a color that will easily blend with your look.
The Z-FIRST Handle Bar Grips are ideal TPE rubber grips for your pro scooter or BMX. The extended 145mm length ensures you can cover as much of your handle bars as you need to, and the soft ribbed grip make sure you never let go until you want to.
Coming in 5 colors, the Z-FIRST Handle Bar Grips complete the look by including end caps so that you can keep the grip installation looking professional, and reduce the possibility of injury due to any bare handlebar material sticking out.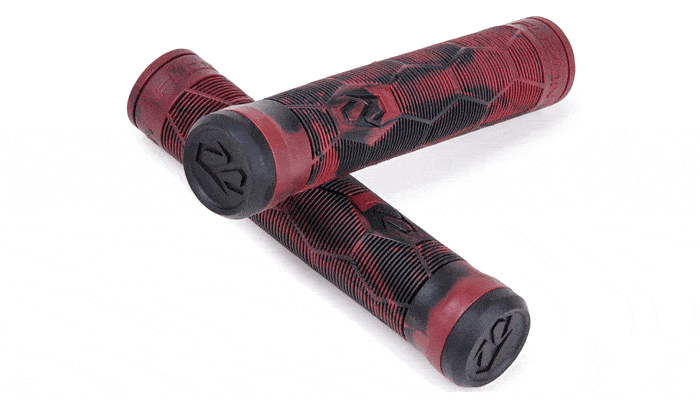 Eat your heart out Envy, Fasen and ODI Fuzion pro scooters did an amazing job on their all-new "Hex" Grips. These top our list of the Best Scooter Grips for a few reasons but namely the way these grips feel in hand. Fuzion lists them as "extra-wide" as they are 155mm in overall width when measured with a tape.
The way these grips feel in hand is amazing, they are soft but not too soft and firm but not too firm to where they are going to cause blisters. Hex Grips are really just right! Really the best way to describe these grips is like the porridge in the three little bears stories absolutely perfect.
If you need some fresh grips because yours are dead try these Hex Grips by Fuzion we are absolutely sure you'll love them. Available in 4 colors you'll be sure to find a pair that complements your complete scooter.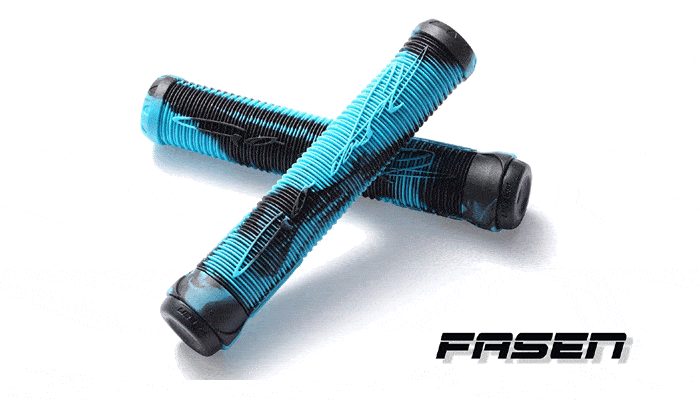 Coming in at #2 is Fasen with the Fast grips. These grips top the list when it comes to styling, Fasen made sure that no matter who walks into a pro scooter shop looking for grips they will find what they're looking for from Fasen. Available in 8 different color options they made sure to be appealing in the color offerings department.
The Fast grips feel great and are made from a very nice urethane material. Originality is actually on the side of Fasen in this case as we believe they were some of the first with the "swirl" design.
To be honest we are sick and tired of swirl grips and are ready for the next trend in grips to hurry up and come. Our verdict on these grips is that they are amazingly soft, durable and come in almost every color combo you can think of. A sure bet every day of the week!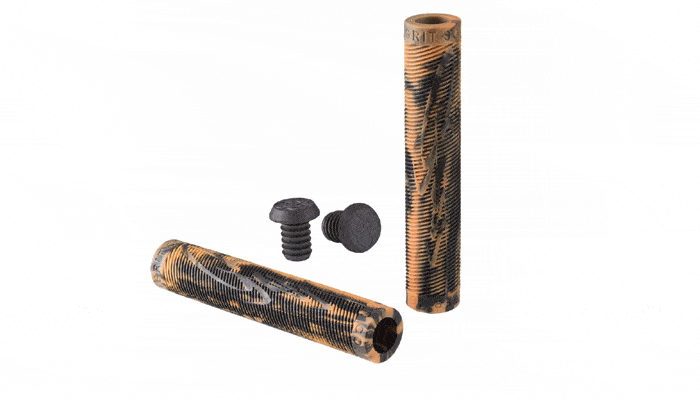 It's funny that Grit advertises these as flangeless, now every grip is flangeless unless you're talking some Plashion scooters or Outon. These grips are composed of TPR which is supposed to be the most durable material you can get for grips. These Grit scooter grips are legit because they will fit on any bars you might be riding.
They feature a ribbed pattern for comfort and pleasure while riding. Sounds like a commercial for another industry… but I'll leave that one alone :-). The length on these bad boys is 160mm which is longer than the Fuzion and Fasen grips.
While these grips are top quality and look great the fact that they are available right now in 2 mediocre colors drops them to the #3 spot on our top 10 best pro scooter grips list.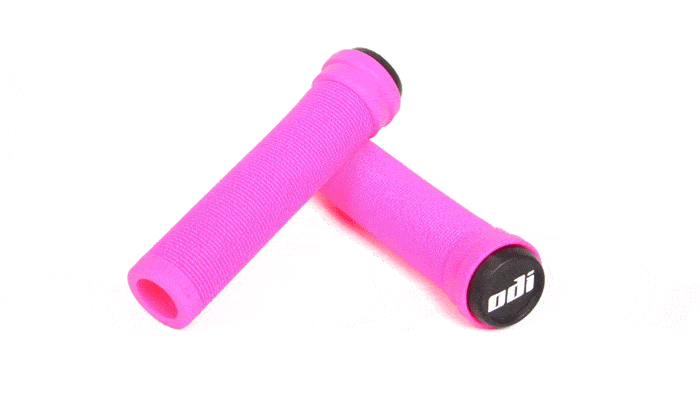 The market leader for forever, ODI grips are consistently GREAT. If you are political and into USA commerce and feeding into the local economy and creating jobs in American then you should by all means by ODI as they are the only grip on this list made in the USA.
These grips are legendary for their durability, comfort and stellar colors. However, they have looked exactly the same forever! What we'd like to see is something new and cool from ODI.
Just stir the pot up a little bit, everyone knows they make the best grips performance-wise but they need some help in the styling department.
As soon as ODI releases a new style, pattern or graphics package they will surely top the grips list again but for now, due to the redundancy, we are going to stick them at the #4 spot. If you want grips that will never let you down these are for you.
On the flip side is you want something that is going to make your scooter pop these might not be for you. With all of the style and pattern options available we'd suggest one of the sets of grips mentioned above.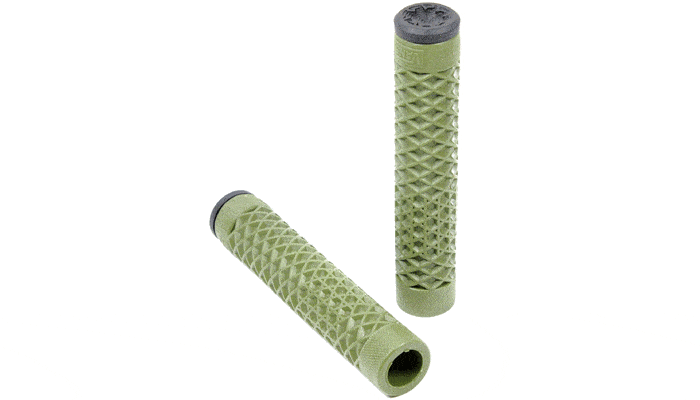 Last but not lease on the list are the grips by Vans and Cult ( a bmx brand), while these grips were technically designed for BMX they work great for scootering. On the qualification scale these bad boys top the charts in style.
Featuring the sole pattern from the classic Vans shoe collection these grips are super cool. While everything about these grips looks amazing we aren't too sure about the waffle pattern on hands for extended periods.
Once you've been riding for a while and work up a sweat these grips also get a little slippery so exercise caution there. Overall these grips are probably our favorite in the looks department but they are a little short at only 150mm they are the shortest grips on our list.
Available in 4 different colors these grips are an amazing option. If they were longer and made specifically for scooters and not BMX these might have appeared a lot higher on the list. Still, all in all, these are a great alternative to scooter-specific grips.