Best Pro Scooter Wheels, The Ones You Should Know About!
Are you looking for a new set of scooter wheels yet you don't know what to buy? With the rise of many scooter wheels, many companies have actually continued to create their own design and features of scooter wheels.
However, not all of these wheels can perfectly fit your taste and need.
To better help you choose the best, take a look at the list of the Best Pro Scooter Wheels below for you to decide.
Our Recommended Scooter Wheels
Liberty Pro Scooters- Single Series - 110mm Hollow Core Wheel (Red)
Do you want to customize the wheels of your scooter? This Liberty Pro Scooters will give you the chance to customize your scooter. With its durability which made up of 88a rated Poly Urathane and the high-quality design, this wheel is one of the best scooter wheels. This wheels can help you to fly to new heights and completely level up your scooter experience.
Liberty Pro Scooters features the hollow technology which produces some of the best and lightest scooter wheels. The size; 110mm. if you are in search of the best scooter wheels on the market, this Liberty Scooter Wheels could be one of your perfect choices.
This will take your riding experience to the next level. These scooter wheels are being praised by many avid riders because of its features. It has been one of the trends which provide the scooter a fast and smooth roll.
---
ROOT INDUSTRIES AIR Wheels 110mm - White/Red
The Root Industries is one of the top developer and manufacturer of scooter wheels for many years now. This all new AIR wheels from the Root Industries developed this wheel which is being considered as one of the lightest wheels on the market today. The wheel weighs only 190 grams 220 grams with bearing. This means that you get the strength of the wheels with the lightness of the air of the inner chamber of the wheel.
Root Technology is known for developing high quality of scooter wheel which is being patronized by many avid scooter riders. Buying this wheel will give you the assurance that you are getting the premium quality of scooter wheel.
Created with Abec 11 bearings, this new AIR wheels will give you the highest quality of riding experience. This wheel is sold in pairs and the bearings are included.
---
Available in three different color options the Ace wheel is a little limited in colorways however that doesn't stop these wheels from making the list.
Ultimately Fuzion pro scooters deliver a great aftermarket wheel at a respectable price point. If you like the way they look by all means get a set. The blue hubs with black cores are our favorites.
Please check your fork compatibility before upgrading to 120mm wheels.
---
River Wheel co. landed on the scene and made a huge splash with their eye-catching colorways. Their collection of Glide wheels are made with specific performance in mind.
The rider who is looking for grip should opt for the River Glide wheels, unlike the Rapid wheels these have a softer urethane compound that allows the wheel to give and grip ground surfaces better.
These wheels are sold in pairs so you won't be able to mix and match unless you know a friend that might want to swap a wheel with you. A bonus design feature is that all River wheels are slotted so the bearings can be removed easily.
Sometimes after a lot of hard riding your bearings can get wrecked and when this happens it a nightmare to get the old bearing out. With River wheels that is never a problem. Flash Flood bearings by River Wheel Co are included with the set of wheels.
---
The 110mm Neo wheels from Kutrick are state of the art replacement scooter wheels that are constructed with a beautifully machined swept spoke core made from aircraft-grade aluminum. They are designed to fit all scooters compatible with 110mm wheels, including Fuzion, MGP, Vokul, and more, and will add the perfect visual flair to your stunts.
Featuring a super-durable 88A urethane, we saw great performance across several different pavement conditions. The top-tier ABEC-9 bearings give you the ultra-high precision that translates into the smooth and responsive movement you need to keep a consistent speed and pull off the toughest tricks. With the high tolerances of the bearings, you'll get almost zero noise from these wheels.
With many wheels being sold singly, being able to get two wheels of this quality at this price point makes them an incredible wheel mod for your scooter. Whether you a replacement wheel, a new set or a backup set to bring to the skate park, the Kutrick Neo 110mm wheels are a great option.
---
These 100mm wheels from FREEDARE are pro scooter wheels on a beginner budget. The stylish core is machined from an incredibly durable alloy and covered in an 89A high rebounding urethane. The urethane formula used for these wheels classifies them as hard wheels, and as such, these wheels are ideal for flat pavement or park concrete, or for harder tricks where scuffing and wheel damage may be a problem.
The included APEC-7 bearings give these wheels a silky smooth spin, faster tops speed, lower friction coefficient, and super-low noise. The harder urethane lets you really ride these wheels hard while stunting. At 24mm wide, the FREEDARE 100mm scooter wheels provide a solid foundation for trick execution and recovery.
One of the best things bout this set of wheels is that it's available in five different colors so that you can get the look you want on your scooter. The alloy cores come in a blue, gray, orange, red, and silver color, with each having the finish of brushed aluminum.
---
Envy just doing what they do best, riding waves and trends perfectly. What kid or even an adult doesn't want a Lambo? Envy makes the dream attainable on a scooter with their aftermarket Lamborghini wheel.
Designed for style and comfort these wheels are sized in 120mm and are available in 3 different colors: Oil Slick, Chrome, and Black.
One often overlooked feature is the scooter wheel width. These wheels are 26mm wide over 2mm wider than the standard scooter wheel.
With 120mm wheels its important to make sure that your current fork will support the wheel size upgrade. If not you may end up paying for a new compression system, fork along with the new set of wheels!
---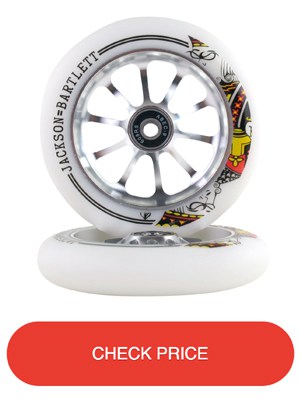 Ride 858 is a relatively unknown scooter brand but they are backed by a nice team of talented and experienced riders. Having experienced riders seems to have been a nice luxury for them as they seem to get it when it comes to parts design.
The perfect example is these Signature Jackson Bartlett wheels. Marketed as the "Simple the best designed by the best" these wheels feature amazing graphics.
Jackson Bartlett's theme is set on the King playing card. Enough looks at what's under the hood of these wheels? Similar to the Envy Lambo wheels the Slik Riks has a wider surface area to provide sturdier landings.
Urethane compound is another thing that was a focal point as the Ride 858 formula was developed to be extremely resistant to heat, making the wheels last longer. With sick graphics, a simple clean design and performance specs like heat resistant urethane and wider radius these are some of our favorite wheels for 2022.
---
TFox is responsive and is one of the most anticipated wheels in the industry. This wheel has a high-performance which helps you to get ready and feel the ride.
Another good thing about this wheel is it is being sold individually and not as a pair. So, you can easily personalize your wheels.
This TFox features Lucky Rebound Technology which is a combination of a new pouring process and a high-performance urethane. This wheel also delivers a fast, grippy, and buttery roll.
Lucky TFox continues to innovate the processes to get the best wheels and better focused on the performance, the durability of the wheels, and the feel.
These wheels are only limited so get yours now while it's still available. The weight of each wheel is 0.22 kg. This Lucky TFox scooter wheel also includes bearings which are already installed.
You will surely love the size and the color of this wheel. If you are looking for the best scooter wheel, this TFox could be your perfect option.
---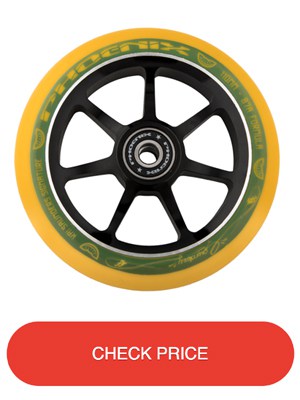 Phoenix Kai Saunders has been on the team of Phoenix for two years now. With his loyalty, the team believed that it was time for him to put his name on something as he climbed the ladder from simple into a professional.
When it comes to the material, this wheel is of high quality, a colored Polyurethane wheels which promotes durability and longevity of the wheel.
This wheel is compatible with almost all scooters which wheels are 110mm and its size is 110mm x 28mm in wide with 9 bearings installed. It can be bought individually so you can personalize your scooter.
This wheel weighs 0.52 lbs. With the durability of the wheel, it can last for a long period of time. Therefore, this is worth an investment for your scooter.
Phoenix F7 Alloy Pro Scooter Wheel 11ommm with ABEC 9 Bearings
If you are looking for a new wheel with the best price offering, check out this scooter wheel.
As a product of Phoenix Pro Scooters Company, Phoenix quickly set the world of the scooter in a different way. This F7 Alloy Pro Scooter will take your scooter experience to the next level. The wheel assures that you will have a smooth ride. You can completely enjoy riding your scooter with this new wheel.
You can buy this Phoenix F7 Alloy in single or in the set. It is made up of high-quality and durable materials and is compatible with any 110mm wheel scooter. Since this wheel is metal, they are much durable as compared to plastic core ones.
Metal cores are stronger than plastic. Therefore, it is better to choose a metal core especially if you are an advanced rider. They hold up better than the plastic and its neo-chrome color is quite attractive and provides you a smooth ride. If you are looking for the best wheel with good quality, this wheel is worth considering.
---
What Are The Best Pro Scooter Wheels?
In buying for your new scooter wheels, metalcore is better than the plastic core. If you love to skate at the park with the rough course just like the street, for sure you want the wheels to stick better and roll better.
The higher the number of bearings, the tighter the tolerance and it means that you can have a better scooter experience if you choose to buy the scooter wheel with the higher number of bearings.
The above list of the top pro scooter wheels includes the most recommended scooters. If you want to get the best performance from your scooter, then these wheels are all worth considering. All of the above choices are from noteworthy and reputable brands known for quality.
If you see something that speaks to your individual style then go for it.  When you are looking to decide on a pair of wheels make sure that they will fit your application. Most complete scooters do not come with forks that support 120mm wheels so double-check this before upgrading to 120s.
Another factor to think about is what you want to get from your wheels. Do you want more grip? Then you want a softer durometer. What if you want more speed? Then you will want a wheel that is harder and larger, think about the 120mm size.
Most companies advertise their wheels as being 86A but different brands have quite different polyurethane formulas. Basically, a wheel from District is going to be different than a wheel from Madd Gear and vice versa. Bearings also play a vital role in the performance of your wheels, really bearings are what make the wheels go. Most brands manufacture their own bearings check out our best bearings guide here.
FAQ
Q: Are Bigger wheels better on a scooter?
A: While bigger is not necessarily always better, it will depend on what you need from your scooter. Larger wheels will facilitate a higher top speed, and they are also more suited to steady cruising. Smaller wheels will allow more control over the scooter during tricks and stunts but will be harder to obtain higher speeds on.
Q: Can you put 110mm wheels on a 100mm scooter?
A: In many cases, you will be able to use your 110mm wheels on a scooter that came with 100mm wheels. The best way to ensure if they will fit is to consult the documentation that came with your scooter, it will often state the maximum wheel size. If you are not able to refer to the manual you can always measure from the center of the axle to the top of the fork to ensure it will fit.
Top-selling Pro scooter wheels on Amazon: