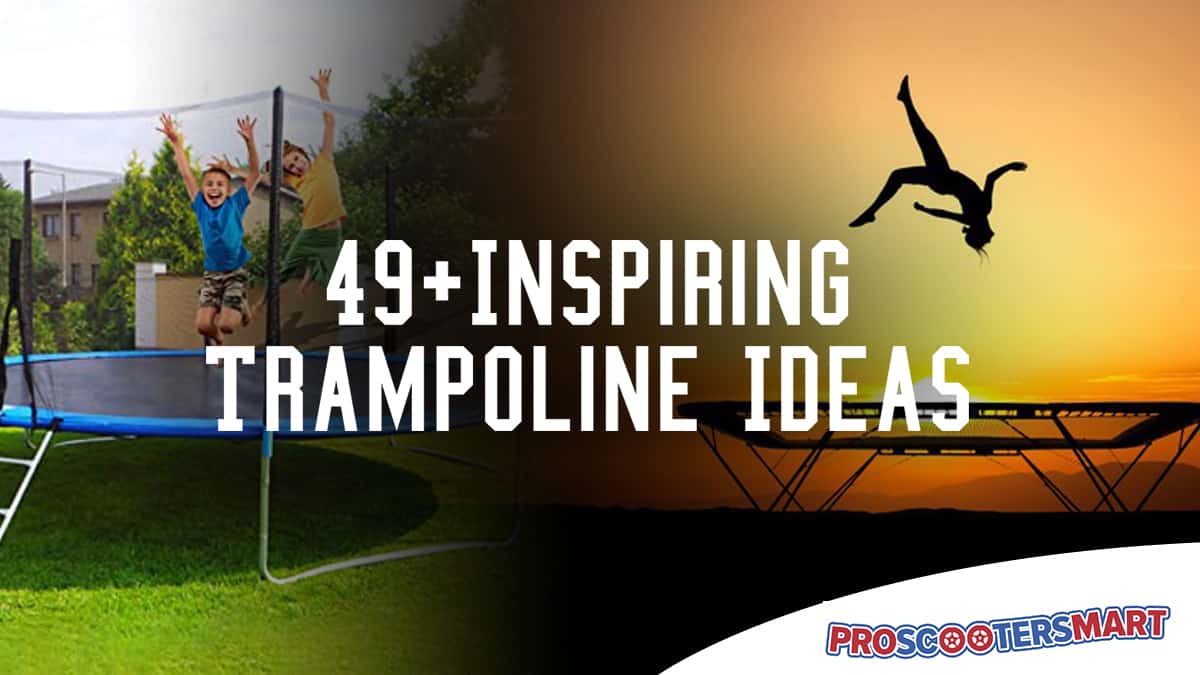 Bouncing and jumping on trampolines is one of the best ways for families to spend time together. It is an excellent form of exercise that is fun to do. Best of all, it only takes up a tiny space in your backyard.
Aside from being a fun and exciting outdoor activity, trampolines can also be a cute backyard accessory. It comes in many shapes and sizes, so you can always find one that can fit perfectly in your backyard. 
Why You Need A Trampoline
You might be wondering if buying something as big as a trampoline for your backyard is a good decision. Let's talk about the reasons why trampolines are worth it, here are some reasons.
1. Fun – Jumping up and down on a trampoline is so much fun, you may lose track of time.  Here's an extra tip for extra fun, don't be shy in letting out a few screams while you're at it. 
2. Exercise – This is not all fun and games, though, as you would be sweating off some carbs. Talk about hitting two birds with one stone. You definitely can't find anything better than this.
3. Skill Development – Jumping on a trampoline likewise develops and enhances your sense of balance. In fact, many athletes already incorporate trampoline into their training regimen, especially those that require a balanced posture while playing.
4. Connection – There's nothing like an old play-time with the family. Forget about gadgets; trampolines are the way to go to bond while sharing some good laughs and some good sun.
Backyard Trampoline Ideas
In choosing the best trampoline for your backyard, you have to consider your available space and cost primarily. In any case, you can always play around with what's in your backyard. Here are some fun ideas for backyard trampolines.
1. Pentagon-shaped Trampoline For Small Spaces
This trampoline is best for one or two persons at a time. This should be a perfect choice for those with a smaller backyard space.
2. Rectangular-shaped Trampoline For Wide Areas
Trampolines do come in shapes and sizes. Here is one that should be perfect for a wider lawn or yard. You can set this up to be parallel to a great view of your choice.
3. Trampoline With A Hoop
This is an excellent idea on so many levels. A basketball hoop lets jumpers do some impressive tricks, including one that we all wish we could do, dunk.
4. Rectangular-shaped Trampoline With Safety Net
This is mounted on some sturdy steel, so it is as stable as they come. This trampoline is perfect not only for those with ample space but also for those bigger families. Five to six jumpers should comfortably be able to join in on the fun here.
5. Trampoline With Mounted Safety Net Fence
It is rather small that it can maybe accommodate a maximum of two individuals, but the fun assuredly remains undiminished.
6. Trampoline With Safety Features
This small round trampoline should be perfect for a more modest budget and a smaller space. See, these fun trampolines do have something for everybody.
7. Trampoline And Jacuzzi 
Some people have swimming pools; some though have Jacuzzi baths. Lucky for you, trampolines can go with anything you have in your yard. This above-ground trampoline is equipped with your basic safety net. That's play and relax at their finest right there.
8. Circular Trampoline By The Patio Area
This time, the setup is above ground. For extra protection, though, have the trampoline surrounded by a safety net fence.
9. Trampoline At The Spare Corner
If you have extra space, an above-ground trampoline may be the accessory it needs. If everything around is made of concrete materials, it may be a good idea as well to equip your trampoline with a standard safety net fence.
10. Cozy Trampoline Corner
 Trampolines are always a good bet for family bonding and get-together. Here, an above-ground trampoline is set up just within the distance of a cozy corner for the adults. If it hasn't been made clear yet, kids on a trampoline should always be accompanied by overseeing adults (that is, if they're not playing along).
11. Soft-matted Trampoline Playground
Kids are given the priority in this nicely put-together playground. All the covering ground is seen here to be padded with soft matting. Set up a slide, some wall-climb obstacle, then add your above-ground trampoline for good measure. If the soft matting is not enough for your protective instincts, you can always include with the trampoline a standard safety net fence.
12. Small Hexagonal Trampoline
Let's call this your starter pack before you venture into the larger, more bouncy kinds. No worries though, the fun and safety need not be compromised with these cute versions.
13. Bounce And Sip By The Bonfire
Enjoying some wine by the bonfire? Have something for the kids, too, and set up this small above ground trampoline. This one not only has the safety net fence, its surrounding poles are also padded with soft cushions just in case. Now, this should set you up for a great and fun family time.
14. Trampoline By The Pool
 Looking for a perfect complement to your above ground swimming pool? Take a high ground trampoline and place it side by side with the pool. Jump and dive has never been this much fun.
15. Ball Pit Trampoline
Take your standard above ground trampoline equipped with a safety net and stuff it with plastic balls. You'll never forget the laugh on your kids' faces while they're trying to shoot balls out of the trampoline by jumping up and down.
16. Trampoline Zoo
An alternative to plastic balls would be stuffed animals. The idea is basically combining what they love the most. While your kids are jumping, the stuffed animals jump alongside them as well. It should make them feel like they have a closer and more personalized fun time with their toys.
17. Jump And Grab
Set up a standard trampoline equipped with a safety net fence and line up some cut-up paper across the top. The kids should have loads of fun trying to grab one of these accessories off their jump.
18. Trampoline Tent
If all the jumping wears the kids out, try setting up this trampoline tent. This only works with an above-ground trampoline that has a ground clearance of two to three feet. You may cordon off the surrounding edges of the trampoline with pieces of cloth to serve as the curtains. Make sure it is fully covered to the ground, and what you have here now is a cute little playhouse for the kids.
19. Whimsical Backyard Trampoline
Bring out those fairy lights and accessorize your above ground trampoline. Especially at night when you can turn the lights on, this makes for a very cozy, and perhaps romantic, trampoline idea.
20. Hanging Trampoline
Here is another twist to your trampoline. You won't be able to jump up and down on this one, but you'll have a hammock for a change. This serves up multiple persons as well.
21. Bounce And Hoops
This oval-shaped trampoline not only comes with a safety net fence, but it also includes a small basketball hoop for your kids. Talk about convenience, and you'll have all these fixed up in one easy setup.
22. Trampoline Camp
Who says trampoline and camping out can't come together? When you're done with all the fun off your trampoline, set up a tent over it, and enjoy some relaxation before calling it a day.
23. Trampolin Training
If you're into boxing, mixed martial arts or just some cardio exercises, you may want to mix up your training regimen by introducing trampoline into the fold. A kicking and punching pad should be a perfect accessory along the poles of your above-ground trampoline. 
24. Extreme Trampoline Adventure
Let's start by saying this is a kids beware idea. This trampoline setup should be perfect though for adventure seekers with a whole lot of adrenaline juices.
25. Trampoline Playground
Not much going on in your leafy backyard? Try and put up this child-friendly trampoline. This round trampoline is also equipped with a cute ladder for your toddlers to get on. 
26. Bounce And Swing 
This one's so simple yet so beautiful. If you have the space for it, add to your kids' slide, and swing set a nice little round trampoline. Make sure to get it with the standard safety net fence as a precaution.
27. Trampoline In Small Spaces
No need to fret if you can only spare a little space by the corner. A standard two to three-person trampoline doesn't take up much space. Set it up with a safety net for and still enjoy the fun.
28. Trampoline Park
If you're already getting the hang of it and want even more, you can definitely set up a trampoline park by the house. Again, this must be a kids beware idea.
29. Treehouse Trampoline
All the fun shouldn't have to stop after a nice little treehouse. Get your large trampoline out there and make the kids love you even more.
30. Jump And Slide
You've seen a slide and trampoline, but have you seen a slide on a trampoline? Or is it a trampoline on a slide? In any case, this is just perfect any way you look at it.
31. Backyard Trampoline Excursion
If you're running out of romantic ideas, this should be a good one. Convert your standard trampoline into a charming little daybed with some of your elegant curtains by the house. Throw in a lot of pillows in there and call your partner for a romantic surprise they'll surely love. 
32. Wrestling Ring Trampoline
All kids love to play wrestling, and all kids love to play on a trampoline. Hence, all kids should love to play wrestling on a trampoline. No worries, with a little improvisation, you can have a wrestling ring on top of your trampoline.
33. Roofed Trampoline
Don't let the rain or the extreme heat stop your kids from wanting to jump up and down. Accessorize your trampoline with a roof, and voila, problem solved.
34. Trampoline Art Exhibit
If an ornamental design is your thing, have a go at it and build a fortress around your trampoline area. Kids and adults alike will definitely be impressed with what you built.
35. Trampoline Twister
Draw up some circles on the trampoline pad to resemble twister spots. Your kids will be full of laughs trying to stay on their spots while you 'discreetly' mess up while bouncing around on the trampoline. 
36. Sprinkle Trampoline
The idea is to spray up water through the mat from under the trampoline pad because what kid doesn't love spraying water?
In-Ground Trampoline
If you are still worried because of safety concerns, an in-ground solution may be the answer to that. Here are some in-ground trampoline ideas you may want to consider.
37. In-Ground Rectangular Trampoline
Unlike the previous version, this one's buried flat into the ground to perfectly blend with the landscape. Getting on and off this thing should be no problem for anyone.
38. Round In-Ground Trampoline
This one also comes with a safety net fence. If falling off a trampoline is, unfortunately, your thing, this setup should finally help solve the mystery. Now, you can enjoy the jump without having to worry about the fall.
39. In-Ground Trampoline By The Pool
If you happen to have a pool and some extra space nearby, this idea should be strongly considered. Here, a mid-sized rectangular trampoline is beautifully set up underground, under some great shade by the trees and just fronting an enticing swimming pool.
40. Double The Trampoline Fun
If one is not enough for you, you can always set up two trampolines like the one featured here. Talk about doubling the fun, eh? You can lay your two trampolines side by side like this, and enjoy hopping on and off from one to the other. Extra precaution may have to be observed here, as this kind of setup may prove to be too tricky, especially for the kids and beginners.
41. In-Ground Trampoline Dunks
Setting up a trampoline basically lets you mix and combine whatever gives you the juice. Here, a safely buried trampoline is amply protected by a net fence. Add a basketball hoop, and what you have should be an excellent recipe for outdoor fun. Kids and adults alike can take turns making the most outrageous dunks without having to worry about failed attempts.
42. Fancy Backyard Trampoline
If you do have space and money, you can have your round trampoline neatly buried like this and just overlooking your cozy lawn and swimming pool. Here's something you might already know, jump up and down on this thing and take a dive afterward. Now, you can thank yourself for doing that.
43. Relaxing Trampoline Spaces
Spice up your rather laid-back outdoor with this rectangular trampoline. For added protection, the springs surrounding the edges of the trampoline are seen here to be padded by protective vinyl covers.
44. Trampoline Lawn
No, this isn't a mini-golf course. But neatly buried round trampolines sure looks great on a healthily grassy lawn. Now, your mowing duties are given a jumpy twist.
45. Trampoline For The Kids-At-Heart
Who says adults can't have a playground of their own? Here, a round trampoline is seen to complement a half basketball court and a mini-golf course. You can switch between games at your most fun and convenient time. All these fun and games are a perfect add-on to your outside bar.
46. Round In-Ground Trampoline
Here is another setup for the well-endowed. If yours is a beautiful patio with some kids' playground, you can complete the fun by assembling a standard round trampoline. Help the kids out by doing away with the climbing and have the trampoline neatly buried underground.
47. Small In-Ground Trampoline For Small Spaces
Here is another example of a straightforward trampoline setup. This small round trampoline requires little space and buried underground to neatly match your grassy lawn.
48. In-Ground Trampoline Swing 
Already have a swing set at home? Pair it up with an in-ground trampoline for double the fun. Your kids will surely have a long-lasting memory of their fun childhood.
49. Padded In-Ground Trampoline
Here we have a large rectangular trampoline safely tucked underground. You can invite your friends to come over and join you in the fun. For added protection, pad your landing spots along the edges with some cushions as well.