If your commute or trip has tons of hills, an electric scooter can be the perfect way to save your legs and get to your destination with ease.
But you need to be sure that the scooter you're riding has enough power and torque to get you up the hill. Otherwise, you're getting even more of a workout as you carry the scooter to the top!
Which scooters are the best at conquering steep hills? We broke down the best electric scooters for climbing hills below. Keep reading to find the perfect fit for you!
The Segway Ninebot MAX Electric Kick Scooter outshines the competition in more ways than one. First, its range is almost three times as far as the closest competitor. Additionally, the Ninebot MAX can travel over 40 miles on a single charge. And when you run out of juice, it can go from empty to fully charged in just six hours.
Furthermore, no scooter is faster, with a top speed of 18.6 miles per hour. With all this speed, you need excellent stability and even better brakes, and the Segway Ninebot MAX delivers. The 10-inch pneumatic tires are the largest in the industry and give you tons of stability. Moreover, with both front and rear brakes you can smoothly stop as quickly as you need.
But it's all about tackling hills, right? Segway delivered in that department too. The Ninebot MAX can tackle hills with a 20% grade, making it the best electric scooter for climbing steep hills.
Finally, it's ultra-durable and loaded with premium features. This scooter has a front LED headlight, cruise control, and blue tooth capabilities. It's also IPX5 water-resistant, which is the best rating you'll find in an electric scooter.
The Segway Ninebot MAX is the best electric scooter you'll find, and it's not even close. Of course, the tradeoff is the price. The Ninebot MAX is the best, but you'll have to pay more for it.
While the Hiboy MAX Electric Scooter can't compare to the Segway Ninebot MAX, it's still one of the best electric scooters for climbing hills. The Hiboy MAX has a 17-mile range, which is more than long enough for most trips.
While the charging time for the Hiboy isn't bad, the four to six hours it takes to achieve a full charge is a bit slower than most scooters with a shorter range.
The Hiboy can still zoom around with a top speed of 18.6 miles per hour, and the 8.5-inch solid tires give you a great measure of control. As far as tackling hills, the Hiboy MAX Electric Scooter can tackle hills with up to a 15% grade, which is far steeper than most hills you'll come across.
For added comfort and stability on trips, the front suspension comes equipped with a shock absorber to help level out surface conditions. Additionally, the Hiboy MAX has both LED headlights and brake lights for added safety.
Finally, the cruise control feature makes it easier than ever to get where you're going without having to micromanage your speed.
If you're looking for an electric scooter that has a decent range and an ultra-fast charge time, this is it. The Glion Dolly has a 15-mile range, but it only takes a little over three hours for a full charge!
The eight-inch airless rubber tires are on the smaller side, but they're still large enough to give you a stable ride.
Furthermore, while the top speed of 15 miles per hour is slightly slower than some of the other top models, it's not exactly slow either. The tradeoff for the slightly lower top speed is the significantly smaller weight.
At only 28-pounds, you'll be hard-pressed to find a lighter electric scooter with all the same features. Of course, this article is all about tackling hills. Unfortunately, that's where this scooter starts to disappoint.
The Glion Dolly Foldable Lightweight scooter can only handle hills up to a 7.5% grade. Even then, you better have a full charge. Otherwise, you'll find yourself needing to offer a few supportive kicks to get it to the top of the hill.
This scooter does offer a front suspension system that smooths out rides, but if you're tackling fairly steep hills, you're better off looking elsewhere. But if you're looking for smaller hills, this scooter will do fine!
If you're looking for an affordable scooter that can tackle hills and get you where you're trying to go, this is an outstanding choice. The GOTRAX GXL Commuting Electric Scooter can tackle hills with a 14% grade, no small feat.
Even better, it has a 12-to-15-mile range and a maximum speed of 15.5 miles per hour. And if the battery is dead, it only takes four hours to reach a full charge!
For stability, it offers 8.5-inch pneumatic tires, which provides more support and better traction than most solid tires.
Just because you're saving a little money doesn't mean you need to sacrifice on features or safety. This scooter comes with a LED headlight and brake light for safe traveling in the dark.
Finally, the crisp digital speedometer and cruise control functions make your entire journey a bit more enjoyable.
If you're looking for a cheaper scooter with a higher top speed, the Swagtron Swagger is an excellent choice. It has a top speed of 18 miles per hour. Furthermore, it has an 11-mile range. While that isn't overly impressive, it does charge in just 3.5 hours.
To help you monitor your battery level, the digital speedometer has a battery level gauge, so you know when you need to hit a charging station.
As far as tackling hills, the Swagtron Swagger scooter is a little on the weaker side, and can only tackle hills with a 7 to 8 percent grade, and then only with a full charge.
However, there are a few features that set this electric scooter apart from the pack. First, the Swagtron Swagger utilizes a disc brake system for the rear brakes, a far more effective system than most scooters offer. Furthermore, it's IPX4 water-resistant, which is pretty darn good.
The scooter still comes with all the standard features like a LED headlight and brake light. Finally, it has long-lasting 8.5-inch no air rubber tires for fewer maintenance costs.
Buyer's Guide
Whether you're looking to purchase your first electric scooter or you're an experienced rider, we know that you're going to have questions. That's why we took the time to develop this comprehensive buyer's guide to walk you through everything you need to know to pick out your perfect scooter.
Factors You Need to Consider for Climbing Hills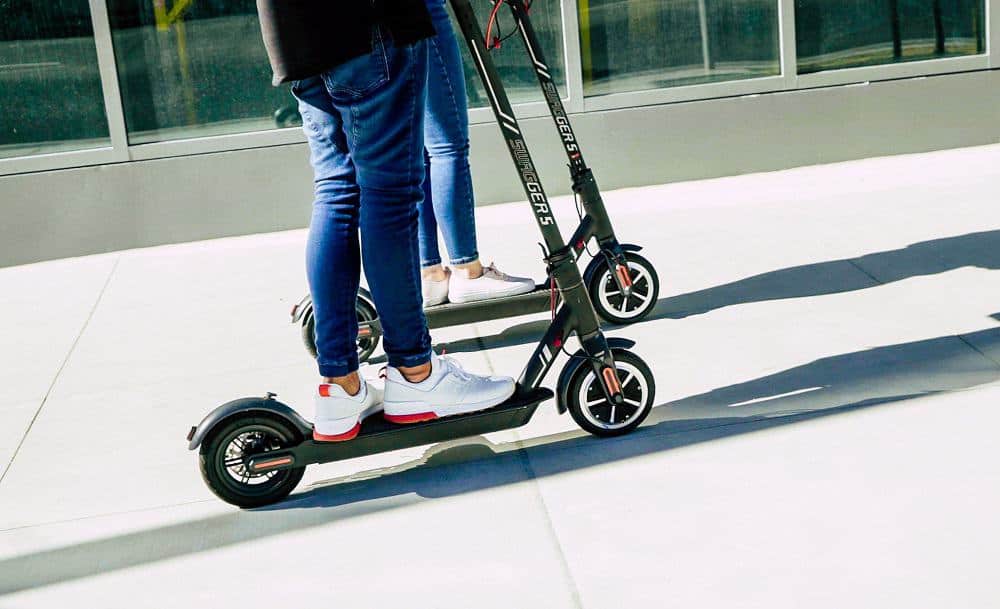 While some of these scooters can tackle hills with a 20% grade, there are plenty of conditions that will limit how effectively they operate. Below we've broken down the four most common reasons that will slow your ascent.
Weight Capacity
Just about every electric scooter out there will have a weight capacity of 220-pounds. While you can generally exceed this weight capacity without breaking the scooter, you'll notice a shorter range, a lower top speed, and an inability to climb steeper hills!
Maximum Speed
Just because the scooter can go 18 miles per hour doesn't mean you can go 18 miles per hour up a 10% incline. The top speed is when you're on a level surface. You'll be able to go a bit quicker going downhills, but you won't hit the top speed during your accent.
Surface Conditions
Yes, these scooters can conquer some of the largest hills out there, but good luck if there's tons of snow or ice. Just like your vehicle, the wheels of the scooter need traction to go anywhere.
However, unlike your vehicle, there's far less weight pushing down to help you get that traction. So, while your car might be able to tackle that snow-covered hill, the scooter might not be able to.
Weather Conditions
Even if there isn't a drop of snow or ice on the ground, the cold weather alone will diminish your scooter's effectiveness. Cold weather limits how effectively a battery can operate, which is why it's harder to start your car on a cold day.
The same concept works with these scooters, except that its battery-powered the whole time. The colder the day, the less powerful your scooter will be.
How Do Hills Affect Your Scooters Range?
The Segway Ninebot MAX Electric scooter has a range of over 40 miles. But if you think you can tackle a 40-mile mountain with this scooter, you're going to be disappointed.
That's because it takes far more energy for your scooter to tackle a hill than it does to go straight. The more time you spend on hills, the shorter your overall range will be.
The Charge Time Matters
While we did our best to only highlight electric scooters with a shorter charge time, it's important to remember that the charge time matters. If you're taking your scooter to work, you stretch the scooter's range a bit if you can fully charge it back up while you're in the office.
Furthermore, if you're always running around on your scooter all day, being able to charge it between stops quickly is a huge perk! You don't need to fully charge it each time, but even short charges will significantly extend your range if you pick the right scooter!
Related Topics: