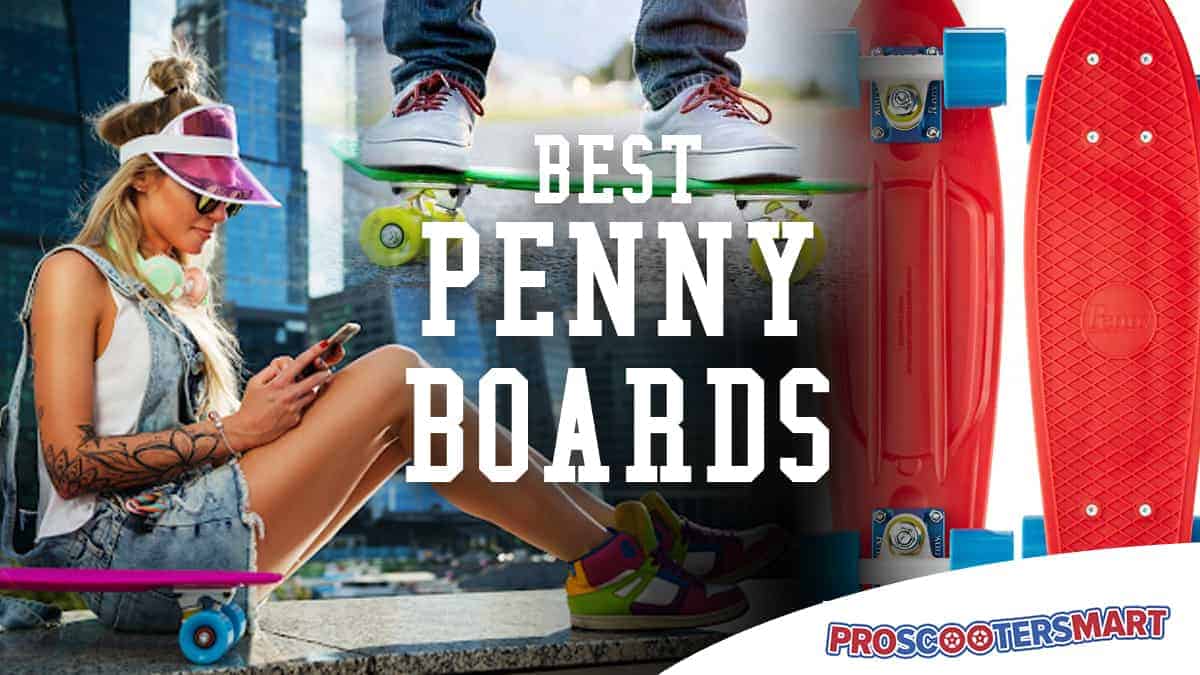 How to pick the best penny board: When we talk about transportation, speed and cost-efficiency are important factors in this fast-paced world. There are many choices to choose from, and one of the most popular is the penny skateboards.
For ordinary onlookers, everything you ride and skate on is just a skateboard. But in the skateboarding world, there are actually different types of boards, and each offers a unique riding experience.
There are skateboards, cruiser skateboards, electric skateboards, longboards, the retro cruiser board, mini cruisers, and penny boards. For today, let us talk about the mini skateboard and how to find the best penny board.

Complete Best Penny Board List
Product
Penny Graphic Skateboard - After Dark 22"
Skatro - Mini Cruiser Skateboard. 22x6inch Retro Style Plastic Board Comes Complete. Model: Blue Ocean
RIMABLE Complete 22 Inches Skateboard (Galaxy)
Penny Australia Classic Complete Skateboard,Space Navy,22-Inch
Penny Nickel Fade Complete Skateboard, Canary, 27"
Why We Love It
Available in lots of color combinations
Strong to support average-sized adult
Large soft wheels contribute to a smooth ride
Lightweight durable and flexible
Product
Penny Graphic Skateboard - After Dark 22"
Why We Love It
Available in lots of color combinations
Product
Skatro - Mini Cruiser Skateboard. 22x6inch Retro Style Plastic Board Comes Complete. Model: Blue Ocean
Why We Love It
Strong to support average-sized adult
Product
RIMABLE Complete 22 Inches Skateboard (Galaxy)
Why We Love It
Large soft wheels contribute to a smooth ride
Product
Penny Australia Classic Complete Skateboard,Space Navy,22-Inch
Why We Love It
Lightweight durable and flexible
Product
Penny Nickel Fade Complete Skateboard, Canary, 27"
The Top Picks: 3 Best Penny Board Reviews
Before anything else, here are some interesting facts about complete penny skateboards. It actually got its name from an Australian company called Penny® Skateboards, which was founded in 2010. While it now represents a whole style, the name used to be linked to a small, plastic board that is the same as mini-cruiser longboards.
Over the years, new manufacturers have created their own versions of penny boards. And for consumers, it would not make sense if you spend money on a penny skateboard that does not suit your taste. So to avoid making mistakes, here is a list of the 20 best boards you can find.
In this guide, we've reviewed the best penny style skateboard by the best brands. These plastic boards are worth the money, perfect for beginners and experienced riders that will be performing tricks. Skip to content

1. Retrospec Quip – Best Overall Penny Board
When it comes to the top penny boards out there, you can't beat the Retrospec Quip. Not only is it one of the best penny boards out there, but it's also affordably priced, so you can enjoy this top-notch piece of machinery without breaking the bank.
The polyurethane wheels and ABEC-7 carbon bearings allow you to reach incredible speeds, all while having a smooth, comfortable ride no matter the surface you're riding on.
But what really sets this board apart is the 5" trucks that give you better balance and maneuverability. The only real drawback to the Retrospec Quip is that it's only 6" wide, but this lets you slide it into your backpack whenever you're not riding.
From there, sometimes you need to loosen the wheel nuts when you first pull it out of the box – but once you do, there aren't any problems.
Highs:
Affordably priced for a high-quality board
Polyurethane wheels provide an ultra-smooth ride
Equipped with 5" trucks for extra maneuverability, control, and balance
ABEC-7 carbon bearings give you a higher top speed
Lows:
Narrow width even for a penny board at 6" – but this lets it fit into backpacks
Sometimes you need to loosen wheel nuts out of the box
If you're new to the world of penny boards, you want the Fish Mini Cruiser. The reason is simple; the Mini Cruiser has a sturdy design, and the 10″ wide deck is wider than most penny boards.
But don't make the mistake that beginner means slow; you'll still be able to reach incredibly high speeds, which makes this penny board a blast to ride.
With the Mini Cruiser, you get better stability with the 58mm wheels that smooth out rough surfaces that you ride over, making it easier than ever to learn to ride.
Whether you're teaching your kids or learning to ride yourself, this is a great board to get started on!
Highs:
A wider 10″ deck that's perfect for beginners
Comes with a 30-day money-back guarantee
Ideal for both kids and adults
Smooth and comfortable ride – but you can still reach high speeds
Lows:
175-pound weight capacity is lower than other boards
The deck is higher than most other penny boards
3. MoBoard– Best Penny Board Under $50
Just because you don't want to spend a ton of money doesn't mean that you can't get an excellent penny board. This 27-inch vintage penny board by MoBoard store is a phenomenal option to get you into the skating world without spending a ton of money.
The board has a 220-pound weight capacity, which makes it perfect for both kids and adults. From there, the 59mm urethane wheels provide a smooth ride, so you don't have to worry about bouncing around all over the street or sidewalk as you ride.
But what really sets this board by MoBoard apart are the interchangeable wheels. Whether you wore down the old ones or just want a different style, it's never been easier to swap out the wheels.
Highs:
220-pound weight limit makes it perfect for both kids and adults
59mm urethane wheels gives you a smooth ride
Interchangeable wheels let you adapt to style or wear and tear
A wider 10" deck that's ideal for beginners
Lows:
The graphics on the board quickly wear off
The board is a bit flexible, which can throw some people off
4. YF YOUFU – Most Durable Penny Board
The last thing you want is to buy a board and have to replace it just a few weeks or even months later. With this penny board from YF YOUFU, that's the last thing you'll have to worry about.
The board has a 220-pound weight capacity and comes with a 3-month warranty for extra peace of mind. From there, it has an anti-slip surface for extra safety, and it's affordably priced too!
Not only will you save money down the road on this board, but you'll save money upfront too! The YF YOUFU board does have a smaller deck that's only 6" wide, so keep that in mind if you're not an experienced rider.
Highs:
The deck is made from durable and bendable polyurethane with a 220-pound weight capacity
3-month product warranty for peace of mind
Fractured diamond anti-slip surface
Affordably priced
Lows:
5. DINBIN – Most Flexible Penny Board
While you might not want a board to bend while you're riding it, it's better if it bends before it breaks. With this DINBIN penny board, you'll have plenty of notice to back off. It still has a 220-pound weight capacity, so you shouldn't have any issues either way.
From there, it has a 60-day warranty and comes in a variety of designs for you to pick from. It's an excellent board for beginners. Just don't fall too in love with the designs, as they tend to wear off sooner rather than later.
Highs:
It comes with a 60-day warranty
Affordably priced
Durable deck design bends before it breaks
Lows:
Design stickers quickly start to fall off
The Geelife penny board is an excellent choice for larger riders. While it doesn't have a wider base, it can handle riders up to 330-pounds. Whether you're hopping on with your kids as they learn to ride or you're heavier set yourself, this board is exactly what you need.
The polyurethane wheels provide a smooth and comfortable ride at every stage, making it one of the top choices out there.
Highs:
High 330-pound load capacity
Polyurethane wheels provide a smooth ride
The board comes with grip pads attached
Lows:
Small 6" deck – not for beginners
With the Mayhem penny board, the name says it all. It's a joy to ride, gives tons of stability, and can even support riders up to 215-pounds. It's extremely durable, with 59mm gel rubber wheels that provide a smooth ride on any surface.
The tradeoff for that smooth ride is speed. This makes it perfect for beginners, but it's a drawback for those that are thrill-seeking.
Highs:
215-pound weight capacity
59mm gel rubber wheels give extra stability
Extremely durable
Lows:
Gel rubber wheels provide a smooth ride – not a fast one
This penny skate board has everything you will probably love from a penny board. What's more, it comes in different colors and patterns such as fireworks, space, and floral graphics making it a great mini cruiser. Its 22" deck, 4" penny trucks, and 59 mm penny wheels will ensure you will have a smooth and stylish ride.
When it comes to durability, nothing beats the Penny complete. Videos posted online showed how this penny skateboard survived after being run over by a car. Overall this Penny mini cruiser is a great buy for value and quality making it the ideal board for beginners.
Look out for their Andy Davis Star Wars collaboration and other unique designs. Penny is distributed by Absolute Board co.
Highs:
Resilient and great board flex great option


Great bushing for soft ease on sharp turns

ABEC 5 branded bearings included

Truck and wheel combo

Penny nickel graphic is available in lots of color combinations
Lows:
A bit expensive

Slightly slower bearings
Penny Graphic Complete
22" Official Penny Skateboard
Classic waffle top non-slip deck
Smooth 83A wheels, perfect for mini cruisers
Best Penny Skateboard Tricks
Watch below for some examples of the different basic tricks that can be done on a classic penny board. You'll see kickflips, heelflips, hard flips, and 360 flips.
If you decided to do tricks as these do so at your own risk 🙂 A little known fact is that Larry Stevenson invented the kicktail on the skateboard which allows for all these tricks. Now go learn varial flips on your 22″ long penny it's easy!
The penny complete skateboard is our favorite trick board. Sidenote tricks are easier on a long penny board, they have more foot space!
This skateboard is unlike any boards available on the market. The Skatro mini-cruiser almost looks like a traditional 22" penny skateboard, but it is equipped with the Skatro flex technology. This machine-calculated molded plastic ensures a flexible, optimal, and consistent ride.
Most bearings of penny boards are made from carbon steel, but the Skatro mini-cruiser uses bearing steel. They are way stronger than usual and provide absolute smoothness all the way. Skatro's mini cruisers are a solid option in the penny skateboards complete market.
Highs:
Skatro flex technology

Price is cheaper compared with other penny boards mini

Comes with a matching T-tool

Strong to support average-sized adult
Lows:
Wheels a bit slippery on first use

Not for the advanced rider
3-inch aluminum trucks
short wheelbase
---
Known for its cool design and features, this retro mini board is made for beginners, travelers, and cruise board players. It is one of the lightest boards at only 4 lbs, but it can carry riders weighing up to 200 lbs.
This board offers a high degree of flexibility that allows better control and smoother gliding. Another distinct feature is its 3-inch lightweight aluminum frame with first-class quality screws.
Highs:
Large soft wheels contribute to a smooth ride

Comes with quality bearings


Has 3-inch lightweight aluminum alloy bracket

Made from 100% heavy-duty plastic

Many styles and colors
Lows:
Wheels may easily get loose

Retro penny original styling isn't modern
---
If you are a classic, old-fashioned man, then the fine-tuned details of the Penny Classic are for you. While its look will take you back to the 70s, its performance and durability are way better than most penny boards available on the market today.
Coming in at just 4 lbs, you can take this Penny complete mini skateboard everywhere you go. It also comes with 3-inch aluminum tricks for more durability and a higher weight limit.
Highs:
Lightweight durable and flexible


Classic style

The perfect mini cruiser
Classic waffle pattern
Lows:
Bearings could be better – considering penny skateboards standard

---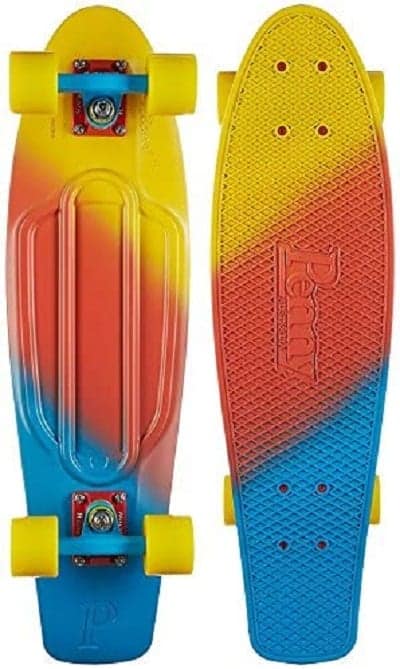 If you want a modern-looking board with a touch of minimalism, then the Penny Nickel Complete Pantones Cruiser is for you. It measures just 27 " inches long and comes with ABEC 7 bearings.
It can comfortably hold skaters weighing up to 200 lbs, and its longer size provides more room for stability. But its overall sleek appearance and flexibility make this suitable to be carried anywhere and be used anytime you want.
Highs:
Board offers more stability

Easy to carry

Can accommodate larger skaters, 200 lb weight limit

Premium urethane wheels
Lows:
Needs a little practice before a younger rider can become comfortable

Shallow classic waffle pattern
---
This skateboard is a perfect kind of scooter for those who are just starting out. It is easy to use and light to carry for adults and kids alike. It comes with ABEC 7 bearings, which is known for its high speed and smooth operation. Like the other boards in the segment, the deck mold pattern makes grip tape unnecessary.
The Cal 7 Mini Cruiser skateboard boasts of 59 mm soft wheels, which are highly durable and can withstand weight without any difficulties. They are available in different design options too. What's more, you can pick the color of your wheels as well. check price on amazon

Highs:
Suitable for both kids and adults

Assembled shipping

Durable  transparent wheels

Striking color combinations to choose from


Best for beginners
Lows:
Need to loosen trucks for smooth turns

Chips easily
Sale
---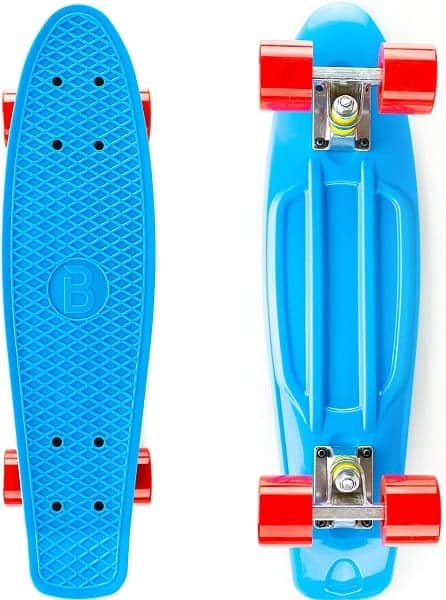 If its smooth ride and sturdy build are not enough, then its lifetime warranty is really a huge point to consider. The maker is committed to replacing any part when broken. And without a doubt, this kind of guarantee gives you an assurance that the Boss Board 22 inch Complete will stand through the test of time.
It measures 22" inches long and 6" wide, and this board is very easy to transport. It also comes with ABEC 7 bearings. Its large, neon wheels will ensure you get a smooth ride.
Highs:
Lifetime warranty

Suitable for beginners and advanced skaters

Vintage-inspired look
Lows:
Can be too small for some skaters

Could be higher quality
No products found.
---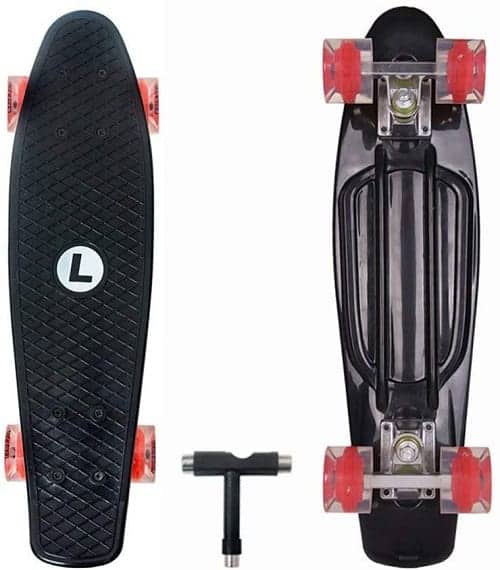 You know that the manufacturer behind this skateboard is determined to produce quality products when it incorporates what they call the Landwalker Technology. This is composed of "sophisticated equipment and well-trained workers, brilliant service team, and service attitude."
This 22" Playwheels Skateboard boasts of ABEC 7 bearings and lightweight aluminum trucks with 59 mm wheels.  Transportation has never been easy when using this board. It is as light as 4 lbs, but it has a maximum bearing weight of up to 200 lbs.
Highs:
Fit for most users

Suitable for roads, skate parks, and U-shaped grounds

Landwalker technology

Comes with a T-tool
Lows:
Board is smaller in size than some competing boards

Limited color combinations
Landwalker 22" Complete Skateboard Banana Cruiser Galaxy Skateboards Boys Girls Kids Board(Skull/Dull-red Wheel)
22'' x 6'' Tech Deck With 100% Fresh Material. Thick aluminum truck, durable and firm. Max weight limited: 200 lbs.
High quality PU wheels skateboards. You can play the cruiser skateboard in the day or at night , it will take you a surprised and unique experience. Super smooth 60mm*45mm, 78A PU wheels suitable for...
Various of colors of skateboards. Different color, different feeling. There will be one suit you no matter you are a child or adult,a boy or girl.
---
This skateboard offers a package that is designed to accommodate skaters who love to carve. The Ten Toes Quip model is very flexible that it allows you to bounce as you roll across the pavement. Unlike most penny boards, this baby is a pound lighter at 3 lbs and a tad larger.
Available in nine unique color styles, the Quip is composed of carbon bearings and highly flexible plastic. Its polyurethane-casted wheels are big and soft enough to absorb any impact with ease.
Highs:
Lightweight  and portable making it easy to carry


Wide and smooth wheels

Worthy of the price

Excellent board for beginners
Lows:
Wheels need to be tightened on first use

Soft bushings often lean to the riders dominant direction

Could use higher quality components
---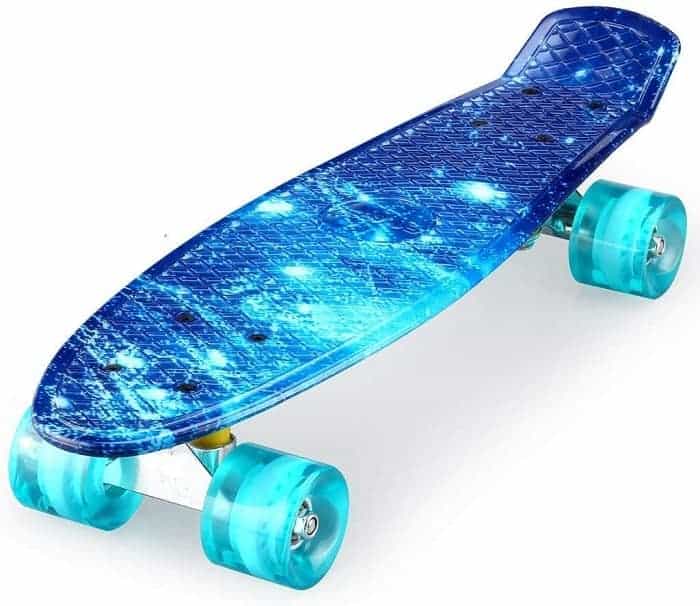 Whether you are at the beginner or expert level, the Eneeko 22 is safe to use. This 22-inch board has a bendable deck and smooth PU caster. It has a maximum bearing weight of 200 lbs. Overall, it is a board that has all the basic and necessary functions and features. What penny is the best in your opinion? Answer in the comments!
Highs:
A durable board that does not collapse

Completely assembled

A great board for beginners
quality plastic
Lows:
Wheels and trucks need to be loosened on first use
ENKEEO Skateboards 22 Inches Complete Skateboard Cruiser Plastic Banana Board with Bendable Deck and Smooth PU Casters for...
PRE-ASSEMBLED COMPLETE: this fully assembled cruiser is designed for your convenience, it is ready to ride right out of the box, which is great for children, youth, and adults
COMPACT YET STRONG: 22" Long x 6'' Wide; it features high quality 3.15" thick aluminium trucks and a compact body to withstand up to 220 lbs, and you can even put it into a bag and take it anywhere...
STURDY DECK: the deck is constructed with durable and bendable polypropylene to last long, adding stability and comfort to your riding experience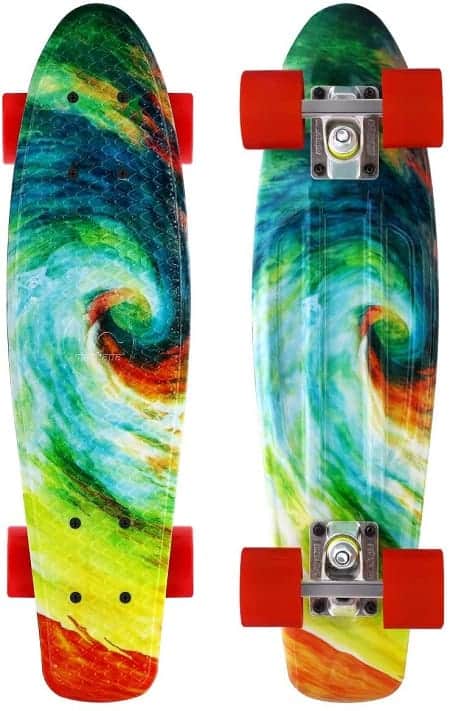 Popular for its light-up skateboard wheels, the Merkapa 22" is one of the best skateboards available on the market. The deck is 22" inches long and 6" wide and is offered in different vibrant color schemes.
In case you can't get your mind off the possible additional expenses for the light-up wheels, here's the good news. The wheels have LED lights that do not require any charging and can run even without batteries.
The source of electricity comes from the rotary power of the turning of the wheels. In case they stop lighting, simply tighten the screws. Problem solved?
Highs:
Comes with 3.25" V truck and base

ABEC 7 bearings

60 x 45 mm PU wheel 78A

Super shock absorption and fine abrasion-resistant wheels
Lows:
Can be too small for taller riders

higher priced penny skateboard
Sale
Merkapa Complete 22 inch Mini Cruiser Skateboard for for Kids Boys Girls Youths Beginners (Vortex)
NO LED WHEELS, REGULAR PU WHEELS. Fully assembled and ready to hit the streets right out of the box
STRONG AND SAFE DECK. Measuring 22" x 6" sturdy PP skateboard deck, you can even put it into a bag and take it anywhere, and the edge of deck smooth that won't hurt you even if slip
FAST AND SMOOTH RIDE. Soft 60 mm PU wheels and ABEC-7 bearings feature shock absorption, fine abrasion resistance, and great grip to increase speed while ensuring a smooth and comfortable ride
---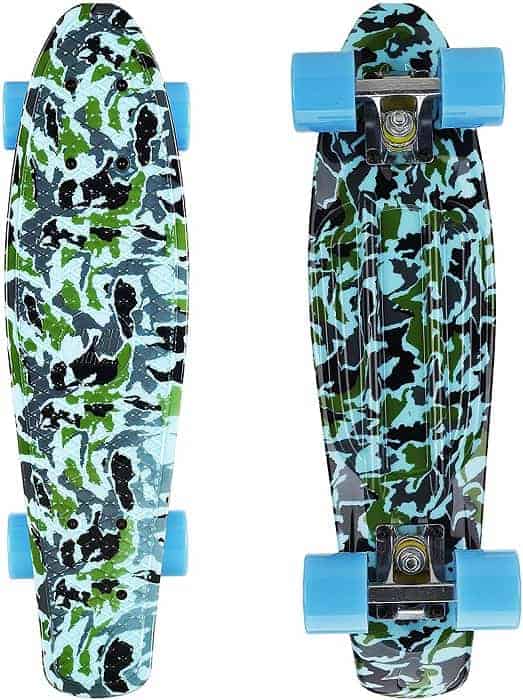 When you check the specs of this penny board, you would understand where the popularity is coming from. It measures 22" long and 6" wide and supports up to 187 lbs of weight. Its axles are made of high-quality aluminum and it comes with ABEC 7 bearings and smooth PU wheels.
Many customers said the High Bounce Complete is similar to the Penny, minus the hefty brand name price. The board is sleek and comes in a number of color options. The High Bounce provides a quiet and smooth cruising experience with easier and comfortable turns compared with traditional skateboards. High bounce is a strong contender in the best penny board argument.
Highs:
Smooth cruising experience

An excellent bargain for its price

great for beginners
Lows:
Wheels and bearings need to be loosened on first use
High Bounce Skateboard 22-inch Complete - Retro Mini Cruiser for Kids Boys Girls, ABEC 7 Bearings and PU Wheels
HIGH BOUNCE 22-INCH SKATEBOARD! Made of high-quality and long-lasting materials, our skateboards have sturdy wooden decks, and are durable, designed to last through years of fun escapades. Your kids...
DESIGNED WITH KIDS IN MIND! Suitable for kids of all ages, our skateboards are light and feature a super stable board, which is great for both beginners and more advanced riders!
STAY ACTIVE WHILE MASTERING SKATEBOARDING! Skateboarding is a great sport for kids of all ages and will ensure your child stays active. Beginners will feel confident and capable in their skills in no...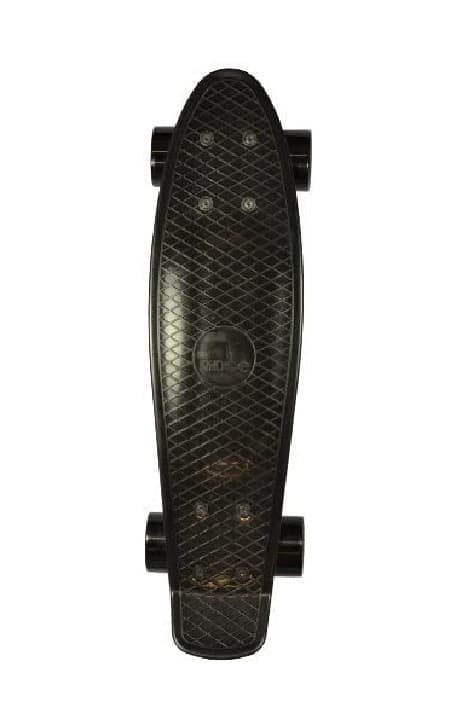 Highs:
High build quality and design

59 mm polyurethane wheels ensure a smooth riding experience
Our second choice best penny board for beginners
Excellent choice for beginners
Lows:
Trucks aren't as durable as other brands
Honorable Mentions
Cal 7 Complete Mini Cruiser
The Ridge 27 Big Brother cruiser is 5" longer and 1.5" wider than the original Ridge board, making it great for beginners.
High quality secret plastic formula using automotive industry strength PU plastic- for some flex with great strength
Our Ridge boards are the only mini cruisers made in the UK, we are proud of our manufacturing process and quality.
---
Penny boards are really making a comeback. Its small size makes it easy to carry around while offering flexibility and great speed. Love it or abuse it, its durable deck material can handle a beating.
So, regardless if you are just cruising around or mastering some tricks, a penny offers a unique and fun riding experience in comparison to other sets of wheels.
Hopefully, this article has helped you decide the best penny board for you. Keep reading for more information and history, learn where these mini cruisers came from.
All About Penny Boards, Best Penny Board F.A.Q.
What is a Penny Board?
Although you might confuse the penny for just a plastic skateboard, it is actually a special type of board. They are smaller (around half a meter long), have no grip, and are primarily made of plastic compared to regular skateboards.
They have features similar to longboards. For example, the board has a rounded tip at the front, as well as 60-80 mm size wheels. Having a huge breakout in the late 80's early 90's these mini boards are making a huge comeback in the united states.
Who Invented the Penny Board?
The name penny board has become a generic trademark for any small plastic skateboards. "Penny" actually comes from "Penny Skateboards", a well-known brand based in Australia.  
The brand was founded by Ben Mackay in 2010. They popularized complete skateboards that paired cruiser wheels and trucks with a plastic upper deck.
How Long is a Penny Board?
Penny boards come in different variations, length included. There are three available deck sizes when it comes to penny boards.
The smallest is 22". The 27" variation is called the Nickel, while the 36" deck is already considered a longboard. You can choose which size suits you the most based on comfort and use. A true penny board is typically no longer than 22″ inches long making these mini cruisers perfect for kids. 
How Much Weight can a Penny Board Hold?
Like skateboards, penny boards also have a weight limit. Although they are much lighter than skateboards, they are strong molded plastic, making them very strong and durable considering they are made of plastic.
The usual size penny boards can hold up to 100 kg making them perfect for kids and teenagers, but many brands have been proven capable of holding much heavier weights. This video can show you how sturdy penny boards are.
How Much Does a Penny Board Weigh?
Plastic penny boards are lightweight compared to wooden skateboards, making them very portable boards. Their weight varies based on deck size and brand. The average skateboard weights from two to five pounds. Your penny board should be a little lighter than that.
How to Ride a Penny Board
To ride a penny board, you need to learn how to stand and kick. Make sure you place your board on a flat surface so it won't slide around while you stand on it. Place your first foot on the board right behind the first two screws on top. Then, use your other foot to kick by putting the foot's ball on the ground and pushing.
Just to be safe consider our best skateboard helmets article so you're protected at all times. For a more detailed tutorial that will cover maneuvering, you can watch this video.
How to do a Kickflip on a Penny Board
Most skateboarders can do a kick flip, but it can be hard to do when you are on the smaller and more lightweight penny board. You need more practice because penny classic boards are for cruising and not tricks.
The first thing you need to do is buy and install grip tape since penny boards do not have grip. Put the ball of your front foot on the deck, with a bit of your foot off it. Your back foot should be on the deck's tail. Pop your board into the air and flick your board using your toes.
After the board fully spans around, catch it with your feet in the middle of the air and land. It can be difficult to learn through text alone, so watch this video for the easiest way to do a kickflip on a penny board.
How to Customize your Board
Penny boards and mini cruiser skateboards come with plenty of customizable parts to make your board unique. First, you choose your model, which usually means you pick the deck size. Next, you can select the color for your deck, wheels, hangers, base plates, and bolts.
Lastly, you can customize your panel stickers and grip, if you wish to have one for your board. The nickel graphic options are vast, you can opt for elaborate or simplistic styles.
We've seen all kinds of cool graphics even sun boards and glow in the dark. This video gives you more details on how you can customize your penny board.
Is a Penny Board good for beginners?
Sure! Being smaller and easier to maneuver these Penny's are perfect for the beginner looking to learn how to skateboard. The coolest collaborations are making them more attractive to the younger rider. Check out this awesome board available in the United States only.*
Burger Records x Penny
27 inch Deck - 4-inch aluminum trucks with powder-coated finish - 59mm, 83A wheels for a smooth ride - 83A color-coded cushions.
Amazon's Recommended Best 
Penny Board and Mini Cruisers Skateboards
(Amazon recommended list)
Bestseller No. 1
MoBoard 22" Classic Style Graphic Complete Skateboard, Black/Purple
WHAT YOU NEED: Are you on the search for an amazing skateboard stand? We have the answer: the premium classic skateboard, your go-to-choice that allows you to stand out and have endless hours of fun...
PREMIUM QUALITY: The classic board is made with premium 7 Bearing wheels and a 3-inch aluminum trunk that can hold up to 220 lbs. The 59 mm wheels are made with urethane, a durable and sturdy material...
PRACTICAL DESIGN: The simple black skateboard is lightweight and easy to carry to your favorite park. The 22-inch board allows you to take sharp turns and to slide on small areas, as well as to try...
Bestseller No. 2
Bestseller No. 3
Retrospec Quip Mini Cruiser Skateboard 22.5" and 27" Classic Retro Plastic Cruiser Complete Skateboard with ABEC 7 Bearings...
QUIP CRUISER: It's smooth sailing with Quip's small kicktail and molded waffle pattern for a solid hold on every twist, turn, and last-minute dodge you encounter. Our newest edition comes with 5"...
SMALL, BUT MIGHTY: Cruise confidently knowing that your board is constructed from 22.5" x 6" or 27" x 6" injection-molded highly flexible plastic. Engineered to fit with how you move, not define it....
FASTER THAN EVER: The ultra-smooth gliding polyurethane cast wheels enhance durability and comfort while you zip around town. Lightweight ABEC-7 high-speed carbon bearings add to Quip's nimble nature.
Bestseller No. 4
More interested in buying a complete longboard or roller skates or seeing other pros cons? Check out our other product reviews! Have you ever seen a penny longboard/nickel board?
Buying through Amazon Prime vs a skate shop you'll get excellent customer service and free shipping. All rights reserved, view our terms conditions