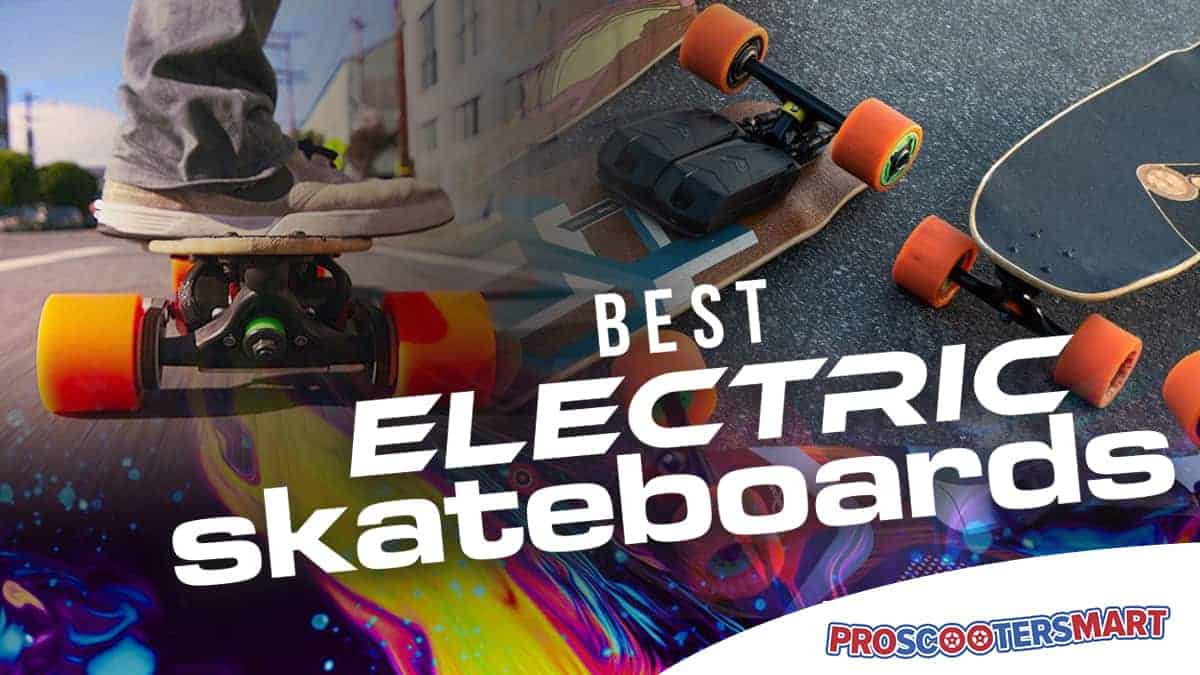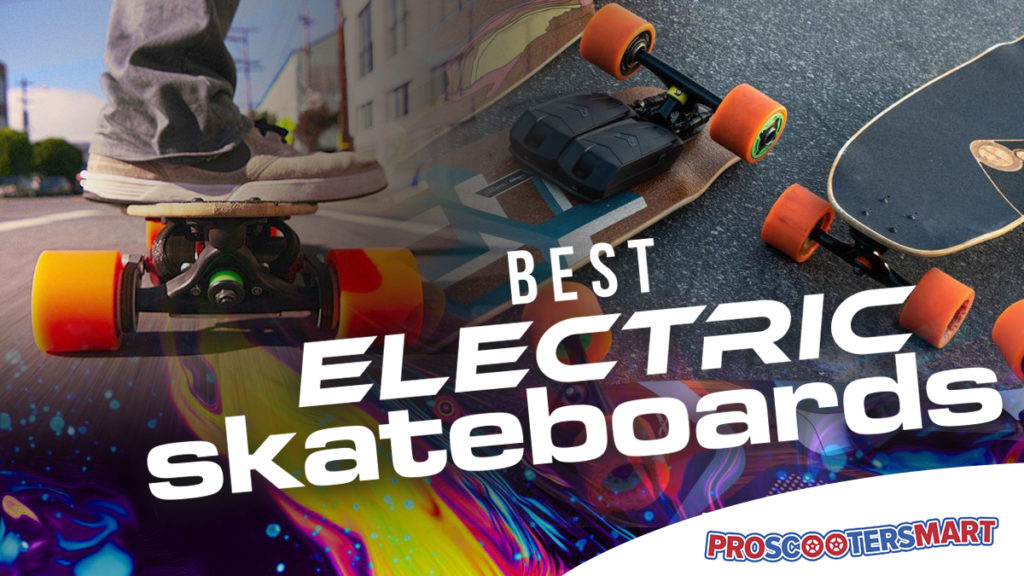 Convenience is very important especially in this fast-paced world that we're living in. Traffic jams are getting worse, we have less time for our other responsibilities, and we just can't get enough of the daily work grind we need to go through.
Good thing there are electric skateboards.
Not only do these provide us with a faster means to move around our local neighborhood, but they're also convenient for us to attend to short errands and commutes.
Although it's a bit tricky to have a good feel for its remotes, you'll get used to it in the long run. That's also not a big issue because the convenience you get from this nifty and very useful mode of transportation makes up for that.
But you'll easily get lost in all the many choices out there.
That's what this article is all about as we'll show you how to choose the right one for you. We'll also be showing you which are the best electric skateboards out in the market today.
If you're into that, then read on, as we've got everything for you here.
Table could not be displayed.
Almost everything has gone electric these days. From typewriters to desktop computers, and landline telephones to mobile cellular phones – it is incredible how much technology has transformed our world.
Even if we don't have flying cars yet, our future is the golden era of ride-able tech. We might have electric cars, scooters, and bikes, but my favorite has to be the electric skateboard.
The Top 12 Best Electric Skateboards
Now that we know the good and the bad when it comes to electric skateboards, it's time to find the perfect one for you. There are quite a lot on the market, so choosing one can be challenging. That's why we prepared a shortlist of the best electric skateboards we know!
Equipped with an aircraft-grade aluminum piece between map wood, the Acton Blink S2 is sturdy enough for you to do tricks without worrying it might break, even supporting up to 250 lbs.
You also don't have to stress over falling over because it has black grip tape across the top of the board in the center. Clumsy beginners will love this feature.
The user-friendly electric skateboard gives you maximum traction and glide because of the dual hub motors. With the 1000W motors, you can skate just as well up hills with 20% incline as you can on flat ground.
Riders can grip the pavement better while skateboarding, allowing you to enjoy smooth coasting. The 1:1 ratio between the motor and wheel also provides excellent acceleration. This way, skating in traffic is a little safer.
You can reach an average of 15 miles per hour on this board. And if the road conditions are standard, you get a top speed of 18 mph. The Samsung Lithium-ion battery gives you decent acceleration and maximum mileage of 14 miles on a single charge.
It is a powerful battery pack that recharges in less than 45 minutes. Unfortunately, the battery is not swappable. If you reach 14 miles, you better look for an outlet so you can recharge!
When it comes to aesthetics, the Acton Blink S2 has a futuristic look with the color combination of silver aluminum, black, and bright green. Function meeting form, the dimensions even give you enough space to stand on. This baby is more than good looks.
The board comes with a Bluetooth handheld remote. You get zero interference at the maximum range. It gives you three modes that let you change speed depending on what you need. The matte touch feels comfortable when held, but the strap the remote comes with is pretty breakable. Luckily, you can buy a sturdier belt online at low prices.
No products found.
Pros:

Set mode based on your level of proficiency.

Built-in lights keep you safe while night-time riding

Maximum traction and glide.

Balance comfortably.

Cheaper than other boards at

$749

Cons:

Not water resistant

Heavier than other boards at 15lbs

Relatively higher than other brands

Big battery means no flights with this skateboard
---
The Inboard M1 looks and handles like your typical longboard, but with a few extras. The manufacturers designed its tail with an urban setting in mind, so you can maneuver through tight passages and make quick turns easily.
This weather-resistant board is lighter by 0.5 lbs than the Acton Blink S2 because of the composite deck. Aside from decreasing the board's weight, the deck also makes it more durable.
Stable and fast, the electric skateboard uses a gear system with two hub motors built into the rear wheels. The motors at 1600W power are pretty useful when you are on a 15% incline. You can be utterly steady at 19 mph because of how secure your footing is on this board.
You get a top speed of 24 mph, but the pace will decrease the heavier the rider is. Although it takes you about 20 seconds to reach full riding speed, the board accelerates well. You can get up to 7-10 mileage on this board. It might not sound like much, but the battery feature makes up for it.
The Samsung battery is not fixed. If your battery does die after 10 miles, it will only take you 10 seconds to switch it with a new one. Plus, charging time is relatively short at 90 minutes compared to other boards that take more than two hours.
Don't have any spare batteries? Just push it with your feet, because the spin-free wheels allow maximum control even without power. One thing I do love about the battery is how it is found inside the board. This way, you don't have to stress over possible ruptures if you're a rough rider that tends to get into small accidents.
With how the remote control system is configured, the board is responsive and easy to use. You can also adjust the riding modes depending on your skillset. The board is friendly enough for beginners and packed with fun features for professionals.
And if you have a smartphone, you can access it with a mobile app and lock your board with a passcode for added security.
No products found.
Pros:

Excellent maneuverability

Swappable battery

Maximum control

Responsive remote

Passcode security

Cons:

Expensive at $1399

Grip tape needs to be replaced

Speed can depend on the rider's weight
---
Going hard on an electric skateboard can be nerve-racking considering the price tag. The great thing about the Boosted Mini S is how the board is reinforced with fiberglass, making it a sturdy board.
If you're the kind of skateboarder that likes doing a lot of tricks, you'd be disappointed though. The Boosted Mini S is too heavy for you to pop ollies.
You'd think something so durable would lose its flexibility. That's not the case with the Boosted Mini S. It's maneuverable with a kicktail that lets you perform tight turns if you need to. Plus, the extra traction grip take keeps you stable as you navigate through crowded sidewalks with ease.
One thing I love about this board is how I feel when I'm on it. The deck is concave and wide, which makes standing easy. Unfortunately, riding on rough terrain can be uncomfortable on the Boosted Mini S.
It's also pretty short at 29.5 inches, so you can pick it up and carry it on trains or buses without feeling awkward. This is great news for commuters who need to alternate between skateboarding, bus rides, and more.
The 1000w motor is powerful enough for hill climbing. You can reach speeds up to 18mph as well. And even without the motor, you can still cruise and carve effectively. Aside from being nimble, the braking system is responsive, making this electric skateboard very reliable.
When it comes to batteries, the Boosted Mini S disappoints. Although we do love how small it is, the reduced size means less space for batteries. The battery dies once you hit 5-7 miles depending on your speed.
In addition, the battery isn't swappable so you'd have to charge the board for an hour. You'd need to charge the remote, too. This usually isn't an issue, but the remote uses a USB Mini-B type connector, which is an oddity in this day and age.
Despite the dismal battery life, the remote control feature is intuitive with three modes. This helps beginners adjust while moving towards expert modes gradually. The superior control system makes acceleration and deceleration smooth, so cruising is never sluggish.
The board is also water-resistant and comes with a Bluetooth-connected mobile app that's easy to use. Despite the disadvantages we mentioned like battery life and weight, you still get great features packed into a compact package.
No products found.
Pros:

Maneuverable kicktail

Portable deck

More affordable at $749

Smooth acceleration and deceleration

Responsive braking system

Cons:

The battery gets low quickly

Heavier than other boards at 15lbs

Not good for tricks

Remote uses USB Mini-B type connector
---
The Evolve Carbon GT is one of the most expensive boards on this list at below $2000. It looks sleek and smooth because of the fiber frame. It also has a thin profile, which is because the lithium battery was placed inside the deck for a more minimalist design. This makes the board very easy to carry around.
One feature I love about the Evolve Carbon GT is how you can switch the wheels from the street to all-terrain. It is easy to swap because you don't have to change the trucks as well, unlike other electric skateboards.
The skateboard weighs roughly 17.44 lb when you've got the street wheels on, which is much heavier than the other boards on the list. But wait till you hear how much it weighs with the all-terrain wheels – 21 lbs!
You'd think something so heavy wouldn't ride well. But in fact, the Evolve Carbon GT with street wheels offers better handling, smoother rides, and goes pretty far, too. It's fast, so you'll love it whether you're rushing to work or just cruising around the city You can even reach up to 31 miles on these wheels, the farthest on our list.
The all-terrain wheels, on the other hand, let you ride up to only 18 miles. The plus side is how they're air-filled and durable, giving you an extra cushion when you're off-road.
Sticks and stones may break your bones, but they'll never break these all-terrain wheels. Plus, they aren't too big or too small either. Goldilocks will definitely love them!
You can climb slopes at 25 degrees and reach speeds of 26 mph on the Evolve Carbon GT. It might take the 3 kW motors a few seconds to get to the speed, but it's well worth the wait. Keep in mind that these speeds all depend on the gear, wheel size, rider weight, and terrain.
Considering how far the board can get you, the battery will take 4 to 5 hours to charge. If you're willing to spend a little extra, you can charge it for three hours using the fast charger.
Lastly, we have the Bluetooth throttle controller. You can use it for braking and acceleration. It also shows the battery and speed. The acceleration bit takes a while to get used to because of how sensitive it is. The good thing is you can change between 4 speeds modes from eco to fast while you're still learning.
No products found.
Pros:

Minimalist design

High speed of 26 mph

High mileage of 18-31 miles

Swappable wheels

Cons:

Long charging time

Expensive at below $2000

Heavier than the other boards
---
The Blizzard Hurricane is a bit different from the previous ones reviewed because this is an electric longboard skateboard. This means that it is bigger, heavier, and faster, making this one of the best electric skateboards under $300.
This is a cruiser electric longboard that has a top speed of 17 mph, which is more than enough to get you going and arriving at your destination at the fastest time possible.
If you'd want speed and a more aggressive approach to skateboarding, then this one's for you. It also has a long-range of 8 miles on a single charge. This is powered by a 36-volt lithium-ion battery with a 4.0Ah rating. This can be fully charged in just 3 hours.
The wireless remote is also ergonomic which gives you an easy and comfortable grip, ideal if you're riding in rough offroads. The wireless remotes are easy to hold and gives you full control over your acceleration as well as deceleration.
There are even a beginner and advanced speed mode to fit your riding level. And you'll surely love its reverse feature. Also, take note that the remote is strapped onto your wrists so you don't have to worry about it dropping.
The deck is made from premium bamboo and maple wood along some grip tape to provide grip. Specifically speaking, the maple wood surface is made from 7 plies, while the board bottom is made from two layers of bamboo.
All these ensure sufficient support to carry a maximum weight capacity of 250 lbs. The motor has a power of 350 watts and goes along a regenerative braking feature for modulating braking in high-speed situations.
Simply kick the ground and the electric motor automatically starts up. The Blitzart Huracane measures 38 in. x 10 in. x 5.5 in. and weighs 13 lbs.
No products found.
Pros:

Cheap at $300

Firm base and support

Good for cruising

Can use as a regular skateboard when you're out of juice

Cons:

Not good for inclines

Remote control only has 2 speed modes
---
The RazorX is one of the best electric skateboards in this last thanks to its performance, design, and functions. It's powered by a motor with a rating of 125 watts, which is enough to get you going to your destination with sufficient power.
This goes along very well with its lithium-ion battery that ensures that you can reach your destination without being short with power. It has a top speed of 10 mph and can go for a straight 40 minutes.
Its deck measures 29 inches and is made from high-quality maple material that has five plies. This ensures a lightweight and maneuverable ride which is ideal for cruising through urban surroundings.
It's also what makes this a responsive skateboard because of the stiffness of the design. It has a wireless remote that has a rating of 2.4 GHz that goes along a wrist strap.
This strap is replaceable in case it gets worn down through normal usage or you just want to replace it with another one.
The remotes give you a convenient feel and control towards your speed thanks to its variable-speed control. Simply and comfortably give those turns a carve and you surely won't feel any wobbles or stability issues.
The wheels are made from urethane wheels that feature a high-grip texture. It's also got kingpin trucks that have a custom reverse feature for better stability despite riding it on off roads and wet surfaces.
Its perforated grip tape even improves its feel. The RazorX has a rear-wheel-drive that's geared, giving you optimum performance and speeds.
This is ideal for riders aged 9-years-old and above and has a maximum weight capacity of 220 lbs. The dimensions measure 29.5 in. x 4.3 in. x 8.1 in. and weighs 9.7 lbs.
RazorX Cruiser Electric Skateboard
Powered by a 125-watt motor, providing lithium-ion-powered electric skateboarding action at speeds up to 10 mph for up to 40 minutes of continuous use
29.7 inch (754 mm) deck length and high quality 5-ply Maple deck deliver a lightweight, responsive ride perfect for cruising
Includes a wireless (2.4 Ghz) remote with wrist strap (replaceable) for variable-speed control of the electrifying carve-and-turn action
Pros:

Battery life

Performance

Durability

Cons:
---
The Swagtron Swagskate NG3 is another electric skateboard that's fit for kids and teenagers. It's one of the best electric skateboards in the market thanks to its smart kick-assist sensors that are powered by AI technology.
Simply give it a gentle kick and you'll automatically be cruising your way to your destination. This has a top speed of 9.3 mph which is fast enough to reach your destination on time, but at the same time, safe enough for you to avoid accidents and crashes.
It's great if you'd want to skate with style and comfort. Sensors are very responsive as these are intelligently placed in areas that detect motion and weight. This also automatically stops as soon as you dismount it, making sure that it is safe to ride for children.
The Swagskate NG3 gives you the feeling of riding in a standard skateboard with the added convenience thanks to its 2.8 in. wheels made from premium polyurethane material.
The added support of the deck made from polypropylene also gives you the flexibility and sturdiness to handle various surfaces and pavements that can handle bumps thanks to its shocks.
This is for you if you'd want to go on epic rides as its build is specifically made for that purpose. The deck measures 8.9 in. that is ensured to not crack or fade. The Swagskate NG3 measures 19.6 in. x 8.8 in. x 5.3 in. and weighs a light 7.7 lbs.
Pros:

Fast

Long range

Durable build

Cons:

Sensor placement prone to dust
---
If you're looking for an electric skateboard that can be ridden by kids and adults alike, then the Hiboy S11 is what you need.
It's also beginner-friendly because it's easy to handle, making it great if you want something to bring you to school or any place fast and conveniently. This is one of the lightest electric skateboards in the list as it weighs a light 7.9 lbs.
But despite that, it's still very stable and solid on fast speeds and turning around corners. This is powered by a single hub motor that gives you a smooth and fully capable riding experience with a top speed of 12.4 mph.
It's because of this that this has become one of the best cheap electric skateboards in this list. But don't take it's the affordability as a downside as this is made with durability in mind.
This is considerably fast compared to other electric skateboards for kids. It can also manage speeds of up to a maximum of 6.2 miles on a single full charge. You have 4 riding modes to choose from, as well as 4 brake modes so that you'll have a customized riding experience.
The remote control is wireless and ergonomic which makes it comfortable and easy for you to hold. It's also got a rechargeable design thanks to its wireless feature. The Hiboy S11 has dimensions of 29 in. x 8.2 in. x 4.3 in. and weighs 7.9 lbs.
No products found.
Pros:

Fast

Affordable

Easy to control

Cons:

In earlier models there was some remote connectivity issues
---
The Skatebolt Breeze II is one of the fastest electric skateboards in this list. If you'd want an adrenaline rush, then this is definitely what you need as it can reach a top speed of up to 28 mph.
There are 4-speed modes to choose from and are supported by a 6000mAh lithium-ion 30Q battery from Samsung. This allows it to travel a maximum of 15 miles in a single charge as long as you set it on medium mode.
It's powered by a 350-watt dual motor allowing it to climb steep hills. The wheels measure 100mm, but it comes with extra 90mm wheels in case you need smaller wheels. Braking is regenerative and modulated.
You can even recharge the board automatically when you brake on downhills. It's a smart and clever feature for the Skatebolt Breeze II.
Its deck is made from two layers of premium glass fiber and bamboo, which is much better in terms of durability compared to those having maple decks. This ensures the utmost strength, flexibility, comfort, and stability.
There are 4 braking modes to choose from and are directly controllable through the remote. There are two tail lights that automatically flash when you brake.
Simply press the LED button to cruise at the speed that you're currently running on. This is great if you're going to long distance destinations because of the better comfort and stability. It measures 39 in. x 9 in. x 5 in. and a shipping weight of 32 lbs.
SKATEBOLT Electric Skateboard Breeze II Electric Longboard 30 MPH Top Speed, 900W Dual Motors, 30% Climbing Capacity,...
Fast & Long Range - Breeze II electric skateboard comes with 4 speed modes.The top speed is up to 30 MPH.With the 5000mAh lithium battery, it keeps cruising up to 11 miles with a full charge.
Replaceable Motors - With 900W dual motors,it is strong enough to climb a 30% steep hill.The board comes with 100 mm wheels installed and an extra set of 90 mm for replacement.Regenerating brake...
Solid Construction - Breeze II' s deck is made of bamboo and two layers of glass fiber which is three times more expensive than Canada maple deck. The combination makes a balance between flexibility...
Pros:

High-quality build

Visual aesthetics

Speed

Cons:

We love this model so much the only bad thing we can think of the beautiful deck can be easily scratched up by debris
---
The Alouette Phoenix is another one worth taking note of. One of its signature features is its fixed single cruise mode that ensures a stable and regular maintaining of speed that can be controlled via an accelerator.
It's powered by dual motors and can run speeds of up to 16 MPH. If you're still starting riding electric skateboards, then this one's for you thanks to its stable speeds. The top speed is 16 mph and the range is 12 miles on a single charge.
It's made from 6 layers of northeast maple wood and a layer of bamboo that's topped by an ergonomic design for an aesthetic and study riding experience.
It comes with a wireless remote featuring an LCD screen that shows the speed mode, battery, range, and direction. The design is curvy which is appealing and at the same time ergonomic.
There's also a 6-month warranty with the Alouette Phoenix which gives you an assurance that this one's built with the utmost confidence thanks to its durability and excellent functions.
Sale
Alouette Phoenix Ryders Electric Skateboard Dual Motors 16 MPH 5.2 AH Lithium Battery Upgraded Electric Longboard with LCD...
✅Cruise Control - The Electric Longboard comes with fixed speed cruise mode. When you are keeping on a specific speed and pressing the LED, the board will maintain a selected current speed without...
✅High Performance - Equipped with dual motors, its running speed goes up to 16 MPH. It's perfect for the beginners and riders who prefer to the stable speed. The board can go for a max range up to...
✅Solid and Stable - Our powered skateboard is made with 6 layers of northeast maple and 1 bamboo which is ergonomic design and convenient for user to ride the skateboard smoothly with a curved...
Pros:

Durable and solid design

Value for money

Safe

Cons:

Speed (top speed is only 16 mph)
---
The Teamgee H20 is another electric skateboard worth considering. It's made from an 8-ply Canadian maple material and a single ply of fiberglass that provides a stable and durable 39-inch platform that's safe for high speeds.
It's portable and lightweight, making this a great skateboard for those who want to cruise around town easily.
It also has a wireless remote that gives full and easy control over your board. There are 4-speed modes to choose from. These are L, M, H, and H+. Meanwhile, there are also 4 braking modes which are named B1, B2, B3, as well as B4.
It's powered by a 540-watt motor and 2 in. wheels for fast acceleration and capability to go through slight bumps. Top speed is clocked at a fast 26 mph which makes this an ideal electric skateboard for adrenaline junkies.
The Teamgee H20 has an ergonomic concave design that gives good grip on your feet, allowing a comfortable and stable cruising position.
It's got an aluminum alloy case that houses its motherboard and battery. And it's waterproof as well! A single charge of 4 hours gives it a full battery storage and can go for 25 miles.
Pros:

Fast

Powerful

Long battery life

Cons:
---
The Swagskate NG2 is another electric skateboard you might want to try. What's great about this is that this can doubledown as a regular cruiser skateboard, and as an electric one.
You also don't need to use any remote to control your speed, unlike the other skateboards mentioned in this review. Instead, this uses smart sensors that are very accurate and responsive on how you shift your weight.
Simply lean into corners as well as front and back, and you're going to have full control over your board. This also got lots of speed  as it can go as fast as 18 mph and also go uphills which are 15 degrees in curvature. This is made possible thanks to its powerful 450-watt motor.
The Swagskate NG3 might be designed to be hands-free, but it also comes with a remote, for you to have better and full control over your speed. This enables you to accelerate as well as switch between the different speed mode options.
The deck is made from 6 layers of maple wood material which is sandwiched in between a double-layer bamboo, allowing it to support up to a maximum weight capacity of 220 lbs.
You'll also find the 90-day warranty very useful. This measures 38.5 in. x 11 in. x 5.7 in. and weighs around 20 lbs.
SWAGSKATE NG2 38" A.I. Powered Electric Longboard Skateboard Hands-Free or Remote Control 900W Dual-Hub Brushless Motor...
"Look ma no hands! " — control the NG-2 e-board like a traditional cruiser skateboard by shifting your weight on the deck No remote required Thanks to intelligent weight and balance sensors...
The need for Speed — one of the fastest electric longboards on the market The Ng2 cruises up to 18 mph and can easily conquer 15° INCLINES with a powerful pair of brushless Rear 450-watt motors
Full-featured remote control — although designed to be hands-free this motorized longboard also comes with a remote that can control every aspect of the ride from accelerating to switching speed...
Pros:

Lightweight

Smart sensors

Fast charging

Cons:

Remote control lags slightly
Buyer's Guide to Choosing the Right Electric Skateboard
Performance
The first thing you need to consider when choosing an electric skateboard is its performance. Make sure that it's got a solid build quality and that it can be reliable, not only in well-paved roads but in bumpy and slight off-road as well.
This is very important because you want to get a well-performing electric skateboard that will make transportation more convenient. Take note of its wheel quality. They should be made from premium aluminum for durability and lighter weight
There are also bearings you must focus on as these are the ones that ensure that every part of your electric skateboard does its job well. Get a good feel for the texture. Avoid those that are made mainly from plastic as these aren't very durable.
Price
Price is another important consideration to make. The average price of electric skateboards is between $150 to $300. Don't settle for the cheapest price because these usually are of low quality.
However, it doesn't always have to be this way because there are some affordable skateboards that are packed with serious features and top specs. On the other hand, there are also overpriced skateboards that don't meet the standards.
Instead of focusing too much on price, weigh things down based on their specs. Compare them from the other brands so you'll know which is a better bargain for you. You don't want to get something cheap, only to know that it's damaged after using it a few times.
Battery Life
Take note of the battery life of your electric skateboard. This means how long your battery will last before you replace them. If you have a lithium-ion battery, then it's going to last for around 1 to 3 years if you use it daily. This is already a great deal.
You also want something that won't discharge fast as this will be an inconvenience and it defeats the purpose of getting to your destination faster.
Charging time also depends, but it's usually around 3 to 6 hours, depending on the wattage of your electric skateboard. Running time also varies greatly, but somewhere around to a short 30 minutes to 3 hours straight.
There are 3 common battery types used on electric skateboards. These are (1) lithium polymer, (2) lithium ion, and (3) lithium iron phosphate. Here they are:
Lithium Polymer
Lithium Polymer batteries are also called LiPo. These are more affordable than the other types, but have a lower voltage sag, making them not so powerful.
However, these battery types are not widely used on commercial electric skateboards because they're not very safe. They can even start a fire if they aren't handled carefully.
They also needed to be fully drained if they're going to stay inactive for a while and be kept in storage. And they have a shorter life span compared to the other battery types.
Because of these many downsides, many electric skateboard manufacturers just ditch them out of their choices despite the cheaper production costs if these are to be used.
Lithium Ion
Lithium Ion or Li-ion batteries are the most popular and common type of battery used on electric skateboards. They might be weaker compared to lithium polymers, but they have longer life cycles.
They're also much easier to handle and are safer because of their mechanism and design. There are two types of lithium ion cells. These are 18650 and 26650, with the former being the more common one. These cells are the ones that are inside a Li-ion battery pack.
Lithium Iron Phosphate
There is also these so-called lithium iron phosphate, also known as LiFePO4. They are a new battery technology that combines the best characteristics of lithium phosphate and lithium ion batteries, specifically the power and safety of the two battery types.
However, it also has its downsides. They're much expensive to produce and cannot also be easily supplied to the manufacturers because of the limited supply.
Portability
You are getting an electric skateboard because you want to get to your destination as fast as possible without carrying much weight.
Electric skateboards are very portable because you simply just have to step on them and burst straight to your destination. Compare that to the hassle of bringing an electric scooter. The average weight of electric skateboards again varies but is somewhere around 15 lbs. to 30 lbs.
Go for those below 20 lbs. so you can just carry them by your hand if you need to. You want to be convenient and hassle-free, so be sure to get a light one.
Motor
The motor of your electric skateboard is its main core. It is the powerhouse that enables it to move. Thus, you need to give lots of attention to it.
Go for those that are 2-wheel drive so you'll have a good grasp at it. Also, take note of the wattage. Most top-end electric skateboards have motor types that are powered by 350 to 500 watts.
Can it climb hills? Can it go through trails? It's in asking these questions where you're able to know if you've got a capable electric skateboard that can bring you smoothly and comfortably wherever you'd want to go. 500 watts is what you need if you want to go really fast.
They can also easily climb uphills. However, if you don't need that extra muscle power, then you can go for the standard-powered skateboards that have powered motors of 100 to 200 watts.
Remote Control
You are going to control your electric skateboard with your hands, specifically your fingers. Make sure that it's accurate, precise, and very responsive so you won't fall and crash from your skateboard.
Go for those that can be controlled by multiple fingers, much better if with your thumb instead of your index finger for better control.
Technical Support
Technical issues are inevitable, which is why you need to prepare for it. Thus, getting an electric skateboard from a reputable brand that has an excellent customer and technical support team is highly recommended!
Get an electric skateboard that's made by a reputable brand so you can easily contact them in case technical issues do happen. There should also be easy access to spare parts so you can easily replace them when damaged.
Why Get an Electric Skateboard?
Convenience
Convenience is the first thing that comes to mind when it comes to electric skateboards. Compared to regular skateboards, they require less effort, thus making it easier and more comfortable for you.
You simply just have to press a button and the skateboard will run just as if you were pushing it with your feet.
You can even go as far as 25 miles in one single charge. That's how efficient these things are. They are also very lightweight, so you don't have any problem carrying them around.
Control
Another cool thing about electric skateboards is that you get good control over your speed. You have numerous choices when riding one. You can go fast if you're in a hurry or if you're in a high-speed pathway.
Or perhaps go a bit slower if you're in a place where there are a lot of people such as in sidewalks.
Speed also stays consistent on flat roads as well as on slight uphills. Arrive at your destination on time with an electric skateboard. There's also less risk of you crashing or being in an accident because of the improved control.
Versatility
Electric skateboards are becoming more popular these days because they are very versatile. This means that you can switch from manual mode to electric automatic mode in just a flick of a switch.
A good example of this is when you are in a skate park and you need to do tricks. If this is the case, then it's best that you go for a manual mode.
And after you're done with your showmanship at the skatepark, simply hit the electric mode and smoothly cruise away to your home without breaking a sweat.
Cost-efficient
One of the best things about getting an electric skateboard is that they are very cost-efficient. You get to save a lot of money because you don't need to spend much on gas.
They are also very low maintenance modes of transportation that require little to no effort in changing parts as long as you take care of them and use them correctly. You get to save money and use that for other more important uses.
You also don't have to pay for fares when going for errands or buying something you need at the nearby store. Not only is it convenient on your end, but it's economical as well.
Fun
Fun is a very simple, yet strong word, and that's what you get from these electric skateboards. You can go out, enjoy the fresh breeze of air along with the gentle heat of the sun, all while being productive.
It's a win-win situation for you because you get to make the most out of your time, all while having fun.
You don't even need to use your feet to push the skateboard to move. This means that you can now focus on your surroundings and have a better and more enjoyable time outdoors because you're not stressed and exhausted.
Electric Skateboard vs. Normal Skateboard
So to the average skater, how does an electric skateboard compare to an average one? Here's what sets it apart.
Powered by a battery pack.

Unlike the average skateboard, this one runs on a battery which defines your hill-climbing ability and top speed. These batteries are usually small lithium-ion. You have to charge the skateboard to use it.

Motors control your movement.

You don't have to push with electric skateboards! Instead, the small but powerful engines attached to it are what makes it move. These motors are usually found next to the axle or inside the wheels.

Runs on electronics.

If the standard skateboard is entirely dependent on outside forces, the electric skateboard has a brain of its own. The battery pack and motors don't work on their own. They have an electronic system providing artificial brainpower that controls speed and manages battery. Sounds a lot smarter than some people I know!

Can be controlled remotely.

I love playing with RC cars, which is why this is one of the features I enjoy the most. Some manufacturers opt for wireless remote controllers. Others let you move your skateboard using a thumb slider, index finger trigger, thumb joystick, or thumbwheel RC controls.
Pros and Cons of Electric Skateboard
Now that you know what makes an electric skateboard different, you're probably interested in getting one for yourself. If you're still on the fence, here are the main pros and cons of going electric.
Pros of Electric Skateboard
Safe and stable.

There are fewer chances of you face-planting on an electric keyboard compared to self-balancing boards because of the motors that control the skateboard.

Perfect for beginners.

When I started out skateboarding, I found the regular skateboard intimidating. Luckily, the electric version is excellent for newbies. Because of built-in brakes and no pushing, beginners won't have a hard time using the electric skateboard.

Minimal effort.

You get more done using a lot less energy with the help of the motors and electronics. Electric skateboards provide a more relaxed ride for people who aren't just skateboarding for fun but are using it to commute every day. This way, you'll get to your destination quickly and easily.

Portable.

Compared to bikes and scooters, the electric board can be carried anywhere when not in use. You can put it in your bag, take it on the train, or leave it in your office locker. I'm glad I don't have to worry about parking spaces.

Eco-friendly.

Because this isn't powered with gas, you won't just be saving up on gas money. You'll be saving the environment, too! The skateboard doesn't belch toxic air pollution, which is excellent news for all the environmentalists out there.

Runs as long as the battery has power.

You don't have to stop skateboarding if you get tired as long as your electric skateboard is charged up. Some boards even have swappable battery packs that let you pop a new one in quickly. Packs are compact and small, so carrying them around is stress-free.
Cons of Electric Skateboard
Have to recharge.

You get slower as the juice drops. If you want one that lasts more, it will probably be more expensive and a little more cumbersome. You can always choose ones with swappable battery packs and bring extras with you. And keep an eye on that battery level! You don't want it to drain while you're on your way to work.

Takes control away from the rider.

It might seem less versatile if you can only use it with the remote control and motors functioning while the battery is fully charged. Older models have high-friction belt drives, and rigid battery packs prevent you from skateboarding unpowered. The good news is newer models give you more freedom so you can use it as a regular skateboard even with the power off.

Not all boards are made equal.

Your board's mechanical power is defined by the materials, efficiency, precision, and size. Some have better microprocessors that let you run well even on lower battery; others are pretty average. You need to do your research when choosing a board, or else you'll end up with a lackluster one. Which brings us to our next con…

Costly.

You have to understand that electronic boards are an investment. If you want boards with better water resistance, sealed motors, and durability, you'd have to spend more. Look for ones within your budget that pack a punch when it comes to versatility, performance, and power. Don't worry, cars and gas are more expensive anyway!
What is the best electric skateboard?
No products found.
The Blitzart Huracane stood out from the best electric skateboard comparison as it is one of the fastest, most durable, and highly-capable products out of the ten reviewed products.
It's got everything you need if you'd like to get fast and conquer different terrains thanks to its  350-watt motor that enables it to reach top speeds of up to 17 mph.
This isn't your regular e-skateboard as it identifies itself as an electric longboard, which means that it's got a more robust and durable build. It might be a bit heavier weighing in at 13 lbs., but this gives it better grip and stability in high-speed runs.
The Hurricane is made from durable materials, specifically with 7 layers of maple wood and 2 layers of premium bamboo. A single charge lasts 8 miles thanks to its 36-volt lithium-ion 4.0Ah battery that can be charged fully in a fast 3 hours.
And it's got a maximum weight capacity of 250 lbs., making this pack in some punch, even with heavier riders. Though you might get some remote disconnection issues, that isn't much of a big deal as long as you secure it correctly on your pockets so that it won't move.
The modulated braking feature also makes up for that as this makes it safer and more controllable. If you'd like to get the best electric skateboard experience, then there's no doubt that you need the Blitzart Huracane.
Electric-powered skateboards are a great step in the evolution of transportation. If you want to get to work, school, or home quickly, it's the perfect solution.
We hope you can choose the perfect board for you among the 12 we have mentioned. If you know any more you'd want to include in future lists, leave a comment!