If you're looking for the best scooter luggage trolley or suitcase, you've come to the right place. Luggage suitcases can help you quickly get from point A to point B with all your gear saving you a ton of time. Whether you're going to the office or your flight, luggage scooters are a great choice.
But, with so many great options out there, it can seem impossible to find exactly what you need. Fortunately for you, we've found the best scooters on the market in a wide array of categories.
1. Micro Case – Best Overall Scooter Trolley
Micro Case, Black, ca. 52cm
With our micro luggage you can not only get faster from terminal to terminal, no, you just take it on the plane and do not have the queue at the check-in desk!
Carry-on luggage, kickboard and trolley in one, that's comfort at the highest level.
The choice of three different strengths of the steering suspension allow optimal control – depending on their own weight and curve profile.
There are so many things that the Micro Case does right that it was easily our top choice. For starters, the suitcase on the scooter's front has several different storage compartments, including a convenient laptop case.
From there, the entire Micro Case fits as a foldable carryon, so you don't have to check it in at the terminal! You can ride this scooter throughout the airport, right up until you step onto the plane.
While the convenience factors are nice, what really sets this scooter apart is the durable frame and top-notch design that allows you to pick from three different steering suspension thicknesses that optimizes performance to your weight and frame.
As a final perk, if you're not in the mood or in a place where you can skate around with your luggage upfront, the Micro Case converts to a traditional style luggage trolley that you can pull around.
Whether you're looking for fun or convenience, the Micro Case easily earns the spot as our top pick.
2. ZincFlyte – Best Kids Scooter Luggage
There's no reason that everyone should leave all the fun to the adults. That's precisely what ZincFlyte was thinking when they designed their kid's luggage scooter.
Not only is it a blast for the kids to ride from terminal to terminal, but it also makes everything a little bit easier for the parents too. That's because you won't be stuck lugging your child's carry-on from stop to stop, and they won't have any trouble keeping up as you rush to the terminal.
Once you get there, everything folds down to easily fit in the overhead compartment making transportation a breeze.
The scooter itself is made from high-quality materials and provides a smooth and comfortable ride throughout. It utilizes a lean-to-steer system, making everything a bit easier to navigate, and the attached suitcase has tons of storage capacity.
Finally, the scooter is ideal for those from three to eight years old and has an adjustable handlebar that gives your child a comfortable ride no matter how tall or short they are. The ZincFlyte is an excellent choice to make your next vacation a little bit easier.
3. iubest – Best
Scooter Suitcase for Adults
Scooter Luggage for Adult Carry on Suitcase Foldable Trolley Case Bags for Travel, Business and School Men 50 liter, 18...
★scooter suitcase: iUbest scooter luggage suitcase can hold riders up to 331 lbs and suitable for adult, teens and children. Our scooter suitcase can save you time to school or travel in the most...
★Roomy: Capacity 50L & 5 compartments. A great carry on to organize your travel entertainment. Enough space for you to take the stuff you need for your travel, business or school.
★Durable: Made of high-quality aluminum-magnesium alloy. The frame of this scooter luggage is strong and stable. Will bear all the slight rubs or damage in an accident.
If you're looking to have a blast at the airport or on your way to the office, the iUbest has you covered. With the iUbest scooter, you get the best of both worlds, a top-notch scooter that is a joy to ride, and durability that sets it apart from the pack.
As an added benefit, the iUbest has an impressive 321-pound weight capacity and comes with a roomy 50L suitcase with five separate compartments. Despite the extra roominess in the suitcase, it's still TSA compliant, and you can use it as your carry-on!
Not only do you get a top-notch suitcase, but you get an ultra-durable scooter as well. The iUbest scooter boasts an aluminum-magnesium alloy frame that is ultra-strong and durable.
Another convenient perk is that the scooter utilizes a one-button system to fold the scooter down, which allows you to quickly board planes or other forms of public transportation without having to spend a ton of time breaking down your scooter!
The iUbest is high-quality and convenient, easily earning its spot on our list of top luggage scooters.
4. KANING – Best Scooter Suitcase Under $200
The Kaning luggage scooter is the top luggage scooter you can find for less than 200 bucks. But that doesn't mean you're not getting a top-notch scooter that makes your trip far more enjoyable.
Kaning made this scooter from a lightweight yet durable aluminum alloy that is impact resistant. The suitcase is weather resistant and is TSA compliant. You can bring the entire assembly as your carry-on, which means you don't have to waste time at the check-in counter!
The Kaning scooter utilizes a lean-to-steer system that makes traveling a breeze, especially with your suitcase up front! The entire scooter is foldable, which allows you to use it as a traditional luggage carrier when using a scooter would be inappropriate.
If you're looking for a way to spice up your travel or commute but don't want to spend a ton of money – this scooter is precisely what you need!
5.

GDAE10 21″

 
– Best
Carry-on Scooter Luggage
If you're looking for a scooter that you can use to zip right past the check-in counter and to your flight, the GDAE10 is the perfect scooter for you!
Of course, it's TSA compliant, and you can bring it as your carry-on, but it does so much more! The suitcase itself is top-notch with three different compartments and a high-quality PVC design. Even better it the suitcase comes with a coded lock, so if your bags do get shuffled up during the flight, you don't have to worry about someone rummaging through your stuff.
But the carry-on suitcase is only part of the appeal of this high-quality scooter. The scooter itself is made entirely from aluminum, which is both lightweight and durable.
The GDAE10 scooter has a lean-to-steer operation for easy turning and converts from a scooter to a traditional luggage trolley to help you through security. This is the perfect scooter to help you get through the airport and to your terminal!
6. Rydebot Cavallo – Best Electric Scooter Suitcase
The Rydebot Cavallo is one of the coolest ridable scooters on the planet. Yes, it's fully electric and has a range of nine to twelve miles, but that's not what sets this scooter apart.
It's all of the James Bondesque features built-in. With the click of a button, you transform this luggage trolley into a ridable scooter! You sit right on top of the suitcase, and it has footrests so you can ride with ease.
Another remarkable feature of this scooter is the Bluetooth speakers that allow you to hookup your favorites, tune, and listen as you ride around. The suitcase itself has 29.3 liters of storage capacity and a TSA combination lock, so you don't have to worry about people snooping through your belongings after you check it in.
Finally, this ridable scooter has a top speed of 6.2 miles per hour and a lightning-fast recharge time of three hours! If you're looking for a ridable luggage scooter to set yourself apart, this is it.
7. Emmzoe – Best Toddler Suitcase Scooter
Are you tired of carrying your kid's suitcases as they struggle to keep up? Eliminate those concerns with these awesome suitcase trolleys!
The suitcases come in several different fun animal designs that you can choose from, and they are completely TSA compliant! Your child can bring their new favorite suitcase straight onto the plane as their carry-on and pack it full of goodies to play with on the plane!
The trolley's telescoping handle adjusts to your child's height, so it will always be the perfect height for them!
Moreover, Emmzoe made the suitcase from lightweight EVA materials. Not only is it lightweight, but it's also dentproof and easy to clean!
Finally, the suitcase comes with a lockable zipper so you can keep all of your child's belongings safe if they take their eye of their bag for a moment or two!
This high-quality luggage scooter by Little Jasmine is precisely what you need to fly through the airport and get to your terminal. It's TSA compliant, and you can use it as your carry-on, so there's no need to waste time at the check-in counter.
You can save a ton of time on your next trip and have a blast doing it! The Little Jasmine luggage scooter quickly transforms from a scooter to a traditional luggage trolley to help you get on your plane, bus, or train.
The suitcase that comes with this scooter has four separate luggage compartments, including a dedicated padded laptop compartment. Finally, if you are using this luggage scooter as a traditional suitcase trolley, the suitcase has its own wheels, so you can simply push the trolley around instead of leaning it.
Of course, if you want to operate it as a traditional luggage trolley, that still works too!
If you're looking for an awesome luggage scooter for your child, it's hard to beat Spider-Man. Everything about this scooter will scream out to your child, and they'll ride it whenever you let them, even if you're not at the airport!
The suitcase itself has a Spider-Man design, but so does the deck of the scooter! This luggage scooter features a 3-in-1 design that allows you to operate it like a scooter, carry case, or trolley case.
The handlebar is adjustable, so this fantastic Spider-Man scooter can grow with your child. That's good news because they're never going to want to grow out of it!
The wheels on this scooter are 120mm wide for extra stability and made of durable PVC materials. With this fantastic scooter, you won't have to carry your child's luggage with you, and they'll have no problem keeping up with you as you scurry about! It's an investment that your child will love, and so will your sanity.
NOPTEG 21 inch TSA Lock Scooter Luggage Aluminum Suitcase With Wheels Skateboard Rolling Luggage Travel Trolley Case
【Flexible】 - Can be ride, can trun around ( When riding scooter, pull the handrail up a little), can brake(With a brake on the rear of the scooter, when needed, please tread it .
【Convenient】 - Let personal luggage be easier to carry.3 Modes for carrying: a. Suitcase-when Folding compeletly, it's a suitcase, you can hand it ;
【Trolley case】 - When metal stick and handrail extended,it's a trolley case; After all extended, it's a SCOOTER SUITCASE. have 3 Modes can meet different environments and requirements . Suitable...
Rounding out our list of the top luggage scooters on the market is this gem by NOPTEG. The scooter itself is made entirely from aluminum, which makes it both lightweight and durable.
NOPTEG made the attached suitcase from PVC with three different inner compartments to help you organize your belongings. The entire design is TSA approved, and you can easily bring the entire assembly as your carry-on!
Another outstanding feature is the coded lock that helps protect your belongings. While it's an excellent luggage scooter, you can quickly transform it into a traditional luggage trolley or a carry around suitcase.
If you're worried about getting an inferior product, NOPTEG offers a one-year warranty on the excellent scooter, so you can rest easy knowing that it can hold up to even the most rugged conditions.
Choose The Right Scooter Luggage Trolleys: Buyer's Guide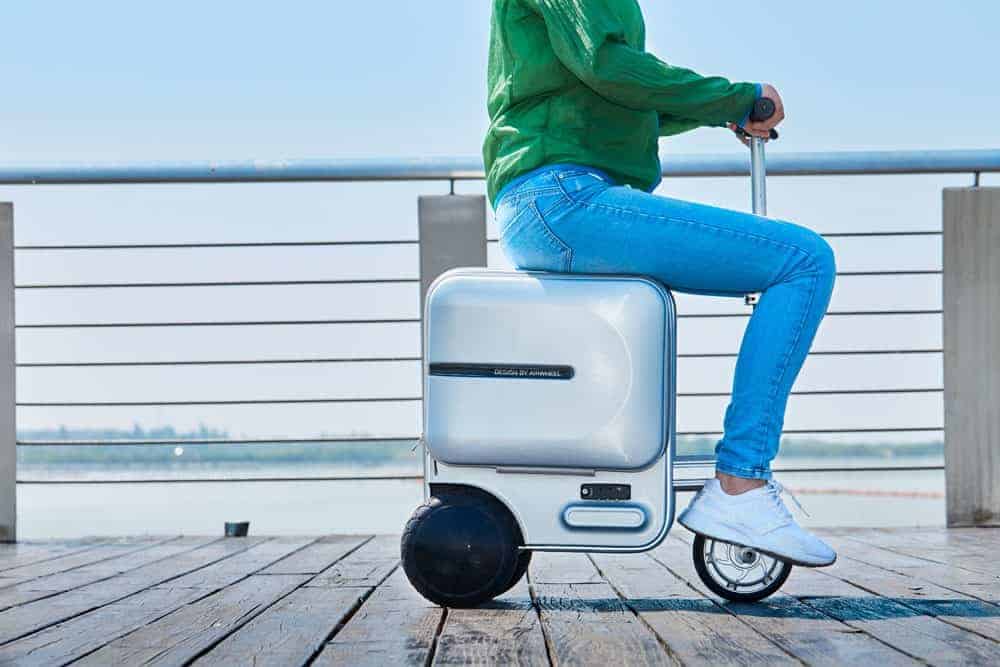 When you're looking at luggage scooter's, you're bound to have a few questions. That's why we took the time to help you identify the essential features to look for when you're buying a luggage scooter!
Why You Need A Luggage Scooter
Whether you're struggling to get your kids to keep up, or you just want to save a little time getting to an airport terminal, a luggage scooter can be a great choice.
Not only do you save a ton of time and frustration, but you can look good doing it! There are tons of reasons to get a luggage scooter, whether you're an international traveler or simply trying to get your gear to the office – luggage scooters make everything a bit easier and more enjoyable!
Things to Look for in a Luggage Scooter
When you're in the market for a luggage scooter, there are a few features you should look for to make sure you're getting the right product. We'll break down the five most important below and when those features could save you a ton of frustration.
Weight Capacity
It's the most crucial feature of any scooter. If you weigh too much for the scooter, you'll end up damaging the scooter, and it won't do what you want it to!
For luggage scooters, it's just as important. Also, keep in mind that you'll have the weight of the suitcase up front too! While most luggage scooters account for this added weight, if you're going to be packing it full of hefty objects, it might be a problem.
TSA Compatibility
If you're looking for a luggage scooter that you can take through an airport, you need to make sure it's TSA compatible. This is especially a problem for motorized scooters as you can't fly with many of the batteries.
From there, you should check if it works as your carry-on. If it does, this can save you a ton of time by skipping the check-in counter.
A Suitcase that Locks
Not every suitcase on a luggage scooter locks, but those that do give you a better sense of security over your belongings. That way, if you fall asleep on your flight or leave your suitcase in the office breakroom, you don't have to worry about anyone snooping through your belongings.
Storage Capacity
How much can the suitcase hold? It's a viable question, and if you have a laptop you travel with, you probably want a separate padded laptop compartment to keep everything safe. Ensure that the suitcase has enough space for all your gear. Otherwise, you're just wasting your money.
Does it Transform?
We're not talking transformers here, but you should get a luggage scooter that at least transforms into a traditional suitcase trolley. The easier it transforms, the better, as this will save you tons of time when you go to board.