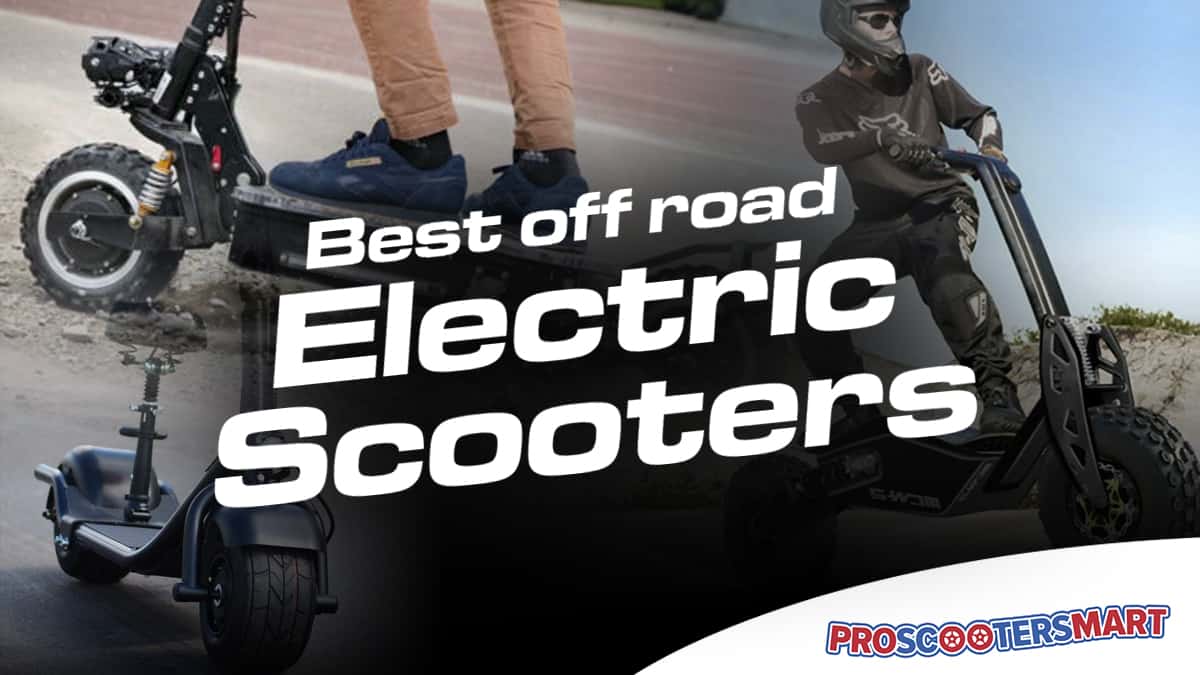 Why the search for the best off-road electric scooters? Were you aware that last mile transportation is not only convenient, lowers pollution but that more than 30% of riders have switched to electric scooters as a mode for transportation over popular rider share platforms like Uber and Lyft?!
With the rise of the electric scooter into the mainstream, not all are created equal. Many of the electric scooters being sold today are designed for use in the most optimal conditions but someone who is using their scooter commute back and forth to work isn't going to be in optimal conditions at all times.
Living and functioning in the real world require one to be adaptable, even when it comes to electric scooter riding! For this reason, we've compiled a list of the best off-road electric scooters designed to ride in all conditions.
After reading our detailed guide you will be well informed and ready to buy the best off-road scooter of your dreams!
If you're in a hurry, here are our top picks:
Best Off Road Electric Scooter Reviews
We've reviewed the good the bad and the ugly about the top 10 Electrics scooter for off-roading. Check out the pros and cons of each individual scooter to help you pick the best one! Things to look for are pneumatic tires, all-terrain tires, miles per charge, smart self-balance, quality suspension system, disc brakes, and charge time… when you get a great combination of these features/factors you get the best off-road electric scooter!
1.
UberScoot 1600w
– Best Big Wheel
Off Road Electric Scooter
If you're looking for a top-notch electric scooter with large knobby wheels to tackle uneven riding surfaces, the UberScoot 1600w is the perfect fit.
Both the front and rear tires are 11" pneumatic knobby tires, making it perfect for trails and other uneven surfaces.
Even better, it has a top speed of 30 miles per hour, which is far faster than most people will want to go. However, if you're looking for a fantastic electric scooter for your teenager or preteen and don't want them to go that fast, it comes with a speed restrictor that maxes their top speed at 20 miles per hour.
Even with all that speed, it has a 12-mile range, but it's possible to get closer to 20 miles depending on how fast you ride – the slower you ride, the farther it will take you on a single charge.
The only ding on the UberScoot is that sometimes the seat gets stuck, but this is easy enough to manage with even a little mechanical finagling.
Highs:
30 mph top speed (but can be speed restricted to 20mph)
11" pneumatic knobby tires
12-mile range
Lows:
Sometimes the seat gets stuck
No products found.
Did you know that the majority of the off-road electric scooters on the market feature between 8″ and 10″ wheels but that is not the case with the Rassin City Hopper! The City Hopper scooter is the only one that features large 14-inch wheels in the front and rear.
Another key feature that sets this electric scoot apart is the independent suspension. With top-quality front and rear shocks, this is by far the smoothest ride you'll find in an electric off-road scooter.
This is also a great scooter for adults! Other scooters like the Razor for example only support riders up to a max weight of 160 lbs whereas this model recommends a maximum rider weight of 266 lbs. Continue reading on into the pros and cons where we highlight their other best scooter features.
Highs:
Powerful all-terrain electric 1000 watt motor
Top speed of 35 mph
Removable seat
functional headlight for night riding
Large 14″ front and rear wheels
Lows:
No pneumatic tires
Short battery life, only 9 miles per charge
Struggles to pull steep hills
3.

Tzora Titan

Hummer XL

– Best Off Road Four Wheel Electric Scooter

If you're in the market for a four-wheeled riding scooter that lets you get off the beaten path with ease, the Hummer XL electric mobility scooter is precisely what you need.

The scooter has a 300-pound weight capacity, which makes it large enough for most adults. From there, it has a 15.5-mile range that allows you to hit a wide array of trials and campsites without worrying about running out of power while you're there.

But the best part of the Hummer XL is that everything about it exudes comfort. It has a full suspension system for a comfortable ride and an 18" wide padded seat with armrests.

The top speed of the Hummer XL is only 6.8 mph, but this isn't a scooter that you're getting for a joy ride anyways.
Highs:
300-pound weight capacity
Full suspension system for a smooth ride
Large tires give you plenty of traction on trails and uneven surfaces
18" wide seat with armrests for extra comfort
Long 15.5-mile range
Lows:
Slow top speed at 6.8 mph
Sale
Razor a household name in the scooter scene has created the perfect electric scooter for kids. The Razor RX200 is an amazing choice for a younger rider looking for an electric off-road scooter to enjoy recreationally. While many of the other electric scooters on our list are for commuting and last-mile transportation the  Razor RX200 is not that.
Let's take a look into the detailed specs! Capable of carrying a rider with a maximum weight of 154lbs, this Razor electric scooter features disc brakes, torquey gear ratios, and off-road tires for trail riding.
To provide rider comfort the scooter also comes with riser handlebars, soft rubber hand grips, full deck grip tape, and even a kickstand for easy garage storage.
Now what I really like about this electric scooter is the heavy-duty frame and build quality. Razor made sure to design an electric scooter that was ready to get down and dirty.
On the other hand that high quality also contributes to what I don't like. Since this scooter is really a kid's electric scooter its really shouldn't be this heavy. Weighing in at 46 lbs most younger riders will have a hard time handling it, let me make this clear handling it NOT RIDING IT.
When the Razor RX200 electric off-road scooter is fully charged it delivers fun but only in 40-minute increments. That is the other factor I'm not in love with is the charge time & run time.
To fully charge the Razor RX200 it takes around 2.5 hours and this yields about 40 minutes of continuous run time. All in all the Razor RX200 is a great entry level off-road electric scooter but it's best used for kids.
Highs:
Relatively inexpensive
Rear disc braking system
all terrain tires
Lows:
Lacks front and rear brakes
Low top speed at 12 mph
At low speeds can be an off balance scooter
Only 5 to 8 miles per charge
For a consumer looking for a more serious Off-Road Electric Scooters for Adults, an excellent choice is the – 
5. NANROBOT D4 – Best Off-Road Electric Scooter With Seat
No products found.
The Nanrobot D4 off-road electric scooter is an excellent choice for someone looking for a serious off-road scooter. Not only is this scooter extremely powerful with dual 1000 watt motors but it also features a 52volt lithium battery capable of traveling over 40 miles on a single charge (with a max speed of 40 mph)
Those are just the highlights now let's get into the details!
Something to take note of is the heavy curb weight of this electric scooter, the Nanrobot is probably the heaviest scooter in our guide but it's also the most powerful and the most fully equipped. Think of the D4 as a Bentley or Rolls Royce of the offroad electric scooters.
No one would ever ask about the power to weight ratio in those luxury cars because they are all about luxury and packing in the features.
Although seemingly simple the Nanrobot's best feature is arguably its seat. Very few of the off-road electric scooters have a seat and the one found on this particular model is excellent, the Nanrobot has it all power, great suspension, and a seat.
If you can stomach this scooter weighing in at over 70lbs then this is the electric scooter for you.
Highs:
Reliable front and rear disc brakes
blistering top speed at 40mph
Nice 10″ pneumatic tires
Lows:
No option for a seat
An air tire option would be great!
A little Heavy
No area to apply a lock to it
6.
Segway Ninebot MAX
– Best Off Road Electric Kick Scooter
Most experts recognize the Segway Ninebot MAX as one of the top electric kick scooters on the market in a wide array of categories. Placing it on the list of the best off-road scooter is no mistake, and it isn't surprising.
While Segway didn't design this scooter to an off-road monster, everything they put into it translates well. It has large pneumatic tires that have no problem getting traction, and the ability to tackle hills with a 20% grade is a phenomenal advantage.
From there, it has a top speed of 18.6 miles per hour, and the anti-lock braking technology takes your safety to a whole new level. If you're hitting the trail before the sun rises, it comes with LED headlights for extra visibility.
Keep in mind that, like most scooters, the Segway Ninebot MAX's top speed drops as the battery drains. But with a 40.4-mile range on their top version, there aren't many trails you can't ride from start to finish.
Highs:
Up to a 40-mile range
Higher top speed at 18.6 miles per hour
Can tackle hills with a 20% grade
Two options to choose from (25-mile range vs. 40.4-mile range)
Comes with Anti-lock braking technology for extra safety
Premium riding features like cruise control, Bluetooth connectivity, and an LED display
Lows:
Your top speed slows down dramatically as the battery drains
7. Dualtron Ultra -Fastest
Off Road Electric Scooter
If you have a need for speed, the Dualtron Ultra electric scooter will appeal to you. It has an impressive top speed that exceeds 40 miles per hour! Even better, the maximum range on the Dualtron Ultra is 80-miles, so you can easily ride it around all day before charging it back up in the evening.
The Dualtron Ultra comes with two off-road tires that give you tons of extra traction as you travel. However, they are replaceable, so if you want street tires instead, that's an option too!
With any scooter that goes as fast as this one, you need a smooth suspension system and top-notch brakes. The suspension system is the best in the industry, and the brakes are powerful too. However, the brakes are electric, so if you lose power for any reason, you'll lose your brakes.
The scooter does come with a 1-year warranty, so you get a little extra peace of mind when you purchase a Dualtron Ultra.
Highs:
Top speed of 40 mph
Maximum range of 80 miles
Two off-road tires for tons of traction
1-year warranty for extra peace of mind
High impact suspension system gives you a smooth, comfortable ride in rough conditions
Lows:
Electric brakes don't provide the same comfort level as hydraulics
No products found.
From a glance, the Xiaomi Mi scooter is a nice option for someone looking to buy an off-road electric scooter. While it isn't designed specifically for off-road use this is an electric scooter that can handle a variety of terrains.  
We recommend the Xiaomi electric scooter for someone who wants an all-around scooter. When I say all around I mean someone who wants their scooter for off-road riding, commuting, and leisure.
This scooter isn't going to disappoint in any area because of its stellar specifications. The highlight of this model is the long-lasting battery life and top speed.
Reaching speeds of up to 15 miles per hour, this isn't the fastest scooter on our list but it can hold its own with many of them. Battery life is an area where a lot of scooters can disappoint but the Xiaomi Mi Electric can run for almost 20 miles on a single charge.
Being relatively lightweight is another selling point for this scooter. 26 lbs aren't light considering there are electric scooter alternatives that weigh less than 20 lbs but for considering everything that comes on this particular model: 250w motor, large disc brake, easy folding mechanism, and 8-inch tires make it a great choice!
Highs:
Decent 15.5 mph top speed
High-quality all-terrain tires
18 miles per charge
Lows:
Lacking pneumatic tires
Air tires can go flat
9.
Gotrax XR Ultra
– Best Long-Range Off Road Electric Scooter
The last thing you want to deal with when you're off-roading on your scooter is a dead battery. The Gotrax XR Ultra eliminates that concern once and for all.
With a maximum range of 17 miles and a top speed of 15.5 miles per hour, not only is it a joy to ride, but it can also tackle longer trails with ease.
Even better, it's affordably priced and has an LED speed display. However, if you're hitting up tougher trails with steep inclines, this isn't the scooter you want, as it struggles to make it up bigger hills.
Highs:
Affordably priced
Dual braking system for more control
LED speed display
15.5 mph top speed
17-mile range
Lows:
Struggles to conquer steeper inclines
10.

EverCross
– Best Heavy Duty
Off Road Electric Scooter 
If you're looking for a durable off-road scooter, the EverCross is it. You get a dual suspension system that gives you an ultra-smooth ride. As an added perk, you get a padded seat so you can sit down as you conquer the most challenging trails.
From there, it has a 25-mile range and a 330-pound weight capacity, which makes it one of the top choices out there.
Finally, while EverCross claims a top speed of 30 miles per hour, you can more realistically expect something closer to 18-24 miles per hour. It's not a bad top speed, but it's not what you might expect.
Highs:
Dual suspension system for extra support
Padded seat gives you a comfortable ride
25-mile range
330-pound weight capacity
Lows:
Actual top speed is lower than the claimed 30 mph (closer to 24 mph)
Off-Road Electric Scooter F.A.Q

Can off-road electric scooters go up hills?
Of course! The majority of the electric off-road scooters on our list will fly right up the common hill.
With one exception we'd say the Razor Rx200 wouldn't be able to sense it's more of kids' electric scooter. While the folks over at Nanrobot claim the D4 off-road electric scooter can easily climb 30-degree hills.
Are electric scooters waterproof?
No! We wouldn't say any of the scooters in this guide are waterproof. However, they could be called water-resistant. No electric scooter I've ever seen was designed to be submersible or truly waterproof.
If you are using your electric scooter to commute and its a rainy day, you'll be fine riding your scooter. Most of the electric scooters in the market today are sealed up pretty good so normal use in rainy or damp conditions won't hurt them.
How far can you travel on an off-road electric scooter?
The distance traveled on your off-road electric scooter depends on battery size and battery type. For longer battery life you want to look for a scooter with a lithium battery. Acid batteries are sometimes seen on electric scooters but these are typically lower quality models.
If a scooter features an acid battery it will take longer to charge and will deplete faster. On the other hand lithium battery equipped electric scooters will charge faster and go further on a single charge. For example, the Nanrobot D4 can travel over 40 miles on a single charge.
Safety Gear to Consider
Riding an electric scooter especially off road can be extremely dangerous, so taking the proper precautions are very important to ensure rider safety. When riding anything… a skateboard, bike, kick scooter, or skates you should always wear a helmet.
All of the aforementioned items are self-propelled and don't nearly reach speeds upwards of 40 miles per hour, so wearing a helmet on an electric scooter is not an option. All riders must wear helmets and some might opt for more padded gear.
Younger riders might opt for wearing knee pads elbow pads, and even a chest protective plate while riding off-road courses.
Conclusion: The Best Off-Road Electric Scooter is…
We've selected the Xiaomi Mi electric scooter as the best off-road electric scooter and here's why. None of the other scooters have the brute power, pneumatic tires, all-terrain tires, front and rear disc brakes, up to 25 miles per charge, and an out of this world suspension system the only thing it lacks in the cherry on the top…a removable seat!
The wealth of features present on the Xiaomi Mi electric scooter make it our top pick. If your budget is more limited or you're buying for a younger rider opting for the Razor RX200 might tickle your fancy.
Any questions or concerns please see our privacy policy.