If you're looking for a new scooter but aren't pleased with premade models, why not opt for a custom scooter to create the perfect one?
Whether you're building one for your adventurous little one or yourself, there are plenty of factors to consider before you begin—we cover them all. Follow our step-by-step guide to make sure you don't miss any crucial parts of the process.
What to Consider Before Building a Custom Scooter
If you want to customize your own scooter, there's a checklist to go through before you start grabbing tools or browsing custom design sites:
Budget
Set a limit for how much you're willing to spend while being realistic about what you can expect to pay. Naturally, a custom electric scooter is pricier to build than a standard one because of the motor.
A scooter for a six-year-old will be cheaper than a larger one for you or your teenager.
You can cut costs by going for simpler features. For example, unique neon wheels and chrome brakes may look fantastic but will also add to your final bill.
Type of Scooter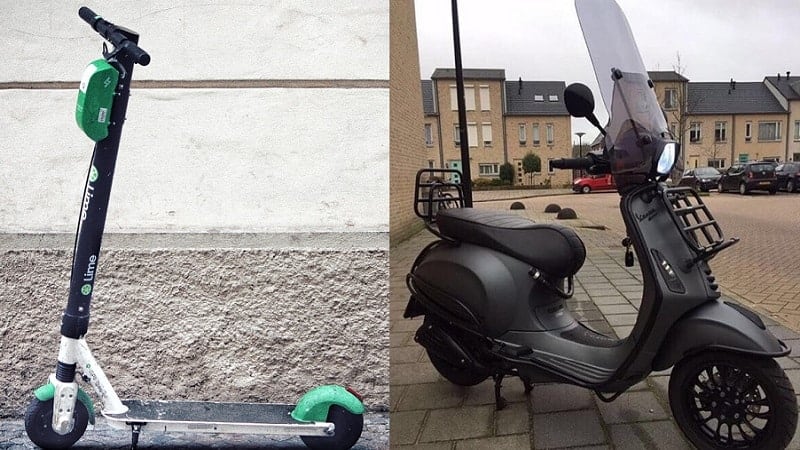 Do you want an off-road electric scooter or a standard model you can ride to and from work? What terrain are you planning to ride it on?
Take the time to picture exactly what you want your custom scooter for. If it's for showing off stunts at the skatepark, don't assume that a regular one is a worthy substitute.
Size
Size definitely matters when it comes to scooters. Not only will it affect the price, but an incorrectly-sized scooter can be dangerous to handle.
A rule of thumb is that the width of your scooter's bars should line up with your shoulders, and the height should be at your waist. Your shoes should fit comfortably on the deck without overhanging.
DIY vs. Professional Assembly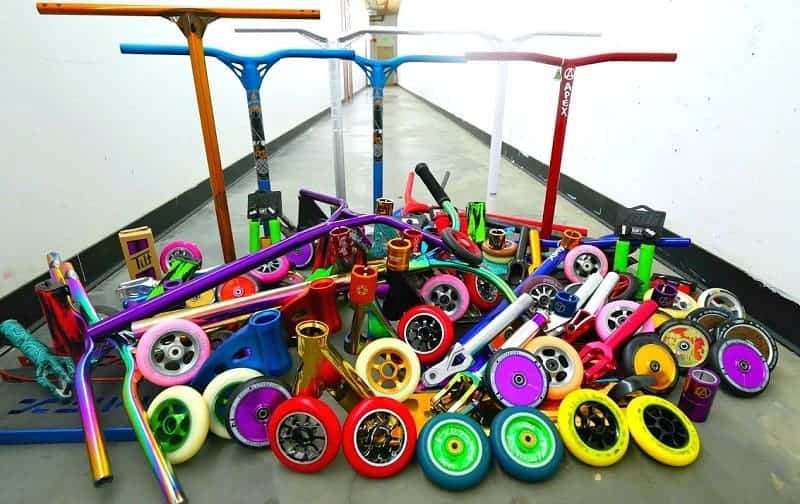 Some sites offer a custom scooter builder to allow you to pick and choose each component, from the deck to the handlebar grip. Things like the springboard, axles, bearings, and more are all automatically customized to your model.
If you're confident in your abilities or want to undertake a serious DIY project, you can purchase individual parts from various retailers.
Remember that there's nothing stopping you from splitting the work with the pros. You can order a custom scooter and add to it afterward—switch up the handlebars, add a carry-handle, or get creative with the grip tape.
Extra Features
Think about all the features you want your custom scooter to have. You can use inspiration from various models you like: think items like bells, mudguards, accelerators for electric models, etc.
Safety
If you choose a reputable custom scooter builder, safety shouldn't be a concern—they assemble everything for you.
On the other hand, let's say you're attempting to make your own stunt scooter from scratch. You'll need to test it as thoroughly as possible to make sure it's safe.
Ensure that your wheels aren't wobbly, the brakes are responsive, and the scooter is structurally sound—don't take it out for a ride before you do.
Aesthetics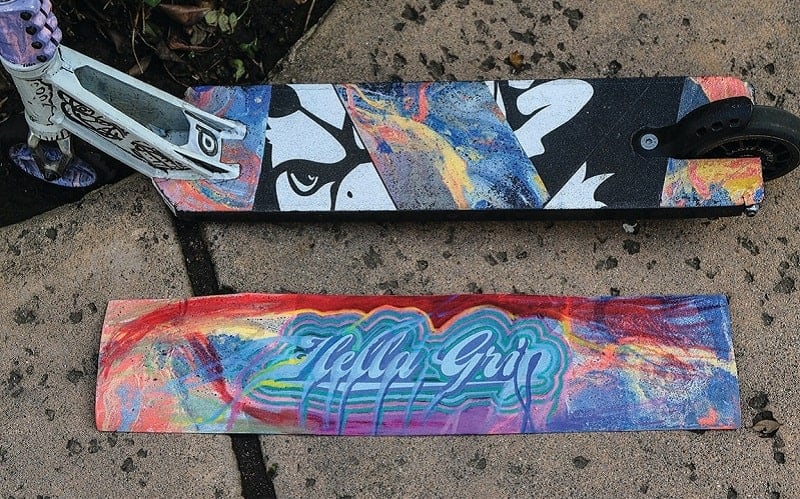 Last but not least, it's time to pick out things like the grip tape, colors, and all the other facets of your scooter's look. If you're unimpressed by what custom scooter builders have to offer, you don't need to be a DIY expert in order to grab a can of spray paint and have fun with it.
Similarly, you can replace parts like the wheels, handlebars, and grip-tape without too much hassle.
Your Step-by-Step Guide to Building a Custom Scooter
Are you ready to create a unique custom scooter? Now that you're prepared, it's time to start the building process:
(1) Design Your Dream Scooter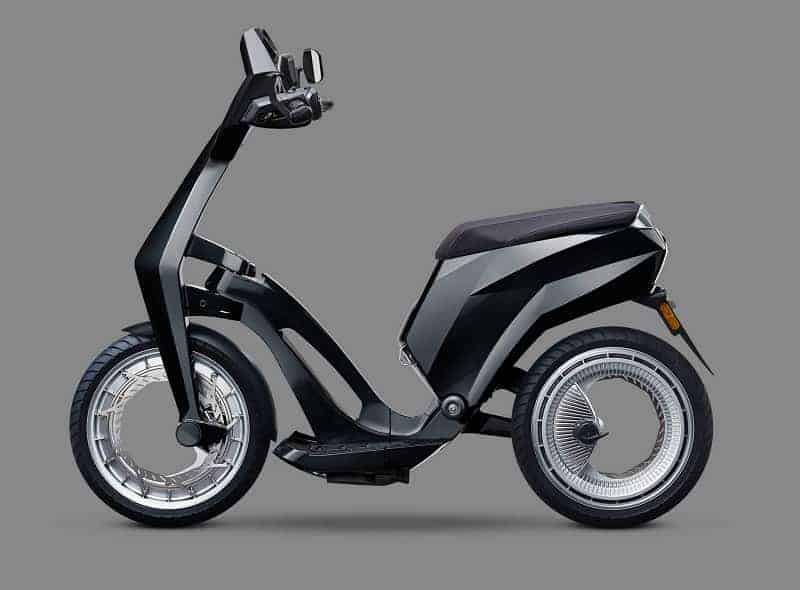 You can't start building a custom scooter without a clear understanding of what you want yours to look like. The more detail, the better: research how your desired scooter model works and what options it can have.
Note that you don't necessarily need to draw up a concept, although that'll be helpful if you're doing everything from scratch. However, make sure you list size measurements and non-negotiable features (e.g., a bell or super-grippy handlebars).
If you're up for taking on the whole project alone, you need to go a step further with the technical details: what sort of springboard will you use? What about the size of the clamp in relation to the handlebar?
(2) Do Your Research
Once you have a mock-up of your perfect scooter, start researching what you'll need to get the job done.
This step will be more intensive if you're going to create your custom scooter from scratch. You'll have to see what tools you'll need and how you should put everything together.
You'll be responsible for assembling every nut, bolt, and screw: if you're buying parts from different retailers, ensure the materials and sizes will fit together.
(3) Shop Around
Don't rush to settle on a custom scooter builder or hardware store to source everything from before you shop around.
Most sites allow you to design the whole scooter without paying for it: take your time and see what options are out there.
(4) Begin Building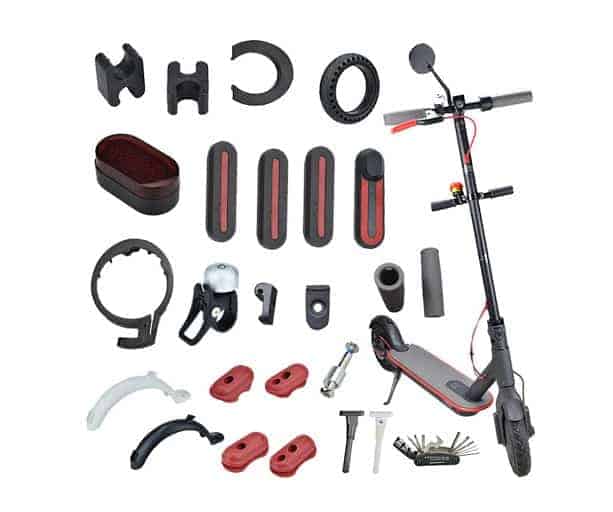 Once you decide where you'll get your parts from or design the scooter, the fun begins. If you're doing everything yourself, set aside time to dedicate to your project.
On a custom scooter site, enjoy selecting every feature of your scooter: don't forget to compare it against your blueprint.
(5) Test It Out
Once the scooter arrives, perform a final check to ensure that everything's in order. If you notice something off, like a sticky wheel or a dented handlebar, report it to the manufacturer.
As we mentioned earlier, this is non-negotiable if you built it from scratch. You want to be sure it's safe before you take it out for a ride.
FAQs on Building a Custom Scooter
Here a couple of common questions about building a custom scooter:
Where Can You Buy Custom Scooter Parts?
You can shop around at scooter stores for things like handlebars, decks, grips, and wheels. Not all stores will sell the smaller components such as axle bearings and star nuts, but you can find these at your local hardware store.
How Do You Build a Custom Scooter From Scratch?
If you want to go full DIY and engineer everything yourself, you'll need to understand what goes into your desired type of scooter. For instance, stunt scooters are non-adjustable to hold up under repeated impact.
Once you have a blueprint of all the necessary components, you have to purchase them while factoring in the materials and fit—bearings, spacers, nuts, bolts—everything must be compatible, or you won't get very far.
Where Can You Make a Custom Scooter?
You can ask local vendors if they're capable of whipping up a custom model for you. Otherwise, you can browse online and use a reputable custom site—we share some below.
Other Custom Scooter Resources
If you want more information on building a custom scooter, you can check out DIY sites such as Skatepro, Broadway Pro Scooters, or Lucky Scooters.