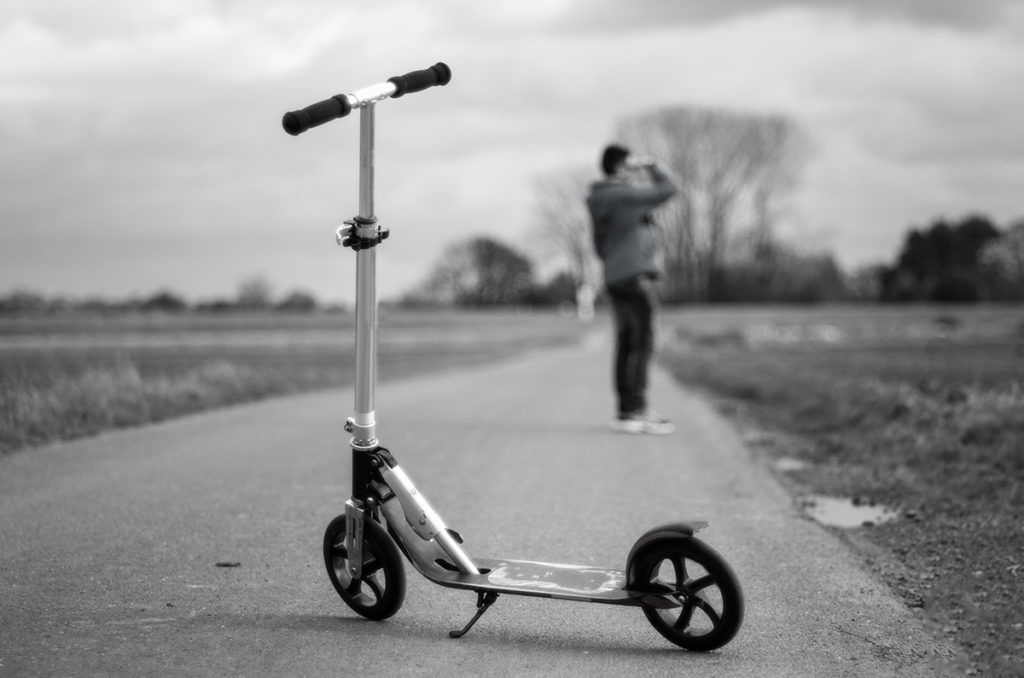 The argument of the best adult kick scooter, who made the call and said that scooters are only for kids? Whoever they were they were completely wrong. As human beings we love the sensation of gliding, that longing has been targeted by so many different forms of recreation and transportation. Think roller blades, ice skates, skis, snowboards, electric skateboards and of course scooters.
Just because you're an adult that desire to glide doesn't go away not to mention getting around via scooter is a convenient and reliable way to travel from point A to point B. The only problem that comes with mixing scooters and adults is selecting the appropriate scooter.
Adults who have purchased kids kick scooters and ride them like they were built for them are the ones who ultimately think that scooters are only for the younger audience. Many of the scooters on the market are developed for children and aren't built to meet the demands and needs of a full-grown adult.
The Top 20 Best Adult Scooters
If you don't want to do a lot of reading we've summed everything up in the ProScootersMart version of cliff notes. These top 3 best kick scooters were chosen based on quality, price range, features and customer support after the purchase. Whether you decide to go with a scooter from Fuzion or Razor you really can't go wrong both are reputable brands based in the United States a great choice producing the top commuter scooter.
Best Scooter List:
Here is the list of the high-quality scooters used in this test, keep reading to see where they rank…Continue reading to discover the best scooter rides for adults…enjoy this extensive buyers guide.
If you're looking for a scooter to help you recapture your childhood, you're not going to find anything more nostalgic than the Razor A1 scooter.
Everything about it is going to be exactly what you remember. The twist handle, adjustable handlebar, and rear brake remain – completely unaltered from their original design.
Razor uses the same urethane wheels, the same lightweight aluminum frame, and of course, you're getting the same brand that started the scooter craze.
It's affordably priced and great for the whole family – recapture your childhood with a Razor A scooter!
Highs:
The classic design gives tons of nostalgic feelings
Affordably priced
Six color options to choose from
Lows:
Lower max rider weight at 143-pounds
Just because you're older doesn't mean that you can't enjoy taking your new scooter to the skatepark for a ton of great tricks. That's precisely what the Fuzion X-3 Pro Scooter excels at.
The high-rise handlebars might take a little getting used to, but they'll give you far more control on both the sidewalk and the skatepark. Fuzion used lightweight yet durable materials, so you don't have to worry about damaging it if you do wipe out.
Not only do you get tons of control, but with a nylon/metal braking system, when you do need to stop, you can do it quickly and quietly. The X-3 Pro Scooter is an excellent scooter for beginners that want to find their groove and take it to the next level.
Highs:
Ten color options to choose from
Super powerful nylon/metal brakes
High rise handlebars for more control
Lows:
Lower max rider weight at 141-pounds
If you're looking for a scooter that you can ride both on and off the pavement, the Mongoose Expo Scooter is an outstanding choice. It has a 220-pound weight capacity, so you don't have to worry about overloading it.
Additionally, the adjustable handlebar makes it easier than ever to get a comfortable fitment as you ride. Meanwhile, the large off-road style wheels let you conquer dirt, grass, and other off-road obstacles with ease without getting stuck.
If you're worried about hitting a hill that takes you a bit too fast, this scooter has both front and wheel brakes, making it easier than ever to slow down and control your descent. It's a blast to ride, and it's a splendid scooter whether you're taking the next step or getting back into the world of skating!
Highs:
Larger wheels make it perfect for off-road riding
Maximum rider weight of 220-pounds
Adjustable handlebar
It has both front and rear brakes
Lows:
The narrow deck is only 4" wide
If you're looking for a scooter that you can fly down hills with and take your rides to the next level, the Hurtle Renegade is an outstanding choice.
There are eleven different color options to choose from, so you're sure to find a scooter that fits your style. Moreover, the scooter has an adjustable handlebar, which works perfectly for kids, teenagers, and adults. The Renegade is truly a family scooter that everyone can enjoy!
In that vein, the Renegade has a 220-pound weight capacity, meaning that you don't have to worry about overloading it. Paired with high-quality ABEC-7 bearings recaching top speeds has never been easier.
Highs:
11 color options to choose from
Maximum rider weight of 220-pounds
High-quality ABEC-7 bearings
Adjustable handlebar
Lows:
Kickstand prevents you from doing lots of tricks
While Micro Kickboard might not be the biggest name in the scooter industry, they've been around since 1999 and have a reputation for making high-quality scooters.
This Micro Kickboard scooter has a weight capacity of 220-pounds and an adjustable handlebar that makes it an excellent choice for anyone over the age of eight – adults included!
This scooter weighs less than six pounds and has a durable aluminum design. In fact, Micro Kickboard is so sure that this scooter will last that they offer a standard 2-year warranty on all of their products. If you take care of it properly, this might be the last scooter you ever need to buy.
Highs:
Lightweight design with an aluminum frame
Maximum rider weight of 220-pounds
It comes with a 2-year manufacturer's warranty
Adjustable handlebar
Lows:
The kickstand isn't super sturdy
Just because you want a kick scooter doesn't mean you always want to kick it around. With the Segway Ninebot ES4, you get the best of both worlds. It's a kick-started electric scooter, so by kicking yourself around, you set your speed and let the scooter keep you there.
With a top speed of 19-mph, you don't have to worry about it not keeping up if you're in a hurry either. Even better, it supports riders up to 220-pounds and has a 28-mile range.
For all that riding and the incredible top speeds you can reach, you need a scooter that will give you a smooth ride and powerful brakes. The Segway Ninebot ES4 delivers.
It has both front and rear suspension system that accompanies the front and rear brakes. While the charge time can take seven hours, the hours of fun it gives you between rides usually renders this a moot point.
Highs:
Maximum assisted speed of 19-mph
Maximum rider weight of 220-pounds and a 28-mile range
Front and rear shock absorbers for a smoother ride
Front and rear brakes give you more control as you ride
Lows:
Longer charging time of seven hours
If you're looking for a durable scooter that you can ride around the neighborhood with and occasionally take to the skatepark, The Mongoose Freestyle Kick Scooter is an extremely versatile choice.
Not only do you get the signature Mongoose wide handlebars for more control, but you also get premium ABEC-7 bearings, which gives you a smooth and quick ride.
This Mongoose scooter has a weight capacity of 220-pounds, which makes it an excellent choice for both kids and adults. There are 11 different color options to choose from, meaning that no matter what you're looking for, they're sure to have a design that you love!
Highs:
11 color options to choose from
High-quality ABEC-7 bearings
Maximum rider weight capacity of 220-pounds
Wider handlebars for more control as you ride
Lows:
A little on the heavier side at 12-pounds
Coming in at #13 is a scooter from Hikole for adults and younger riders. What we don't like about this scooter is how generic it looks, the branding is rather corny and doesn't look well made. However, once getting on the Hikole and taking that very first kick it does perform better than you'd think. The patented folding system is simple but does take 2 to 3 steps to complete which isn't ideal. The brake system is supposed to be patented and it looks very strange with this kind of over-hooking design, with that said the brake does function very nicely.
One of the nice things about the scooter is color options, there are only two available colors but they get the job done. Our favorite version is the white/black color variation, it looks so professional and clean. The reinforced deck features a low stance delivering 4.1 inches of ground clearance.
Overall the rest of the features are pretty standard, high rebound polyurethane 200 mm wheels, aluminum frame, alloy hardware, 220 lbs max weight capacity, a clunky folding henge that is not easily folded. What's not standard is the price point, offers this scooter for $89.99 which is more expensive than the Razor A5 lux scooter and the Cityglide. Herein lies why the Hikole comes in at #12.
The Hudora 205 adult folding kick scooter ranks #12 on our list and here's why. Overall this is an excellent scooter with outstanding features including 205mm wheels, shoulder strap, telescoping handlebars, ABEC-7 wheel bearings, and lightweight aluminium alloy frame. This quality scooter is constructed of high-quality materials by a scooter expert in Hudora one of the most famous scooter brands in the world.
We like the fact that this Hudora is rugged and durable but only weighs 8.8 lbs. Another standout feature is the low center of gravity, which gives the rider a balanced feel while on the scooter. Price is also very attractive starting at only $98.00 making this an ideal commuter foldable scooter, fold it down in tight spaces with ease.
Why is the Micro scooter so much more expensive than the competing scooters? We wish we had a better answer than the BRAND name Micro but we don't.  After testing this scooter thoroughly we will admit that it does ride extremely well (in fact one of the smoothest rides we tested) despite not having a dual suspension system.
What Micro does well though is source high-quality components and focus on build quality. There is an old adage that says "you get what you pay for" but in this case, it's not completely true. For $199.99 you'd think this suspension scooter would come with a bell, a light, reflectors..something but it doesn't.
The Micro Kickboard scooter is an awesome ride but doesn't fit the bill for $200, if you want a high-end ride we'd recommend opting for the Razor A6 and taking yourself out for a nice steak dinner with the extra $80 you saved.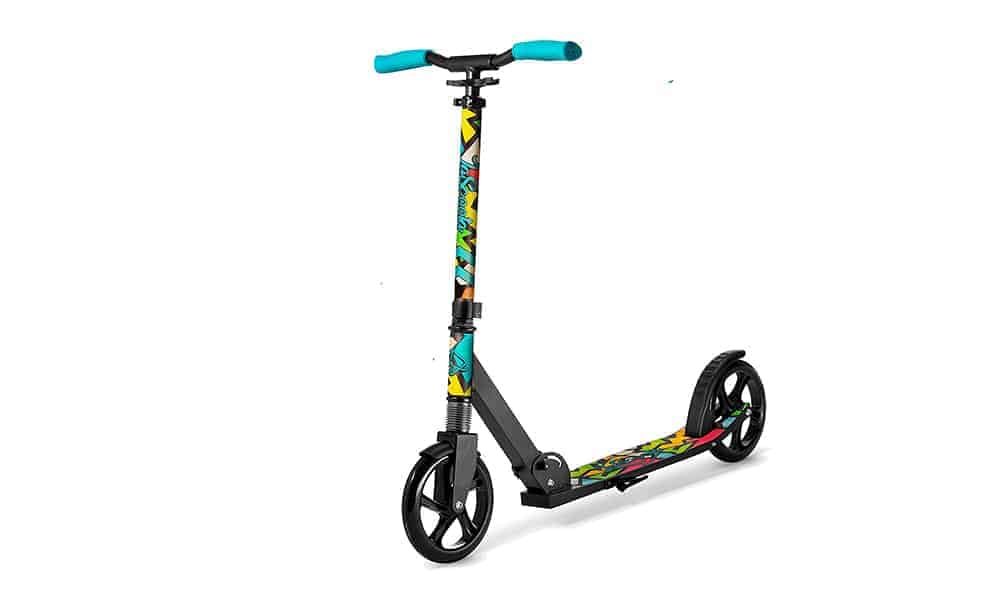 Click the image to add to cart, fold and carry is convenient and the rear-wheel brake is powerful
The recently released Lascoota scooter for teens and adults makes a bold statement, especially in a relatively subtle scooter category. While this scooter looks great there isn't much to it on the technical side of things.
What you'll find is the standard front and rear suspension, dated threaded headset, salad shooter wheels, high-speed ABEC-5 wheel bearings, bmx style grips, and ultra-simple folding. None of these features will blow your sock off when comparing them up against the other scooters on this list BUT what we can say is everything seems to work well.
Lascoota seems to have done its due diligence and sourced quality components to deliver a simple yet effective ride. While the Lascoota will never win any awards it will be a contender due to its ultra-low bargain-basement price of $59.99! If you like the trendy color combinations, you might want to give the latest scooters from Lascoota a try.
Swagtron isn't a household name in the scooter scene yet but they are making an impact. The Swagtron Titan is in fact the only scooter on our list that is the official scooter of a major league baseball team. However, beyond the smoke and mirrors the K8 Titan is just a good scooter. It has all the standard features 200mm wheels, adjustable foldable aluminum alloy stem, ABEC-9 bearings, front wheel fender, and fender brake.
Standard features are good but it doesn't have a clear point of difference. It does have a service department based in the United States like the Fuzion, this should give buyers peace of mind if there are any issues with the scooter. This scooter is another one of our 3 recommended "best for commuting". Excellent for adults and teens
Globber took to naming their latest offering after it's the most notable feature. An all-new folding design advertised to be completable in 1 second. But does the Globber really fold up in 1 second? We will answer that at the end of the section but for now, let's talk about the details. To start we were blown away by the deliverables on the Globber. It's quite possible that they thought of almost every possible thing to include on a scooter.
Upon first receiving the scooter we couldn't help but notice that they decided to go with a molded deck platform. Similar to what made them famous the Globber 3 wheeler, this scooter features a plastic molded deck design. Opting for the material changes was a risky idea because of durability concerns but so far so good, we saw absolutely zero negatives to the plastic deck in our entire testing period.
We spoke briefly about attention to detail and now we will dive into this topic in depth. Globber included just about every bell and whistle to this Globber model. That saying is actually literal in reference to the Globber One second. This scooter includes a real-life bell on the handlebars to let people you share the road with that you are coming. Bells are often found on bikes but with the emergence of more and more options, this was a good simple innovation.
Safety is a growing concern with the rush that many people are in these days the more tools a scooter rider can utilize to become as visible as possible are welcome. To pair with the bell Globber also added a reflective pattern design to the front of the steer tube and a reflector above the rear brake. Both of these additions help a rider to become as visible as possible to oncoming and trailing traffic.
Globber adding these features really catapult the scooter into the conversation for night travel something that had never been addressed in the past. Before a rider would have to rely on strapping on flashing lights or wearing reflective clothing.
Getting back to general features the Globber One Second has large 230mm wheels adding extra stability and the ability to roll over debris. A real adults scooter the Globber is rated up to 220 lbs, the adjustable foldable handlebars are also made for full-sized people with a fully extended height of 46 inches suitable for 6'6" individual.
Our overall impression: You were patient enough so the Globber actually folded down in 2 seconds but the gimmick of one second was a good marketing ploy. We can't say anything negative about the Globber's overall design however the lever braking system should have been left off. It is too grippy and is honestly more trouble than convenience.
Other Factors to Weigh Into Your  Scooter selection
Buying a scooter is more than just looking at picture and clicking add to cart you should know what you're getting into in advance. Our review guide points should assist in this area but also consider the following arguments will also get your mind going in the direction of thinking your purchase through for your individual circumstances.
Buy Your  Scooter From Reputable Brands
While browsing online for your next set of wheels you'll see all kinds of great low price deals which might be appealing at first glance but sometimes these purchases can come back to bite you in the long run. To avoid any issues down the road opt to get a high-quality scooter from a reputable brand like Razor, Fuzion or Schwinn. Buying from the major players in the market will guarantee you can reach someone in case you experience any problems with your new scooter.
All of the brands above have real customer help departments that you can call or email at your convenience. The established brands are also going to produce replacements parts so when your scoot needs new wheels or a clamp you'll easily be able to get a new one. On the other hand, when you have a scooter from Joe Schmo losing a part might sideline your ride indefinitely. While you may have only paid $30 for the scooter it lasted only a few weeks while a scooter you pay $70 for will last years and is backed by a manufacturer warranty.
Scooter Size and Weight Capacity
Unless you are a pure weekend leisure scooter rider looking for something like the Shuffle you are no doubt looking for a scooter that is reasonable in size and it's easy to travel with. After testing so many scooters and taking them on public transportation as a part of the testing size and weight play a large role in satisfaction.
From our experiences, an adult folding scooter that is 10 lbs or less is perfect for commuting and travel. Anything over the 10 lb limit starts to be work and most of the products on this list lack a shoulder strap except one and that perfectly transitions us into the next scooter on our list.
Xootr took a unique approach when it came to designing their scooter. While many of the other products in this segment fit the average-sized adult this scooter will accommodate larger people even up to 6'7″! Not sure how many people that tall are looking for scooters but the Xootr adult kick scooter has them covered.
What about the other features? It's safe to say the Xootr performs remarkably well in every category! Tall telescoping handlebars, full cast aluminum frame, extra-large deck perfect for big feet (7.4 inches wide & 25 inches long), front brake, and rear brake. It's easy to see the Xootr is very well equipped with just about every feature possible. However, all these features don't equate to the perfect scooter.
What we didn't like about the Xootr is the front brakes being on the front wheel. With the front wheel being slowed by the handbrake if used at relatively high speed a rider could be thrown over the handlebars onto the ground. Once used to the setup one could easily avoid pressing the front brake but something that can't be avoided is the price tag! This scooter comes in at a whopping $279.99, with such a lofty price you could buy almost 2 of any other scooter model on the list.
Should you get the Xootr Scooter?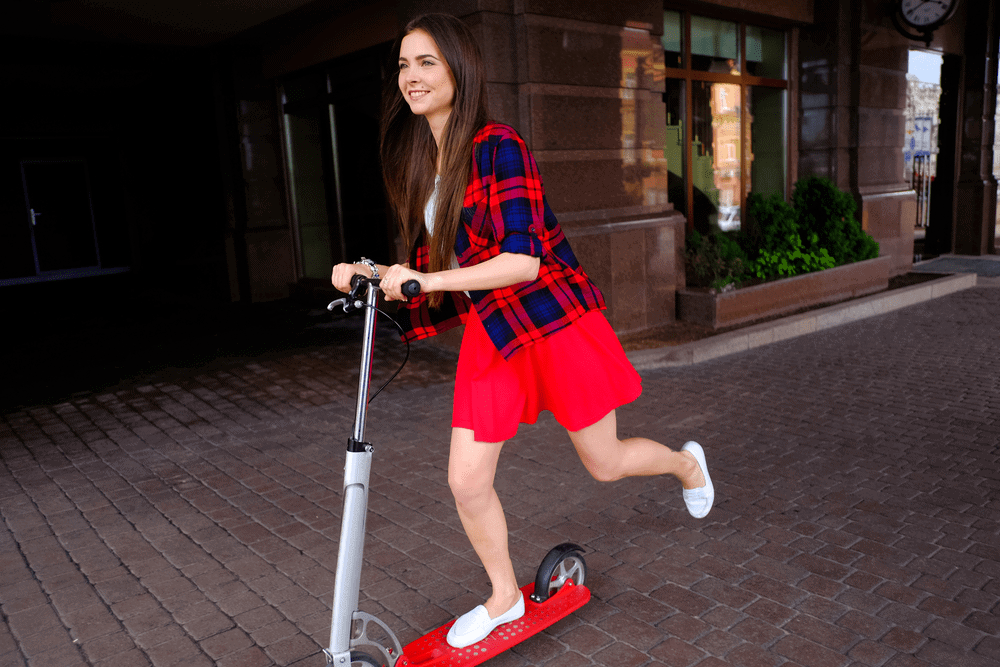 Unless you are a very large person (the Xootr supports riders up to 800 lbs) opt for one of the other products like the CityGlide or Razor A6. You can get two for the price of just one Xootr scooter.
We really liked the Exooter scooter, the concepts and ideas put into this scooter show a lot of forethought and attempted innovation. The people behind the Exooter Brand literally tried to think of everything when they designed the 6XL scooter. This scooter has just about every feature used throughout the entire test group with a few outliers. Basically, this scooter does everything well but nothing is great or mind-blowing.
It features a wheel offsetting with a larger in the front and a smaller wheel in the rear we aren't quite sure what benefits it offered as we couldn't tell a difference. Thinking in regards to the laws of physics the only benefit it should provide is added work in kicking and less overall speed. Adjustable handlebars reach a maximum of 38 inches which is right in the middle of the pack compared to the other scooters we tested.
The unique folding system is also a little bit clunky and hard to operate at times. While this isn't a deal-breaker there are much better options available. One of the standout features of this Exooter is the vibrant colors and designs. This is probably one of the more attractive and polarizing rides on the list. Another key area that everyone seemed to enjoy was the bottle holder. What will everyone need after a 3 or 5-mile scooter ride? A water bottle!
What we'd suggest: After riding this scooter, all it really needs is a tweak or two to the folding method and some reflective features to boost it up in our list. However, if you are drawn to the Exooter 6XL from its looks selecting it won't leave you disappointed.
To break up the monotony a little bit we are going to throw a little curveball into the conversation…The Shuffle by Schwinn. Maybe you want to go for weekend rides just to get out and feel the windy blow through your hair. If this is the case then you don't need a folding kick scooter, you don't necessarily care about weight because you're not going to have to carry your scooter around.If you were shaking your head yes and nodding in agreement then the Schwinn is the ideal scooter for recreational riding.
What's the difference between the Shuffle and the typical scooter? While both scooter segments are propelled by kicking the differences are large and automatically distinguished by first sight. This scooter is more modeled after the original BMX style scooters from the late '80s but with a twist. A traditional bike style wheel fits on the front fork of this scooter. In the rear similar yet downsized bicycle wheel with real inflatable tires.
Think of the Shuffle as a beach cruiser mixed with a scooter, while it might look a little strange it is a ton of fun take them to your local trail and have a blast. However remember that these things are big and will require a truck, van or bike rank to transport them. Because of their large size and inflatable tires, the Shuffle comes with quite a bit of draft. So kicking this scooter is going to give you a real workout it's not as quick as the traditional items for adults on our list. Great for adult fun, made from solid parts including a full-on steel bike quality frame and wooden deck.
What we think: We actually like the Shuffle for what it is, a leisurely scooter for beach cruises. However to have to ride this bad boy with a purpose and get from one destination to another…frankly that would be a nightmare. We couldn't even imagine lugging this thing onto a bus. Although a little different from the competition the Shuffle is one of the most expensive scooters in our buying guide but not the best on our list.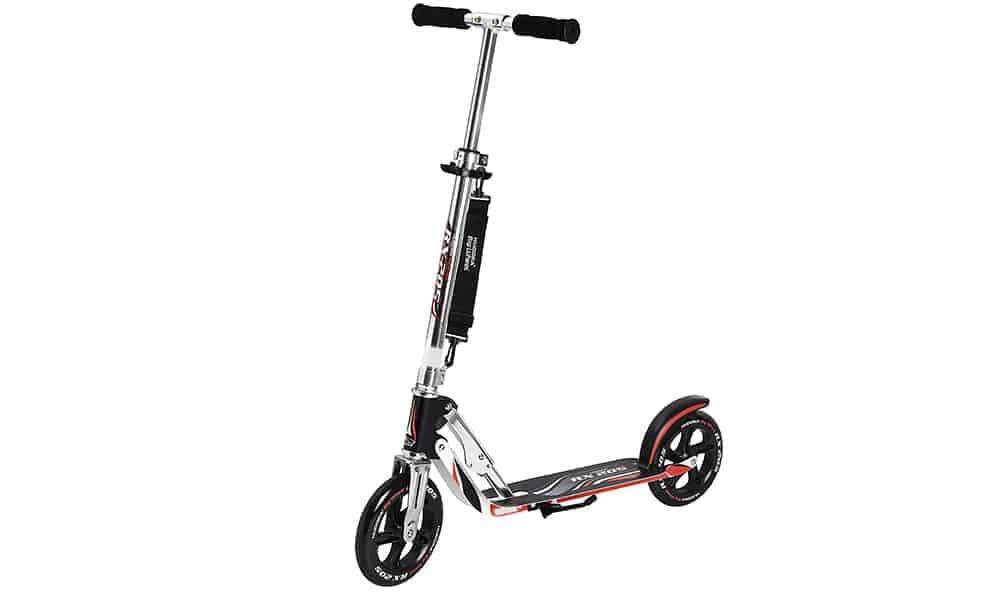 The Hudora 230 is a robust and durable big wheel kick scooter
Key Features:
Sturdy commuter scooter
Super 

easy-folding system 220lb Weight limit

Wide deck
[/one_third]
German Scooter Juggernaut Hudora is next up on our list with the Hudora 230 Adult Scooter. The name goes had and hand with the size of the wheels 230 millimeters which are larger than the standard size for this segment.
The lower-priced options for adults ala the A5 scooter and CityGlide both feature 200 mm wheels however what separates the Hudora from the others is its very unique folding system and of course larger wheels. This easy folding system is both efficient and quick however it is clunky and takes up quite a bit of usable deck space. For riders with large feet, this could pose a problem but works fine standard shoe sizes up to men's size 11.
Diving further into the Hudora 230 features this model has just about everything that a rider can ask for. From the shock absorbent hand grips to the spring-loaded kickstand this scooter is well equipped. At the end of the day though the Hudora isn't anything groundbreaking unless you absolutely love their colorways and decals. Other than those features this scooter is basically a Razor A5 lux with a little bit of German engineering.
What we would upgrade: The Hudora 230 Kick scooter would be a monster in this category may be the best if it had a handbrake and reflectors wouldn't hurt either. With the resurgence of the scooter into the mainstream market, rider safety is going to be a focal point in product development. Look for brands to start understanding this and innovating in this area. Superb selection for commuting!
No products found.
Razor is for many in the United States the king of scooters, they ultimately brought them to the mainstream audience over 15 years ago. The A5  really rides that wave of exposure down to this very day. While it is heralded as the top in its class there really isn't much to write home about. However, the one thing we have to admit is that this thing just WORKS. Out of all the scooters we tested the Razor A5 probably had the least issues and was always there when we needed it to be.
The experience that Razor carries into the scooter industry comes into to play with the different iterations of this scooter. Originally it didn't come with a kickstand but now it does. Also when it was first released the folding was clunky and overly complicated nowadays it's a simple pull button that is both functional and convenient. While the latest rendition is graphically challenged and not very elegant it gets the job done being available in two distinct colors blue and pink.
Another way Razor does a good job in producing the A5 is in the hardware and components. Everything that they do is solid down to the minute details. Small Razor logos appear all throughout the scooter. The scooter requires zero assembly as they got rid of the old school clamped handlebar stem still present on the aforementioned CityGlide. All in all the A5  is a great option for an adult looking for a scooter to enjoy in leisurely activities or for commuting back and forth to work. One reason why this scooter ranks high in our minds is that it is very easy to find.
You go to Target to pick a few household items the A5 is there by the bikes. You're rolling through your local Walmart there it is again chilling next to the Madd Gear Extreme pro scooter. Oh, wait you're an online shopper… major retailers across the next including Toys R Us, Best Buy, Walmart and the king of them all Amazon carry the Razor A5 scooter.
What we would like to see: on the Razor is a nicer finish, better finishes and more color options. Since this scooter is the consumer choice for " best Adult Scooter" it should be a little more adult. Just our humble opinion. Here's our detailed Razor A5 scooter review
They must have spies or people watching us because everything we said we'd like to see Razor Scooter do to upgrade the A5 Lux scooter is exactly what they did when they released this beauty…enter the Razor A6 Scooter. Sophisticated, grown-up and functional the A6 crosses every "T" and dots every "I". When we first laid eyes on the A6 the thing that really jumps out is the cleanliness of the design it is very minimalist which is very much our style.
The larger wheels on this scooter also really appeal to the audience who would be interested in buying it. A big wheel does a few things, for one it's going to allow for a faster ride and secondly yet most importantly fewer issues rolling over debris, rocks and other uneven surfaces that somehow find their way into every path you'll ride your scooter down. No expense was spared in designing the Razor A6. Everything about the scooter is BIG, it is one of the heavier scooters we tested coming at 12 lbs.
Great for taller people the handlebars will adjust up to 42" which is a 4 inch improvement over the classic  Razor A5 Lux. Deck length has also been extended on this scooter, this deck is 13.4 inches in length while a comparable scooter in this test would only be around 13.2 inches. The difference doesn't seem very important but on a scooter, even millimeters will make a world of difference in comfort and performance. Probably our favorite aspect of this scooter is the attention to being tight and well put together. Most scooters rattle and this one does probably the least amount of rattling we've ever experienced.
What we would suggest: Really nothing could be improved too much on the A6 by Razor Scooter, however, you are paying for every luxury and advantage that this Razor Scooter is giving you. This is our favorite scooter on the list but also one of the most expensive. If money isn't a thing then, by all means, check out the current prices and grab an A6 today. An excellent choice for commuting! If commuting isn't a big concern check out the Razor California Longboard Scooter.
The CityGlide is a great option for an adult looking to grab a scooter and just start riding. CityGlide was in fact designed specifically to be superior to the Razor A5 Lux. The B200 version of the CityGlide took that goal to new heights by adding a handbrake to this scooter segment typically something reserved for bicycles and motorized scooters. Fuzion was way ahead of the curve because the next scooter to offer a hand lever brake didn't come out until almost 2 years after the CityGlide.
Let's get down to the facts, the Fuzion weighs in at just under 10 lbs which is light yet sturdy enough. If you are a rider who weighs more than 170 pounds you might want to be cautious and look to a different scooter as the weight limit on the CityGlide is 170 pounds.Deck dimensions are a serious factor when buying a scooter as the deck is where you will spend most of your time standing. You want an adequate deck in width and length for your individual size. For a smaller person, the CityGlide is more than enough however if you are a larger/taller person a different scooter on this list might be better for you.
Adjust-ability on the handlebars is probably as important as the deck size because the height range of the handlebars will relate directly to how comfortable you will be while riding. With that said the CityGlide has a max handlebar height of 37 inches from the ground. Big wheels and smooth bearings are a vital component of how your scooter performs. A higher-quality bearing is going to give you an effortless ride requiring a lot less kicking and leg work.
Durable wheels will allow for you to ride your scooter for months even years on end without wearing your wheels down to the hubs. Overall the CityGlide has middle of the pack big wheels and bearings. Definitely not the fastest bearings nor the most durable wheels but they do get the job done. After 2 months of riding the Fuzion, our conclusion is that it is the best value out of all the other scooters that we tried. The price on this thing is unbelievably great and delivers everything a rider could ask for all for under $65 and you just can't beat that! Fuzion also offers a great warranty on their products and deliver great customer service.
What could be improved: In a perfect world the CityGlide would have higher quality components but in particular the hardware. We went through a few bolts stripping in our time of riding and servicing the scooter. However, you do get the same performance if not better for a scooter at $20 less.
Alternate Scooters for People and Their Best Friends
You may have never heard of the dog-powered scooter but it is a cool scooter that creates a great activity to be enjoyed by a man/woman and their best friend. Some of us own hyper super active dogs or breeds that are hard workers but living in suburban environments robs these dogs off their passion.
The solution could be you move to the country and get a place sitting on a few acres or you could invest in a dog-powered scooter! Option #1 could cost a few hundred thousand dollars but option #2 starts under $700. At Dogpoweredscooter.com you can find the perfect system for you and your pet. There are three different models available with the best being their custom design, that is both ergonomic for kicking and safe for your dogs.
Some might worry is that safe for my dog? Certainly! The system is designed for high pulling and athletic breeds over 30lbs. If you have ever owned a high drive working dog you'll understand how nice a system like this will be to give your dog the type of exercise it was bred to have. To be 100% safe here are some rules you'll need to follow:
All dogs must be in their prime or younger if you expect them to pull the full weight of the unit/rider for any sustained period.

Dogs older than 10 yrs. should generally NOT be regularly exercised in these vehicles.  The dog's pace should be of their control and not that of the rider.

The maximum rider weight (to expect the dog to pull, and power the whole unit) is 100 lbs. more than the dogs' weight. (for example. if the dogs' weight is 50 lbs. your max weight should be 150 lbs.) If there are multiple dogs you would add up the total dog weight then add your 100 lbs.

The rider needs to always help when going up any grade of slope.

Generally, let the dog set the pace and only use some scooter kick tugging on the harness and or vocal encouragement for motivation.

Tires should always be inflated at the max. allowed and "feel" hard.

Ensure there is plenty of space and ground to move.
Following the above rules and using common sense like bringing water, giving the dogs a break reducing distances of "Dog Mushing" on warmer days over 70 degrees are all best practice and will leave your pup wanting more!
Why Ride A Scooter?
Scooters are amazing all around, not only are they convenient for quick trips and tons of fun on the weekends but they have other benefits that are often overlooked. Looking at the big picture how do scooters accomplish more than what meets the eye? Think about the carbon imprint that a scooter leaves… oh, wait it doesn't leave on at all. Yeah, you got it riding a scooter doesn't contribute to the pollution that cars and other motorized forms of transportation are responsible for.Also, think about the personal benefits that come along with scooter riding. You'll be getting off your rear end that you most likely sit on all day at the office. This light exercise will have a great effect on your overall health. Lower blood pressure, cholesterol, and weight loss all can be attributed to regular scooter riding.
Last but not least stress, the silent killer can be relieved with brisk scooter rides. You may be asking how is that? We'll answer that with a rhetorical question: How many minutes of traffic do you experience in your work commute? Getting from behind the wheel and getting your body in motion will pay dividends to your mental outlook.
During the development of this article, we rode the various kick scooters for 3 months straight comparing comfort, ride quality, braking, durability, and convenience all factors that play a large role in living with your scoot on daily basis and even cruising around on the weekends. We've even selected the ideal commuter scooter in this article. 
How Far Can You Commute on a Scooter?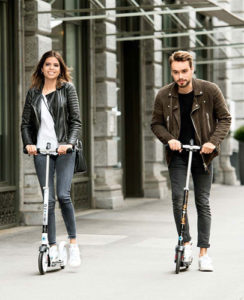 How far you can travel on your scooter depends on a few variables. The first would be your personal fitness. If you are a relatively fit person you should able to go quite a distance riding a scooter. Let's say if you can run two to three minutes without stopping you'll be able to go 4 to 5 times as far on scooter under the same amount of stress. The second variable comes into play at this point though. What are the road conditions where you will be riding?
Sure you might be able to go 3 miles on nice smooth paved streets but if you are in a rural area you might not be able to go even 10 feet comfortably. So we recommend scoping out your route before planning on taking a scooter through it, in our months of testing various scooter models there we plenty of times where walking the scooter for a few yards was called for but taking the scooter for the other 80% of the trek was amazing.
All in all, we'd say any more than 4 or 5 miles might be a little too much for regular trips. Then again remember it's based on each individual's fitness and the last variable. Weather conditions like pavement play a large role in scooter travel. If you live in a place with pleasant weather like California riding a scooter as far as 5 miles might be a piece of cake however if you live in more moist areas like Seattle with tons of rain or even Florida with lots of humidity your scooter travel distances can be dropped dramatically.
How Fast Can Scooters Go?
Unless you are bombing down hills, these scooters aren't known for their death-defying speed. With a nice set of upgraded bearings and a few firm kicks, riders can expect to reach a max speed of up to 8 or 9 miles per hour. If you need to go faster you should look into a street-legal electric powered scooter, they can reach a high speed of 30 mph.
How to do Tricks on an Adult Scooter?
While tricks are typically reserved for Stunt Scooters some crazy scooter riders have been known for taking these big-wheeled scooters to the skateparks and doing insane tricks on them. While we don't recommend you try any of this at home enjoy the following video showcasing some of the tricks possible on adult scooters.
How to Make Scooters Faster?
There are no superchargers, camshafts, turbochargers or nitrous available in the scooter segment. With no forced induction options how does one get more speed out of their scooter? Really the only way to do this is keeping your scooter serviced with lube and tightened appropriately. Another option you have is to upgrade the bearings and or bigger wheels, none of the scooters we tested had premium bearings installed.
Opting for a Swiss-made bearing or at least a higher-end Chinese made bearing and running these on your scooter will increase the spend and the need for excess kick propulsion. Big wheels are faster so upping wheel diameter works too.
What Are the Best Scooter Brands?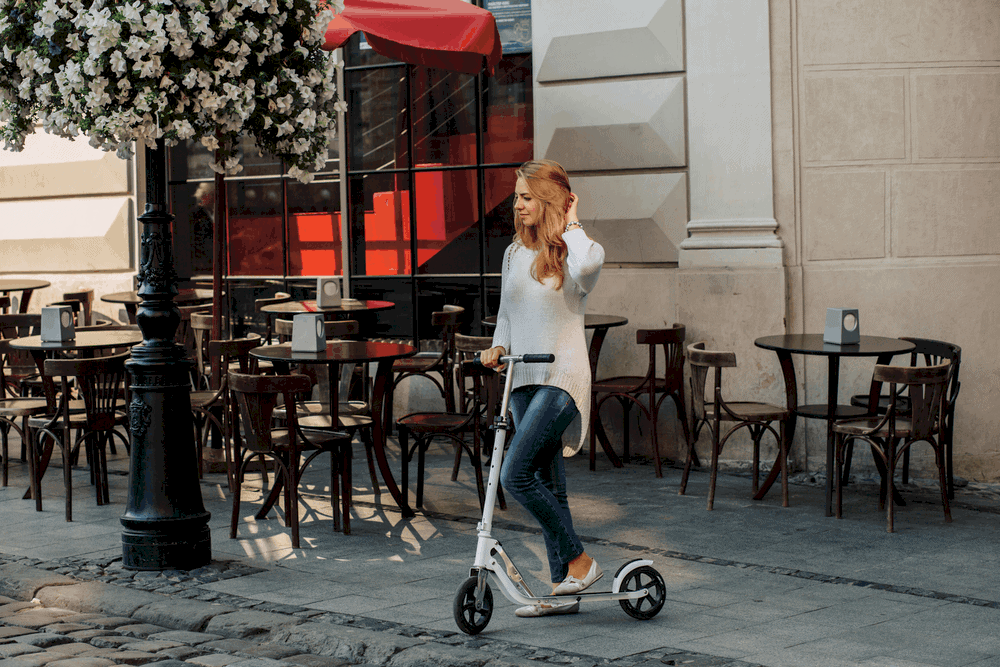 Now that you are interested in getting a scooter you do want to make sure that you select a good one. Sometimes we believe that we are getting the best deal because the price is lowest but thinking about the value is more important than an initial low price. Value is the wear and uses we get out of something compared with the price.
To illustrate if you buy a scooter for $49.99 ride it for 2 months and it breaks down and you get another one to ride another 4 months then that one breaks down. Up to this point, you would have spent a little over $100 for 6 months of scooter riding. Compare this scenario with if you would have bought an $89 scooter and ridden it for 10 months until it needs service that the brand delivers free of charge, a truly great price.
Everyone would agree that the second case is the optimal one, this is the difference between buying from a reputable brand and a run of mill online startup. Reputable brands like Razor or Fuzion are going to have great customer service programs to make sure you are completely satisfied with your purchase. Other brands like Schwinn a legendary bike brand is also going to be a safe bet. However, be careful buying lesser-known scooter brands as they might offer a lower initial price but leave you high and dry in a case of need.
Scooter Helmets & More
Protective gear and safety precautions are important even for scooter riding. Most new riders without riding experience aren't 100% comfortable on their scooter when they first get it, so it's important to wear a helmet, knee pads, elbow pads, and any other gear you deem necessary.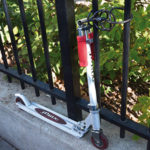 You got a scooter and you're commuting to work or took a quick trip store and you don't want to bring your scooter inside or maybe it's inappropriate to bring your scooter inside. So what do you do? Similar to the way you'd lock up a motorcycle or a bicycle you can lock a scooter up with a cord style lock. The problem is that many of the bike locks are going to be too large to where you don't wanna lug them around, Or they are simply too heavy.
The cable lock by Knog is a great option that meets all of the above requirements. You'll feel secure as stop signposts and other poles all transform into the perfect anchors for securing scooter or if your kids are riding their scooters to school this lock also works perfectly on bicycle racks. As the scooter segment gains more and more popularity, scooter locks will become more important to deter theft.
If you liked our review buying guide, please leave a reply. Also, leave a comment below as to which of the scooters you bought.
If you couldn't find what you were looking for you maybe you should look into motorized skateboards.
Want More Options? Check out our alternate selection of Adult Scooters
The runner up best adult scooters are as follows…